Watermelon Shaved Ice is fun and easy to make with simply ice and homemade watermelon syrup.
This kid-approved naturally colored and flavored treat is refreshing in the summer, or even in the winter made with freshly fallen snow. And once armed with the homemade syrup and the fluffy ice recipes you can easily modify it to make watermelon mocktails, watermelon cocktails and even creamy frozen watermelon desserts!
Is it shaved ice or shave ice?
This delicious dessert is traditionally made by shaving a block of ice. Although made with shaved ice it's traditionally referred to as 'shave ice' in Hawaii, though. I'm calling my homemade diy version 'shaved ice' because it's just easier for me and, let's be honest.. I'm not claiming this watermelon dessert / drink to be traditionally Hawaiian. But it is refreshing, fun and super easy!
I love sno cones and shaved ice. At carnivals, fairs and amusement parks it is my one must have food stand treat. The only thing I don't love is the artificial super sweet and brightly colored syrup that is poured to excess all over the ice.
Good thing making shaved ice at home with fresh flavored syrups is so easy!
How to make watermelon syrup and homemade shaved ice
Making homemade watermelon syrup and shaved ice is easy and only requires 4 things – watermelon, water, sugar and a blender or food processor.
Wanting a refreshing summery cocktail for the 4th of July I used a watermelon to make both fresh juice and watermelon syrup. Then combined both with vodka and club soda. I thoroughly enjoyed my creation but also was left with some leftover watermelon syrup. While regular syrup made from only sugar and water will last almost indefinitely refrigerated the fresh fruit syrups I love have only about a one week refrigerator shelf life. So in order to prevent food waste and use up the syrup I treated my whole house (and a few neighbor kids) to Watermelon Shaved Ice. It's super easy!
Ingredients
Step by step instructions
To make watermelon syrup blend a small personal sized watermelon and strain out the solids. Stir 1 cup watermelon juice with 1 cup sugar in a small saucepan and simmer until the sugar dissolves.
You just need a good quality blender or a food processor and ice cubes to turn this syrup into shaved ice.
Pulse ice on highest setting until light and fluffy. You may have to discard some larger chunks.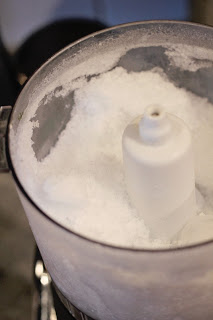 Pour watermelon syrup over fluffy shaved ice.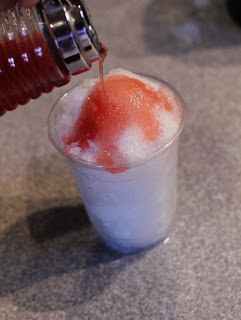 Add a spoon and a straw. Enjoy!
Customize
Instead of regular ice make homemade snow cones with freshly fallen snow, or use frozen lemonade in ice cube trays to make a watermelon lemonade slushy instead.
Combine with a shot of tequila for a frozen watermelon margarita cocktail.
Or simply top with champagne for an adult's-only boozy float.
Make it dessert with a drizzle of sweetened condensed milk and/or heavy cream and some fresh fruit cubes and/or boba. Dragonfruit, strawberries and raspberries are all stunning and delicious with watermelon. Even crushed dehydrated fruit adds great texture and flavor.
Watermelon Shaved Ice recipe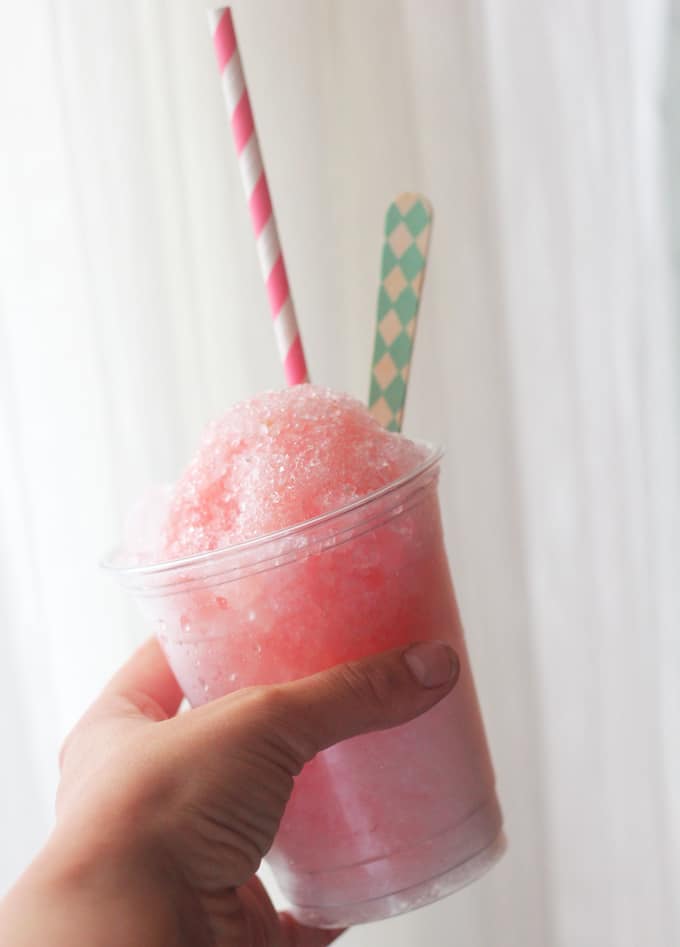 Ingredients
4

cups

cubed watermelon

from about 1 small personal watermelon

1

cup

granulated sugar

4

cups

shaved ice
Instructions
Blend watermelon until smooth. Strain through fine mesh strainer, nutmilk bag or cheesecloth.

Stir 1 cup watermelon juice with 1 cup sugar in a small saucepan and simmer until the sugar dissolves. Remove and cool. Pour into glass jar or syrup dispenser.

Meanwhile, process ice until fluffy.

Place about a cup of shaved ice in a small glass or parfait cup. Pour watermelon syrup over to coat. Serve with a spoon and straw.
Notes
Watermelon syrup will keep refrigerated up to 7 days.
Nutrition
Calories:
239
kcal
|
Carbohydrates:
61
g
|
Sodium:
2
mg
|
Potassium:
170
mg
|
Sugar:
59
g
|
Vitamin A:
865
IU
|
Vitamin C:
12.3
mg
|
Calcium:
11
mg
|
Iron:
0.4
mg
Nutrition Facts
Watermelon Shaved Ice
Amount Per Serving
Calories 239
% Daily Value*
Sodium 2mg0%
Potassium 170mg5%
Carbohydrates 61g20%
Vitamin A 865IU17%
Vitamin C 12.3mg15%
Calcium 11mg1%
Iron 0.4mg2%
* Percent Daily Values are based on a 2000 calorie diet.
enjoy!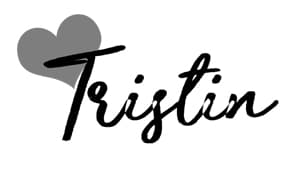 Shop this post
Please note: ONE armed MAMA is a participant in the Amazon Services LLC Associates Program, and these customized links, provided by Amazon, track the referrals to their website for the purposes of assigning commission on these sales.