Vibrant Chewy Blueberry Cookies are a naturally colored purple cookie bursting with fresh blueberry flavor.
Naturally colored and flavored bright purple cookies are a new exciting blueberry dessert recipe and way to use up all your seasonal berries!
Blueberry dessert recipe
I am a sucker for vibrant purple foods. Or any naturally colored foods for that matter. Having grown blueberries for a few years now I'm always looking for recipes that use fresh and frozen blueberries. There's Blueberry Lemon Crisp, Blueberry Butter Cake, Blueberry Lemon Gelato and even Blueberry Quinoa Salad. But these Chewy Blueberry Cookies are my new favorite blueberry recipe.
A delicious (all natural) vibrantly colored chewy blueberry cookie made from just a handful of ingredients. I based the blueberry cookies recipe on a tik tok viral, vegan blueberry cookie recipe from Justine Snacks. Her original recipe is a delicious blueberry dessert without eggs or milk that also calls for vegan butter.
My version's adapted for use with regular butter and really the only other changes I've made to the delicious frozen blueberry recipe was the additional step of rolling the cookies in sugar before baking. I really like how this dusting of granulated sugar results in a cookie with beautiful crackle like crisp exterior in contrast to its soft chewy interior.
Ingredients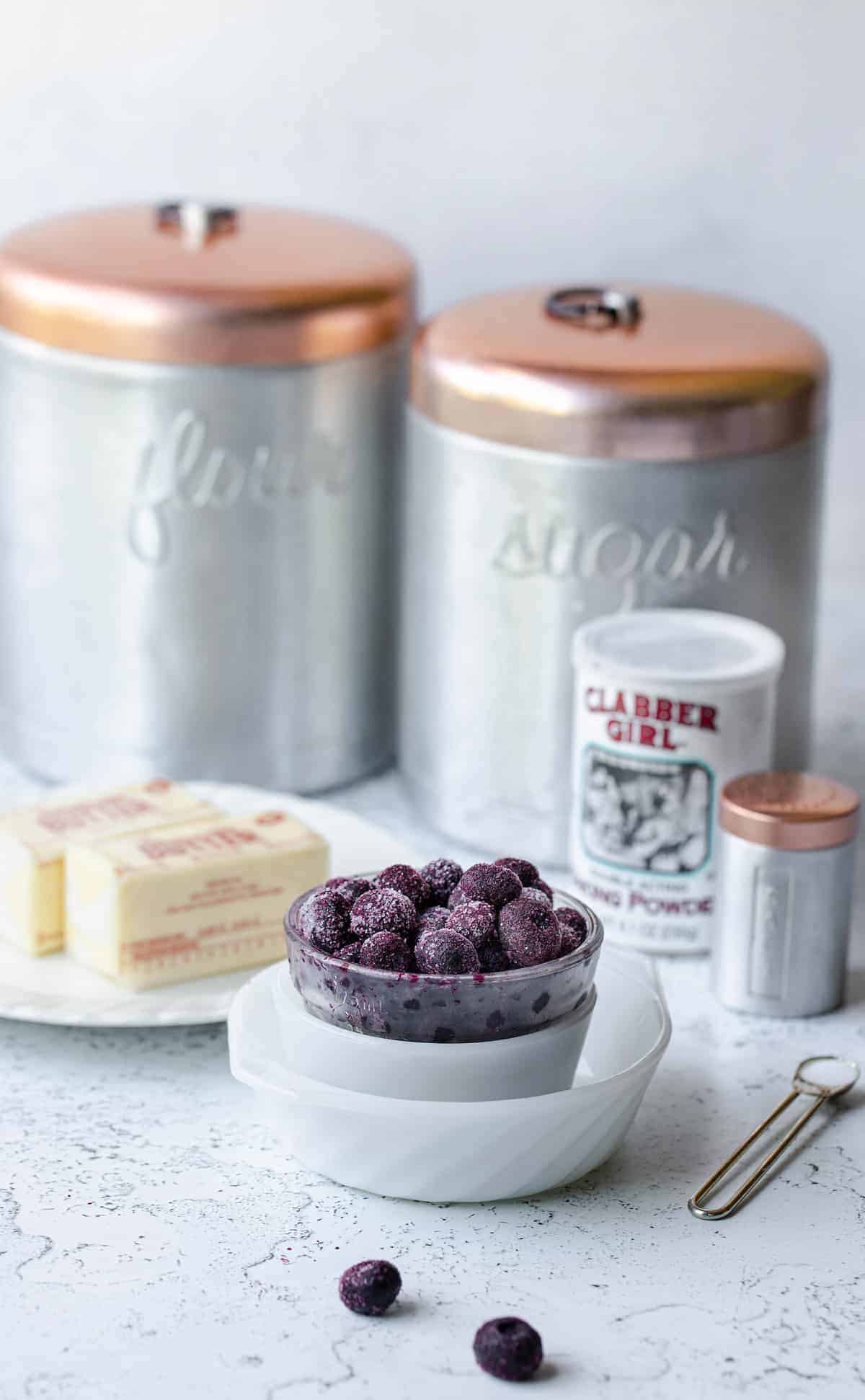 Frozen blueberries – fully defrosted. Pureed if desired for brighter more vibrant color. Feel free to substitute fresh berries in place of frozen in this blueberry cookies recipe. Simply ensure that the fresh berries are juicy and fully pureed before adding to the batter. Or try these berry cookies made with strawberries, raspberries, cranberries or blackberries instead!
All purpose flour
Granulated sugar
Unsalted butter
Salt
Baking powder
White chocolate chips – or try one of the other mix in variations listed below. You can make blueberry cookies with white chocolate chips, semi sweet chocolate, dried blueberries, lemon zest, chopped nuts, etc.
Substitutions for white chocolate chips in blueberry cookies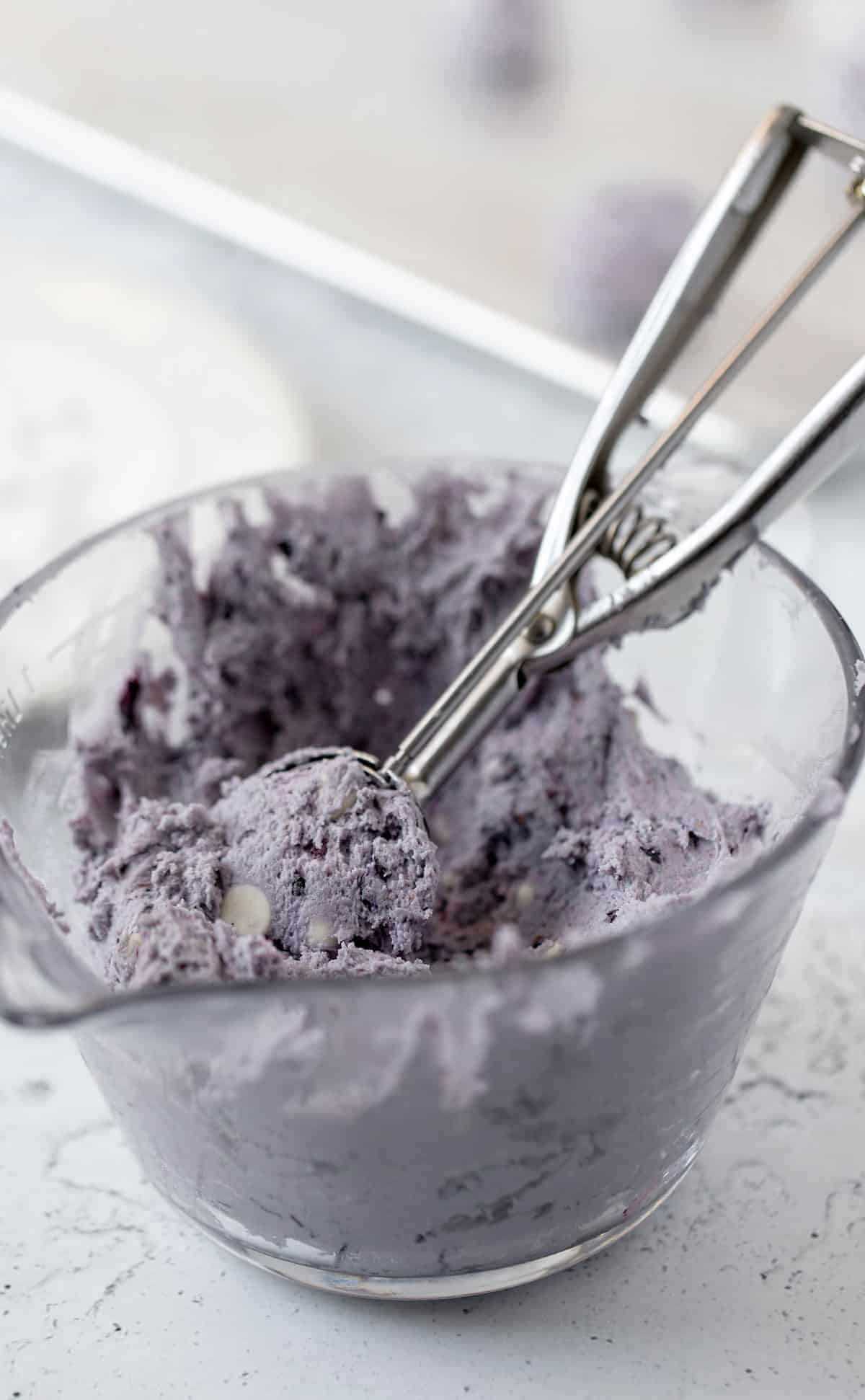 Make blueberry cheesecake cookies by substituting frozen cheesecake balls for the white chocolate chips. Simply combine cream cheese, powdered sugar and vanilla into a thick cheesecake like mixture. Roll into tiny balls and freeze in a single layer on a baking sheet.
Sprinkle on a homemade streusel topping made from butter, flour, brown sugar and cinnamon to make blueberry streusel cookies.
Make blueberry lemon cookies. Stir a teaspoon of lemon zest into the batter and use lemon juice to make a lemon glaze for the finished blueberry cookies.
Step by step instructions
Thaw frozen berries and soften butter ahead of time. The longer you can allow the berries to thaw and release their juices, the better. Alternately speed up the process by heating berries slightly either over a low stovetop or short intervals in the microwave.
Preheat oven to 400 degrees Fahrenheit.
Cream softened butter and granulated sugar until light in color and super fluffy in texture.
Add thawed berries and all of the berry juices and whip forcefully on high speed until berries are fully emulsified and incorporated.
Combine flour, baking powder and salt. Reduce speed to low and gently stir in being careful not to over mix. Add white chocolate chips or other alternate mix in then cover tightly with plastic wrap.
Chill blueberry cookie dough batter until fully stiffened and no longer slack, this can take from 1-3 hours. To speed up the chilling process you can place the dough in the freezer. You can also chill overnight but the dough will lose the vibrant purple color and turn more ashy blue grey as it sits.
Scoop into small balls using a cookie scoop or tablespoon and roll in remaining granulated sugar until fully covered.
Place on light colored or parchment lined baking sheet.
Bake until blueberry cookie is lightly golden around the edges but not yet brown, 8-10 minutes.
Cool blueberry cookies slightly, only about 1 minute to prevent sticking, then transfer to a wire rack to cool.
Enjoy!
Tips for vibrant cookies
Follow these tips for soft, chewy, vibrantly colored purple cookies with strong fresh blueberry flavor.
DO NOT drain the juice, add it all to the batter. I repeat – do NOT drain the blueberry juice. If frozen berries are not super juicy after defrosting puree blueberries into essentially a thick juice with as few to no little bits remaining before adding to whipped butter and sugar.
Fully whip the butter and sugar together until light and fluffy then add the defrosted (but NOT warm) blueberries and all the juice. And forcefully whip until fully emulsified and incorporated into the butter. Then add dry ingredients with a light hand and mix only until just combined being careful not to over mix.
Completely chill the dough before rolling. Cover tightly with plastic wrap and refrigerate or until no longer slack and loose. It can take from 1- 3 hours. If dough is still super soft after an hour, chill longer or place in the freezer to flash chill.
Then it It really all comes down to time and temperature. I.E bake dough cold dough and do not over bake the cookies. Cookies will spread and turn out cakey and browned if the dough isn't properly chilled, or if the cookies are baked too long.
Also there are many factors that affect blueberry cookies color. Time and temperature but also the type of blueberry, how thick the blueberry skins are and even the amount of minerals in your other ingredients. Different salts contain different mineral levels which affect the color of blueberries. The type of baking powder used and whether or not the baking powder has aluminum in it can change the color of the blueberry cookies as well.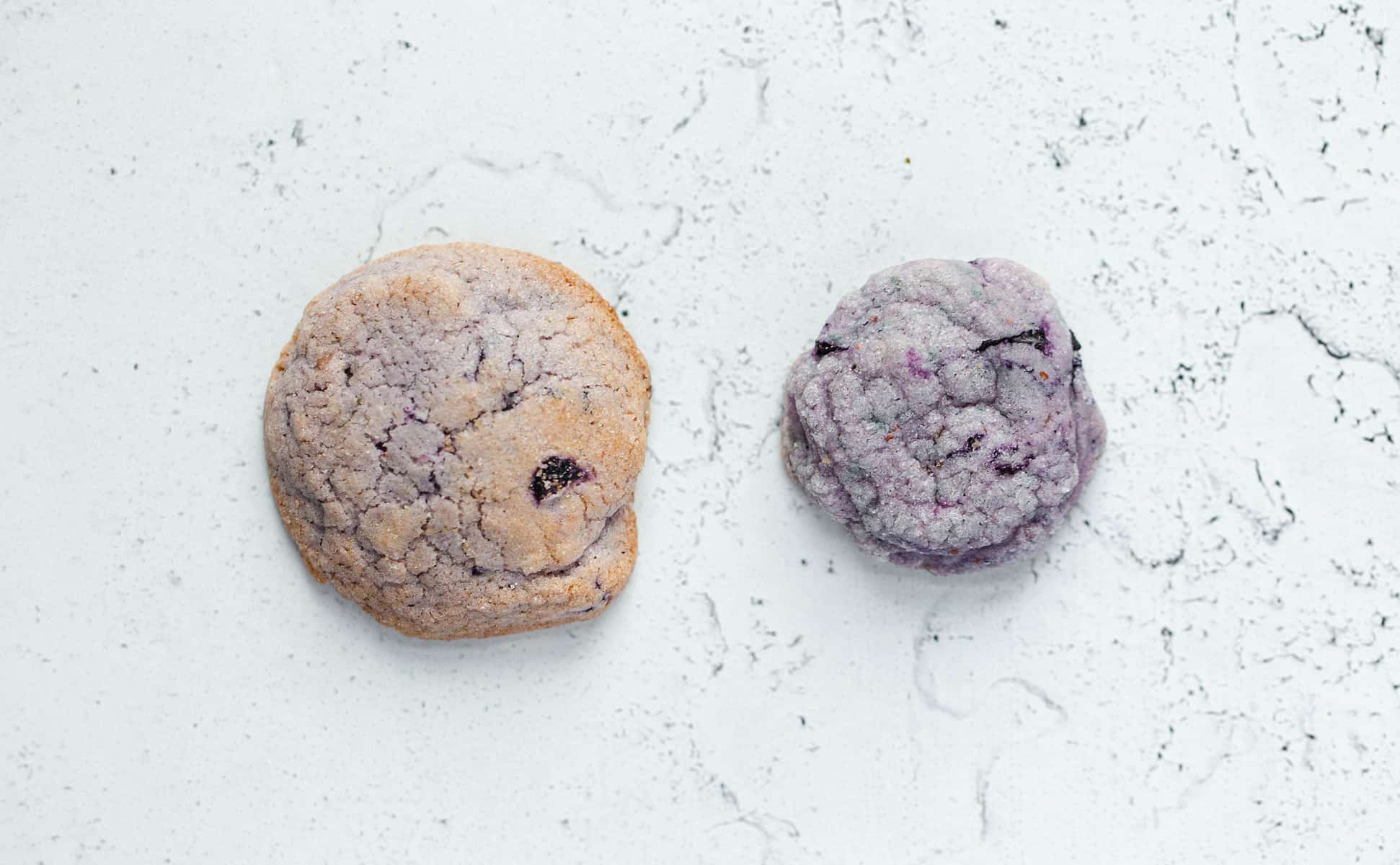 The difference between these two blueberry cookies is simply heat in the form of dough temperature and baking time.
How to substitute fresh berries for frozen
To substitute fresh blueberries in this blueberry cookies recipe simply puree the blueberries and measure out ⅔ cup of the blueberry puree. Do not measure the berries dry or else there will not be enough blueberries in the batter.
It may take 1 or more cups of fresh blueberries to measure ⅔ cup blueberry puree.
If the fresh berries are not super juicy you can go the extra step of heating them a bit to release a little juice before pureeing. Then chill to cool before proceeding with pureeing and measuring. If the blueberries are added to the batter while still hot the recipe will not work.
Or, although it does take more planning, you can freeze the fresh berries then defrost and proceed with the original recipe.
How to serve
Serve blueberry cookies warm or at room temperature. This frozen blueberry cookie recipe is delicious with a glass of ice cold milk, turned into an ice cream sandwich or even crumbled in a breakfast yogurt parfait.
How to store
These blueberry cookies will stay soft and chewy for up to five days when stored tightly covered at room temperature.
Make ahead freezer cookies
To make blueberry cookies ahead of time chill dough then scoop into little balls and place in a single layer on a baking sheet. Cover and freeze cookies until firm. Then transfer to a freezer bag and freeze for up to 3 months.
Bake blueberry cookies frozen adding several extra minutes to the overall cook time.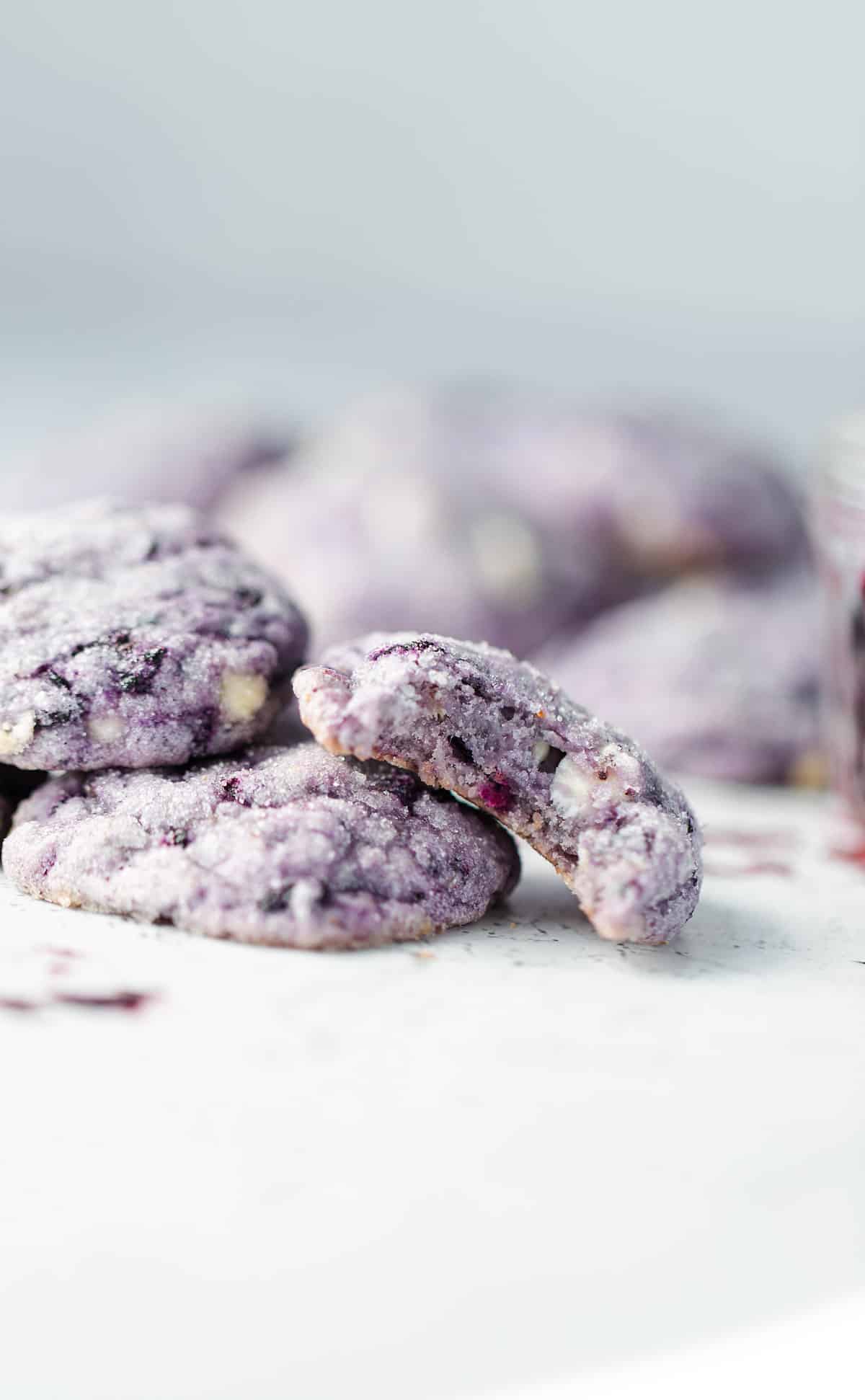 Ingredients
⅔

cup

granulated sugar

plus ¼ cup more for rolling

⅔

cup

unsalted butter

room temperature

⅔

cup

defrosted frozen blueberries

defrosted but not drained

2

cups

all purpose flour

1

teaspoon

baking powder

¼

teaspoon

fine salt

1

cup

white chocolate chips
Instructions
Thaw frozen berries and soften butter.

Preheat oven to 400 degrees Fahrenheit.

Cream softened butter and granulated sugar until light and fluffy.

⅔ cup granulated sugar,

⅔ cup unsalted butter

Add thawed berries and all juices. Whip on high until fully incorporated.

Combine flour, baking powder and salt and gently stir into creamed ingredients. Add white chocolate chips. Then cover tightly and chill 1 hour or longer, until no longer slack.

Place remaining ¼ granulated sugar on plate. then scoop blueberry cookie batter into small balls and roll in granulated sugar to cover.

Place on parchment lined baking sheet. Bake until lightly golden around the edges but not yet brown, 8-10 minutes.

Cool blueberry cookies slightly, only about 1 minute to prevent sticking, then transfer to a wire rack to cool.
Nutrition
Calories:
148
kcal
|
Carbohydrates:
19
g
|
Protein:
2
g
|
Fat:
8
g
|
Saturated Fat:
5
g
|
Polyunsaturated Fat:
1
g
|
Monounsaturated Fat:
2
g
|
Trans Fat:
1
g
|
Cholesterol:
15
mg
|
Sodium:
32
mg
|
Potassium:
54
mg
|
Fiber:
1
g
|
Sugar:
10
g
|
Vitamin A:
162
IU
|
Vitamin C:
1
mg
|
Calcium:
26
mg
|
Iron:
1
mg
Nutrition Facts
Chewy Blueberry Cookies
Amount Per Serving
Calories 148
Calories from Fat 72
% Daily Value*
Fat 8g12%
Cholesterol 15mg5%
Sodium 32mg1%
Potassium 54mg2%
Carbohydrates 19g6%
Protein 2g4%
Vitamin A 162IU3%
Vitamin C 1mg1%
Calcium 26mg3%
Iron 1mg6%
* Percent Daily Values are based on a 2000 calorie diet.