This Butterfly Pea Flower Cocktail combines color changing magic blue tea with mojito inspired ingredients like fresh mint, lime and rum. A Magic Mojito color changing cocktail recipe that is easy to make and is sure to WOW your friends and family!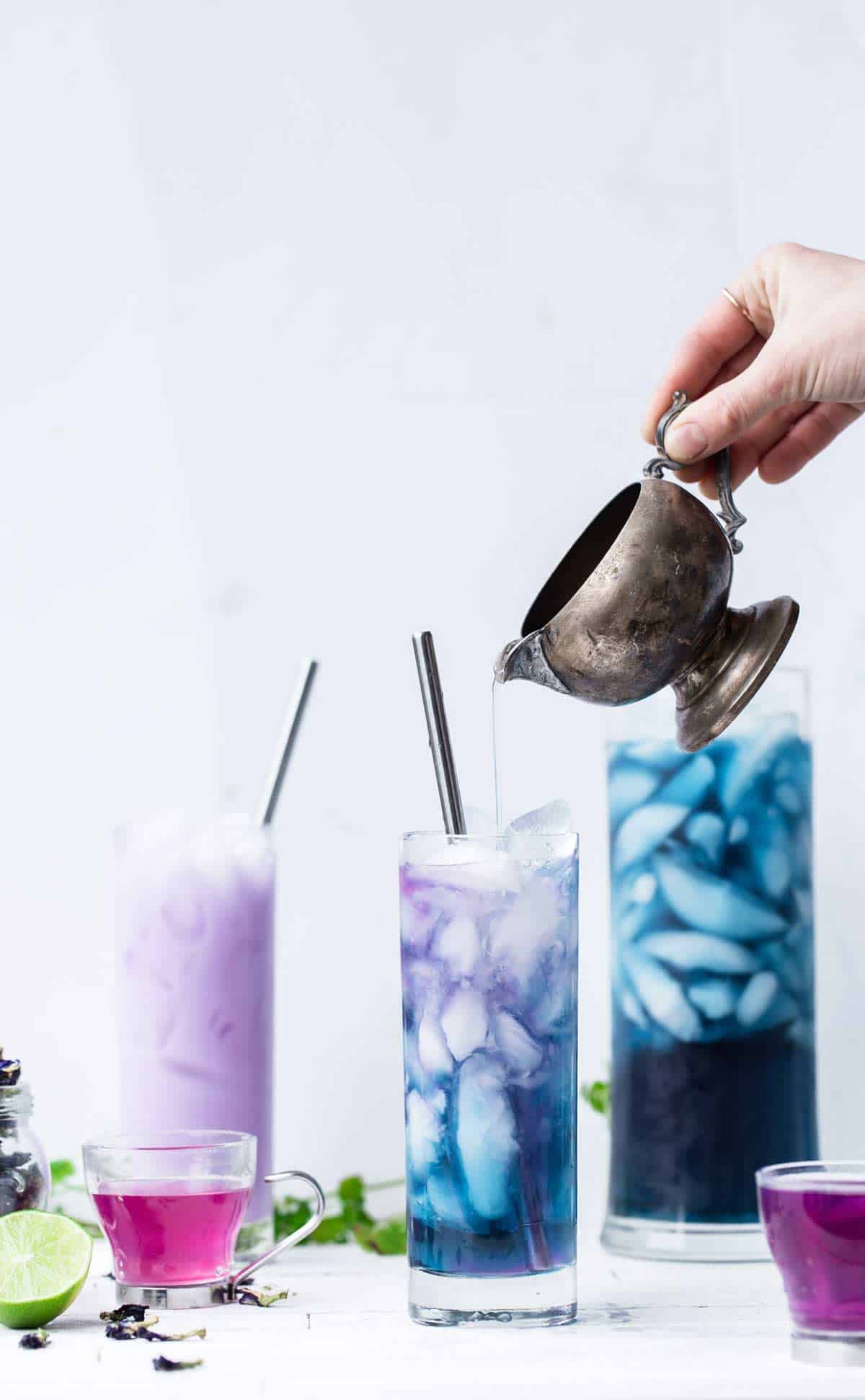 Jump to:
What are butterfly pea flowers?
Butterfly pea flower comes from a flowering vine native to tropical Asia. Butterfly pea flowers are commonly used to make butterfly pea flower tea and other foods that change color naturally. Like rice, pasta, desserts, syrups and more.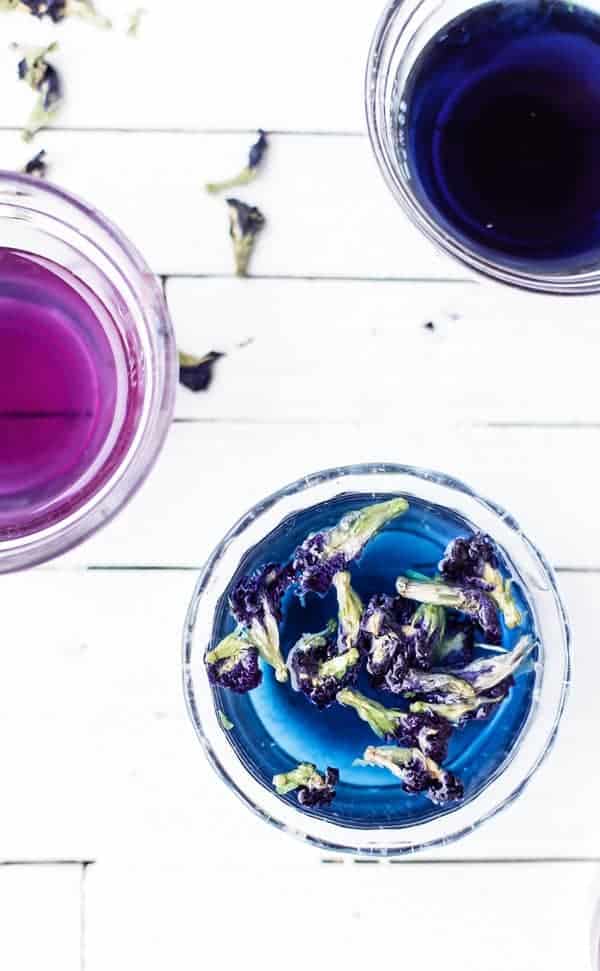 The reason why foods with butterfly pea flower change color is due to pigments known as anthocyanins that change color based on how acidic or alkaline of an environment it is in.
Lemon and lime juice will turn butterfly pea tea into a gorgeous violet purple color.
Lower the ph even more, with something like tonic water, and the tea turns bright pink. You can even add hibiscus flowers or hibiscus tea to the butterfly pea tea to add delicious flavor and turn it a shade of jewel toned magenta.
Does butterfly pea flower taste good? eh. Not so much. Butterfly pea tastes mild, lightly floral and earthy, somewhat like a blue matcha.
Because the flavor is so mild butterfly pea flower makes a great addition to all different types of color changing drinks and butterfly pea cocktails.
Butterfly pea flower cocktail recipes
There are many ways to make cocktails with butterfly pea flower.
You can make a butterfly pea syrup. Or use the butterfly pea flowers to infuse liquor to make butterfly pea gin cocktails with butterfly pea flower infused gin like Empress 1908 Gin.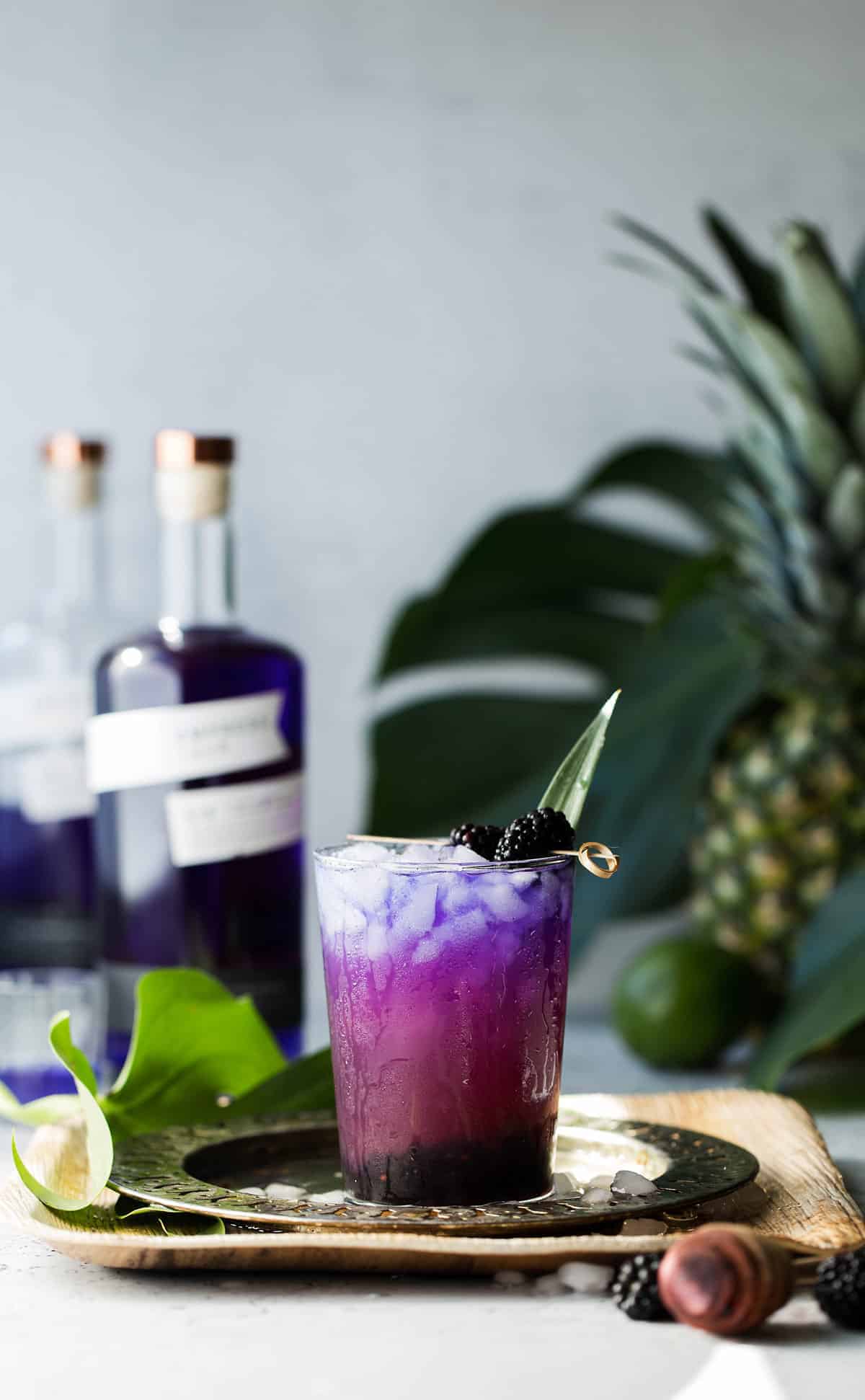 Or color changing vodka cocktails with butterfly pea flower vodka like Unicorn Vodka.
But my favorite way to use butterfly pea in drinks is to make and use butterfly pea tea as a base for differents drinks and butterfly pea flower cocktails.
Like this butterfly pea cocktail recipe that combines butterfly pea flower with delicious mojito inspired flavors of mint, rum and lime.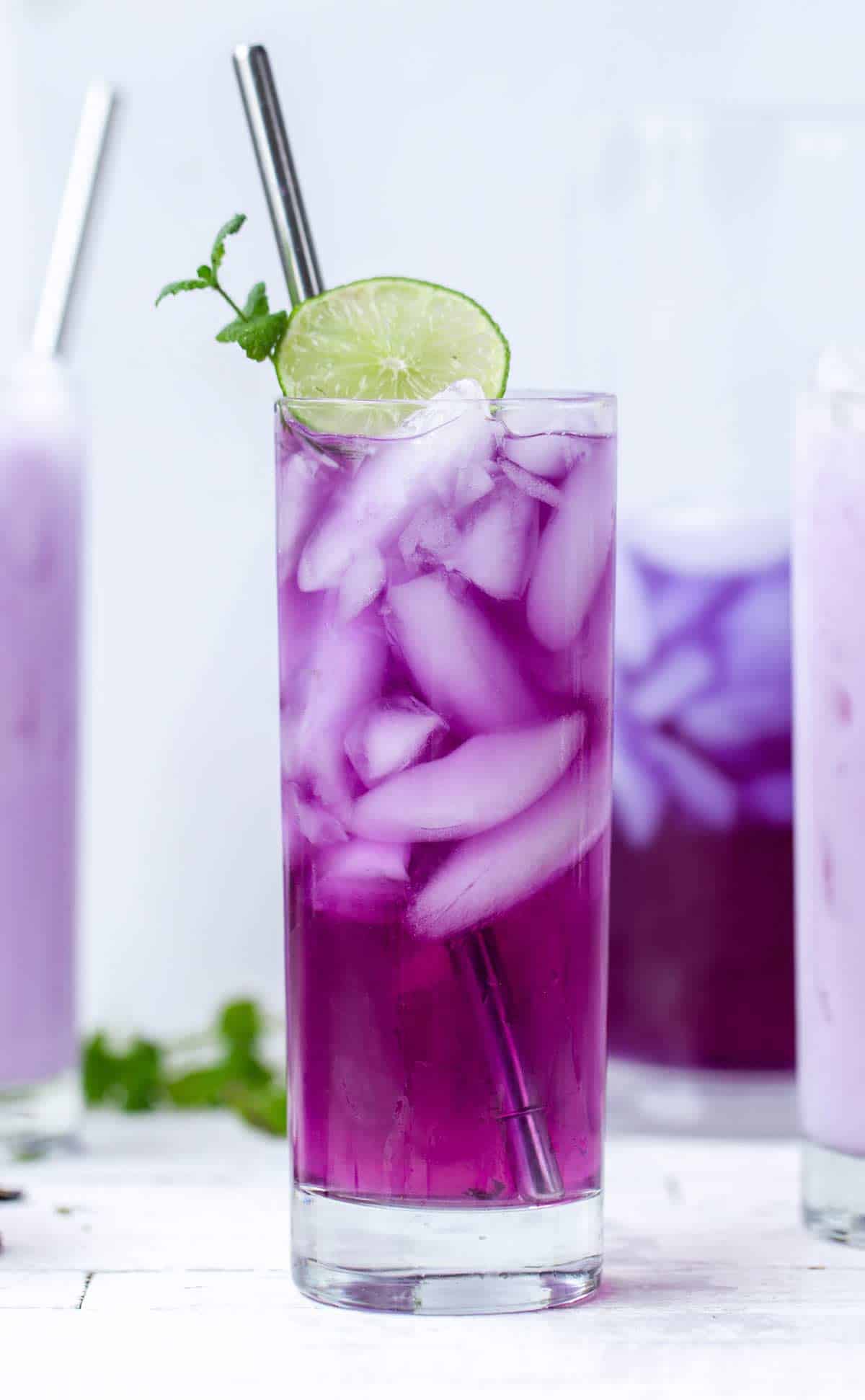 Ingredients
Butterfly pea – Buy dried butterfly pea flowers online to mix your own loose leaf tea blends. Or substitute butterfly pea flower tea bags or even crushed butterfly pea flower powder. All readily available online. You can even find butterfly pea flower seeds to grow your own butterfly pea flower plant.
Fresh mint leaves – butterfly pea flowers don't have a lot of flavor on their own so the mint leaves add a necessary punch of flavor. Use fresh or dried spearmint. Or substitute spearmint tea bags or loose leaf mint tea. Just be mindful that different tea blends have different acidity levels. For example, green tea is slightly alkaline and will affect the overall color.
Granulated sugar – Add granulated sugar to the tea while still hot and steeping to easily sweeten the butterfly pea tea before it cools. Feel free to substitute your favorite sweetener instead like raw sugar, simple syrup, stevia, honey, etc. But different sweeteners may affect the overall color based on their acidity.
Lime juice- the most acidic of all citrus fruits, lime juice will result in the most dramatic color change when mixed with butterfly pea tea. You can also substitute different citrus juices like lemon juice, limeade, lemonade, orange juice, pineapple juice etc.
Rum – clear white rum is the standard liquor of choice for classic mojitos. It also happens to be slightly acidic. Feel free to leave out the rum to easily make a color changing magic mojito mocktail. Or substitute with butterfly pea vodka or even butterfly pea flower gin.
Step by step instructions
Make a Color Changing Blue Butterfly Pea Tea that actually tastes good by combining hot water with butterfly pea flowers, mint leaves and sugar. Steep for 5 minutes then strain through a fine mesh strainer into an ice filled pitcher to cool. Store refrigerated for 24-72 hours.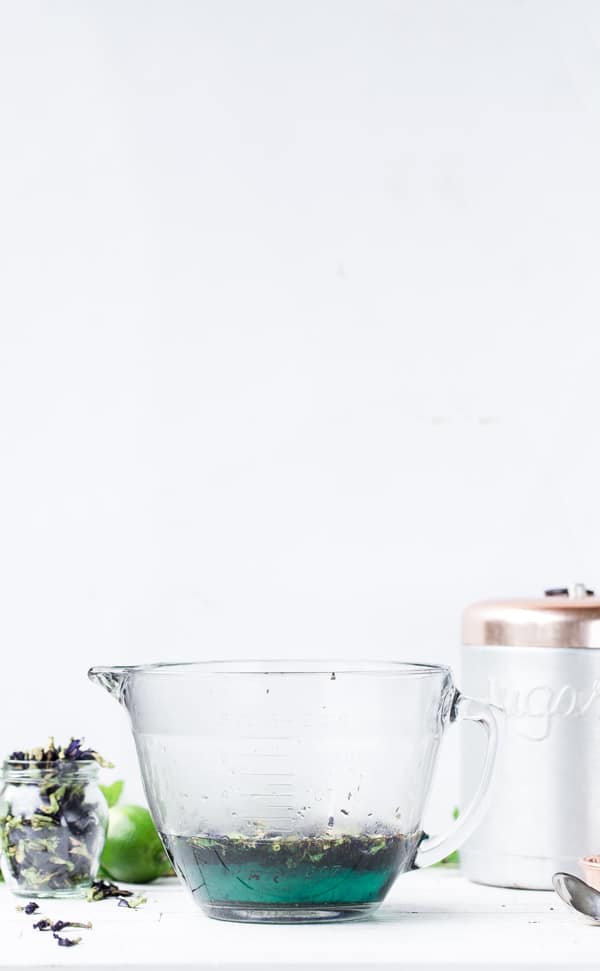 When ready to serve pour blue tea into a tall glass filled with ice, leaving about an inch of room at the top.
Pour rum over ice, stir.
Layer on lime juice without stirring. To make neat layers slowly pour lime juice over the back of a spoon onto the sweet tea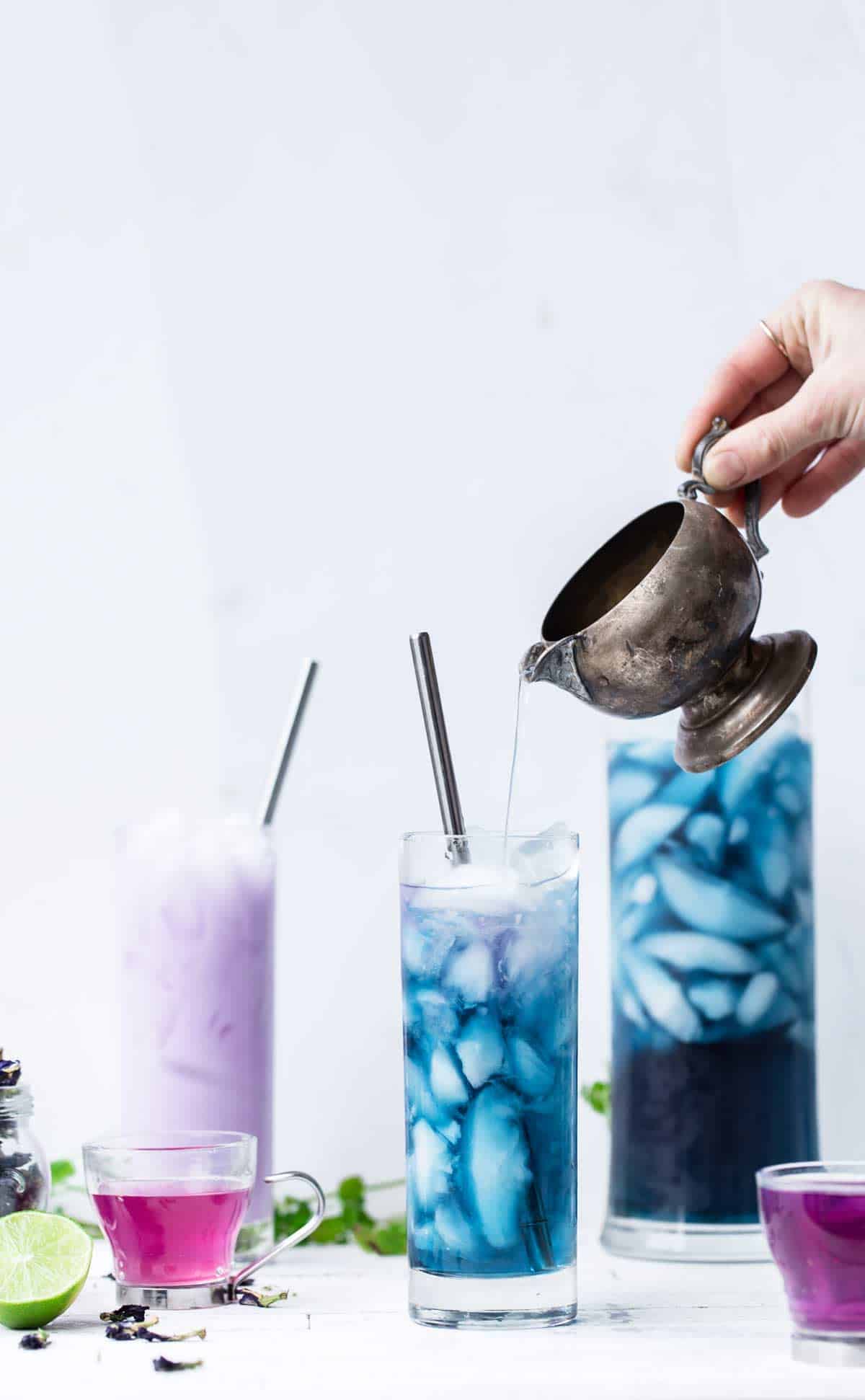 Serve with a spoon or straw and stir before enjoying.
Watch the magic color change happen in the glass right before your eyes and enjoy!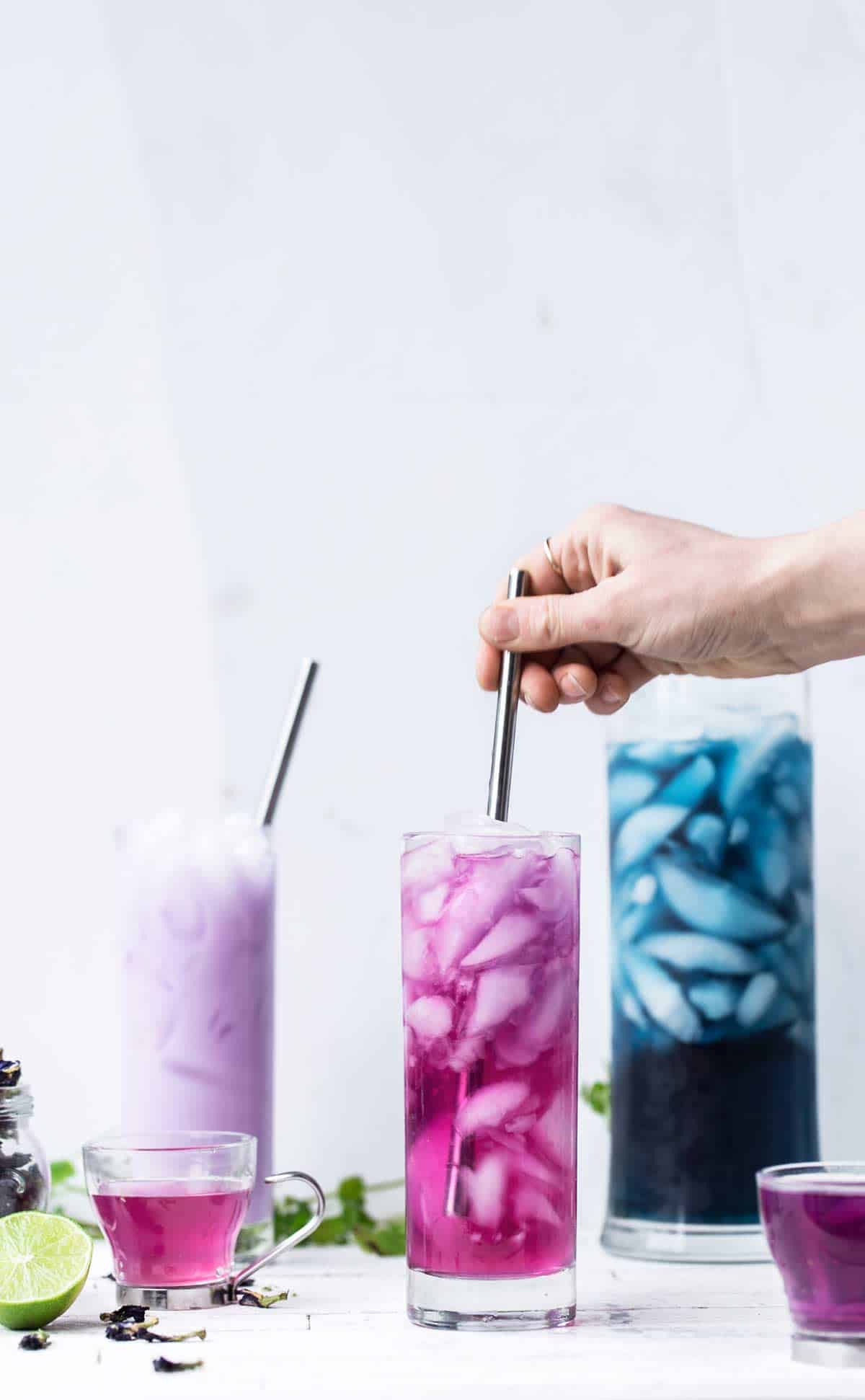 How to serve
Serve color changing butterfly pea flower cocktails layered with a long spoon or a straw so that the drink can be combined at the table before being enjoyed.
This mojito inspired cocktail is perfect served with a lime wheel and fresh mint to nod to the mojito inspired flavors. You can also include a few loose butterfly pea flower pieces to garnish.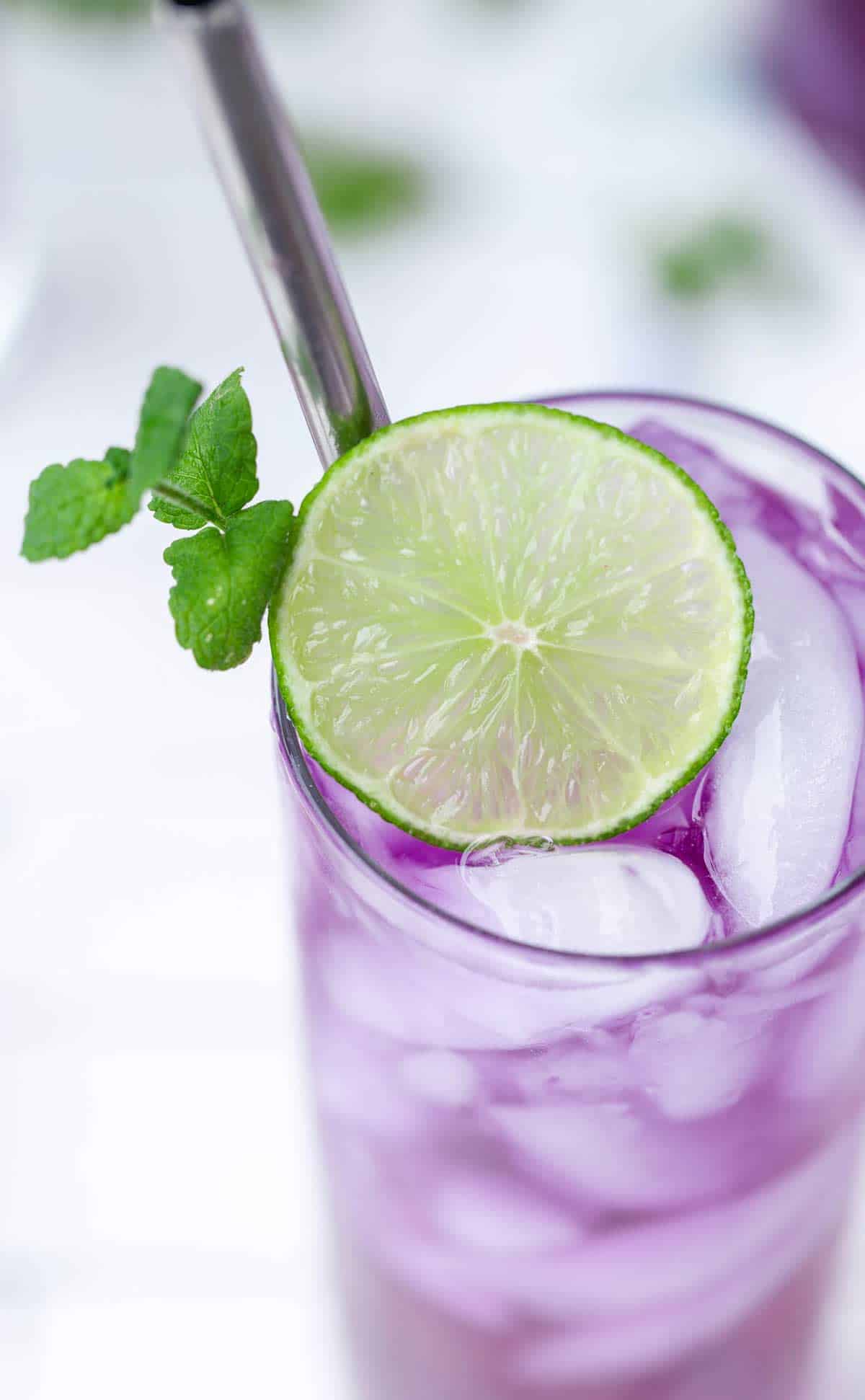 Yield
This recipe yields one butterfly pea flower cocktail. But it can easily be turned into a big batch pitcher recipe.
A full batch of the blue tea makes 8 cups of sweet iced butterfly pea tea. Simply combine 4 cups of cold butterfly pea tea with 1 cup of rum, and 1 cup of fresh lime juice in a large pitcher. Stir, fill with ice and enjoy! Best enjoyed within 24 hours, add ice before serving.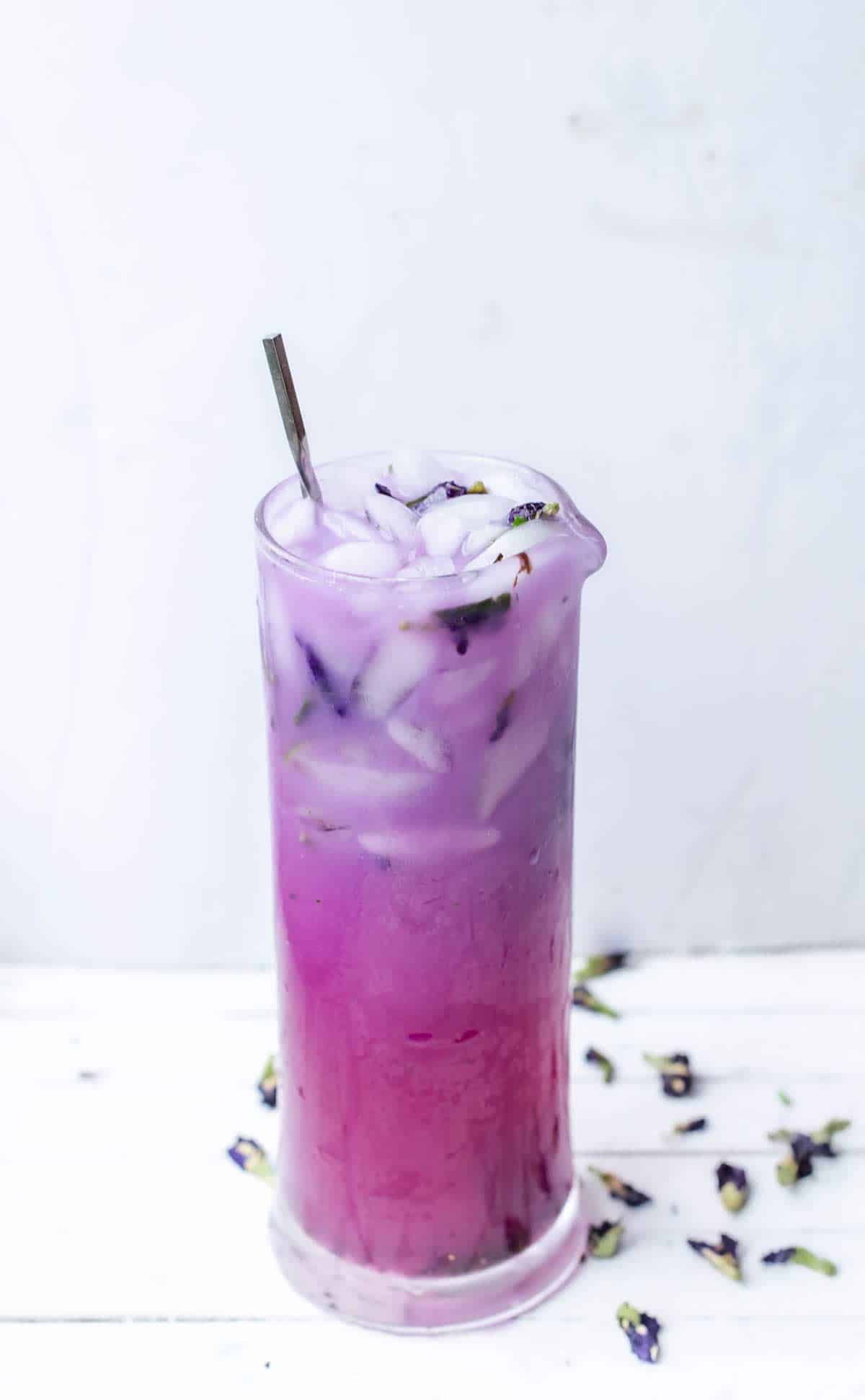 Spiked tea latte
Turn this butterfly pea flower cocktail into a spiked tea latte recipe! Simply add a drizzle of cream to make a deliciously creamy spiked tea latte like the Raspberry Black Tea and Blackberry Earl Grey Iced Tea Lattes. Only with rum 😉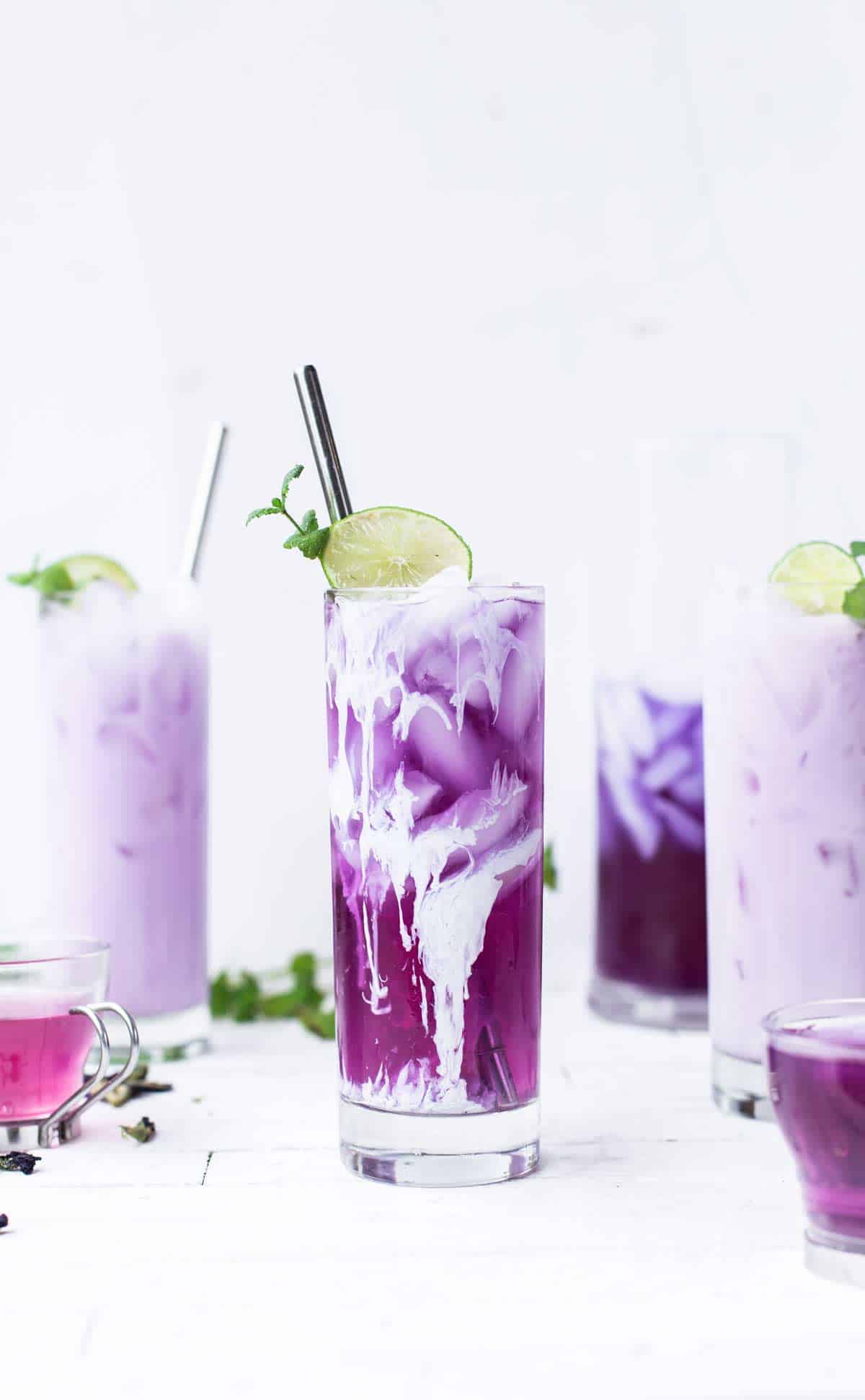 No alcohol version
You can easily make this a Magic Color Changing Mojito Mocktail instead! To make a no alcohol mocktail version make the recipe as directed and omit the rum. Simply combining the minty sweet iced tea with lime juice like a modern color changing Arnold Palmer.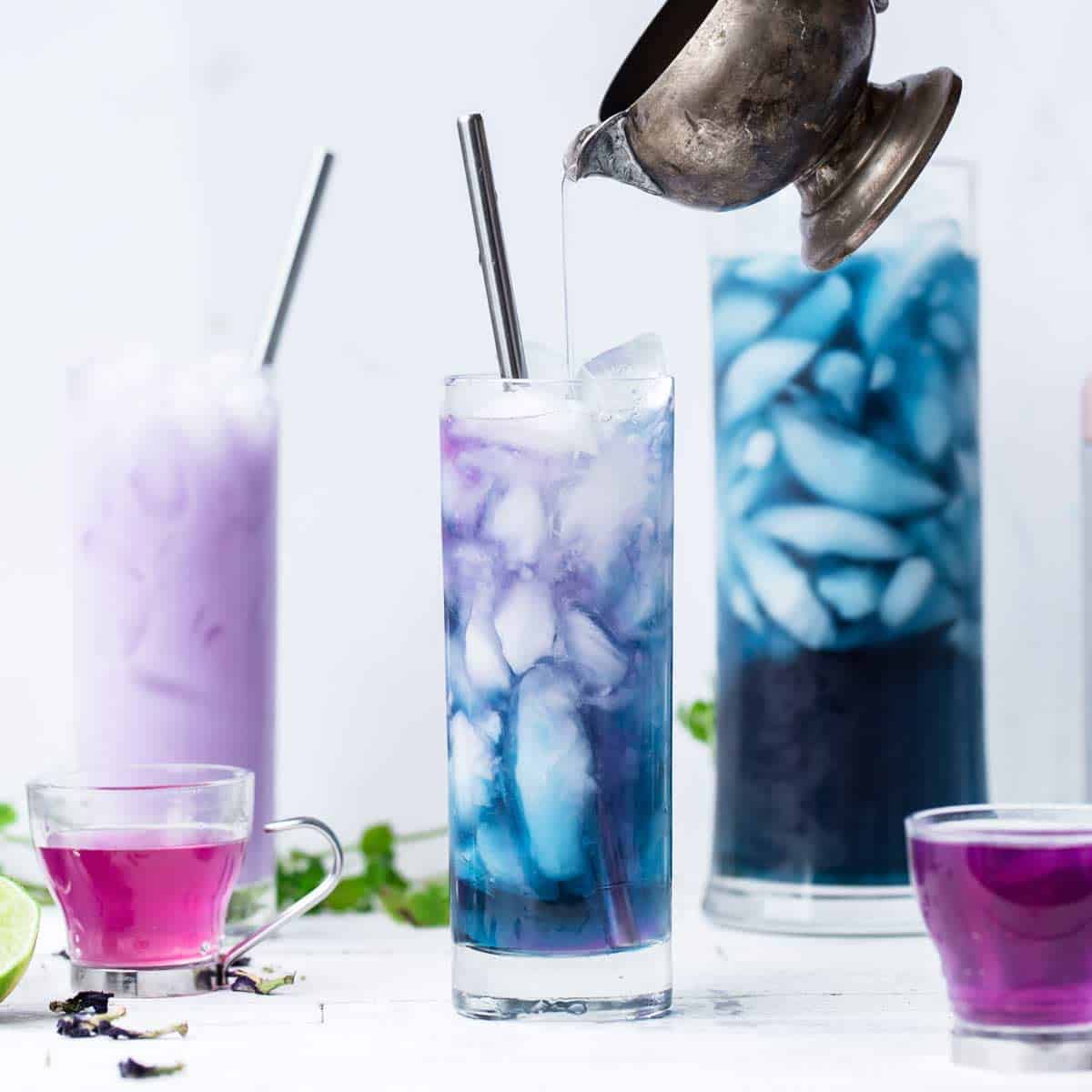 Ingredients
Sweet Butterfly Pea Tea
2

tablespoons

dried butterfly pea flowers

or 4 butterfly pea tea bags

2

tablespoons

fresh mint leaves

or 2 spearmint tea bags

½

cup

granulated sugar

4

cups

water

4

cups

ice
Butterfly Pea Flower Tea Cocktail
4

ounces

sweet butterfly pea tea

chilled

1

ounces

white rum

2

tablespoons

fresh lime juice

1 ounce, from a small lime

lime wheels

optional, to garnish

fresh mint

optional, to garnish
Instructions
Bring water to boil. Meanwhile, place mint leaves and butterfly pea flowers in large bowl with sugar. When boiling remove water from heat and pour over the tea mixture in the bowl. Steep butterfly pea tea for 5 minutes. 

2 tablespoons dried butterfly pea flowers,

2 tablespoons fresh mint leaves,

½ cup granulated sugar,

4 cups water

Meanwhile place ice in a large pitcher and after the tea is done steeping, strain the sweet blue tea concentrate over the ice to cool quickly. Store refrigerated until ready to use.

When ready to serve pour sweet blue butterfly pea tea over ice in tall glass, leaving about an inch of room on the top.

4 ounces sweet butterfly pea tea

Then add a float of lime juice to the top of the glass without stirring the lime juice into the spiked tea.

2 tablespoons fresh lime juice

Garnish with lime wheels and/or fresh mint as desired and serve with a long spoon or a straw.

Stir to combine before enjoying to watch the colors change.
Nutrition
Calories:
117
kcal
|
Carbohydrates:
14
g
|
Protein:
0.1
g
|
Fat:
0.02
g
|
Polyunsaturated Fat:
0.01
g
|
Sodium:
5
mg
|
Potassium:
47
mg
|
Fiber:
0.1
g
|
Sugar:
11
g
|
Vitamin A:
15
IU
|
Vitamin C:
9
mg
|
Calcium:
8
mg
|
Iron:
0.04
mg
Nutrition Facts
Color Changing Butterfly Pea Flower Cocktail
Amount Per Serving
Calories 117
% Daily Value*
Fat 0.02g0%
Polyunsaturated Fat 0.01g
Sodium 5mg0%
Potassium 47mg1%
Carbohydrates 14g5%
Protein 0.1g0%
Vitamin A 15IU0%
Vitamin C 9mg11%
Calcium 8mg1%
Iron 0.04mg0%
* Percent Daily Values are based on a 2000 calorie diet.