Baked Corned Beef and Cabbage is a delicious corned beef recipe for fork tender, fall apart corned beef with cabbage and potatoes.
Cooking corned beef in the oven low and slow is so easy and makes the best corned beef that deserves a spot at your table more than once a year!
Corned beef dinner
Corned beef brisket is beef brisket brined in a flavorful solution that is similar to pickle brine. The large salt kernels in the brine are called 'corns'. Which is where the name corned beef comes from.
There are so many different ways to cook corned beef and cabbage. Although you can make corned beef and cabbage on the stovetop, like a boiled dinner, the best corned beef and cabbage recipe starts with a good quality flat portion corned beef brisket like Costco corned beef.
Then takes this flavorful, but often tough, cut of beef and makes it super tender and flavorful by cooking corned beef in the oven low and slow until it easily falls apart and shreds with the touch of a fork.
Braising brisket like this renders fat and also retains moisture for the most succulent tender brisket.
And when cooking corned beef and cabbage separately all ingredients cook to the perfect doneness. The cabbage is blistered in the hot fat rendered from browning the brisket. Then the blistered cabbage is reheated before serving in the cooking liquid, or beef jus, along with the potatoes.
Making corned beef in the oven ensures there's no mushy cabbage or tough corned beef.
Instead you can make a corned beef and cabbage dinner that tastes so good everyone will be begging you to make it for dinner more than just once a year. After all, this oven baked braised brisket is so much more than just a St Patrick's Day recipe!
Ingredients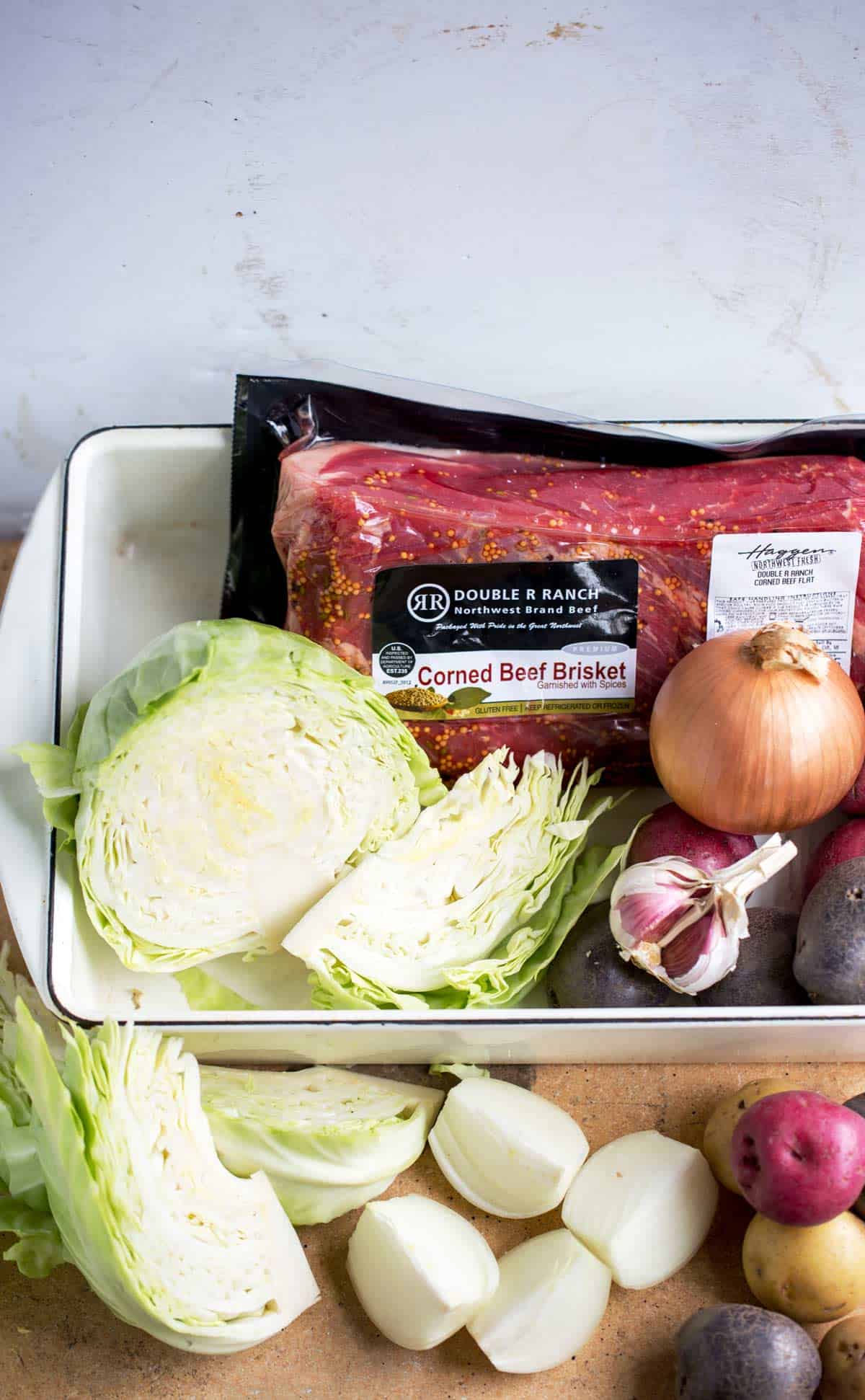 Corned beef – you can make corned beef from scratch with brisket and a brine of corned beef spices like coarse salt, peppercorns, thyme, allspice, paprika and bay leaves. But this takes a week to brine in the fridge. It's much easier to just choose a good quality corned beef from the grocery store where it comes pre-seasoned with corned beef spice blend. If you're wondering which cut of corned beef is best you can never go wrong with purchasing Costco corned beef. Or look for the same high quality flat portion corned beef brisket from any other retailer. See below for more information about which corned beef cut is best.
Cabbage – this baked corned beef and cabbage recipe cooks the cabbage and corned beef separately searing the corned beef in the rendered fat from browning the brisket then later warming the cabbage in the beef jus. You can also skip the cabbage and serve corned beef and sauerkraut or coleslaw instead.
Potatoes – petite potatoes are simply different varieties of baby potatoes all sold together. The small baby potatoes are the perfect size and the mixed colors add a nice pop to recipe. But feel free to substitute any other potatoes and adjust cooking time accordingly. Or make corned beef without potatoes and serve with rice or rolls and mustard sauce instead.
Onion – white onions or any onions you'd prefer.
Garlic
Liquid – I like to make corned beef and cabbage with beer for extra flavor. But you can make corned beef and cabbage without beer by substituting water, apple cider or stock.
Which corned beef cut is best?
There are typically two types of corned beef at the grocery store.
The reason there are different cuts of corned beef is because a beef brisket is between 8-12 pounds and is too large for most retail sales so they cut it into two portions.
The point portion and the flat portion.
While both are cuts from a beef brisket, both have a layer of fat, and have been brined in the same corned beef seasoning. There are substantial differences between the two cuts.
The point portion has more internal fat marbling and is usually more affordable and unevenly shaped.
The flat portion is also known as the 'first cut' and tends to cost more but have a more consistent texture yielding nice flat slices and a better end result.
Therefore I will always suggest the flat corned beef brisket as the best corned beef cut.
Why is corned beef red?
Corned beef is red because of the sodium nitrate used in the brine that prevents the growth of bacteria and spoilage. You can buy corned beef without nitrates or labeled nitrate free. This corned beef is instead preserved with celery juice that is high in naturally occurring nitrates from soil. Or make your own corned beef at home with your own pickling brine and corned beef spices.
Is corned beef Irish?
Corned beef is not really Irish.
Corned beef originated in England but Ireland became known for their corned beef when they became the main worldwide exporters due to several laws that worked in their favor. One that made it illegal for Ireland to export live cattle. And another that made the tax on salt much less in Ireland than elsewhere.
So although, yes, corned beef indeed does export out of Ireland, corned beef and cabbage is not really an Irish recipe.
History says corned beef is not even what the people of Ireland eat or have eaten during St Patrick's Day dinner feasts.
Most likely Irish would feast on Irish Stew and Soda Bread or Braised Pork and potatoes before they would eat corned beef and cabbage on St Patrick's Day.
Step by step instructions
Preheat oven to 300 degrees Fahrenheit.
Cut cabbage. Keep a portion of the stem in each cabbage wedge to make the leaves stay together while you're cooking and eating. Cut in half using a sharp knife. Then continue cutting the wedges leaving a little core on each wedge until you have 8 cabbage wedges.
Remove corned beef from package, rinse and pat dry. Set spice packet aside for later.
Heat oil in large dutch oven or skillet. Brown corned beef on both sides. Transfer beef to a baking dish or plate.
Working in batches, add cabbage wedges to hot rendered fat. Cook cabbage on each side until browned and blistered. Transfer to plate.
If all the rendered fat was absorbed by the cabbage add a bit more oil. Then add onions and cook until lightly browned and softened. Add garlic and 1 cup water to deglaze pan, scraping up browned bits. Add remaining water and bring to a boil. Then pour mixture over the corned beef in the baking dish covering meat by at least ½ inch of water.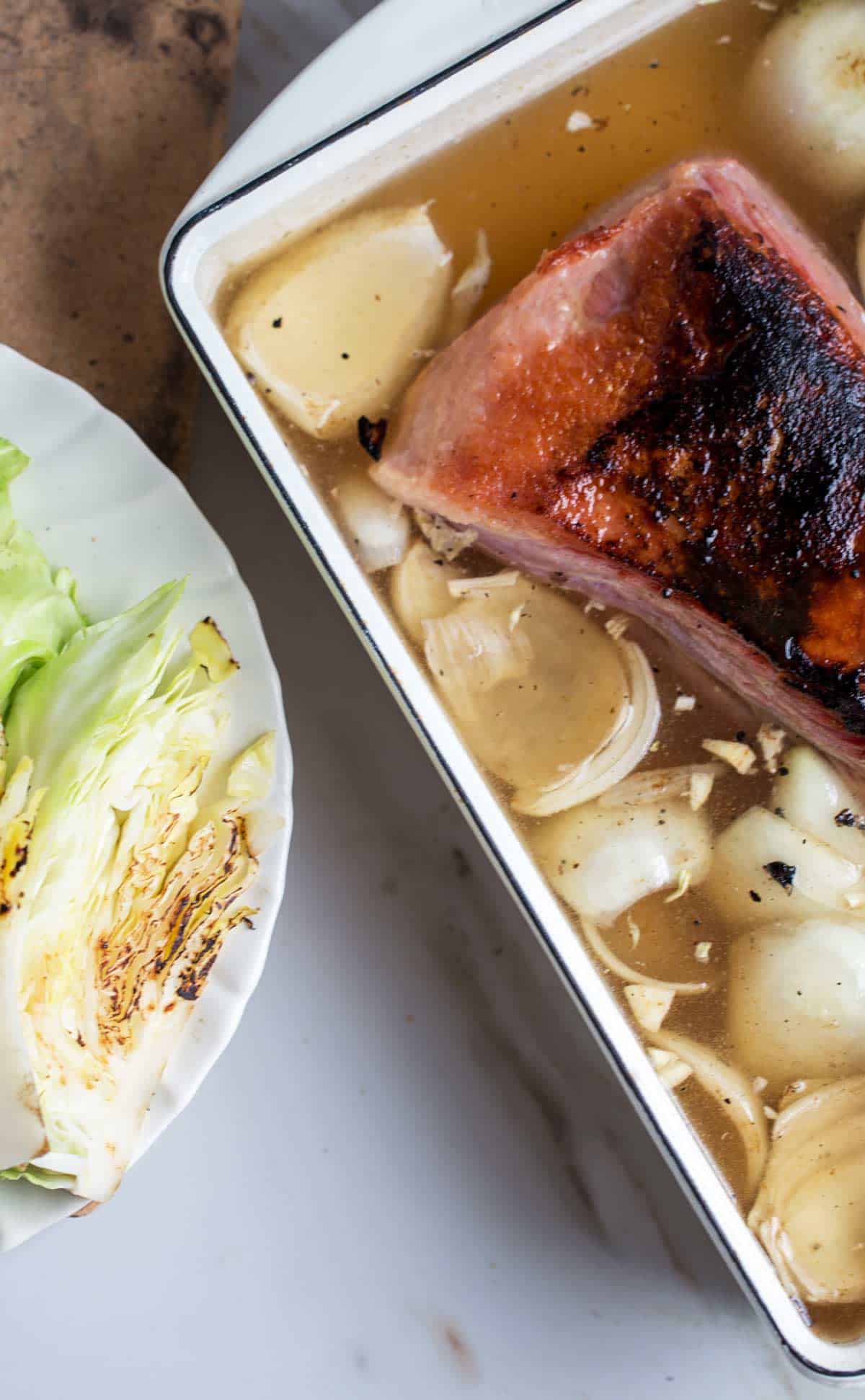 Tightly cover and cook corned beef in the oven for 2 ½ hours.
Remove lid and cook uncovered for 30 minutes or until tender.
Once corned beef brisket is tender, add potatoes to dutch oven and bake for an additional hour, uncovered, or until potatoes are starting to get tender.
Remove brisket to cutting board and add blistered cabbage wedges to liquid with the potatoes to warm through while corned beef rests.
Slice beef across the grain. Slicing across the grain ensures the meat easily falls into lots of little pieces when you take a bite. Slicing with the grain will result in very long stringy pieces instead.
Remove potatoes and cabbage and place vegetables around baked corned beef slices. Strain broth.
Serve and enjoy!
How to cook corned beef on the stove
This recipe details how to oven braise but if you don't have an oven safe vessel you can braise corned beef on the stove instead of making corned beef in the oven. Simply simmer corned beef covered over low heat. Checking periodically to make sure meat stays covered with liquid and adding additional liquid as needed.
Why is corned beef tough?
To make corned beef that is not tough simply cook it according to this corned beef in the oven recipe. Cooking low and slow then slicing the corned beef across the grain. If brisket is tough most likely it was not cooked long enough or it was cooked too hot.
How to serve
There are lots of ways to serve corned beef!
This baked corned beef recipe serves the cabbage and potatoes on the side. But there are many other things you can add to the corned beef and cabbage dinner instead. Add carrots and serve corned beef with mustard sauce, horseradish or thousand island dressing.
Make sure to include some bread. All bread goes great with corned beef but rye bread or soda bread are traditional. Soda bread always me of an oversize biscuit, so I usually opt for making a few batches of Big Flaky Baking Powder Biscuits instead.
With the corned beef leftovers you can make corned beef with potatoes and eggs for breakfast as corned beef hash. Or treat corned beef like you would roast beef or pastrami and make corned beef sandwiches like reuben sandwiches.
You can also make corned beef and cabbage soup, corned beef and cabbage egg rolls, corned beef empanadas, mac and cheese, grilled cheese sandwiches, anything!
Make ahead meal
To make corned beef and cabbage ahead of time simply cook brisket completely, through step five. Then cool corned beef in its juices tightly covered with aluminum foil. Refrigerate up to 3 days. When ready to serve add potatoes and cabbage and reheat at 325 degrees until potatoes are tender and brisket is warmed through, about one hour. Reheat leftovers in the same way.
Yield
A 3-4 pound beef brisket feeds up to 6 people with about 4 large slices per serving. For larger appetites, or to make sure you have leftovers, you can average 1 pound per person instead.
Ingredients
3-4

pounds

corned beef brisket

flat portion

¼

cup

canola oil

divided

2

large

yellow onions

peeled and quartered

3

cloves

garlic

peeled and minced

1

pound

petite potatoes

rinsed and scrubbed

1

medium

cabbage

cut into 8 wedges, core intact

6-8

cups

water

salt and pepper

to taste
Instructions
Preheat oven to 300 degrees Fahrenheit. Rinse and pat brisket dry with paper towels. In a large dutch oven or cast iron skillet heat 2 tablespoons canola oil over medium high heat until shimmering. Brown the beef on both sides, about 10 minutes then transfer to baking dish or plate.

Add cabbage wedges to hot rendered fat in pan and cook on each side until browned and blistered, about 30 seconds per side. Transfer to plate and continue with remaining cabbage wedges.


All the rendered fat should have been absorbed by the cabbage wedges, so add the last 2 tablespoons of canola oil to the pan. If there is still rendered fat, drain all but 2 tablespoons and skip adding any additional oil. Reduce heat to medium and add quartered onions and ¼ teaspoon sea salt. Cook until lightly browned and softened, about 3 minutes. Add garlic and cook until fragrant, about 1 minute.

Deglaze pan with 1 cup water, scraping up any browned bits. Then add remaining 5 cups water and bring to a boil. Pour over browned corned beef brisket in a baking dish or leave liquid in dutch oven and place the browned brisket back into the dutch oven, covering with at least ½ inch of liquid. Tightly cover baking dish with aluminum foil or place lid on dutch oven and bake.

After 2.5 hours remove lid or foil and ensure that the brisket is still covered by liquid, adding more if necessary. Cook an additional 30 minutes.

Add petite potatoes and bake, uncovered, 1 hour longer. Then remove brisket to cutting board to rest and add blistered cabbage wedges to the braising liquid and potatoes and continue baking until potatoes are cooked through and cabbage is tender but still has bite, about 15 minutes.

Slice brisket across the grain in ¼ inch slices and place on a platter. Remove veggies from broth and arrange around baked corned beef slices. Strain broth and pass separately with horseradish, coarse deli mustard and a big loaf of crusty bread.
Nutrition
Calories:
612
kcal
|
Carbohydrates:
18
g
|
Protein:
35
g
|
Fat:
43
g
|
Saturated Fat:
11
g
|
Cholesterol:
122
mg
|
Sodium:
2779
mg
|
Potassium:
1070
mg
|
Fiber:
2
g
|
Sugar:
2
g
|
Vitamin C:
80.3
mg
|
Calcium:
47
mg
|
Iron:
4.5
mg
Nutrition Facts
Baked Corned Beef and Cabbage
Amount Per Serving
Calories 612
Calories from Fat 387
% Daily Value*
Fat 43g66%
Cholesterol 122mg41%
Sodium 2779mg121%
Potassium 1070mg31%
Carbohydrates 18g6%
Protein 35g70%
Vitamin C 80.3mg97%
Calcium 47mg5%
Iron 4.5mg25%
* Percent Daily Values are based on a 2000 calorie diet.