Making Flaky Baking Powder Biscuits from Scratch is easy with this wholesome recipe using only simple ingredients – all purpose flour, butter, milk, baking powder, a little salt and a pinch of sugar – and a foolproof technique!
Whether you enjoy them for breakfast with biscuits and gravy, dunk 'em in your soup or stew at dinner, or freeze for later, you'll love start making your own biscuits from scratch with this easy recipe.
How to make easy biscuits from scratch
There's nothing wrong with popping open a can and baking up some biscuits. But, there's no need to buy canned biscuits when you can make your own! And especially when it's as affordable and easy as this! It takes only a few common kitchen staples and a few tricks you must know to make homemade biscuits that will leave you never needing to grab a can of biscuits again!
How to make flaky biscuits
There are a few techniques you must know to make flaky biscuits.
Keep everything cold – cold fats equal flakiness. This is because all the little bits of chilled fat melt during baking creating air pockets. Air pockets are just another name for flaky little delicious bites. To prevent dense biscuits always be thinking cold, cold, cold. Keep both the butter and milk chilling in the fridge until right up until you need to use them. Cut chilled butter into small cubes using a sharp knife.
Use a light hand – Then, use your hands (or a food processor!) to work cold butter into dry ingredients just until there are pea sized pieces throughout. Gently incorporate the cold milk just until dough comes together, three to four turns. It's a very loose dough. The less it's stirred the more tender and flaky the biscuits will be. Prevent the butter from warming and mixing completely in by working quickly and not working the dough too much.
It's as simple as that.
How to make tall biscuits
For tall layers, it's all about the fold and the cut. After the dough comes together, gently pat into a rectangle. Then, bring both sides up to the middle, like a business envelope. Or, as I prefer to describe it.. a modified 'hot dog fold' from elementary school.
Do this a few times, being as gentle as possible. Then, cut the dough with as sharp a tool as you can find. For rounds, use a sharp biscuit or cookie cutter. Or, just use a sharp knife and cut into squares. Place biscuits close together on the baking sheet and bake.
Ingredients
all purpose flour
baking powder
sugar
fine salt
unsalted butter
milk
How to make baking powder
Out of baking powder? There is a replacement for baking powder using baking soda and cream of tarter. So, if you happen to have those on hand you can just mix up a teaspoon of baking soda and two teaspoons of cream of tarter to make 1 tablespoon baking powder. This recipe will give you single-acting baking powder, which means it will react when it comes into contact with the liquid in a recipe. For this reason it's important to add your baking powder towards the end, and to get your baked goods in the oven as soon after as possible. If you're planning on mixing up your baking powder substitute, add 1 teaspoon cornstarch for every 1 teaspoon baking soda in order to keep it from reacting before using.
What to serve with biscuits
Neither savory or sweet these Flaky Baking Powder Biscuits go just as well with butter and jam as they do with bacon and eggs (or sausage gravy!).
Looking for a sweet biscuit fit for dessert or perfect dipped in coffee? Check out my recipe for Strawberry Shortcakes with Sweet Biscuits!
Customize it
Biscuits are basically a blank canvas once you have the techniques down. Try mixing in your favorite shredded cheese or fresh herbs. How about bits of crispy bacon or ham, cheddar and chives? Try using lard instead of butter as the fat. Or cream instead of milk. If using salted butter or another fat make sure to reduce the amount of salt you add.
Make ahead biscuits
Cut biscuit dough can be made ahead and refrigerated loosely covered up to 24 hours before baking. Or, freeze biscuit dough rounds on baking sheets and transfer to a freezer safe storage bag or container. Add 3-4 minutes to frozen biscuit baking time.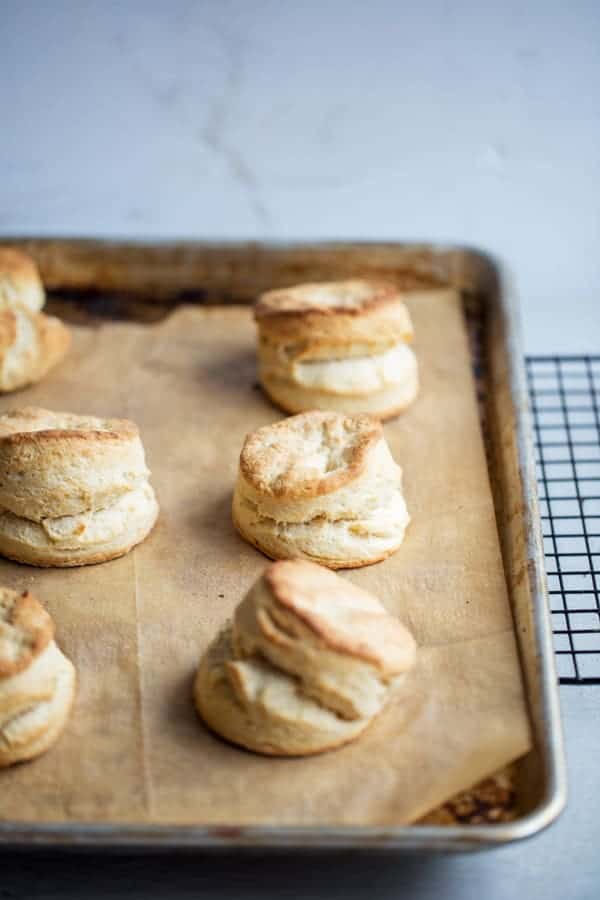 Ingredients
2

cups

all purpose flour

1

tablespoon

baking powder

1

teaspoon

sugar

1

teaspoon

fine salt

7

tablespoons

unsalted butter

cold

¾

cup

milk

cold
Instructions
Preheat oven to 450 degrees F. Prepare baking sheets with parchment paper or grease with butter. In a large bowl, whisk flour, baking powder, sugar and salt.

2 cups all purpose flour,

1 tablespoon baking powder,

1 teaspoon sugar,

1 teaspoon fine salt

Cut cold butter with a sharp knive into little cubes. Or, shred frozen butter with a box grater into little shards. Work butter into flour mixture until only pea sized pieces remain. Gently stir in the cold milk just 3 or 4 stirs until a loose dough is formed.

7 tablespoons unsalted butter,

¾ cup milk

Lightly dust work surface with flour and turn the dough out onto it. Pat into a ½ inch thick rectangle and fold in thirds like a business letter. Pat into ½ thick rectangle and fold in thirds a second time. Pat down ½-3/4 inch thick and cut in circles with a sharp biscuit cutter or square with a sharp knife. Pressing together scraps of dough as needed to use all the biscuit dough.

Bake until lightly browned and fully cooked in the center, about 15 minutes. Cool and serve.
Nutrition
Calories:
218
kcal
|
Carbohydrates:
26
g
|
Protein:
4
g
|
Fat:
10
g
|
Saturated Fat:
6
g
|
Cholesterol:
28
mg
|
Sodium:
303
mg
|
Potassium:
215
mg
|
Sugar:
1
g
|
Vitamin A:
345
IU
|
Calcium:
98
mg
|
Iron:
1.6
mg