Puerto Rican Pork Roast seasoned with cilantro sofrito and slow roasted this pork roast recipe yields the perfect mix of fall apart pork and crispy pork pieces. A shredded pork roast recipe based on Puerto Rican pork pernil that is perfect to serve at parties and events!  
Jump to:
Pork pernil pork roast recipe
Pernil, pronounced perr-neel, is the Spanish word for pork shoulder. And a dish of heavily seasoned roasted pork often served for celebrations and holiday feasts all over latin America. Pernil is like a smaller version of lechon, or whole roasted pig, that's more manageable in size but still a very festive main dish recipe for parties.
Traditionally cooked over an open flame. This recipe is cooked low and slow in the oven until the meat is super tender and easily falls off the bone. And finished with a pop of super high heat to crisp the skin as much as possible.
It's hard to resist it straight out of the oven. But before being serve the mix of shredded and crispy pork is tossed in lime juice and pan drippings for even more flavor.
This Puerto Rican Pork Roast recipe tastes like the most delicious garlicky roast pork or pulled pork recipe that you've ever had!
Puerto Rican pork roast seasoning
Pernil is usually seasoned with a wet rub for meat, called 'adobo mojado', made from herbs, garlic and vinegar. But this recipe is based on Puerto Rican pork pernil and seasoned with a sofrito instead.
Sofrito is a wet marinade or seasoning for poultry, pork, fish or vegetables made from a combination of aromatics, like onion, peppers and herbs. Originating in Spain there are many different versions of sofrito now all over the world.
Puerto Rican sofrito recipes typically call for a combination of lightly spicy peppers. Peppers like aji dulce and cubanelle peppers are traditional and are sweet frying peppers with unexpected heat. Like shishito pepper.
Spanish sofrito includes tomatoes. While Italian sofrito adds carrots and celery.
Sofrito can be used in many ways. Enjoy sofrito by itself as a dip or sauce like pesto or chimichurri sauce. Or like more commonly used, use sofrito as a seasoning and marinade. Like we do with this pork roast recipe which calls for slathering the pork roast in cilantro heavy sofrito a day in advance to marinate overnight.
Ingredients
Cilantro sofrito – a flavor-packed wet marinade paste of onions, garlic, cilantro, spices and olive oil. This sofrito recipe seasons and seals in flavor and moisture during the long, slow roast.
Pork shoulder roast – or picnic roast, bone in, skin on. The difference between pulled pork and pork pernil is the cut of meat that is used. Pulled pork is made from pork butt. And pork pernil is made with pork shoulder 'picnic' roasts a cut from the pig's shoulder above the forelegs. Usually sold bone in, skin on. This cut of pork has more fatty connective tissue than pork butt.
Water – or light beer, lager, chicken or vegetable stock, etc.
Cilantro – to flavor the cilantro lime jus.
Lime – zest and juice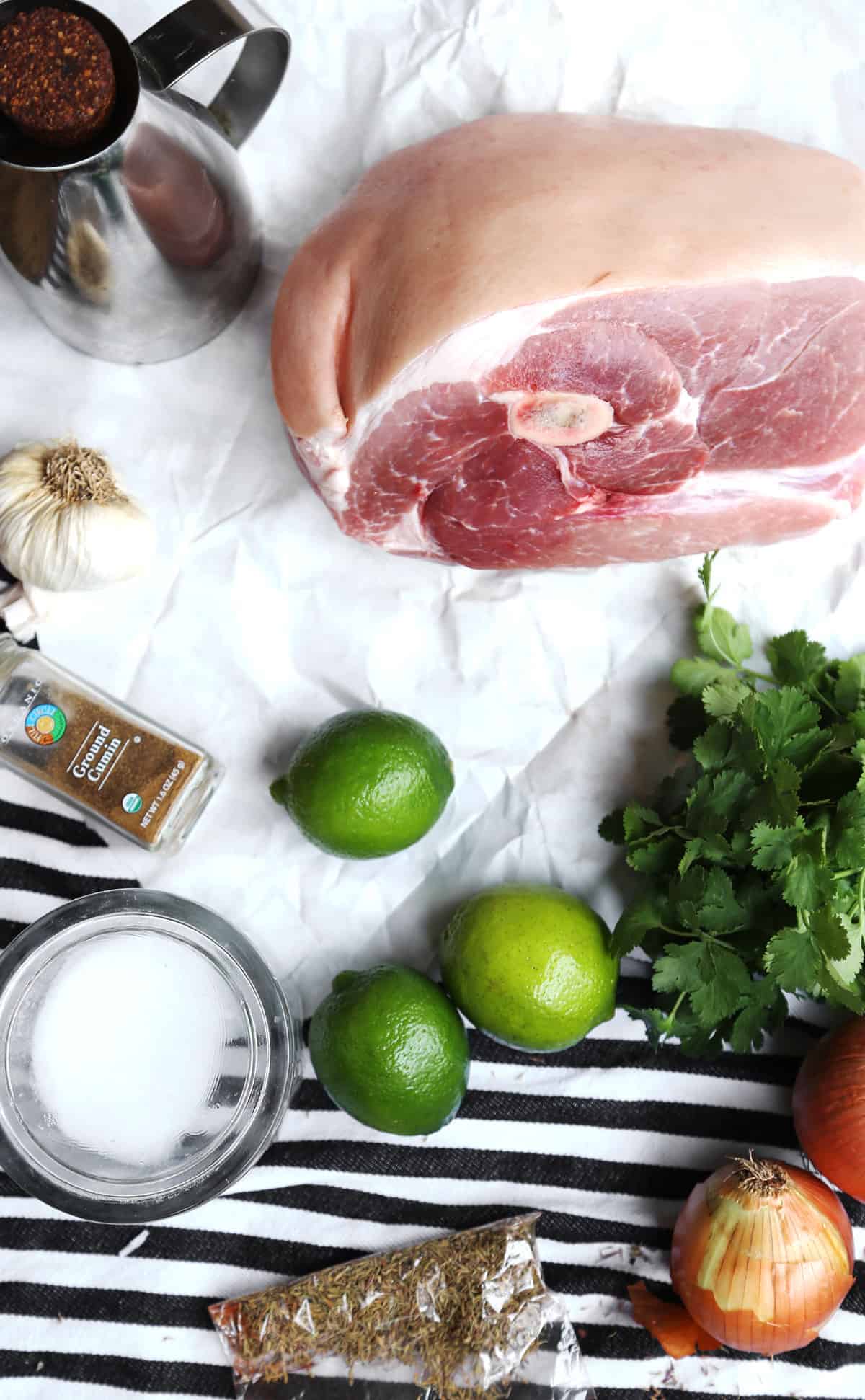 Step by step instructions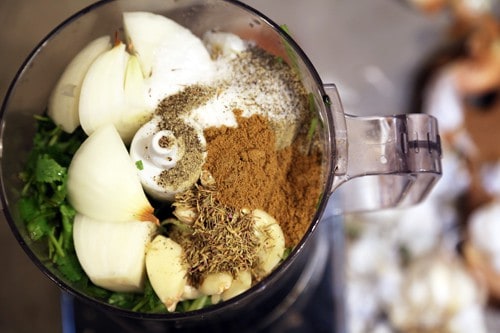 Make a sofrito recipe from onion, garlic, cilantro, salt, black pepper, oregano, cumin and olive oil. Then pat pork dry with paper towels then cover with cilantro sofrito and refrigerate to marinate at least 12 hours, up to 24 in advance.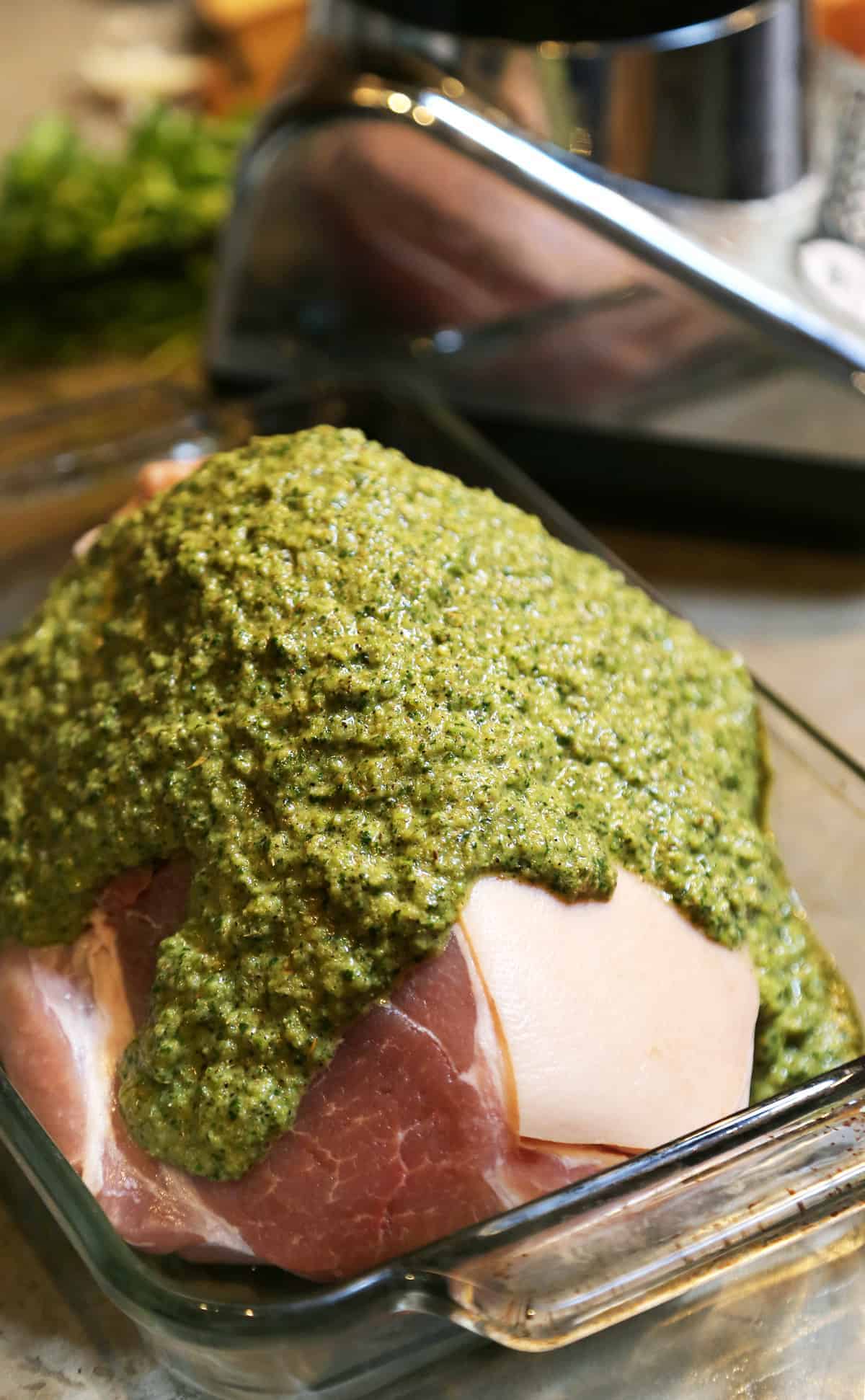 Preheat oven to 450 degrees Fahrenheit.
Place marinated pork roast skin side down in a large roasting pan. Add water to reach halfway up the roast then cover tightly with aluminum foil. Place in the preheated oven and cook, tightly covered, for 90 minutes. This steam transforms the skin from collagen to gelatine so it can be properly crisped later.
Reduce oven to 375 degrees and remove foil. Continue to cook uncovered at 375 for 2 ½ hours longer.
After he pork roast has been braising for 4 hours total (1 ½ hours covered, 2 ½ uncovered) gently transfer to a non stick v-rack, placing the roast skin side up. Set roast and v rack back into the liquid filled pan. Then pat skin dry with paper towels. If you do not have a v rack simply flip roast and dry skin instead.
Return the pan with the pork roast skin side up in v rack back to the oven for another hour at 375 degrees, checking frequently and adding water as needed to prevent it from drying out.
After an hour, transfer the v rack to a large foil lined baking sheet and set pan juices aside for later.
Increase oven to 500 degrees and place the baking sheet with v rack and roast to roast at 500 degrees until the skin is super crispy, about 15-20 minutes.
Meanwhile pour pan juices into a measuring bowl with cilantro, lime zest and juice.
Once crispy transfer pork roast to a cutting board to rest for at least 30 minutes. Then remove bone and discard. Remove skin and coarsely chop. Pull pork into bite sized pieces. Toss shredded pork in a large bowl with crispy pieces and most of the seasoned pan juices.
Serve and enjoy!
How to serve
Serve Puerto Rican Pork Roast with quick pickled onions, lime, avocado and warm tortillas on the side. Or serve pork roast like traditional pork pernil is served with rice and beans, salad and crispy fried plantains. However you serve it you're going to love this pork roast recipe!
Yield
A 7 pound bone in pork shoulder will yield roughly 4 pounds of meat after cooking, enough for about 10-12 large servings.
Shelf life
Quickly cool shredded Puerto Rican pork roast meat to room temperature in a shallow pan. Then once cool, refrigerate tightly covered for up to 5 days. Or freeze for up to 3 months.
Thaw frozen pork overnight in the refrigerator. Then reheat gently in a low oven or on the stovetop, stirring frequently until heated through.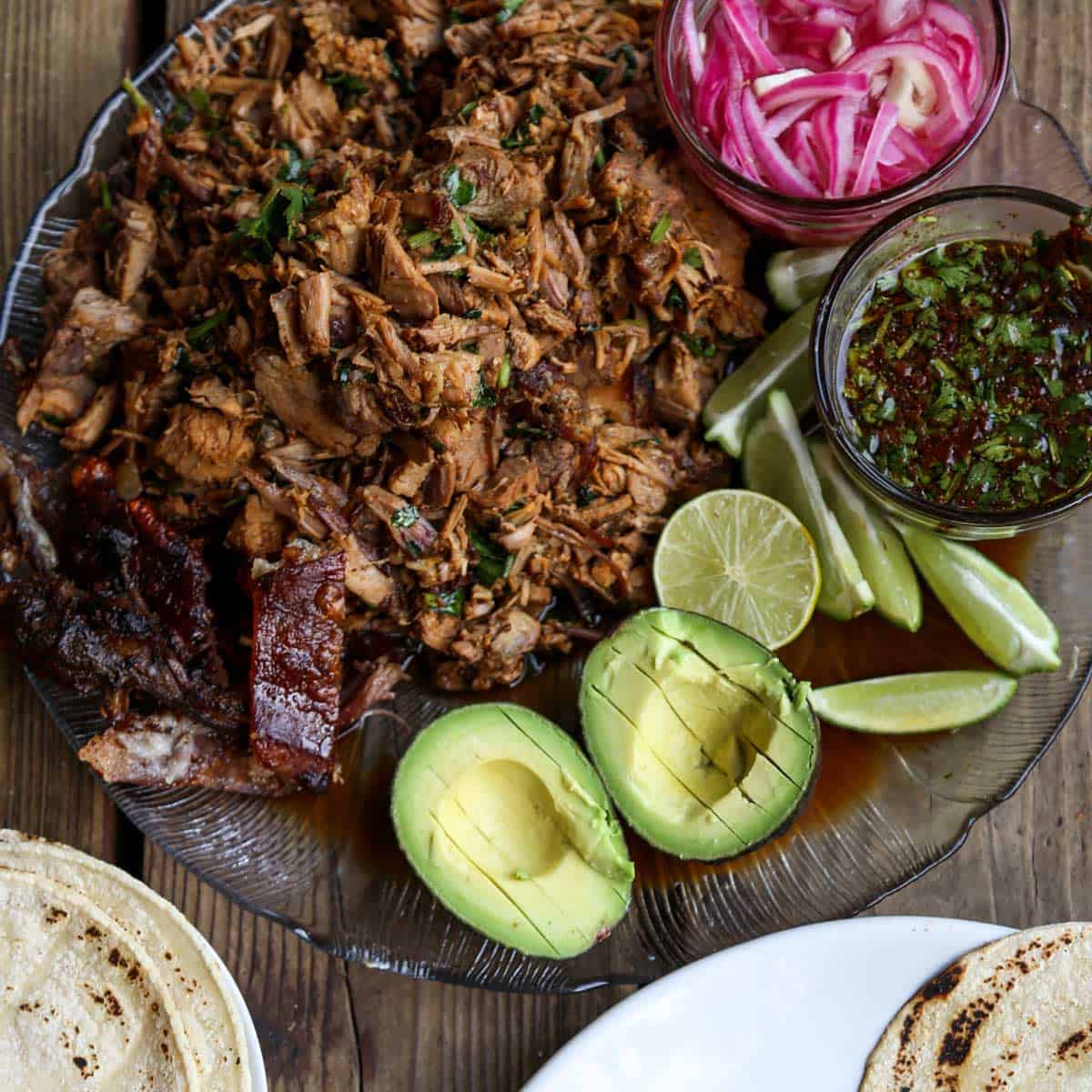 Ingredients
7

pounds

pork picnic shoulder roast

bone-in

1 ½

cups

fresh cilantro

leaves and stems, chopped

2

medium

onions

roughly chopped

¼

cup

salt

¼

cup

olive oil

12

medium

garlic cloves

peeled

2

tablespoons

black pepper

1

tablespoon

dried oregano

1

tablespoon

ground cumin

1

tablespoon

lime zest

grated

⅓

cup

lime juice
Instructions
Prepare cilantro sofrito by placing peeled garlic and rough chopped onion with 1 cup cilantro, salt, oil, pepper, oregano, and cumin in food processor. Pulse until finely ground then stir in olive oil.

Pat pork dry with paper towels, rub sofrito all over and place in large (2 gallon) freezer bag or cover with plastic wrap.

Refrigerate at least 12 hours and up to 24.

Heat oven to 450 degrees.

Place marinated pork roast skin side down in a large roasting pan and pour water in until it reaches halfway up the roast.

Cover tightly with aluminum foil and roast for 90 minutes.

Remove foil, reduce oven to 375 degrees and continue to roast for 2 ½ hours.

Remove pan from oven and gently transfer the roast from the pan to a non stick v rack, skin side up.

Pat skin dry and place v rack back in pan and return pan to oven for 1 more hour. Check the pan frequently and add additional water to ensure that the bottom of doesn't dry out.

Transfer the v rack with the roast to a foil lined baking sheet and increase oven temperature to 500 degrees. Cook until the skin is crispy, 15 to 30 minutes.

Transfer to a cutting board to rest at least 30 minutes.

Meanwhile, pour pan juices into a measuring bowl and add water if necessary to make 1 cup.

Whisk remaining ½ cup cilantro, lime zest and ⅓ cup lime juice into juices.

Remove crispy skin from pork and coarsely chop into bite sized pieces.  Remove pork from bone and also chop. Add to a large bowl and pour ⅔ of cilantro lime juices on top. Toss to coat.

Serve with crispy skin on the side. Accompanied by additional cilantro lime juices, quick pickled red onions, limes, avocado and either warm corn tortillas or rice.
Nutrition
Calories:
596
kcal
|
Carbohydrates:
9
g
|
Protein:
65
g
|
Fat:
32
g
|
Saturated Fat:
9
g
|
Cholesterol:
216
mg
|
Sodium:
4968
mg
|
Potassium:
1270
mg
|
Fiber:
2
g
|
Sugar:
2
g
|
Vitamin A:
327
IU
|
Vitamin C:
13
mg
|
Calcium:
103
mg
|
Iron:
5
mg
Nutrition Facts
Puerto Rican Pork Roast
Amount Per Serving
Calories 596
Calories from Fat 288
% Daily Value*
Fat 32g49%
Cholesterol 216mg72%
Sodium 4968mg216%
Potassium 1270mg36%
Carbohydrates 9g3%
Protein 65g130%
Vitamin A 327IU7%
Vitamin C 13mg16%
Calcium 103mg10%
Iron 5mg28%
* Percent Daily Values are based on a 2000 calorie diet.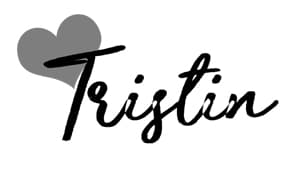 Shop this post
Please note: Fresh Flavorful is a participant in the Amazon Services LLC Associates Program, and these customized links, provided by Amazon, track the referrals to their website for the purposes of assigning commission on these sales.