Blistered Shishito Peppers with dipping sauce is a delicious easy appetizer recipe that can be cooked in a cast iron pan on the stove, grilled on the bbq, baked in the oven and even made in the air fryer.
Easy to cook and fun to serve this shishito peppers recipe is sure to move to the top of your favorite appetizer recipes!
Shishito peppers recipe
Shishitos are small, mild Japanese peppers. Shishito peppers taste like mix between a bell pepper and a spicier jalapeno pepper with typically very mild heat.
And although most shishito peppers are not spicy about 1 in every 10 or 20 shishito peppers can be spicy.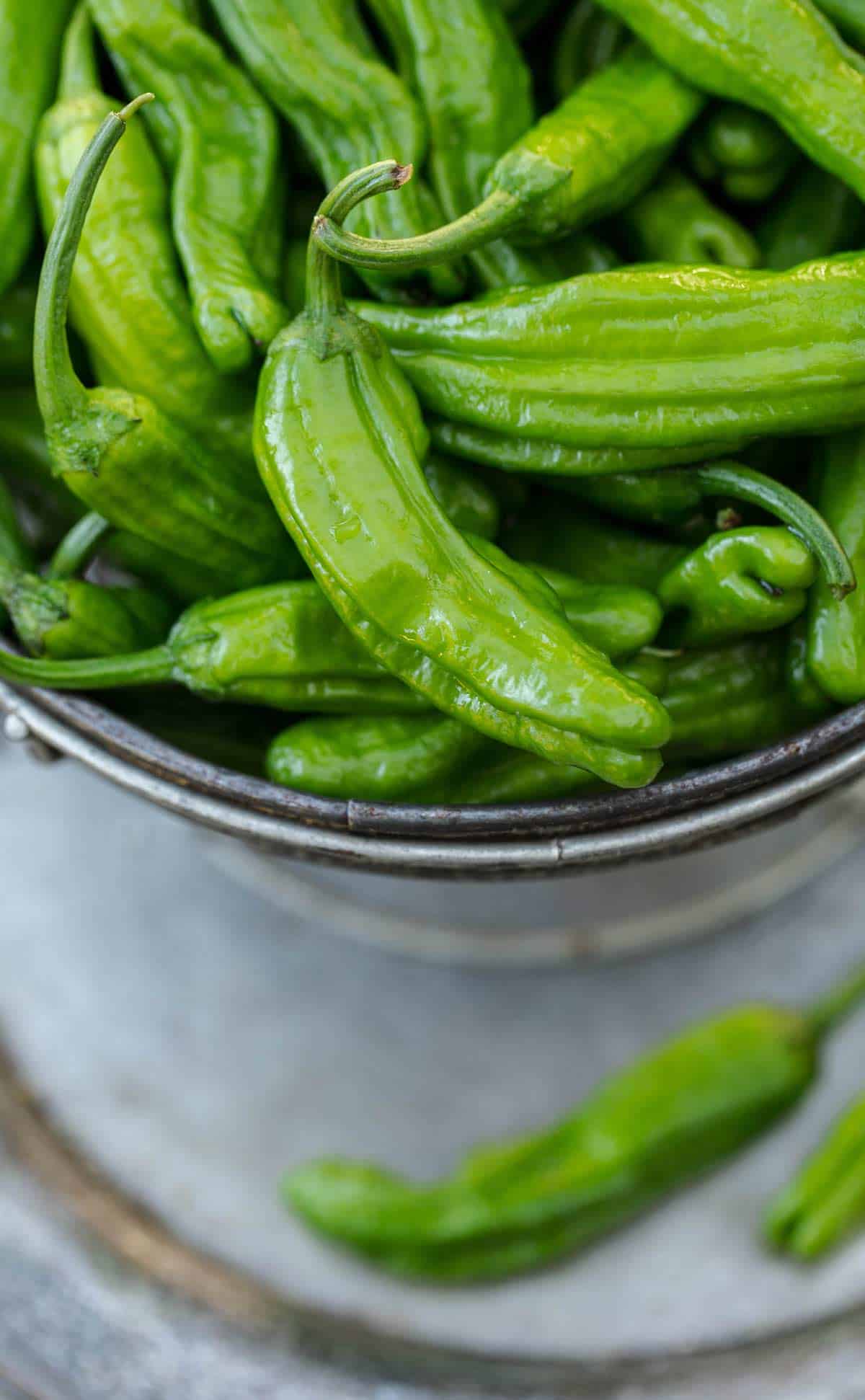 Which I think is part of why they are such a great appetizer to share with friends and family. The unpredictable spice is part of the fun and appeal! Also shishitos are basically the perfect easy appetizer to cook indoors or out and pair amazingly with an ice cold beer or crisp white wine.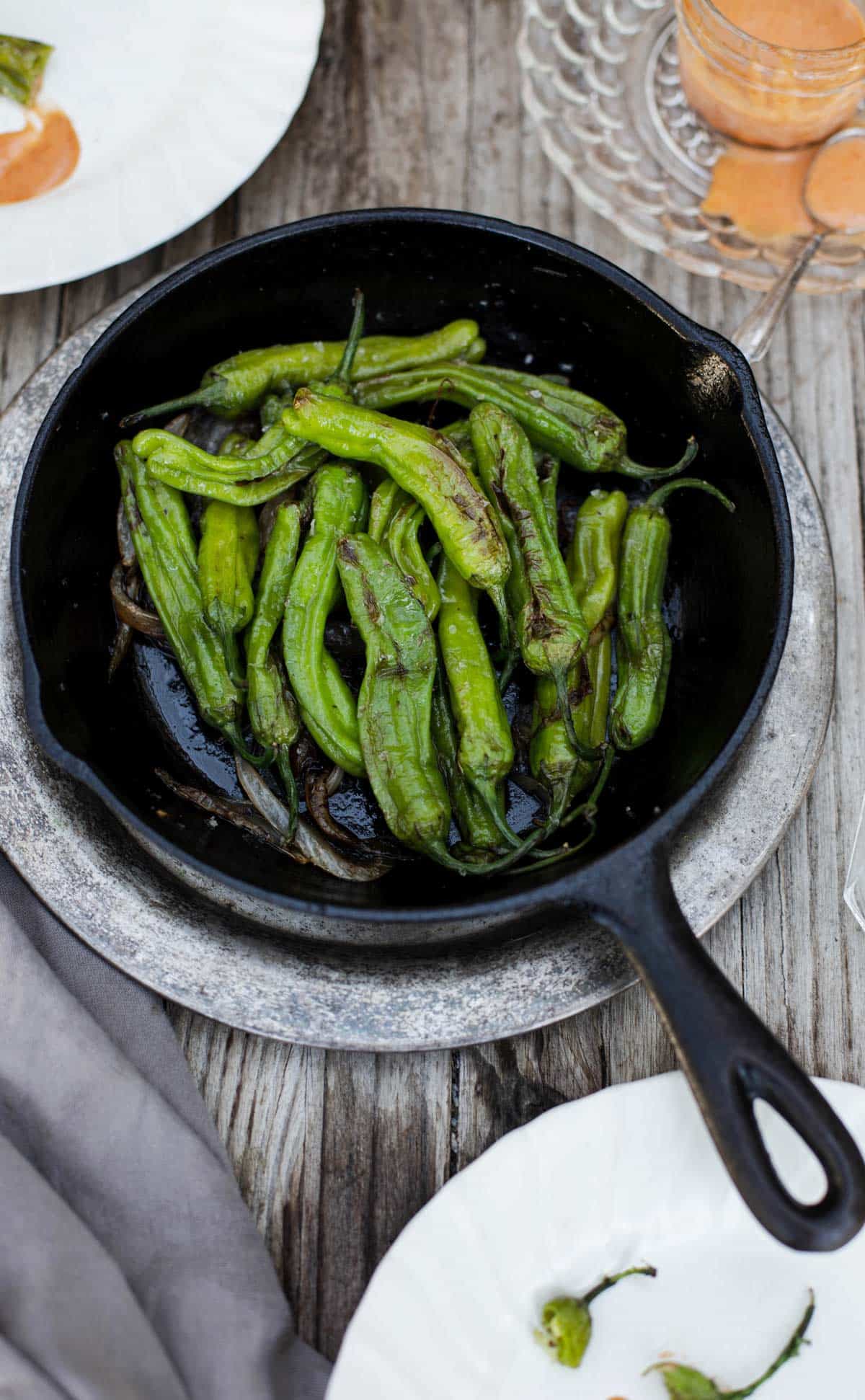 Ingredients
Shishito peppers – Looking for where to buy shishito peppers should be pretty easy as they are becoming increasingly popular. You can purchase shishito peppers from local farmers and farm stands. Or purchase shishito peppers at your local grocer. If unable to find shishito peppers near you padron peppers, serrano peppers, sweet Italian peppers (the ones used to make pepperoncini peppers) or even jalapeno peppers can be substituted. Although the Scoville of shishito peppers varies it is typically relatively low at only 50-200 Scoville heat units. Although some may be as hot as 1000 SHUs. So other peppers like padron peppers may taste like shishitos but be more spicy than the mild Japanese peppers. Although the spice is mostly unpredictable if you find red shishito peppers expect them all to be on the spicier end of the spectrum. Because as shishito peppers mature from green to red they become and more more hot.
Onion – white onion, red onion or even scallions can be used. Or you can omit if wanted to make this a simple 3 ingredient recipe instead of 4.
Canola oil – or other light oil
Coarse salt – kosher salt, Maldon sea salt flakes, or other coarse salt add just the right amount of texture along with enhancing the flavor.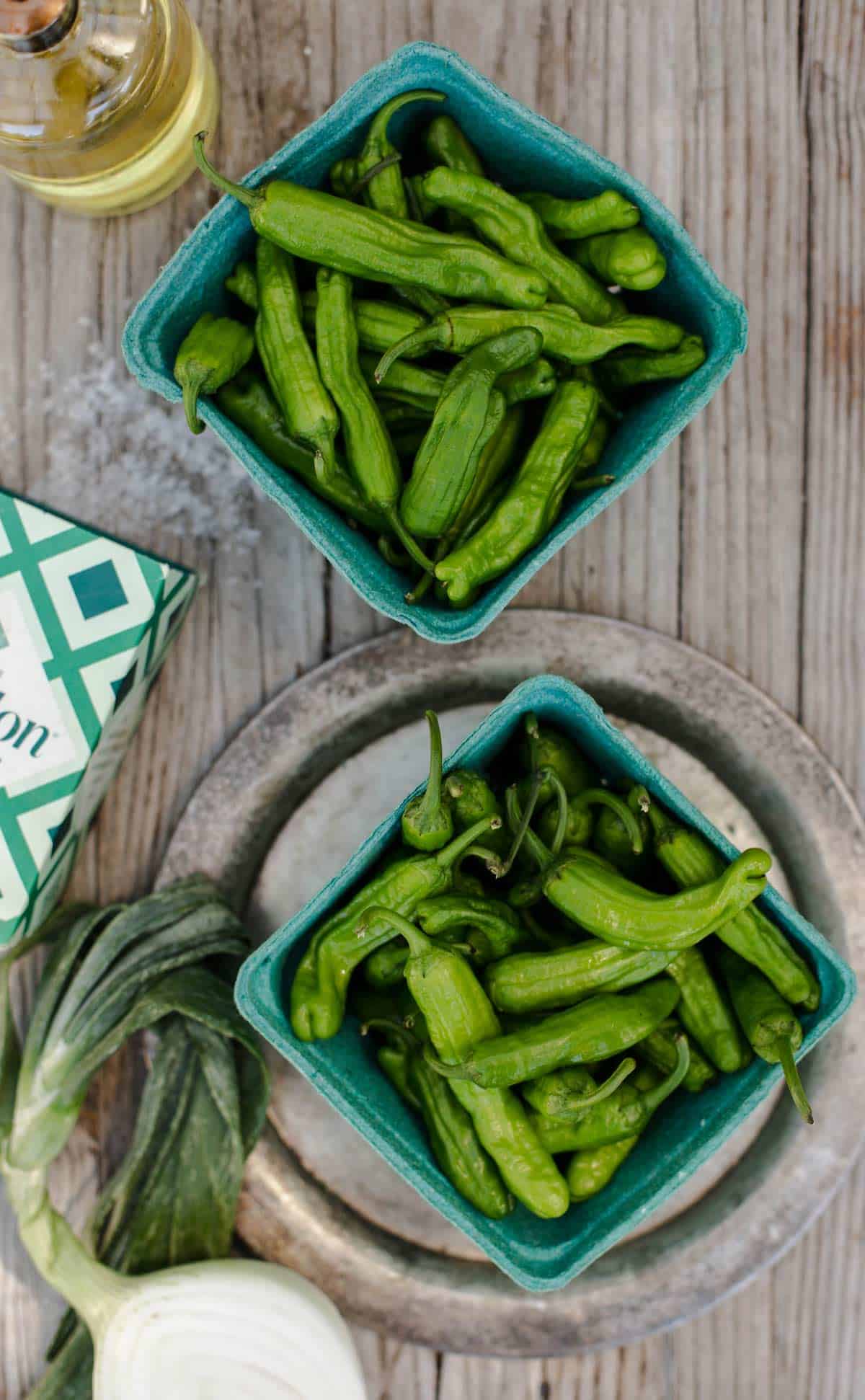 Step by step instructions
Place cast iron pan, or similar heavy pan over, over medium high heat.
Add a tablespoon of oil and once shimmering and hot add shishito peppers in a single layer. And cook without stirring until beginning to blister, about a minute.
Add sliced onion and stir fry until shishito peppers are charred and covered in blisters, about 2-3 minutes more.
Season charred peppers with coarse salt and serve hot as is or with a dipping sauce.
Enjoy!
To cook shishito peppers on the grill simply follow the same directions using a screaming hot fire or grill instead of a stovetop. Or cook on a sheet pan in the oven on high broil until charred. You can even toss shishitos in the air fryer and cook at 400 for about 10 minutes.
How to serve
Serve Blistered Shishito Peppers while still sizzling hot as a family style appetizer. Or serve shishitos as a side dish with shrimp and potatoes, chicken and mushrooms, steak and eggs or whatever else you'd like.
For extra flavor top peppers with lemon or lime juice, fresh herbs like basil or shiso leaves and/or a topping of sesame seeds, or furikake seasoning.
Try shishito peppers with dipping sauce like garlic aioli, sesame oil soy sauce, creamy lemon dressing, yum yum sauce and so much more!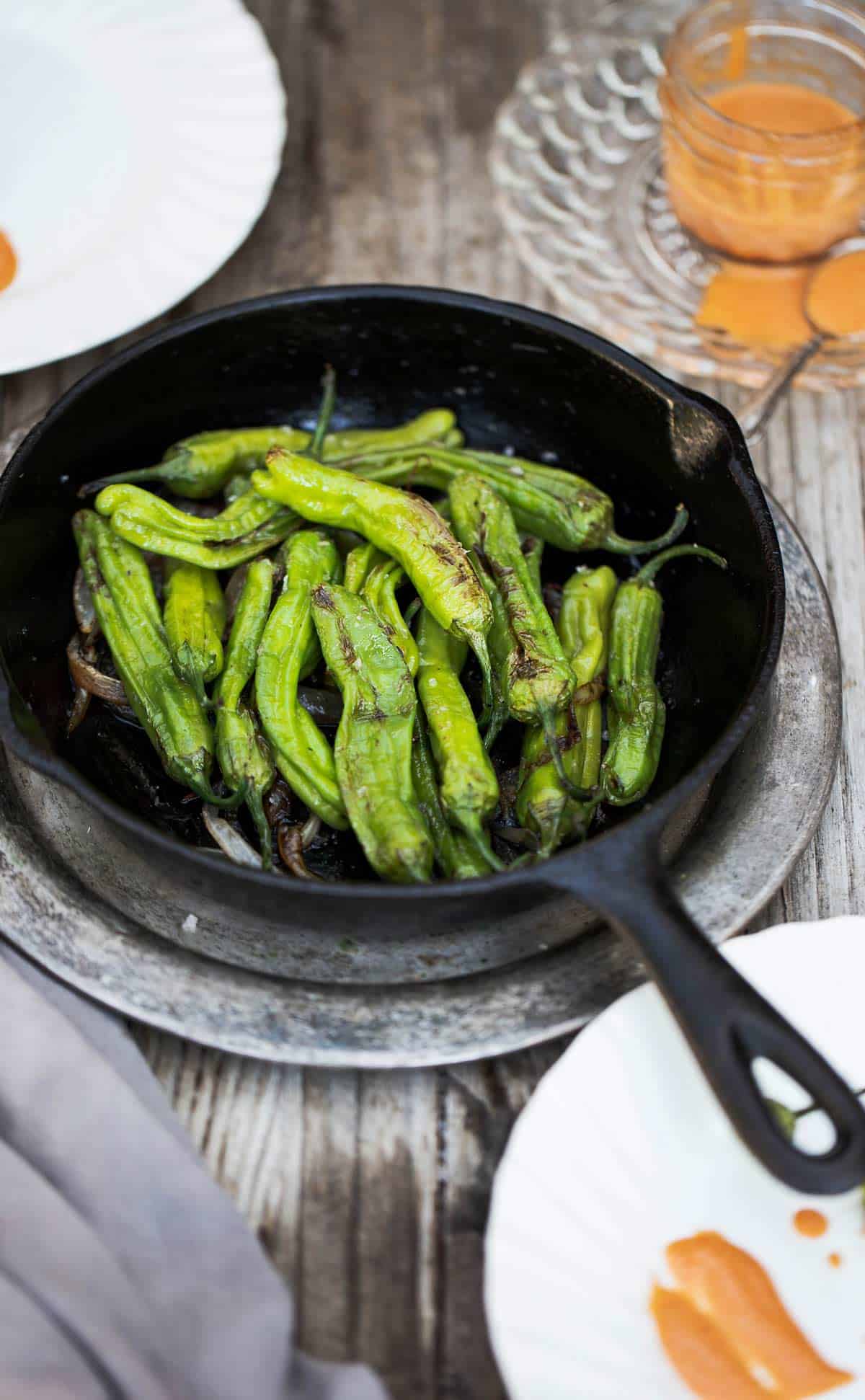 How to store
Serve Blistered Shishito Peppers hot for best flavor and texture. Store leftovers refrigerated for up to three days. Reheat and serve.
Or use the chilled blistered peppers to make shishito pepper sauce, pickled shishito peppers, shishito pepper jelly, green salsa. And any other recipes you'd typically make with jalapeno peppers or bell peppers. You can even make a shredded beef recipe braised in blistered shishito peppers!
Yield
There are about 40 shishito peppers in a pound of shishito peppers, which also measures about 4 cups, or a quart. The serving size for shishito peppers is about 7-8 peppers per person as an appetizer. So a pound of peppers should serve roughly 4-6 people.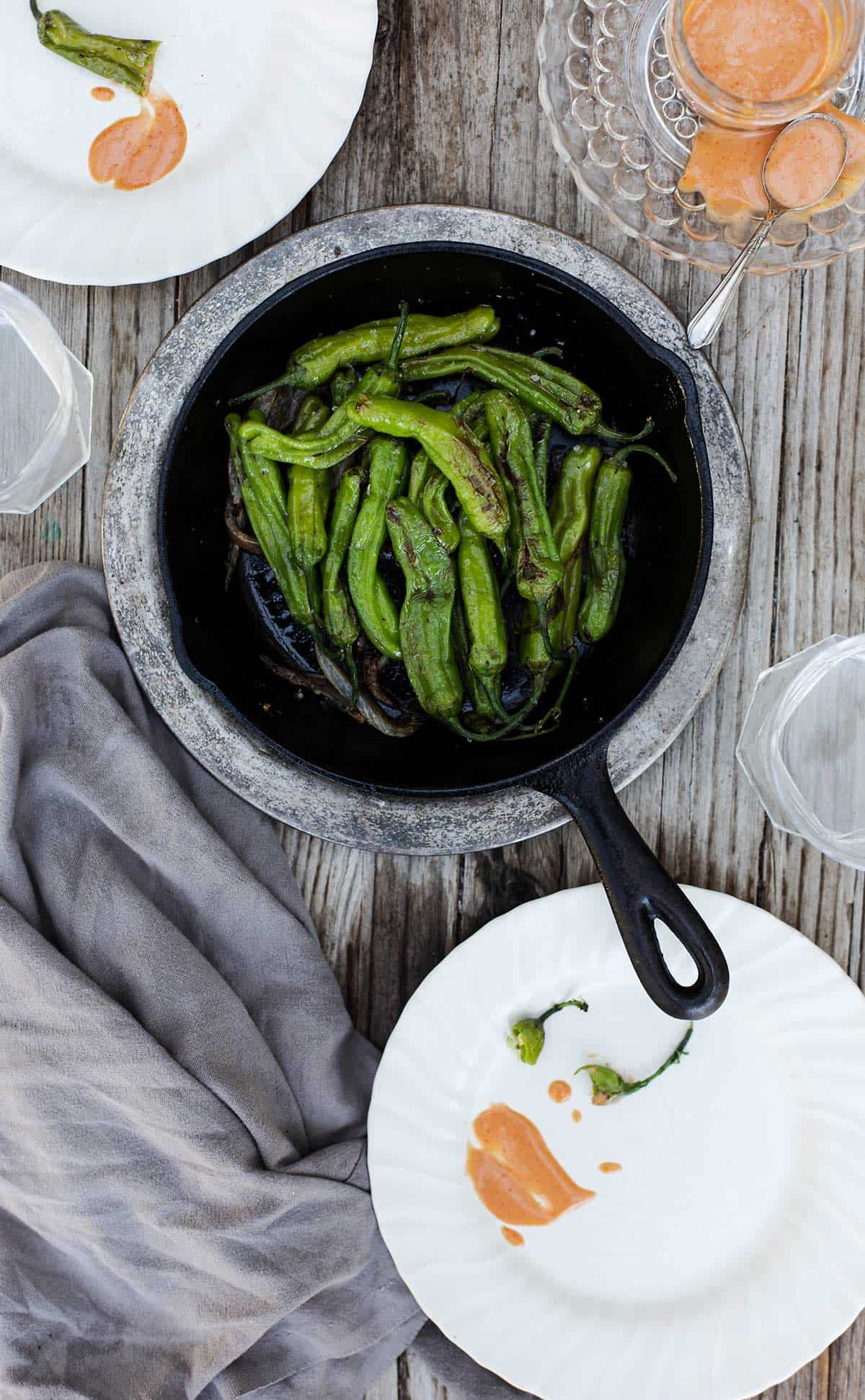 Ingredients
1

quart

shishito peppers

about 4 cups

1

medium

onion

sliced

1

tablespoon

canola oil

or other light oil

coarse salt
Instructions
Place cast iron pan, or similar heavy pan over, over medium high heat.

Heat oil and in hot pan until shimmering.

Once oil is hot carefully place peppers in a single layer and cook without stirring until beginning to blister, about a minute.

Add sliced onion and stir fry until onions and shishito peppers are charred and covered in blisters, about 2-3 minutes more.

Remove from heat and season charred peppers with coarse salt.

Serve hot with a little plate on the side for discarding stems.
Nutrition
Calories:
89
kcal
|
Carbohydrates:
14
g
|
Protein:
2
g
|
Fat:
4
g
|
Saturated Fat:
0.4
g
|
Polyunsaturated Fat:
1
g
|
Monounsaturated Fat:
2
g
|
Trans Fat:
0.01
g
|
Sodium:
8
mg
|
Potassium:
454
mg
|
Fiber:
4
g
|
Sugar:
7
g
|
Vitamin A:
876
IU
|
Vitamin C:
192
mg
|
Calcium:
30
mg
|
Iron:
1
mg
Nutrition Facts
Blistered Shishito Peppers
Amount Per Serving
Calories 89
Calories from Fat 36
% Daily Value*
Fat 4g6%
Sodium 8mg0%
Potassium 454mg13%
Carbohydrates 14g5%
Protein 2g4%
Vitamin A 876IU18%
Vitamin C 192mg233%
Calcium 30mg3%
Iron 1mg6%
* Percent Daily Values are based on a 2000 calorie diet.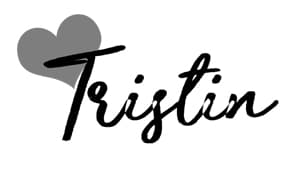 Farmstand fresh
When open local farm stands sell everything needed to make a delicious Farmstand Fresh recipe like this and others using fresh produce, cheese, meat and more from local farmers and producers in the Skagit Valley.
If looking for recipes and things to do in Skagit Valley visit Skagit Valley Farmstand Fresh for a list of great Skagit valley farms, restaurants, breweries and more in Skagit county. Great for Skagit Valley Tulip Festival season or anytime!