Food Trends 2023 report is an annual food forecast research from top global hospitality and food and beverage consultants in the industry. A simple summary of food and beverage trends and tastes of the year predictions that impact the products we see and how we all eat, at home and while dining out.
Jump to:
Past food trends
I started presenting my summary of current food trends predictions in 2019. That initial food trend report as well as the two that followed in 2020 and 2021 really were on track with what happened over the year. Predicting increased interest in food preservation, fermentation and thc infused foods. But as the world was shifting post pandemic. And with tiktok providing all the trends, it was too difficult to even attempt to predict consumer behavior and dining trends with a food trends 2022 report.
But one thing that I can tell you by reviewing past food trends reports is that as much as things change – especially with tiktok food trends, they really do all stay the same.
And year after year consumers are craving new experiences from around the globe and looking to get more value for their dining dollars with foods that "do more". And as much as they want new they also crave the comfort that only nostalgia can provide.
Necessity versus entertainment
Expect to see extremes on both ends of the spectrum from the need for simpler, affordable and comforting foods to the want for escape through food experiences both at home and when dining out.
The recession will worry consumers and they will save money, trading down to affordable dining on a regular basis, like fast food, while also saving their big ticket purchases for later, leaving them with a little more cash on hand to *treat* themselves to memorable dining experiences. This leaves the middle tier restaurants in the dust and struggling to figure out how to weather the downturn. But it also creates a wide range of interesting dining experiences on both ends of the, very divided, spectrum.
Affordability
With the looming recession in 2023 and surging food prices affordable ingredients are going to not only gain respect but they'll even be glorified as an 'upgrade' on restaurant menus. Like mortadella, SPAM, tinned fish, and using maitake mushrooms as the main dish.
There will be a move away from more expensive ingredients like plant-based foods. This also brings the rise of mainstream knowledge of delicious but humble heritage dishes from around the globe. Like Ukrainian Plov a pilaf like rice dish, Roman Pinsa flatbread, Tuscan Peposo, a beef stew, and Middle Eastern moushe, a zaatar topped flatbread.
And an increase in the popularity of condiments as people look to add affordable flavor to their at home meals with items that have a long shelf life. Like Cremas, hot sauces, salsas, chutneys, chimichurri, sauerkraut, spicy chili crisp, bomba (Calabrian chili paste), etc.
Other notable affordable mentions: upscale meat pies, fried cheese sticks (with upscale cheeses), cacio e pepe, scallion pancakes used as a replacement for everything from wraps to pizza, tacos, burritos and flatbread), waste upcycling, cabbage, salted egg yolk, tepache, etc.
Food as experience
From fine dining exclusive members only locations, to the rise of affordable, fun food halls and markets that not only offer ranges of food options but many are also going to be melding food and entertainment. Which is something that delivery just could never provide.
Like restaurants with live bands, movies, and even smaller 'clubsteraunts' that combine clubbing with dining. Think anything that can be considered entertainment served up with a side of food.
Over the top garnishes and unexpected tableside presentations. At home cooks started baking in 2021 and refining their skills in 2022. And they are now looking for even more challenging at home baking projects. And also looking to be wowed when dining out. Baked Alaska is expected to see a resurgence. And the firey ice cream dish is even predicted to be the 'dessert of the year'. Most likely thanks to it's tableside theatrics and presentation. Also molded jellies, floral cakes, etc.
Loaded – like extreme milkshakes and donuts of the past. Expect to see more photo-worthy loaded treats even things loaded with caviar. Like caviar topped nachos, caviar stuffed baked potatoes, supreme loaded croissants and loaded churros, etc.
Flavor of the year
Like last year's 'bitter' and 'umami' in the years before 'briny' will be the new flavor du'jour of 2023. Think briny flavors like seafood, seaweed and any and everything salty/vinegary and pickled.
Briny is expected to become more of a staple mainstream flavor. Gaining popularity as more and more people brine everything. From the traditional turkey to fresh fish, use more seaweed in their snacks, etc..
Predicted to be the Drink of the Year by AF & Co. are briny seafood cocktails. Basically anything made from tomato water, clam juice, olive brine, caviar, etc. Like bloody marys, micheladas, etc.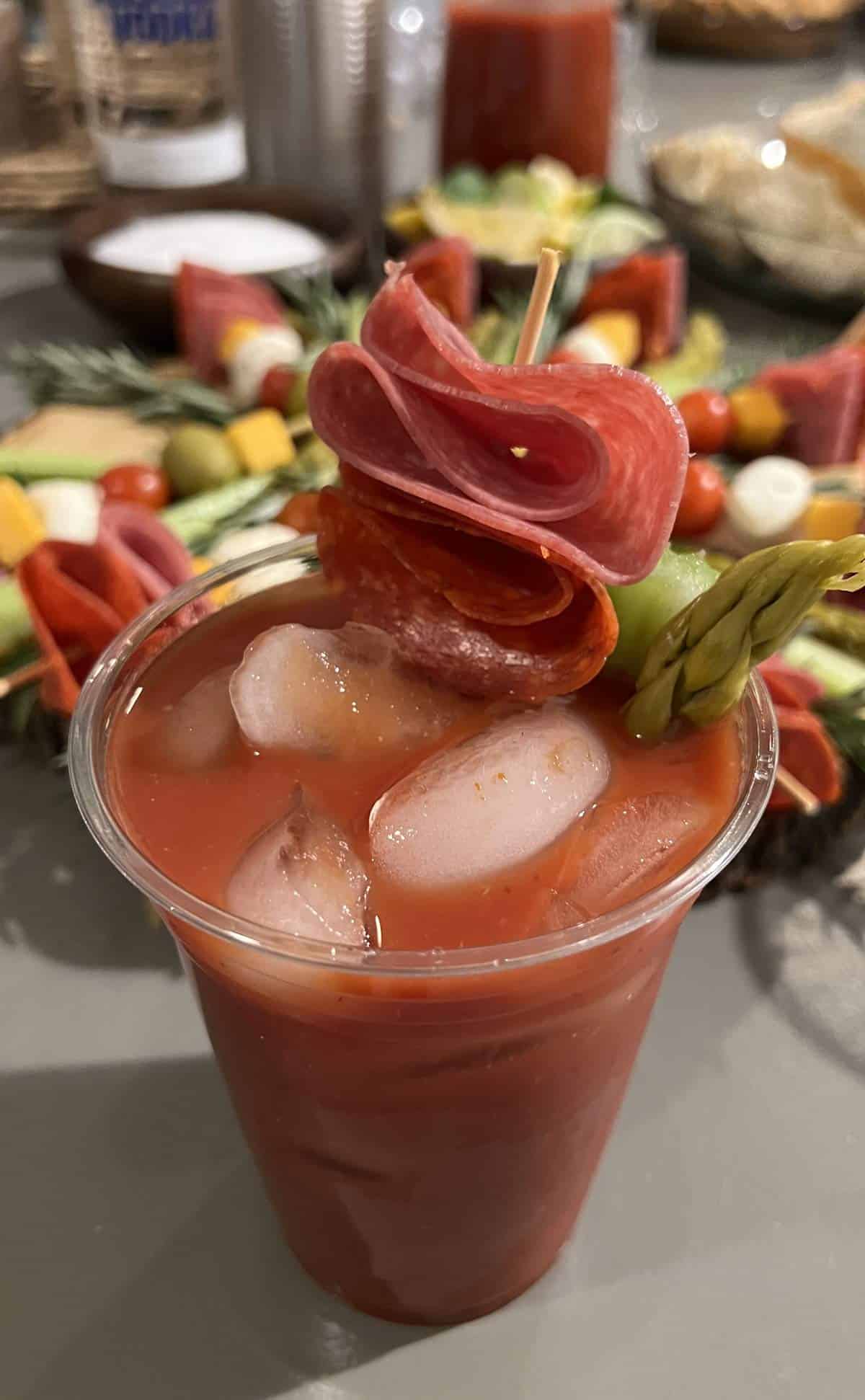 Beverage trends for 2023
And the same goes for cocktails and drinks as for baked goods. As people spent 2021 and 2022 refining their bartending skills they are now moving beyond the amateur. With fancy non alcoholic drinks, creative garnishes and floral ice cubes, etc.
Drinking on your own terms. No judgment drinks from spiritfree (mocktails), low abv cocktails and even traditional cocktails. The world is open for you to imbibe however you see fit.
Fruity flavored coffee and tea and childhood sweets as cocktails. Like boozy jello jigglers, popsicle cocktails, cereal flavors, adult ice cream floats, etc.
The cocktail trends of 2022 were espresso martini and Negroni sbagliato – thanks to a sound bite going viral on TikTok. And there will continue to be an increased interest in 70s and 80s bar staples. Like lemon drops, salty dogs and pina coladas.
AI technology
Maybe it isn't all about the robots… it's ALL about the AI, artificial intelligence, that directs the robots. Like the use of AI machines (like Chatgpt from OpenAI) as a sort of 'virtual' research and development team. AI will be used in all areas, including food styling and recipe development. Where it can take idea prompts and pop out ai images, menus, recipes, articles and more.
References