Homemade Spicy Chili Crisp is the best recipe to make this flavorful, crunchy garlic condiment at home.
Made from simple ingredients this homemade condiment is perfect for drizzling over eggs, noodles, vegetables and more!
What is chili crisp?
Spicy Chili Crisp is a condiment made from crispy onions, chili peppers and oil. It is similar to chili oil but there is a high ratio of chilies, crispy onions and garlic to give it lots of crunch.
Often called chili crisp, chili crunch, garlic crunch or even chili garlic crunch crisp, there's well known versions of the flavorful chili oil EVERYWHERE. Like the recipe from David Chang of momofuku. And other chili crisps for sale like the Trader Joe's brand and the original Chinese Lao Gan Ma.
The Lao Gan Ma chili crisp is the spicy chili oil that started it all and now has a cult-like following because of its flavor and texture. But Lao Gan Ma can be difficult to find at times and there are different varieties that make it even harder to know what you're getting.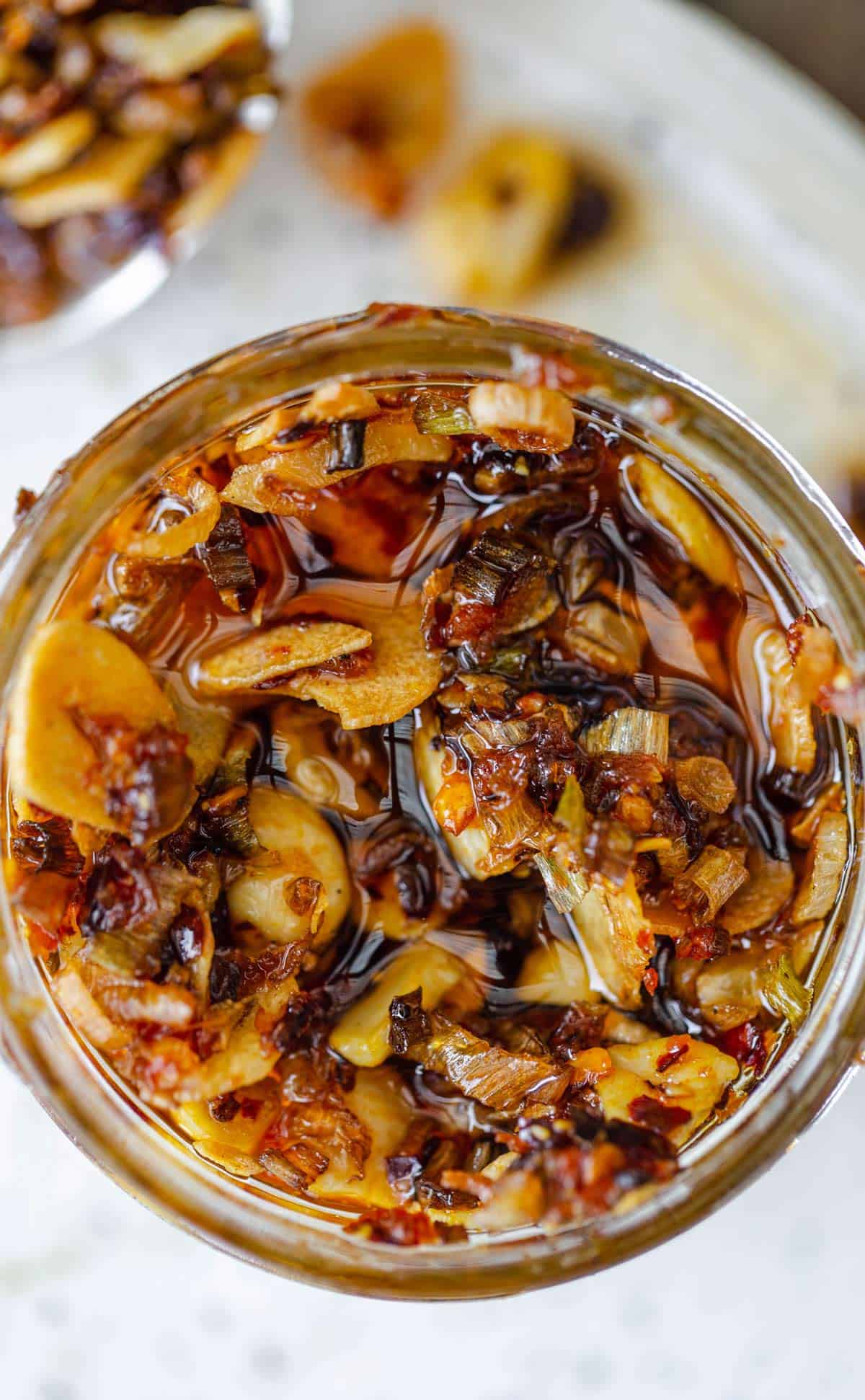 So if you're looking for a homemade chili crisp substitute for when you get tired of looking for where to buy chili crisp, look no further!
Ingredients
Canola oil – or peanut oil
Scallion whites – or substitute shallots, which is more authentic
Garlic – thinly sliced
Dried red pepper flakes
Cashews – or substitute peanuts or almonds
Fresh ginger
Brown sugar – light or dark brown sugar
Salt
Ground black pepper
Step by step instructions
Fry scallions until crispy. Strain, saving the oil, and set the fried onions on a paper towel lined plate to cool.
Use the same oil to fry garlic until crispy and again, strain, saving the oil, setting the fried garlic on paper towel lined plate to cool.
Heat oil again to about 375 degrees Fahrenheit.
Stir chili flakes, nuts, brown sugar and ginger together in a medium bowl. Then pour hot oil over, stirring to combine.
Allow the fried scallions and garlic to cool and crisp, ideally overnight, but at least several hours to fully crispen. Then stir into the chili oil.
Store in a tightly covered container.
Enjoy!
How to use
Chili crisp has so many uses! Use over rice, soups, eggs, stir fries and other noodle dishes. Try it drizzled over chicken and vegetable dishes. Or use a dipping sauce for dumplings, and other fried foods like Firecracker Shrimp. You can even eat spicy chili crunch over ice cream.
How to store
Store in an airtight container with a tight fitting lid and use within 3 months. Spicy Chili Crisp oil does not need to be refrigerated but storing refrigerated adds great contrast to hot dishes.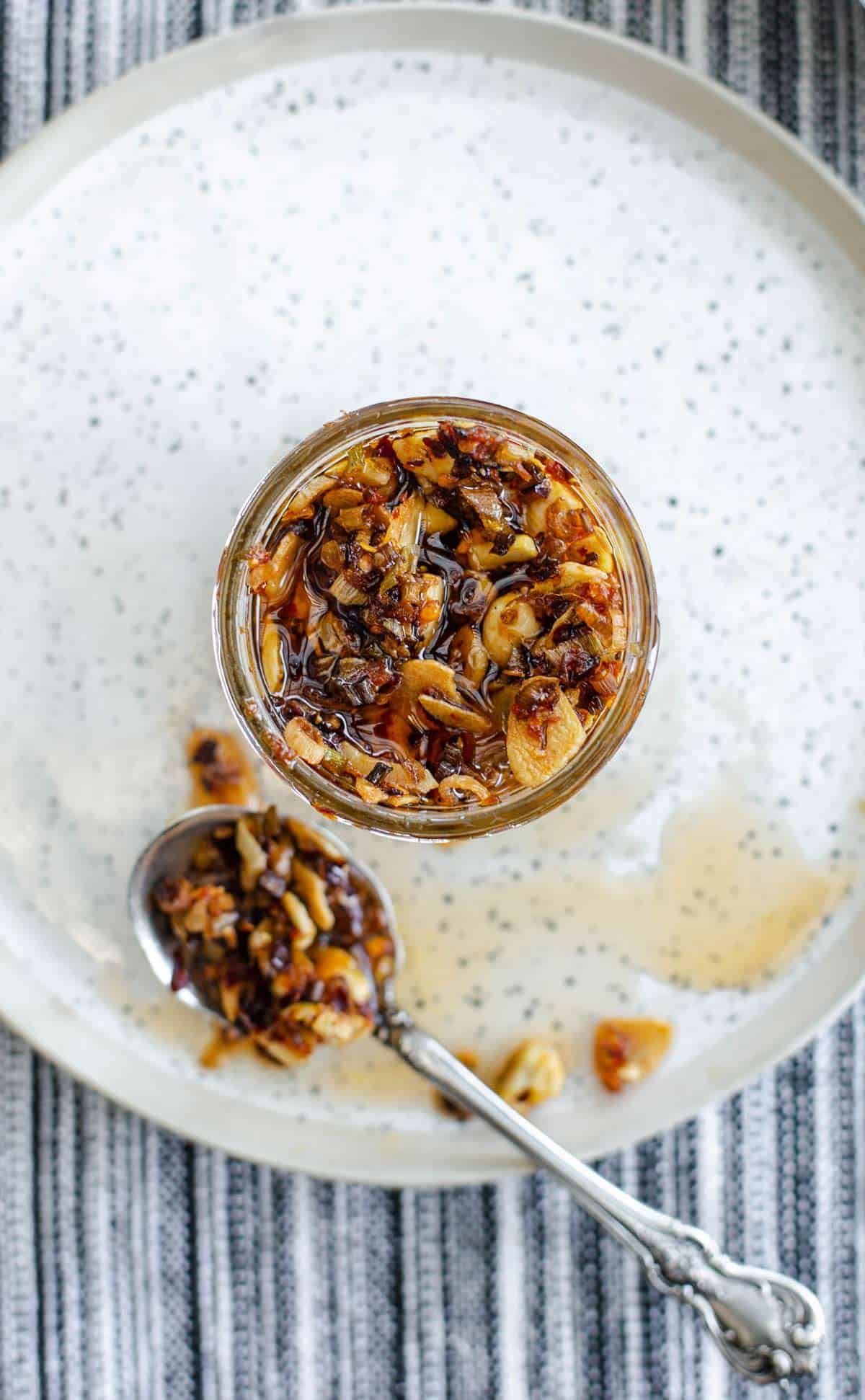 Ingredients
1 ½

cups

canola oil

or peanut oil

½

cup

scallions

whites only thinly sliced, from about 1 bunch of scallions

½

cup

garlic

thinly sliced, from about 1 large head of garlic

½

cup

chopped cashews

2

teaspoons

brown sugar

¼

cup

dried red pepper flakes

1

tablespoon

ginger

freshly grated

½

teaspoon

ground black pepper

2

teaspoons

fine salt
Instructions
In a large heatproof bowl combine chili flakes, chopped peanuts, fresh grated ginger, brown sugar, salt and pepper.

Set a fine mesh strainer over a second heatproof bowl and line a plate with paper towels.

In a large shallow frying pan combine cold oil with thinly sliced scallion whites, shake pan so that scallions are in an even layer then turn heat to high. Cook, stirring constantly until light brown and crispy.

Once scallions are browned, carefully pour oil through strainer into bowl, and place crispy fried onions on the paper towel lined plate to cool.

Return oil to pan and repeat the process withthinly sliced garlic, stirring constantly. As soon as the garlic is evenly light brown immediately remove from heat to prevent burning. Again, use fine mesh strainer over bowl to carefully strain oil. And place fried garlic on the paper towel lined plate and allow to cool and crispen.

Return the onion and garlic infused oil to the pan and heat to approximately 375 degrees Fahrenheit. You'll know the oil is to temp if bubbles form vigorously around the base of a wodoen spoon if placed in oil. Or if a grain of rice pops to the surface immediately when added to oil.

Carefully pour hot oil over red pepper flake mixture. Stir to coat all spices with oil and set aside to allow flavors to meld.

Once garlic and scallions have completely cooled and crisped up as much as possibly, at least 3 hours but ideally overnight, stir into oil and pour into a jar with a tightly fitting lid.
Nutrition
Calories:
307
kcal
|
Carbohydrates:
7
g
|
Protein:
2
g
|
Fat:
31
g
|
Saturated Fat:
3
g
|
Polyunsaturated Fat:
9
g
|
Monounsaturated Fat:
19
g
|
Trans Fat:
1
g
|
Sodium:
471
mg
|
Potassium:
167
mg
|
Fiber:
2
g
|
Sugar:
1
g
|
Vitamin A:
1504
IU
|
Vitamin C:
3
mg
|
Calcium:
33
mg
|
Iron:
1
mg
Nutrition Facts
Spicy Chili Crisp
Amount Per Serving
Calories 307
Calories from Fat 279
% Daily Value*
Fat 31g48%
Sodium 471mg20%
Potassium 167mg5%
Carbohydrates 7g2%
Protein 2g4%
Vitamin A 1504IU30%
Vitamin C 3mg4%
Calcium 33mg3%
Iron 1mg6%
* Percent Daily Values are based on a 2000 calorie diet.