Iced Cinnamon Brown Sugar Blueberry Coffee is a fruity iced coffee recipe sweetened with brown sugar blueberry puree and finished with luscious blueberry cold foam soft top.
This fruity coffee recipe tastes like blueberry coffee cake, in a cup!
Fruit flavored coffee
The juicy berries in this blueberry iced coffee recipe bring out the juicy flavor of ice coffee perfectly. Made with blueberry brown sugar puree and a super easy to make cold foam top it's a fruit flavored coffee recipe for summer!
Fruit flavored coffee may seem shocking at first, but fruit and coffee go together quite well! The juicy blueberries with brown sugar and cinnamon perfectly compliment the deep roasted notes and juicy fresh notes in the freshly roasted coffee.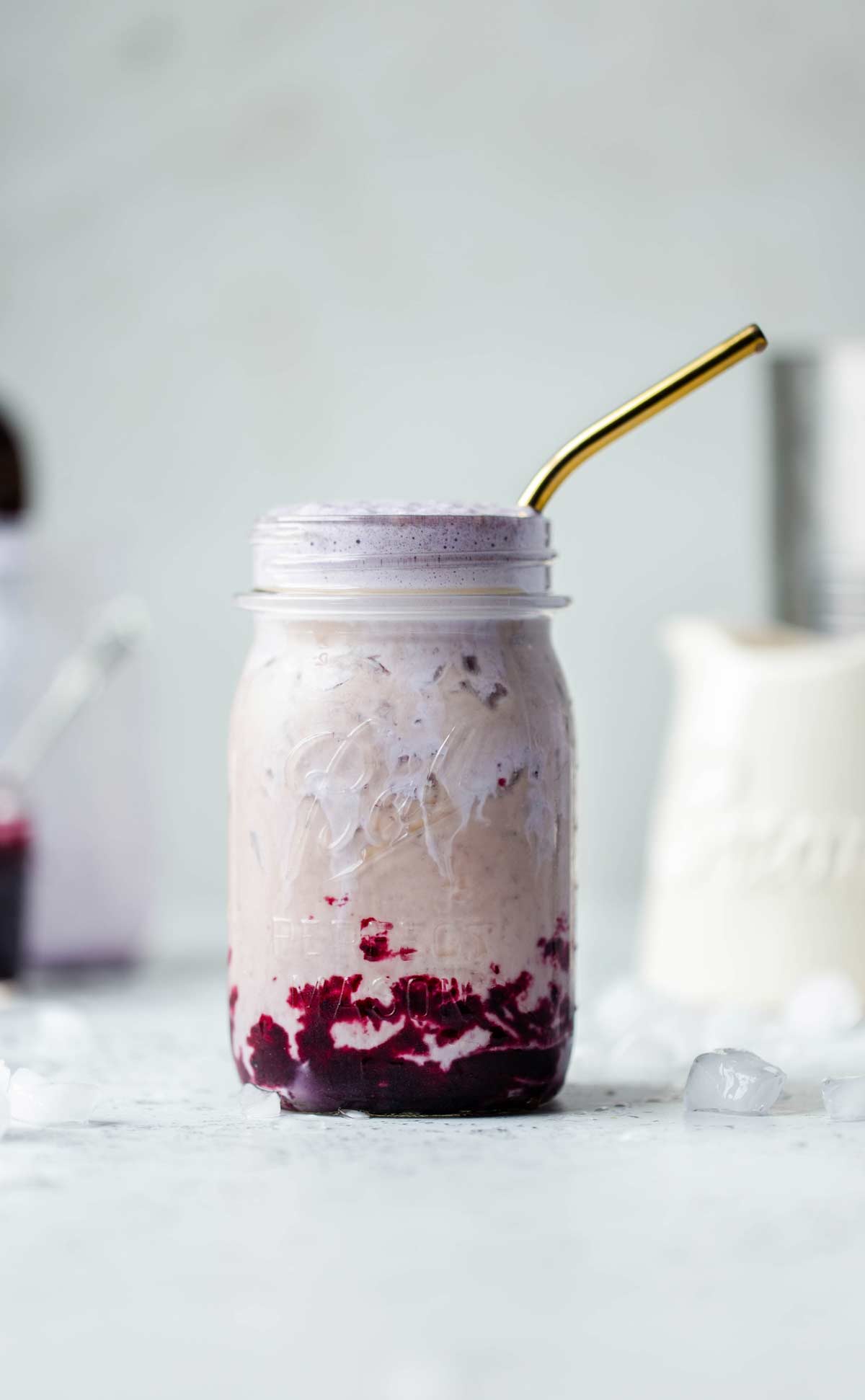 A homemade blueberry puree sweetens the iced coffee and flavors a naturally purple blueberry cold foam. Once served the cold foam both floats down into coffee and creates a creamy layer on top.
This fruity iced coffee recipe tastes like a blueberry brown sugar scone or streusel topped blueberry coffee cake, in a cup!
Once you try this blueberry coffee you'll be looking at the idea of combining coffee with fruit in a whole new way!
Ingredients
Brown Sugar Blueberry Puree – made from fresh or frozen blueberries, brown sugar (light or dark) and a pinch of cinnamon powder. Feel free to leave out the cinnamon. Or substitute with a little vanilla extract.
Coffee – room temperature or iced coffee. You can also substitute iced espresso or your favorite cold brew coffee recipe. Alternately use the cold foam recipe with hot coffee and hot or iced teas.
Half and half – to make the cold foam recipe. Heavy cream can be substituted but it will produce a much thicker cold foam similar to whipping cream. Be careful if using heavy cream not to shake too long or you'll end up with blueberry butter instead. Don't want cold foam? Add more blueberry puree to the glass and top with a splash of oat milk, almond milk, cream or whole milk.
Step by step instructions
Brew coffee at double the strength as you normally would. Then pour over ice to quickly cool the coffee and melt the ice to bring the coffee to normal strength. Store iced coffee refrigerated until ready to use.
Make blueberry puree. Simmer blueberries with brown sugar and water until thick. Then stir in cinnamon powder and puree smooth using a blender, hand blender or food processor. Store refrigerated until ready to use. The blueberry cinnamon brown sugar puree is thick like jam. But you can make it thinner like a syrup instead and it will be more like Starbucks brown sugar syrup used in the popular Starbucks drink the iced brown sugar oatmilk shaken espresso. To make the blueberry brown sugar sauce more like homemade brown sugar syrup simply add more water to the mixture to thin to the consistency of simple syrup. Or to make it even quicker you can also substitute store bought blueberry jam.
Swirl a spoonful of the beautiful purple blueberry puree around the bottom of a large glass.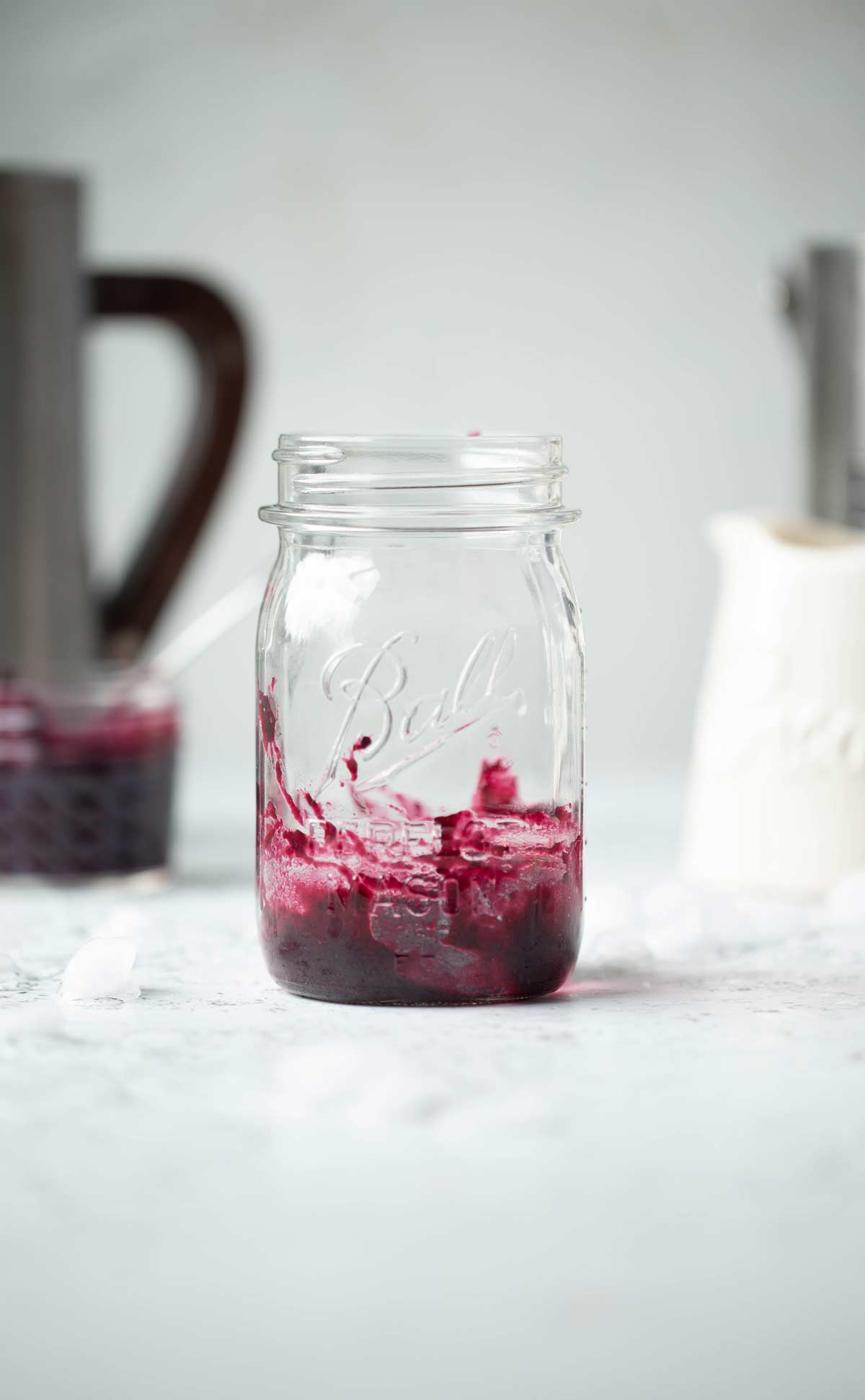 Add ice and iced coffee leaving about an 1 ½ inches of space at the top.
You don't need a blender for cold foam or any special equipment to make diy cold foam at home. To make this cold foam recipe use a cocktail shaker, jar with lid or other tightly covered container to shake the cream with blueberry puree until thick and foamy.
Pour blueberry foam on coffee to fill the glass.
Garnish with a sprinkle of cinnamon powder to the top if you'd like then serve. Add a straw for stirring. Or serve without a straw so the blueberry foam hits your lips first followed by sweet blueberry iced coffee.
Enjoy!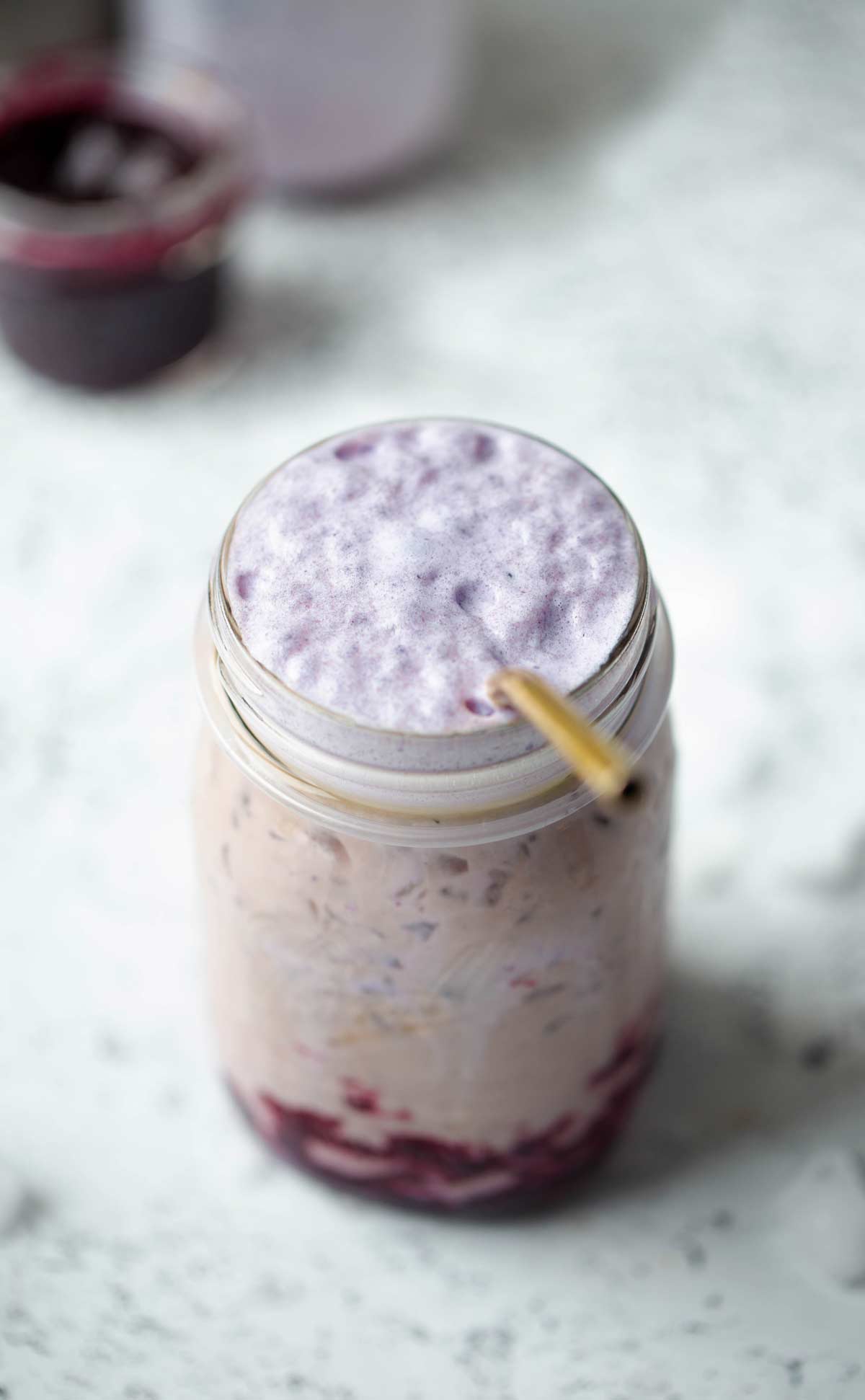 How to serve
This blueberry coffee recipe is made from iced coffee sweetened with the blueberry brown sugar puree and topped with blueberry cold foam.
But the juicy blueberries go great with iced coffee, cold brew, iced lattes and iced espresso too! You can also serve blueberry coffee hot instead of iced.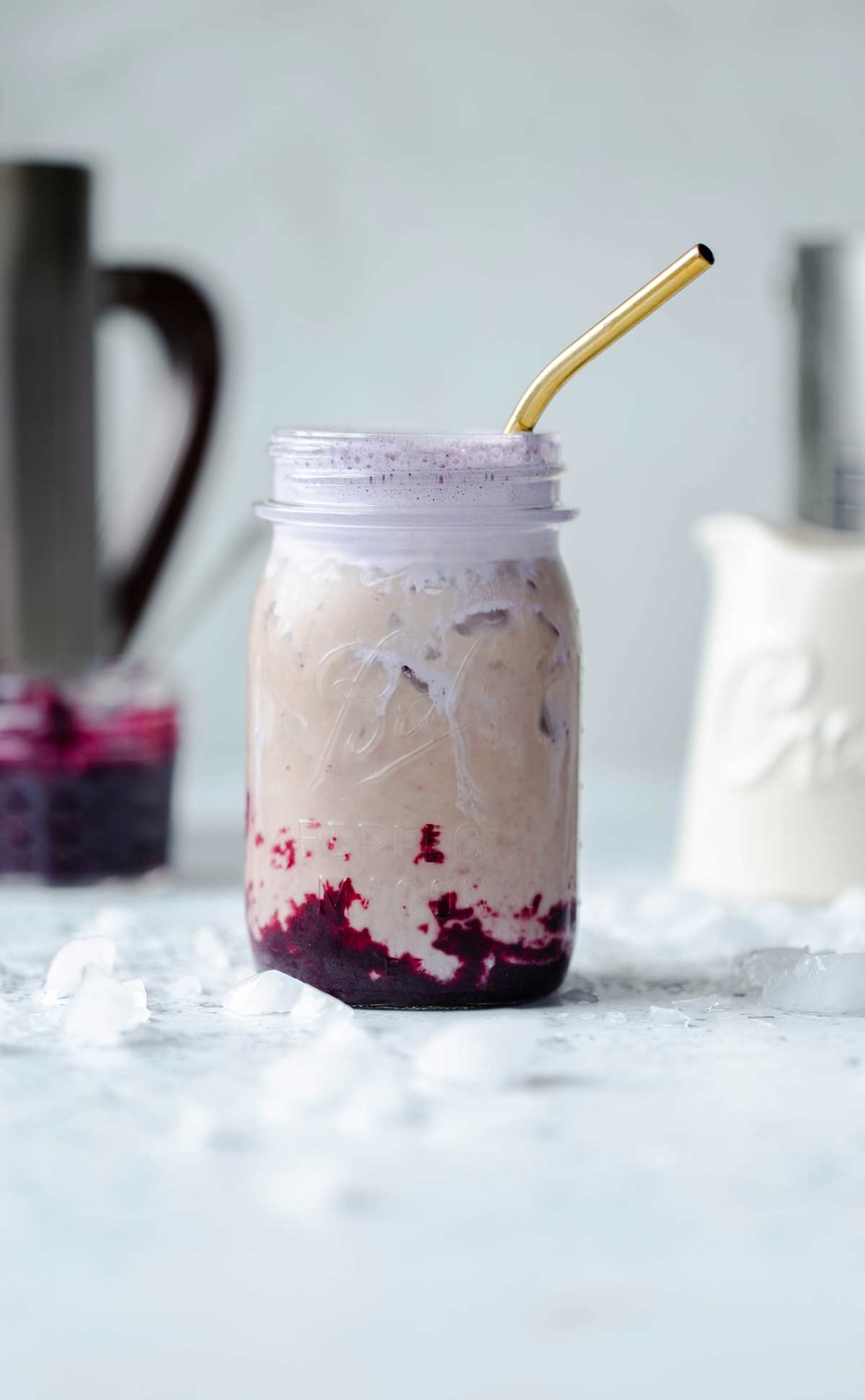 Serving a crowd at a shower, party or picnic? Increase the serving size and serve blueberry coffee in a big pitcher like iced tea. Stir before serving and add a handful of fresh or frozen blueberries to garnish.
Or turn it into a blueberry cocktail by spiking it with Irish cream, whiskey or vodka which all pair very well with coffee in cocktails.
Yield
The brown sugar blueberry puree recipe yields rough ¾ cup puree, which is enough for about 4 servings of blueberry coffee.
How to store
Make blueberry puree ahead of time and store refrigerated for up to a month. For best results do not make blueberry foam in advance. Instead use immediately after shaking.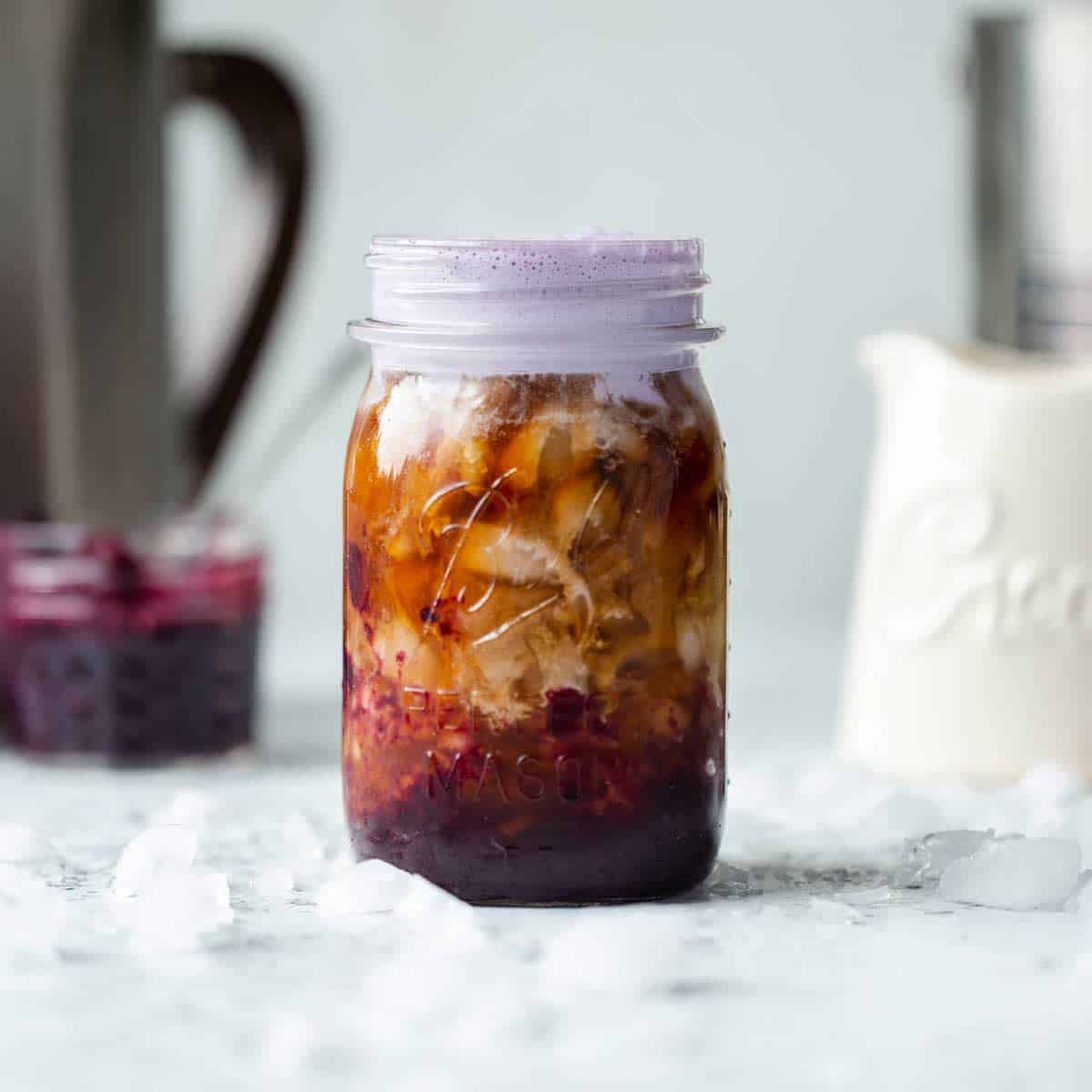 Ingredients
Brown Sugar Blueberry Puree
1 ½

cups

blueberries

fresh or frozen

1

cup

light brown sugar

½

cup

water

⅛

teaspoon

cinnamon powder
Blueberry Coffee
3

tablespoons

brown sugar blueberry puree

divided

¾

cup

coffee

iced or room temperature

3

tablespoons

half and half
Instructions
Make brown sugar blueberry puree up to a month in advance. In a small saucepan over medium high heat bring blueberries, brown sugar and water to a boil. Reduce heat to low and simmer for about 5 minutes or until the blueberries are busted and the sauce begins to reduce and thicken. Stir in a pinch of salt and cinnamon to the blueberry sauce then remove from heat. Carefully puree with a stick blender, blender or food processor until smooth. Transfer to a jar or other heat proof storage container, cool, cover and store refrigerated until ready to use.

Make iced coffee up to a day in advance and store refrigerated.

When ready to serve smear 2 tablespoons blueberry puree on bottom of large serving glass top with ice then add coffee leaving about 1 ½ inches of space on the top.

Lastly, add half and half and remaining 1 tablespoon blueberry puree to a tightly covered jar or cocktail shaker and shake vigorously until foamy, about 30 seconds to a minute to make blueberry cold foam.

Pour blueberry foam on top of iced coffee to fill the glass.
Nutrition
Calories:
228
kcal
|
Carbohydrates:
43
g
|
Protein:
2
g
|
Fat:
5
g
|
Saturated Fat:
3
g
|
Polyunsaturated Fat:
0.3
g
|
Monounsaturated Fat:
2
g
|
Cholesterol:
16
mg
|
Sodium:
50
mg
|
Potassium:
193
mg
|
Fiber:
1
g
|
Sugar:
31
g
|
Vitamin A:
159
IU
|
Vitamin C:
6
mg
|
Calcium:
64
mg
|
Iron:
0.3
mg
Nutrition Facts
Iced Cinnamon Brown Sugar Blueberry Coffee
Amount Per Serving
Calories 228
Calories from Fat 45
% Daily Value*
Fat 5g8%
Cholesterol 16mg5%
Sodium 50mg2%
Potassium 193mg6%
Carbohydrates 43g14%
Protein 2g4%
Vitamin A 159IU3%
Vitamin C 6mg7%
Calcium 64mg6%
Iron 0.3mg2%
* Percent Daily Values are based on a 2000 calorie diet.