Candied Rhubarb Ribbons are the perfect chewy, sweet rhubarb recipe to enjoy as a snack or as a garnish for desserts and cocktails.
Candied rhubarb ribbons are such a great way to use seasonal rhubarb and prevent food waste after making other rhubarb recipes like rhubarb syrup or rhubarb juice.
What is rhubarb?
Rhubarb is an herbaceous perennial that grows from rhizomes across much of world.
Although rhubarb is a vegetable, it is often put to the same culinary uses as fruits and are commonly cooked with sugar and used in to make Rhubarb Crumble, pie and other sweet rhubarb desserts. The leaf stalks can be used raw, when they have a crisp texture that's similar to celery with a strong, tart taste. Typically paired with strawberries rhubarb has a bright tart flavor without any sweetness of its own.
You'll recognize fresh rhubarb at the grocery store by its bright pink and green color and crisp, firm stalks. The color has no indication of flavor and is simply from the content of anthocyanins – the same compounds that give butterfly pea flower and blueberries their bright colors.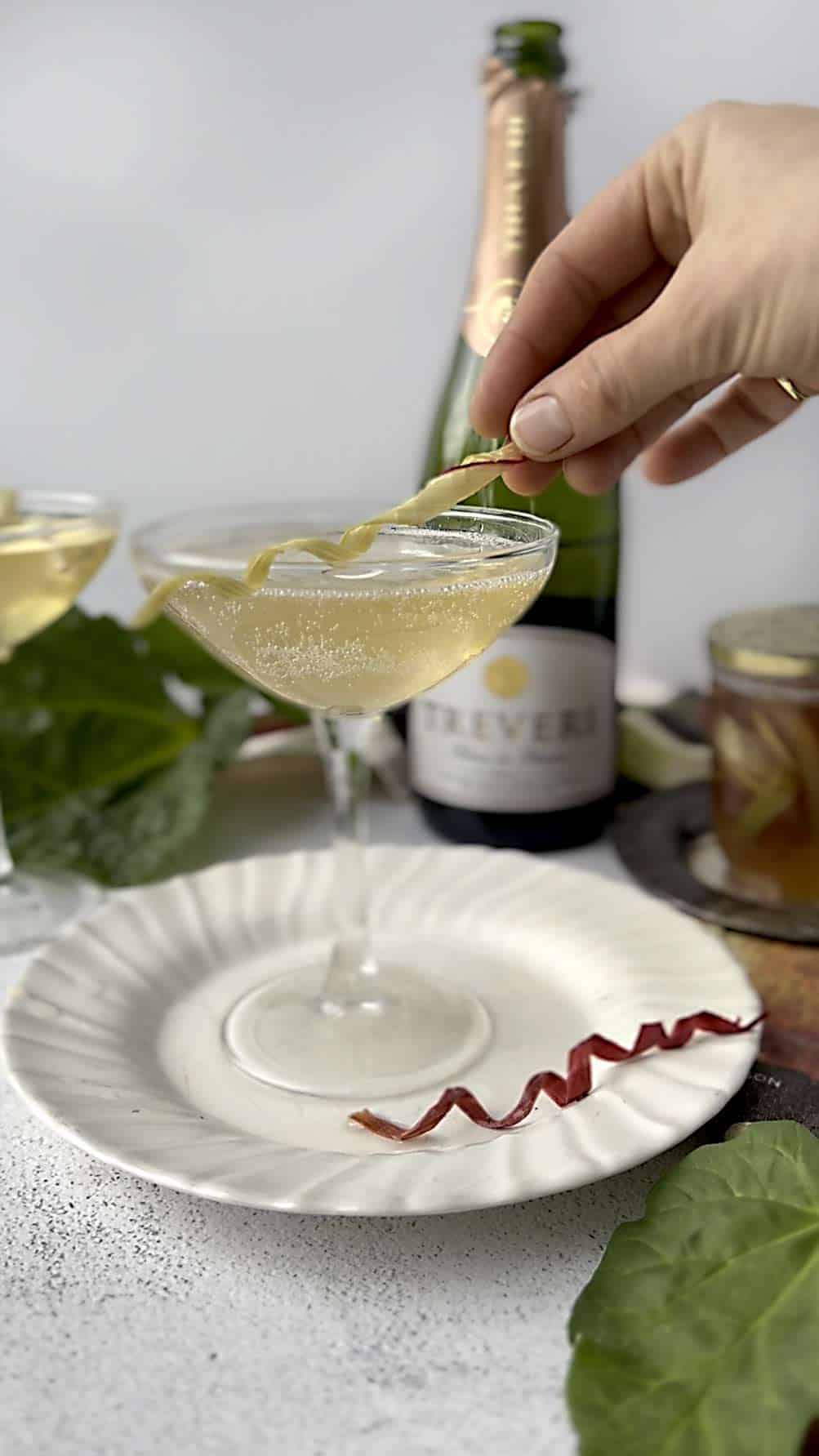 Whether you make rhubarb syrup and need a use for the sweet rhubarb that's left over or simply want some chewy rhubarb ribbons to munch on or garnish your desserts and drinks with these fun candied rhubarb ribbons are a great way to use seasonal rhubarb.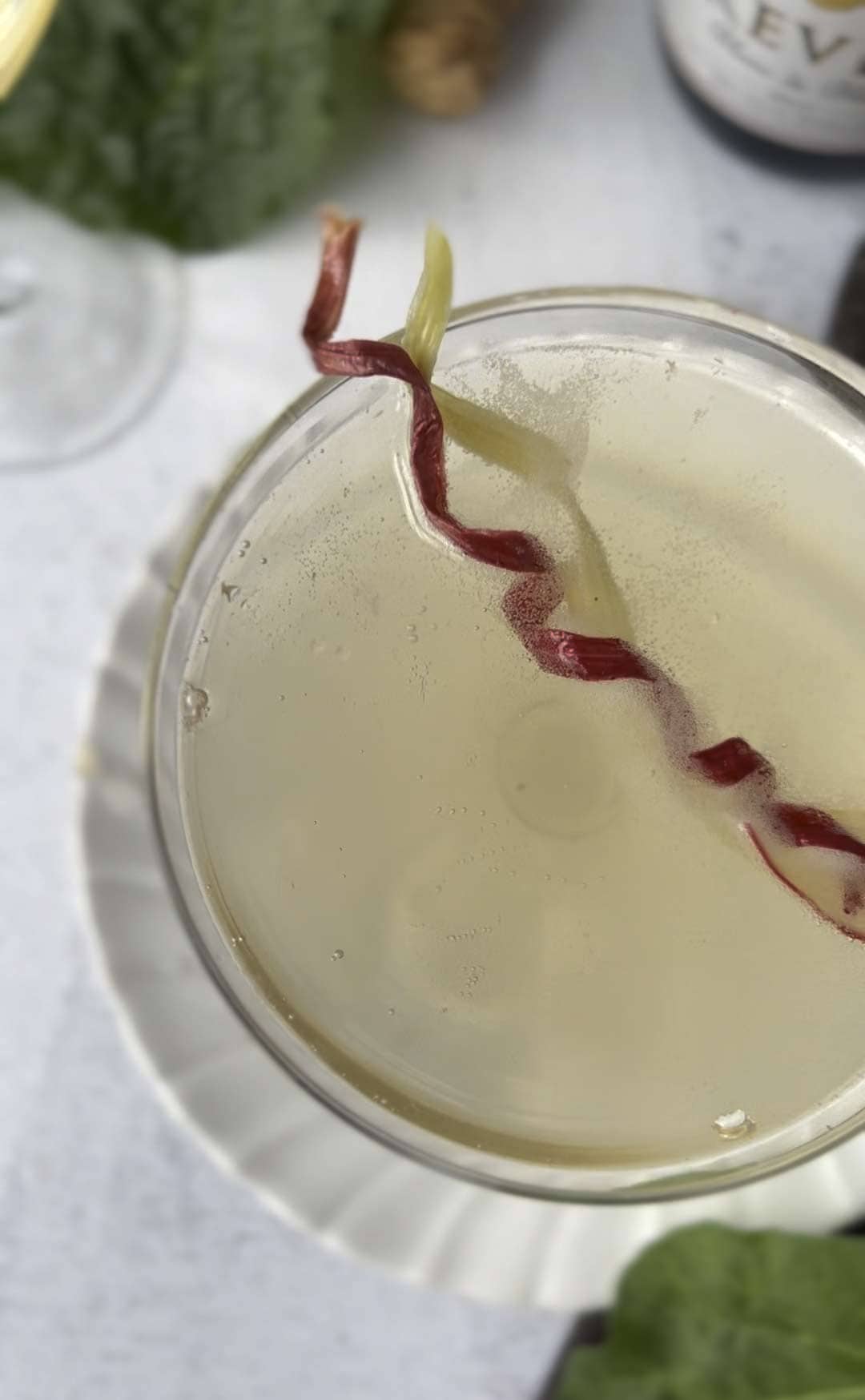 Ingredients
Rhubarb stalks
Granulated sugar
Water
Step by step instructions
Prepare rhubarb by removing and discarding the leaves, if still attached. And wash both the rhubarb stalks and your hands thoroughly as rhubarb leaves can be toxic.
Then slice rhubarb stalks into long ribbons using either a vegetable peeler, sharp knife or the large cutters on a box grater, if available.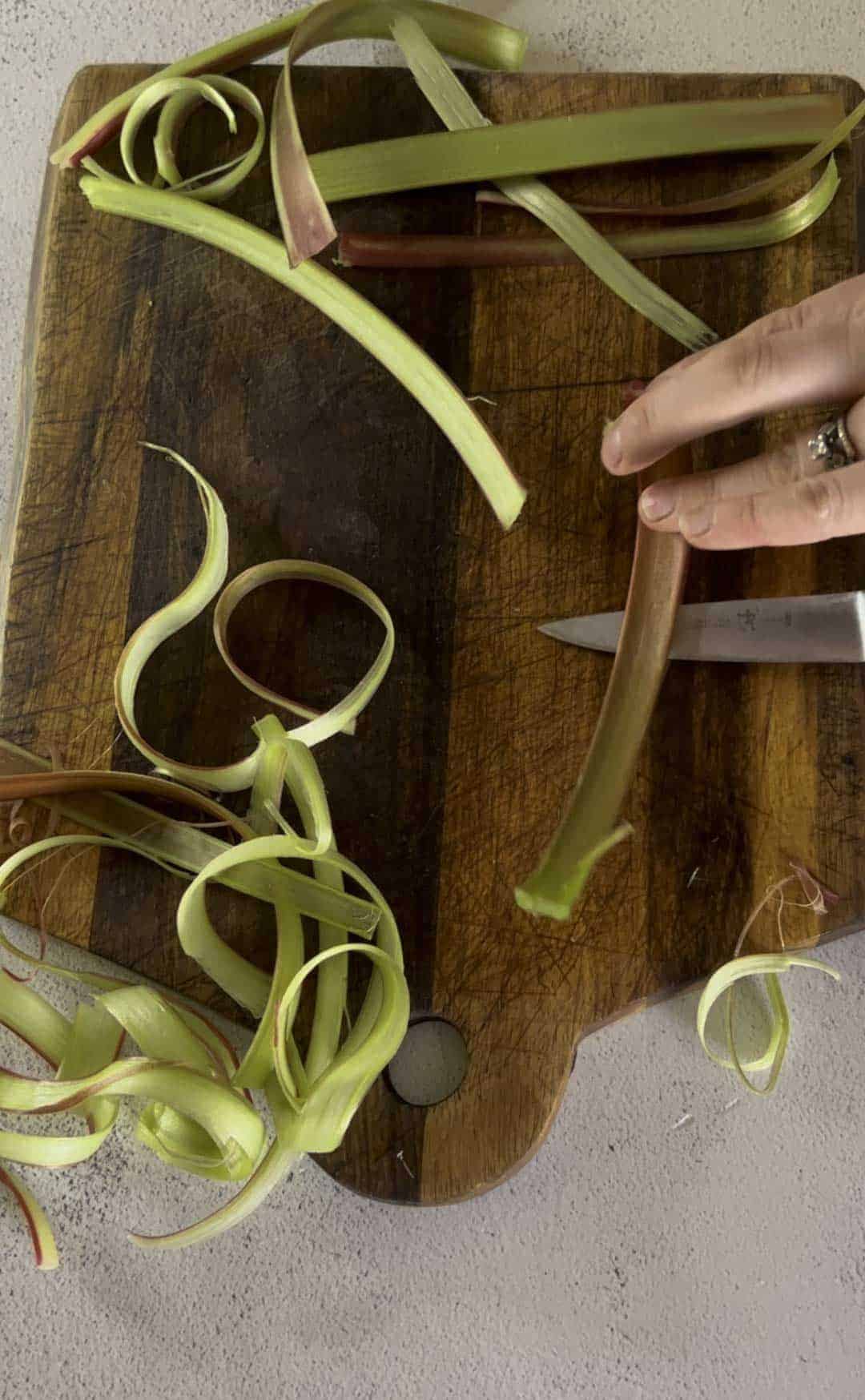 The knife will makes for slightly thicker slices.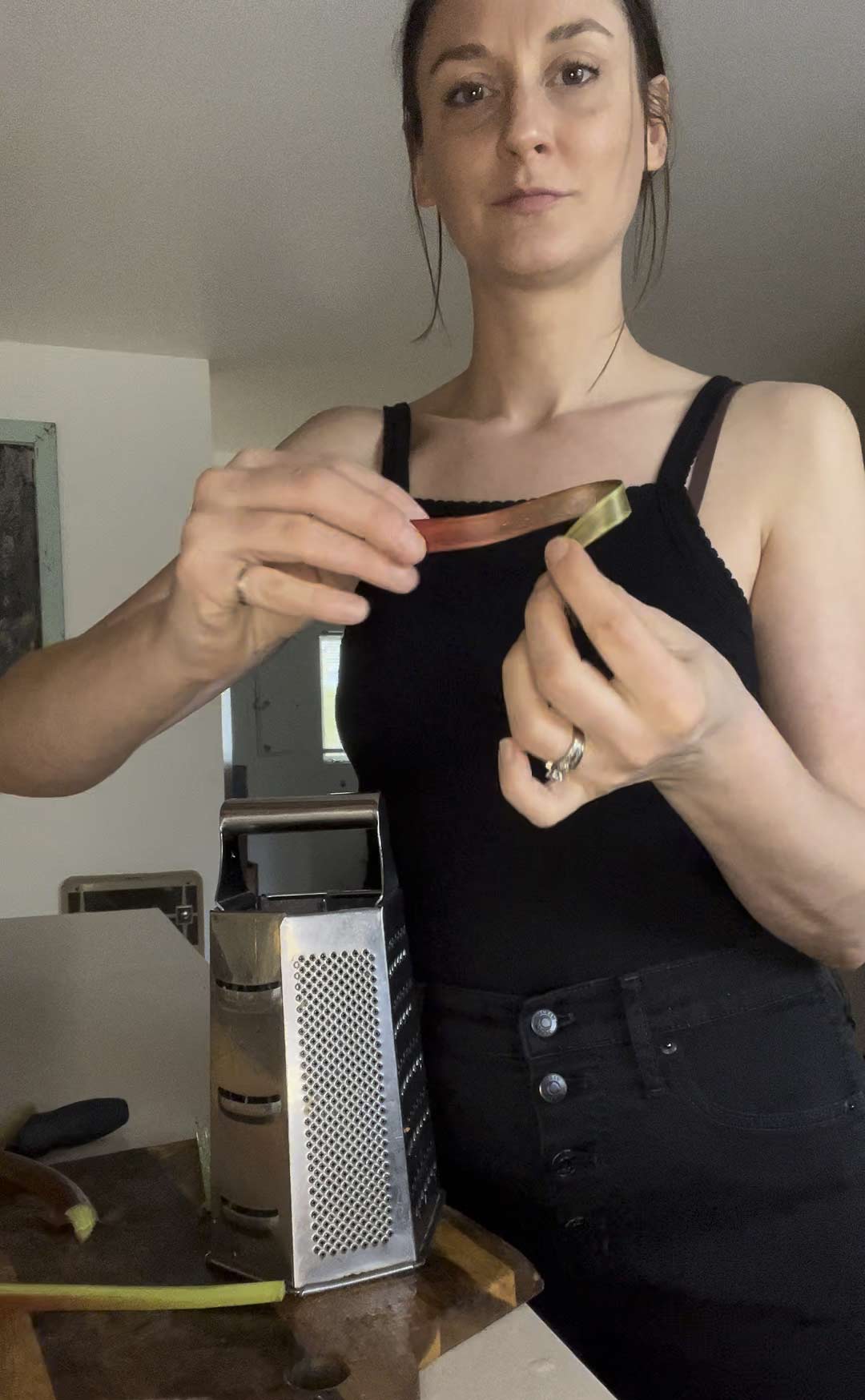 Preheat oven to 200 degrees Fahrenheit and combine sugar and water in a small saucepan over low heat.
Add rhubarb ribbons to the warm sugar and water mixture and simmer until rhubarb is warmed through. Strain the rhubarb from the syrup and store Rhubarb Simple Syrup for another use.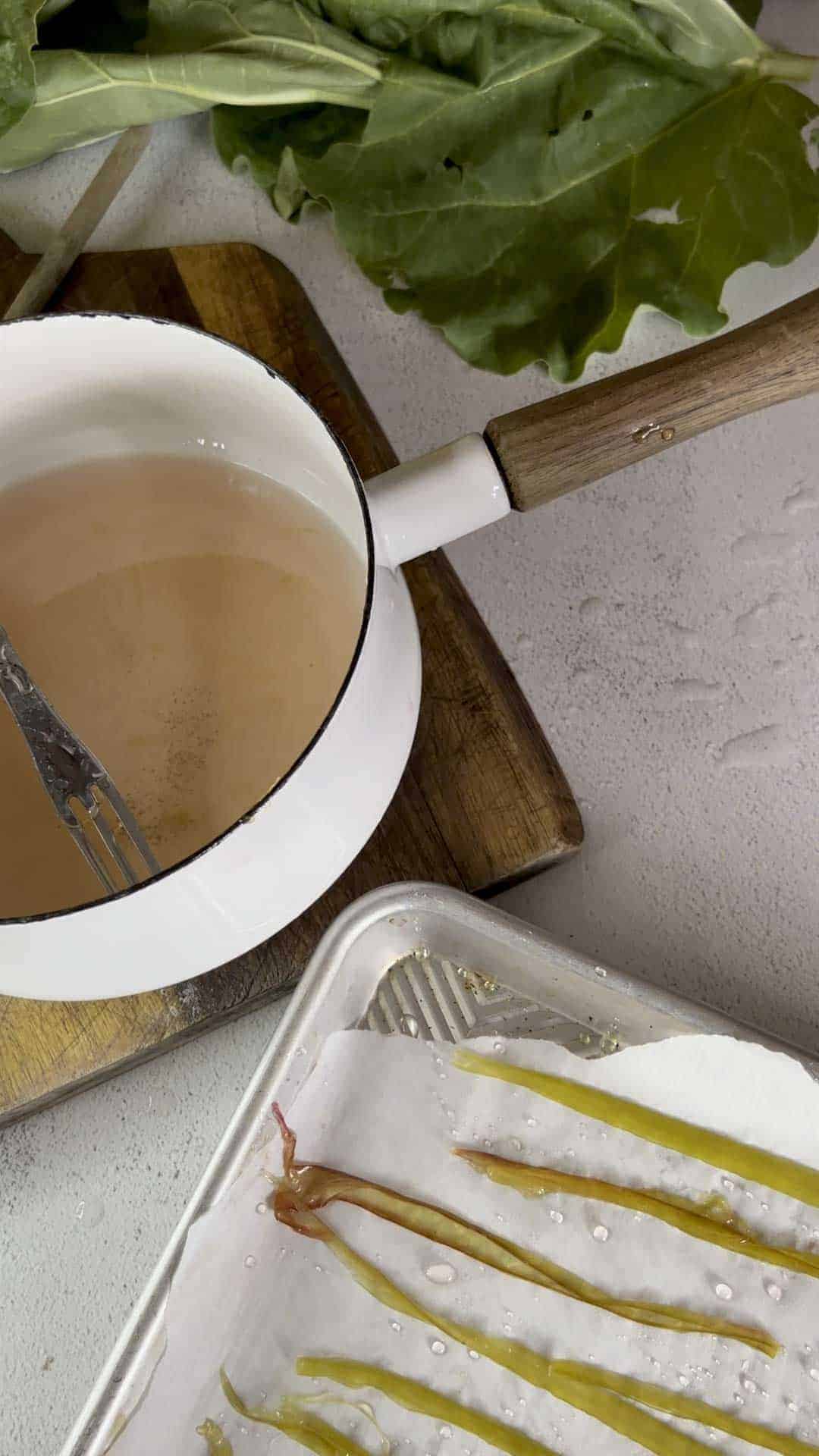 Place syrup coated rhubarb on a parchment lined baking sheet and heat in preheated oven until mostly dry, about an hour depending on thickness.
Remove from oven and, while still warm, carefully wrap around a chopstick in a spiral pattern.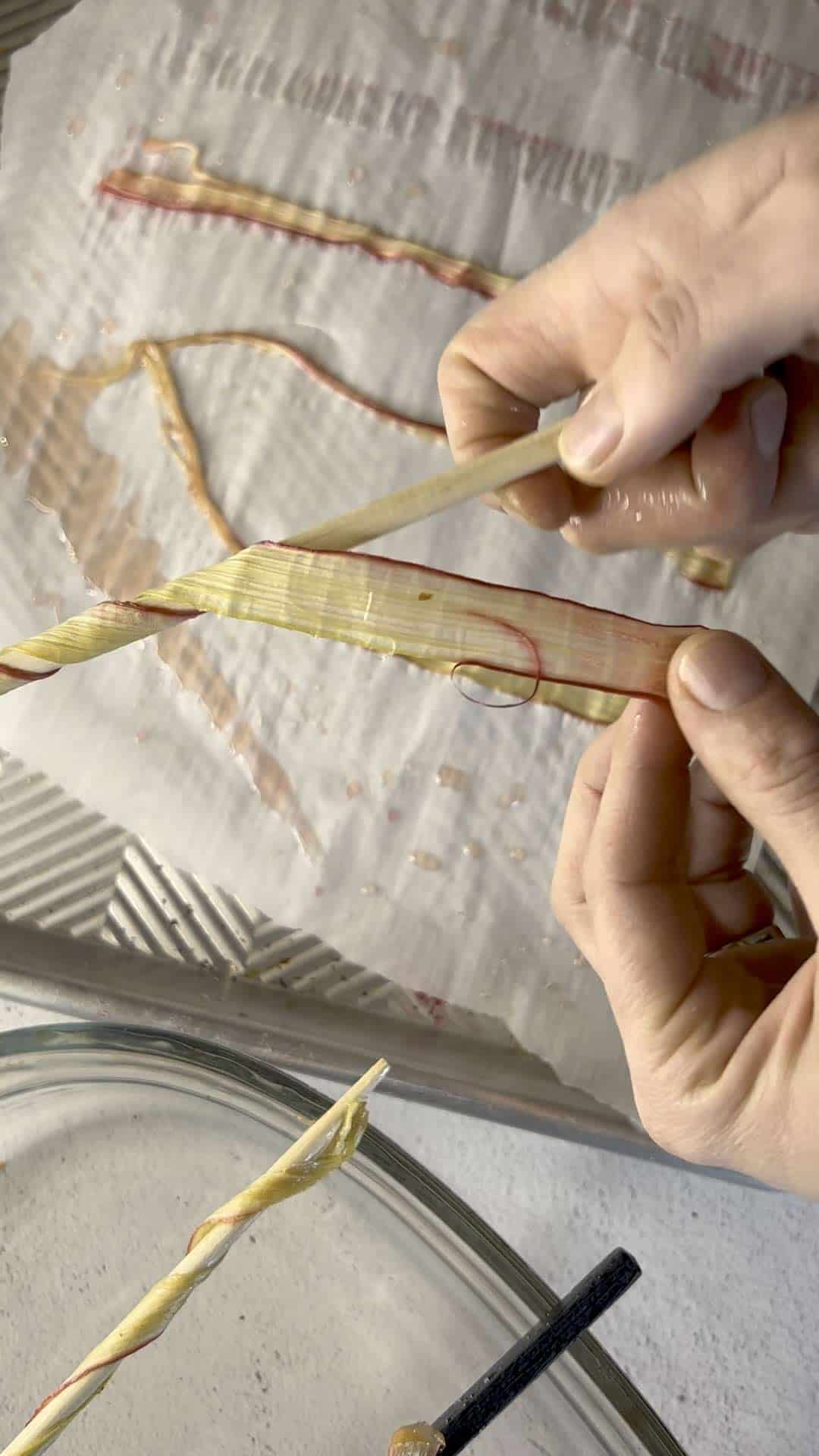 Place rhubarb wrapped chopsticks over a bowl to finish drying at room temperature overnight.
Once rhubarb is dry to the touch carefully release one end and unwind.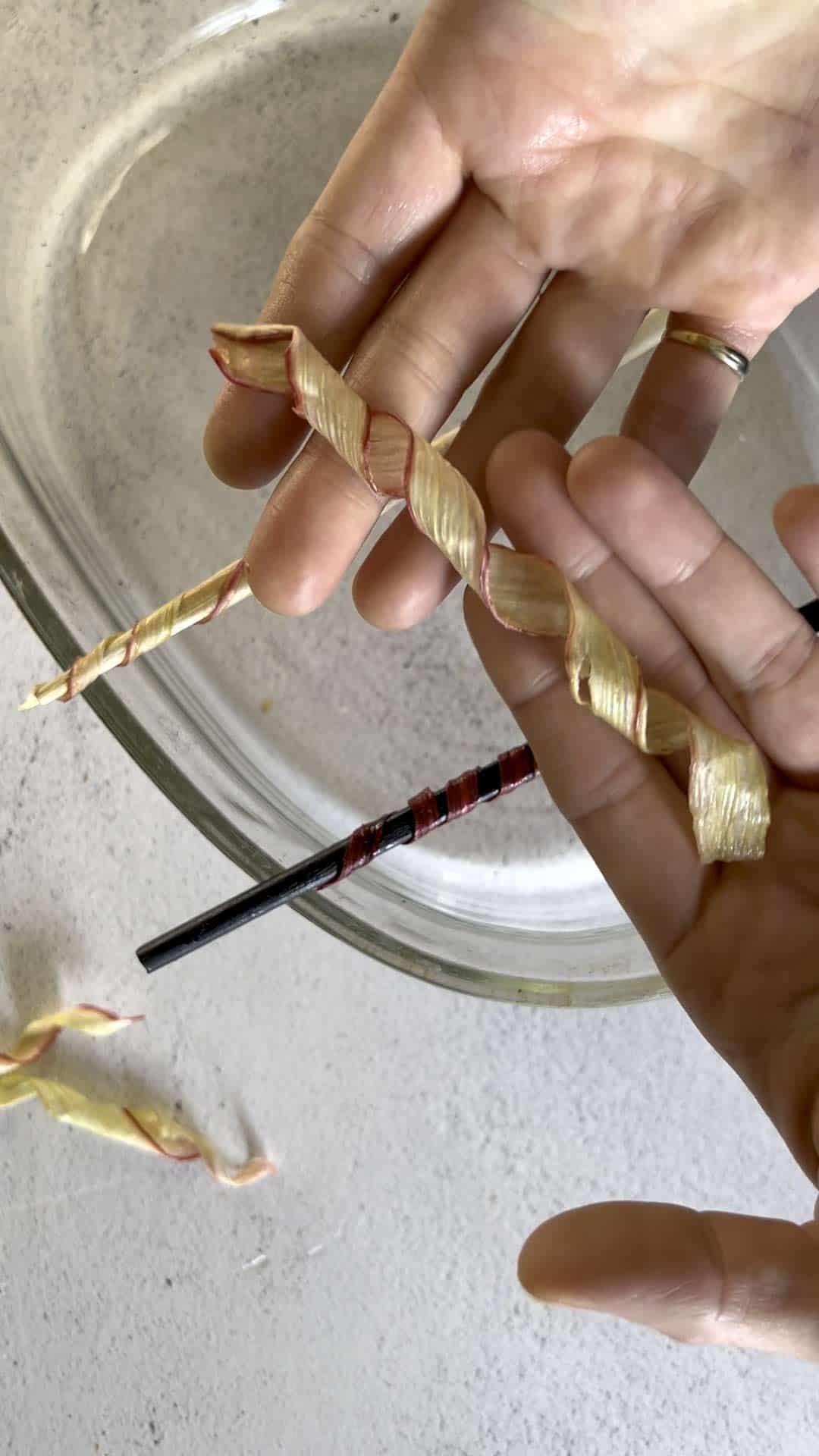 Allow candied rhubarb to dry completely at room temperature. Then store tightly covered.
Use candied rhubarb ribbons to decorate and garnish rhubarb desserts and rhubarb drinks. Or simply enjoy like a delicious sweet chewy rhubarb candy or sweet fruit leather.
Enjoy!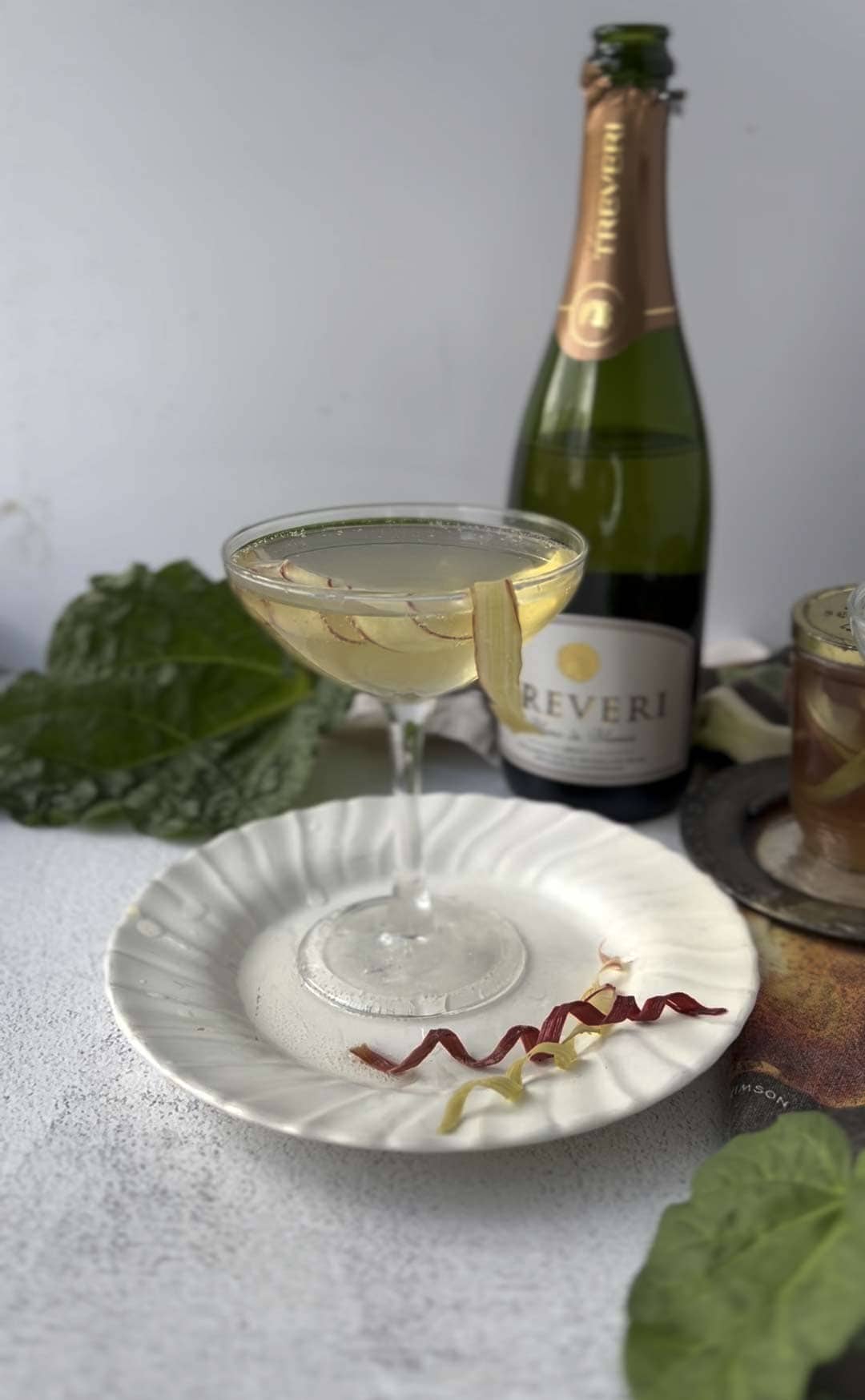 How to use
Use Candied Rhubarb Ribbons to decorate cakes or cupcakes. Or use the sugared rhubarb to garnish rhubarb cocktails. You can also enjoy candied rhubarb as is like a sweet rhubarb fruit leather or natural rhubarb candy.
How to store
Stored tightly covered in a cool dark place rhubarb ribbons, and most candied fruit will last for over a year. Although they may begin to crystallize, harden and change flavor over time.
Ingredients
3

stalks

rhubarb

finely sliced into ribbons

½

cup

granulated sugar

½

cup

water
Instructions
Preheat oven to 200 degrees Fahrenheit and cover a large baking sheet with parchment paper.

Prepare rhubarb by washing, trimming leaves off stalks and slicing into long ribbons using either a vegetable peeler, a paring knife or a box grater.

Bring water and sugar to a simmer in a small saucepan and add rhubarb.

Simmer just until starting to soften, 1-2 minutes.

Remove from heat and allow to cool.

Place rhubarb strips on parchment lined baking sheet and reserve rhubarb simple syrup for another use.

Bake rhubarb until slightly dry to the touch, like fruit leather about an hour.

Remove and when still warm but able to be handled wrap each around a chopstick in a spiral pattern and set over the edge of a bowl to cool.

Allow to cool completely then carefully unwind from chopsticks and use as desired.
Nutrition
Calories:
209
kcal
|
Carbohydrates:
53
g
|
Protein:
1
g
|
Fat:
1
g
|
Saturated Fat:
1
g
|
Polyunsaturated Fat:
1
g
|
Monounsaturated Fat:
1
g
|
Sodium:
7
mg
|
Potassium:
221
mg
|
Fiber:
1
g
|
Sugar:
51
g
|
Vitamin A:
78
IU
|
Vitamin C:
6
mg
|
Calcium:
68
mg
|
Iron:
1
mg
Nutrition Facts
Candied Rhubarb Ribbons
Amount Per Serving
Calories 209
Calories from Fat 9
% Daily Value*
Fat 1g2%
Sodium 7mg0%
Potassium 221mg6%
Carbohydrates 53g18%
Protein 1g2%
Vitamin A 78IU2%
Vitamin C 6mg7%
Calcium 68mg7%
Iron 1mg6%
* Percent Daily Values are based on a 2000 calorie diet.