Infused Habanero Tequila adds the perfect little spicy punch for restaurant worthy cocktails at home!
Or use the same method to make jalapeno infused tequila or infused vodka! Learn how to infuse tequila and you'll be getting creative with all sorts of seasonal infused spirits and fun, flavored cocktails!
Restaurant worthy cocktails at home
Creating restaurant worthy cocktails at home is a lot of fun! And a whole lot more affordable! Plus, I can't be mad about all the cocktail tasting required to get them just right 😉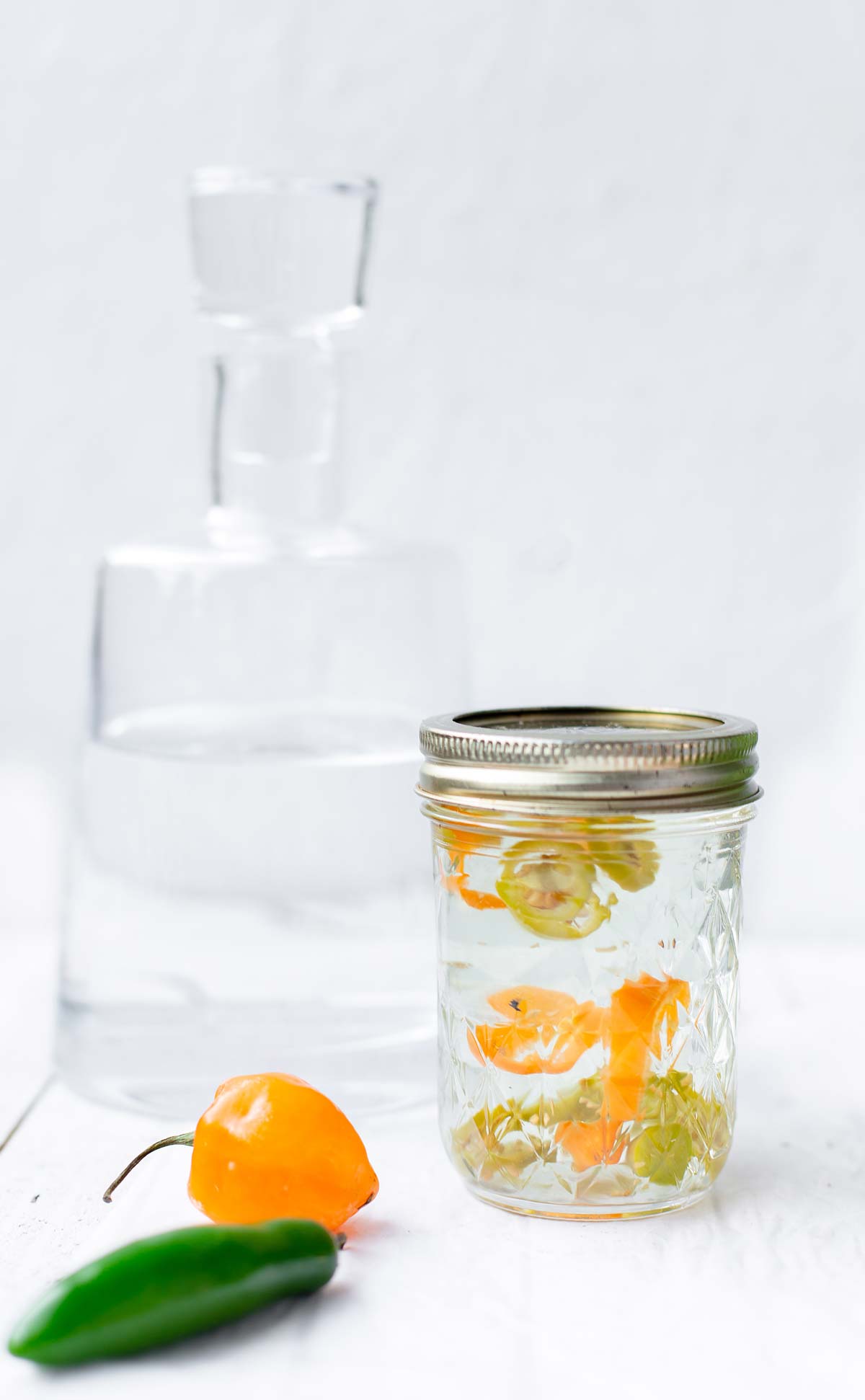 And really, it doesn't take much prep or effort. Just a little forethought.
Sure, you can purchase all sorts of infused liquors at the store. But, when it's this easy there's no reason to! Simply purchase a big bottle of your favorite spirit and mix up all sorts of home infused flavors! And trust me, the extra touch that the infused tequila (or vodka or gin or rum) adds to the final cocktail is so worth it.
When it's this quick and easy to add flavor to your favorite spirits there's no reason not to mix up infused cocktails all the time!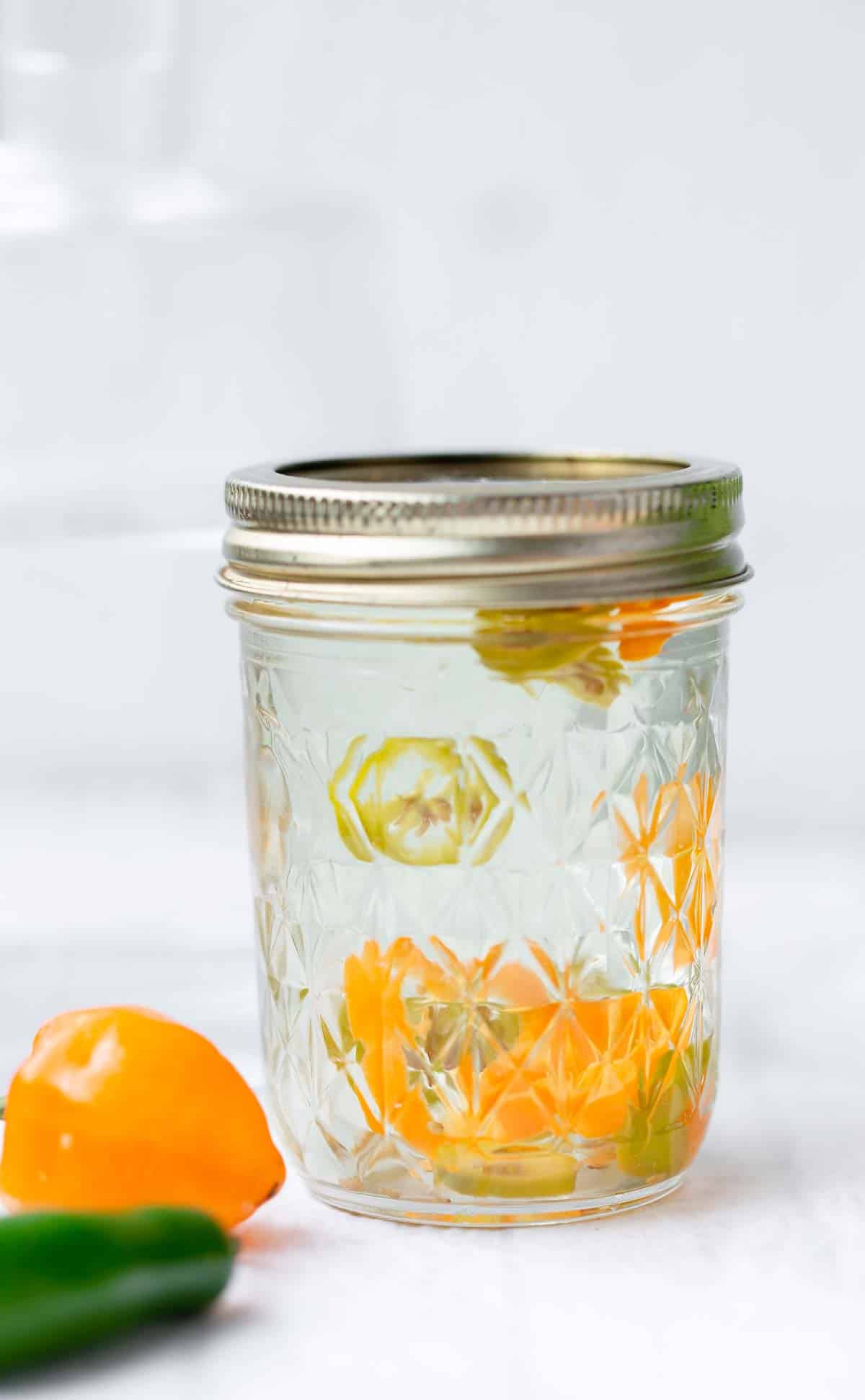 Ingredients
Habanero pepper– I usually have habaneros in the fridge but you could also use a jalapeno if you prefer.
Blanco or 'Silver' tequila is best for infusions because of it's clean flavor. Tequila Reposado is slightly gold colored and has a little more caramel flavor due to being aged in oak barrels. Which is what I happened to have on hand, so it's what I'm using today. Use whatever fits your needs and budget.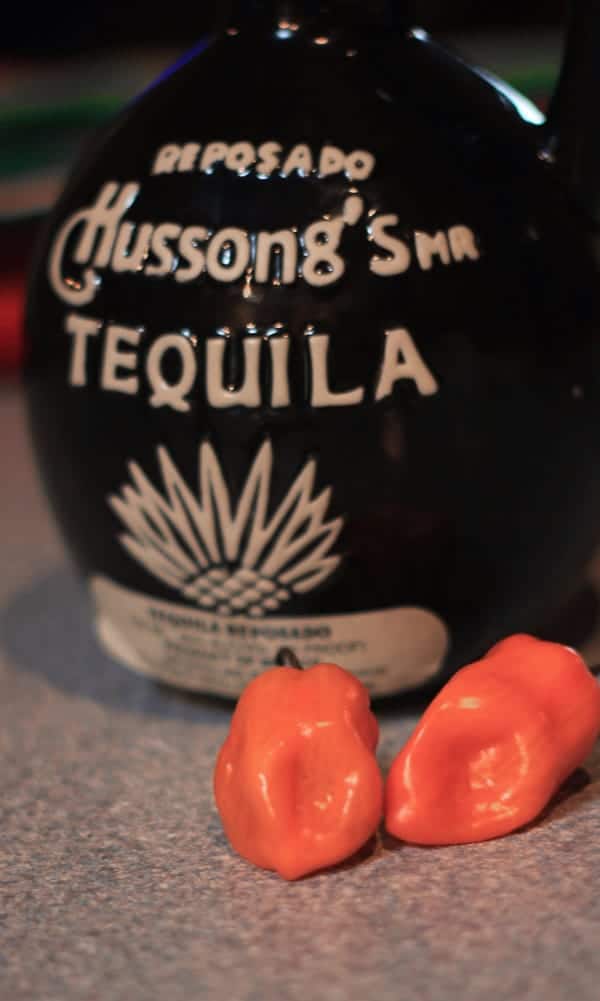 Step by step instructions
Slice your pepper using plastic gloves to protect your hands. Or if you're like me, have your husband do it for you. Slicing peppers with one hand while holding a baby is super dangerous business, you know!
Add peppers to a clean jar and pour in however much tequila you want. Place in a cool dark place and shake every so often.
For habanero tequila you should not let it sit for longer than 1 day unless you like it VERY SPICY. If you're using a jalapeno, you can let it steep for longer, but still be careful because jalapenos can vary widely in their spiciness.
Once you have reached your desired spice, strain the infused tequila and store as you would normally store your liquor.
Enjoy!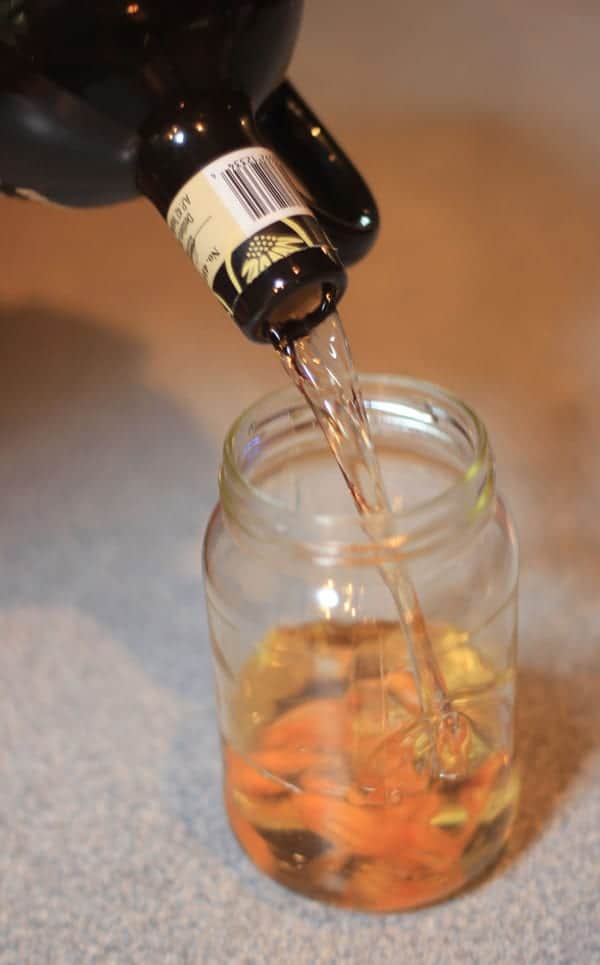 What to mix with infused tequila?
The lingering heat of habanero goes so well with the sweetness in fresh fruit cocktails. Like Mango Habanero Margaritas, charcoal infused Mysterious Midnight Mango Margaritas and Sweet Spicy Watermelon Rose Margaritas. Or simply take spicy tequila shots or mix up extra spicy Bloody Marias! Jalapeno infused tequila would go just as well in any of these spicy tequila cocktails and is perfect for Classic Lime Margaritas.
Infused vodka, rum, gin or whiskey
Infuse any liquor using this same method! The general rule is to steep milder flavors for longer periods of time and stronger flavors for less time. But really, this is one 'recipe' that's extremely hard to screw up. And even if you do, most likely you had a great time in the midst of it 😉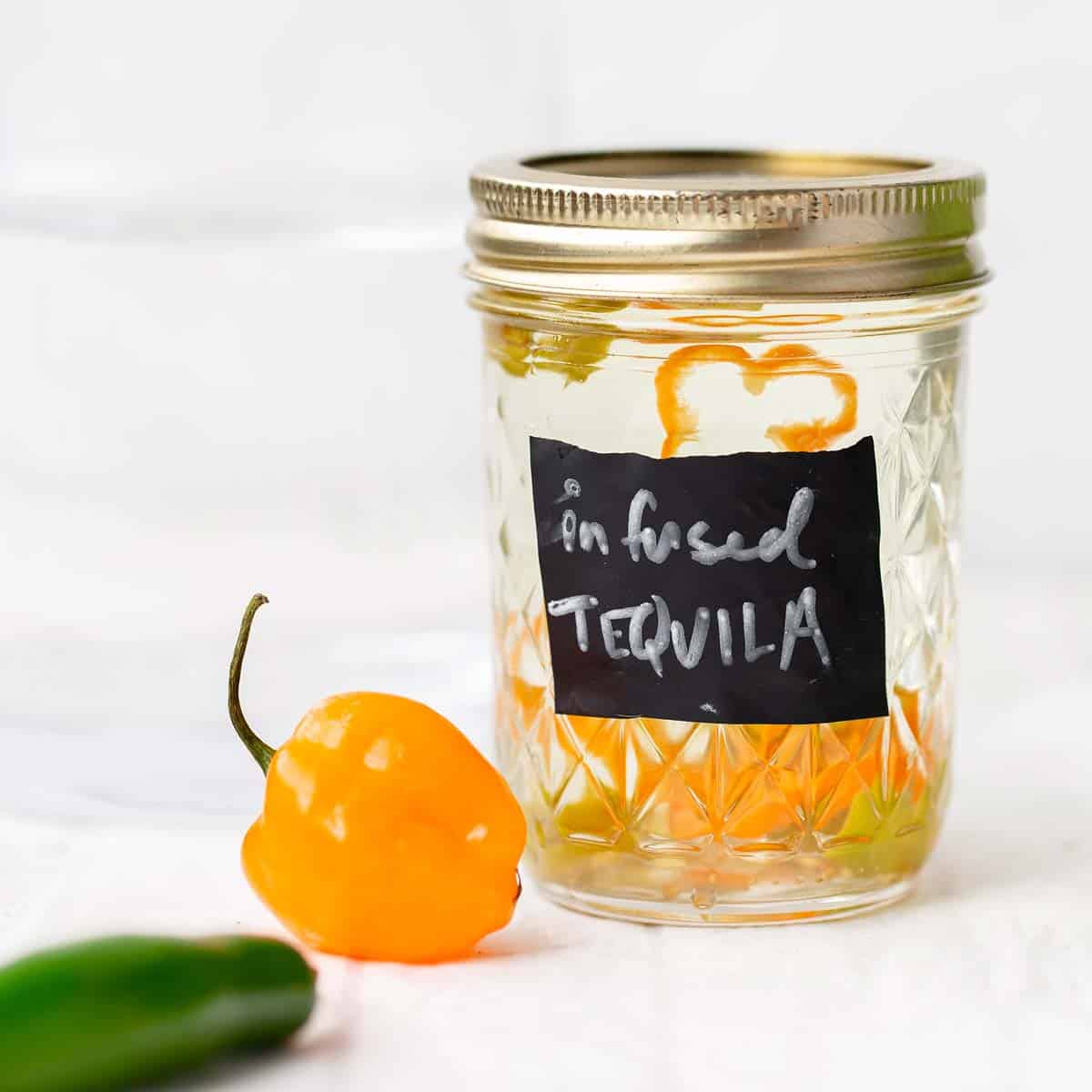 Ingredients
1

medium

habanero pepper

12

ounces

blanco tequila
Instructions
Slice habanero into thin rounds, protecting hands and eyes if necessary.

Add habanero to clean jar and fill with tequila.

Place in a cool dark place and shake every so often.

Once tequila has reached desired spiciness, strain habanero slices out and store as you would any other liquor.
Notes
Habanero tequila you should not infuse for longer than 1 day unless you like it VERY SPICY.
Nutrition
Calories:
65
kcal
|
Vitamin A:
10
IU
|
Vitamin C:
1.2
mg