Color Changing Butterfly Pea Flower Tea Cocktail is a homemade tea recipe turned into an awe-inspiring magical cocktail with mojito inspired flavors of mint and lime!
The naturally vibrant color comes from a mix of butterfly pea flower, lime and mint. An updated mojito recipe that's also perfect to serve as a mocktail sans rum!
Butterfly pea flowers
Butterfly pea is a wildflower vine native to tropical Asia when expanded, the flowers resemble a butterfly. But it's actual name Clitoria ternatea came from it's resemblance to something else entirely. Just starting to gain attention in the West this magical flower is common throughout Southeast Asia and used in everything from noodles to candies.
Introduced to the color changing effects of butterfly pea flowers years ago. By a friend who simply brewed a cup of tea. Then asked me to watch as she poured lemonade in the cup.
I was in awe as the color changed from rich blue to bright magenta before my eyes.
Boom! I was hooked and knew at one point I'd write a color changing cocktail recipe with this amazing ingredient.
Butterfly pea flower benefits
The wide range of butterfly pea flower tea benefits means there's even more to love about butterfly pea flower than just the visual effects! A still relatively undiscovered super food butterfly pea flowers have long list of anti-inflammatory, and anti-oxidative health benefits. The claims range from the treatment of hair problems, skin diseases, headache and indigestion. And it's even traditionally used as an ancient Ayurvedic memory-enhancing, stress-reducing, antidepressant brain tonic. *
*Sources: Gupta, Chahal, & Bhatia, 2010) (B, J, & P, 2018)
How butterfly pea flowers color change
Butterfly pea flowers change color because of pigments known as anthocyanins. Anthocyanins change color based on the acidity of their environment. And are commonly found in fruits, vegetables, and flowers, like blueberries, red cabbage, hydrangeas and butterfly pea flowers.
When mixed with acidity from lime juice or lemonade anthocyanins naturally change to a range of colors!
A whole range of beautiful colors can be achieved depending on the acidity of it's environment. Lemons and limes are the most acidic foods and therefore will produce the most color change. But orange, grapefruit, pineapple, stone fruit and berries can be used and will produce a whole rainbow of colors. Kombucha, seltzer water, white wine and St Germain elderberry liquor are also slightly acidic.
Butterfly pea flower tea recipe
I have been meaning to share butterfly pea flower with you ever since I first learned about the amazing herbal tea. But I wanted to wait until I had developed the perfect homemade tea cocktail recipe. And developing a visually stunning recipe with a foolproof method and amazing flavor took time and wasn't ready. Until now!
And I am SO EXCITED TO FINALLY SHARE THIS MIND BLOWING COLOR CHANGING COCKTAIL WITH YOU!!!
The basic butterfly pea flower homemade tea recipe is very simple. Butterfly pea flowers and fresh mint leaves steeped with hot water and sweetened with sugar. A homemade butterfly pea flower tea concentrate that can be used however you desire!
Today I'm going to show you how to make it a magical color changing tea cocktail by combining butterfly pea flower iced tea with rum and homemade limeade. Splash of cream optional, but highly recommended for extreme creaminess and pastel color.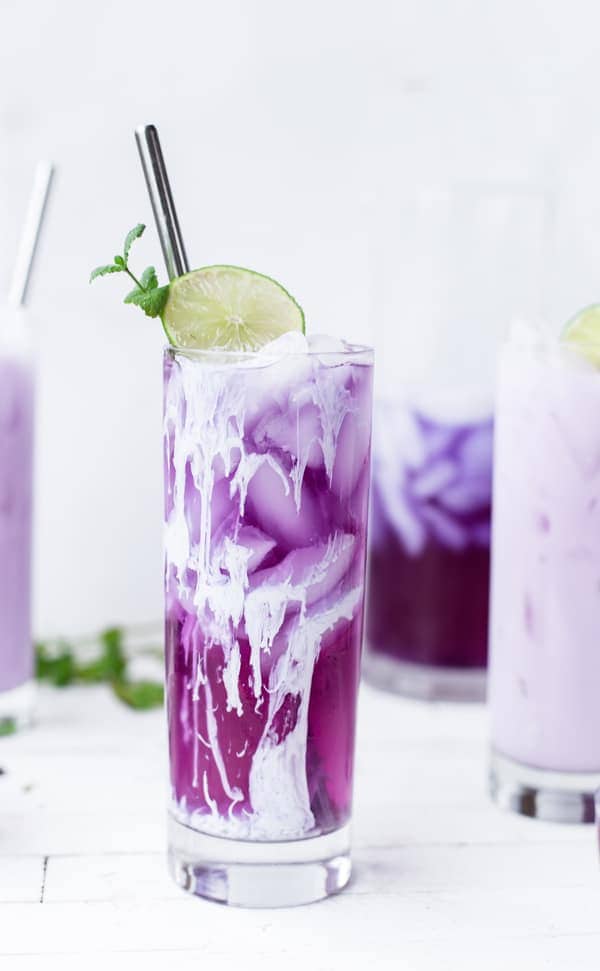 Ingredients
Butterfly pea flowers – butterfly pea flowers are mild in flavor and taste slightly floral making them perfect for homemade tea blends and mixed cocktails. Buy dried butterfly pea flowers online on amazon to mix your own loose leaf tea blends (try it mixed with green tea and rose or black tea and lavender).Or purchase premixed butterfly pea flower tea bags or crushed butterfly pea flower powder online. You can even find butterfly pea flower seeds to grow your own butterfly pea flower plant to use as edible flowers in your recipes and to dry for tea.
Fresh mint leaves – butterfly pea flowers don't have a lot of flavor on their own the mint adds a punch of flavor. Mint tea can be substituted for ease or if fresh/dried mint is unavailable. Just make sure to be mindful of what else it is blended with and avoid green tea blends as green tea is slightly alkaline and will effect the overall color.
Lime juice- the most acidic of all citrus fruits, lime juice and limeade will result in the most dramatic change.
Granulated sugar or raw sugar – sweetens the tea before it cools. Feel free to substitute your favorite sweetener instead – bar syrup, stevia, honey, etc.
Rum – clear white rum is the standard liquor of choice for classic mojitos. It also happens to be slightly acidic. Feel free to leave out for a mocktail, or substitute with vodka or even butterfly pea flower gin. Alternately you can make color changing cocktails by infusing the liquor with butterfly pea flowers. Or mixing it with sugar and water to make butterfly pea flower syrup.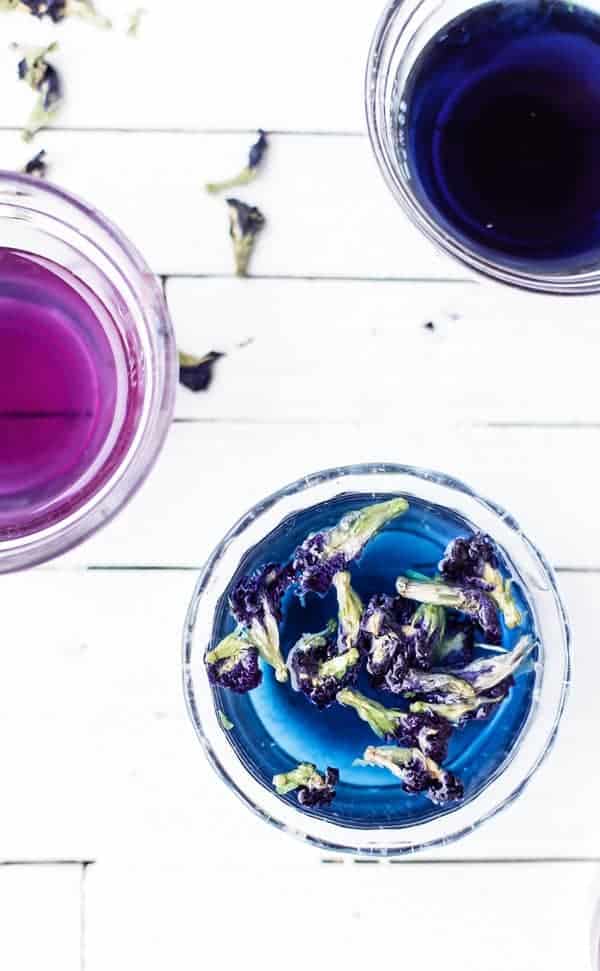 Step by step instructions
Combine hot water with butterfly pea flowers, mint leaves and sugar to make butterfly pea flower tea concentrate. Steep for 5 minutes then strain through a fine mesh strainer into a large pitcher filled with ice to cool.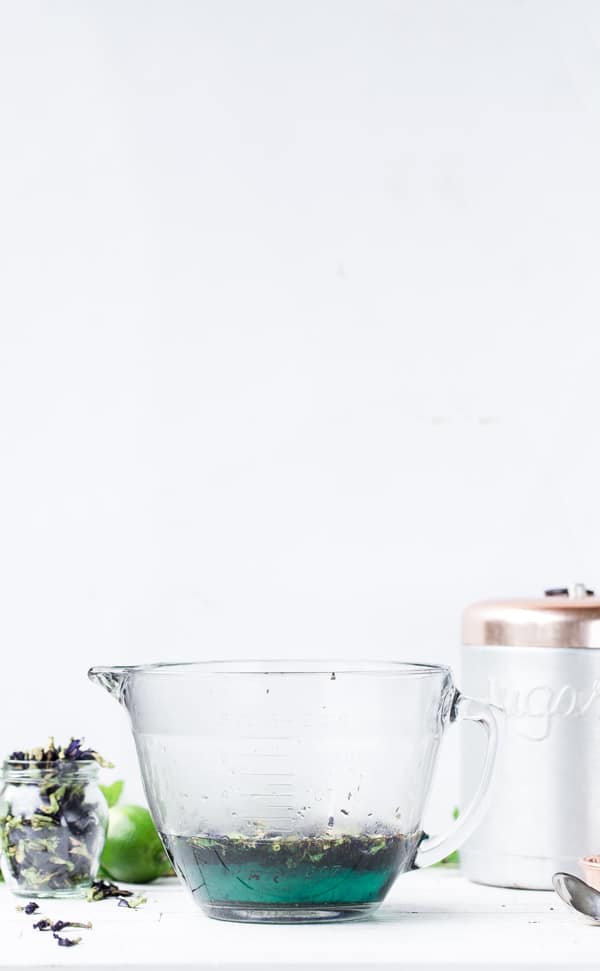 Meanwhile, make unsweetened limeade by mixing fresh lime juice with 5 cups of water.
Then, pour tea into a tall glass.
Pour an ounce of rum over ice into each glass, stir.
Top with limeade.
Stir with a spoon or straw.
Watch the magic happen!
Customize it
Make a butterfly pea flower latte – a pour of milk or cream turn this recipe into a deliciously creamy tea latte like the Raspberry Black Tea and Blackberry Earl Grey Iced Tea Lattes. Adding a delicious creaminess and also expanding color options with a range of beautiful pastels.
Make it a mocktail – leave out the rum to make a non alcoholic butterfly pea flower lemonade.
Layer it – sweeten tea layer with a hefty amount of simple syrup or corn syrup to thicken. Then layer the limeade on top. To make neat layers slowly pour the limeade over the back of a spoon onto the sweet tea.
Substitute any acidic liquid for the lime juice- any liquid with a low pH can be used. And will make a range of mojito colors. The pH scale is a measure of how acidic or basic something is, ranging from 0 – 14. The lower the number on the pH scale, the more acidic. And the higher the number, the more basic or 'alkaline'. With a measure of 7, being completely neutral. Lemon and limes have a pH of around 2-3 while oranges, grapefruits, pineapples, peaches, pears, strawberries and blueberries are all slightly less acidic with a range from 3-5. Kombucha is acidic, with a pH of around 3. Seltzer ("soda water/sparkling water") is acidic with a pH of 3-4. Just don't choose club soda because it is an entirely different product all together and the sodium makes alkaline. White wine and St Germain are also slightly acidic with pH between 3-4. A great option for a color-changing wine spritzer.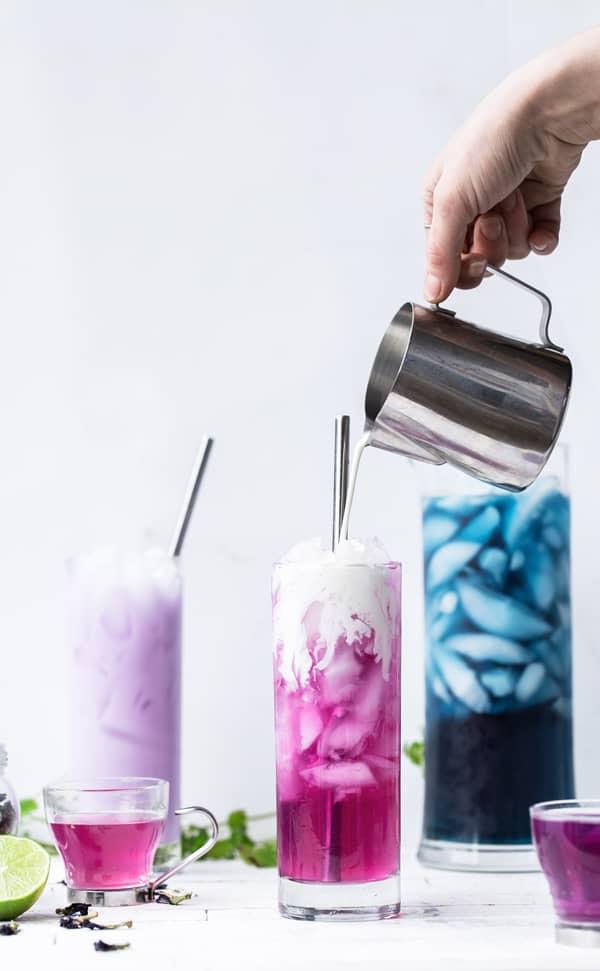 How to serve
Color changing butterfly pea flower drinks are so fun to serve at parties! Simply a modern take on a classic arnold palmer iced tea lemonade. Mixed with mojito inspired mint and lime flavors its a delicious mixed drink for people who don't drink alcohol! Perfect for science events, fairy parties and magical themed birthdays. Or use this recipe to trick your family on April Fool's Day or St Patrick's Day.
Ingredients
2

tablespoons

dried butterfly pea flowers

or 2 tea bags

2

tablespoons

fresh mint leaves

or 2 mint tea bags

½

cup

granulated sugar

1

cup

fresh lime juice

from about 5-7 medium limes

8

ounces

white rum

1 cup
Instructions
Bring 4 cups of water to boil. Meanwhile, place mint leaves and butterfly pea flowers in large bowl with sugar. When hot

pour water over and steep. Set a timer for 5 minutes.

Place 4 cups of ice in a large pitcher and after 5 minutes strain cobalt blue sweet tea concentrate over ice to cool.

Meanwhile, make unsweetened limeade by mixing fresh lime juice with 5 cups of water. Place in refrigerator to cool.

Pour tea over ice in tall glass, add rum (if desired), stir and top with limeade. Serve with a spoon or straw and watch the magic happen! 
Notes
Optional: Drizzle in a tablespoon of cream to make it a latte.
Nutrition
Calories:
122
kcal
|
Carbohydrates:
15
g
|
Protein:
1
g
|
Fat:
1
g
|
Saturated Fat:
1
g
|
Polyunsaturated Fat:
1
g
|
Monounsaturated Fat:
1
g
|
Sodium:
1
mg
|
Potassium:
43
mg
|
Fiber:
1
g
|
Sugar:
13
g
|
Vitamin A:
68
IU
|
Vitamin C:
9
mg
|
Calcium:
7
mg
|
Iron:
1
mg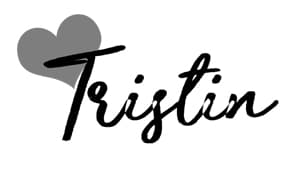 Shop this post
Fresh Flavorful is a participant in the Amazon Services LLC Associates Program, and these customized links, provided by Amazon, track the referrals to their website for the purposes of assigning commission on these sales.