This post has been sponsored by Morton Salt, Inc. All thoughts and opinions are my own.
Find yourself with a whole fish and wondering how to cook it? This Salt Baked Fish method honors the beautiful whole fish with an equally stunning and delicious preparation.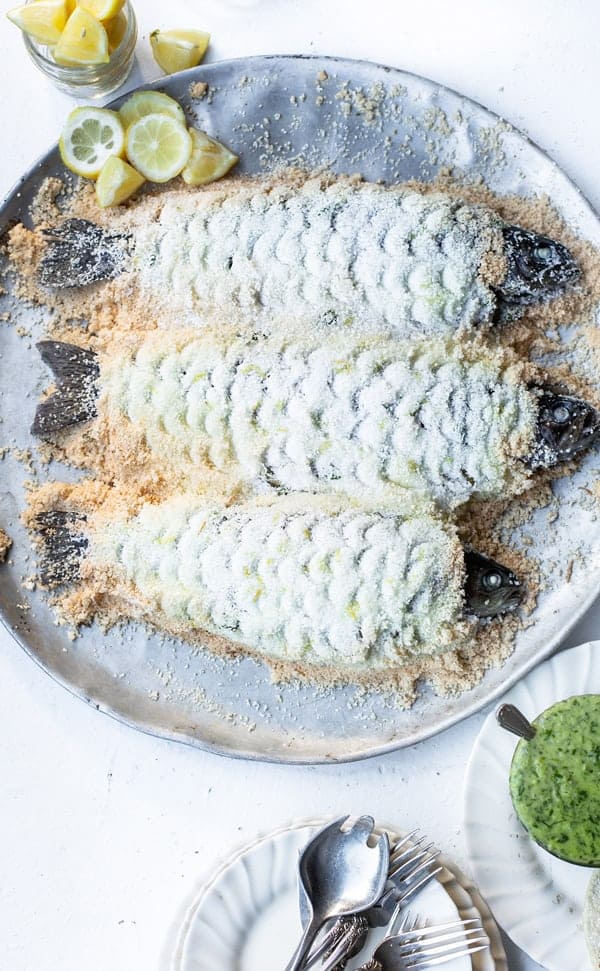 Perfectly steam and infuse whole fish or fish fillets with fresh herbs and lemon in a Morton Coarse Kosher Salt crust. So WOW worthy! And so surprising just how easy this versatile method for baked fish really is.
What is salt baked fish?
Wondering how to cook a whole fish? Showcase it with a special treatment like Salt Baked Fish. A perfect way to celebrate when your kid comes home with his first-ever lake trout ?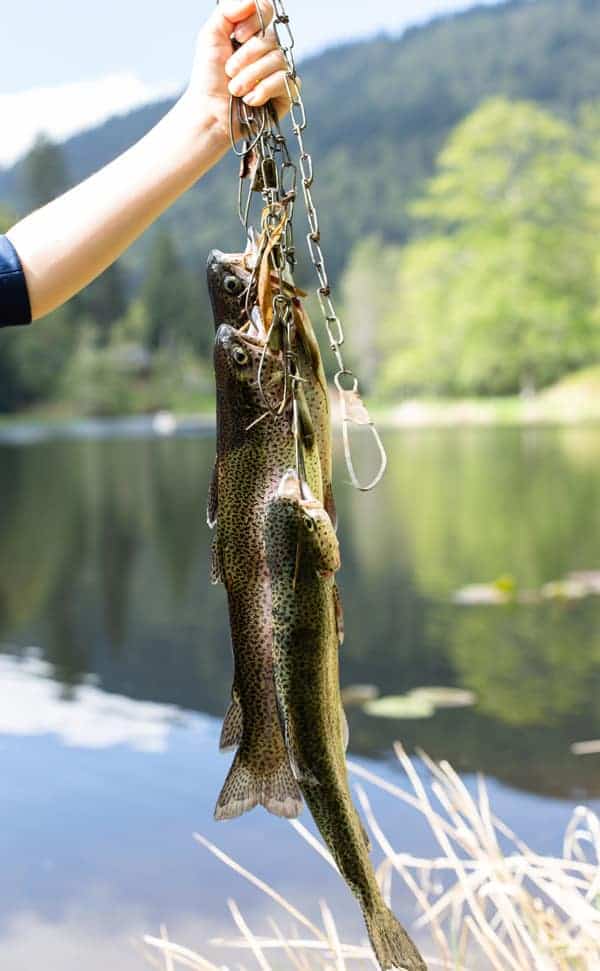 Baked fish in a salt crust is a fabulous method for cooking whole fish to have up your sleeve. And one that frequently makes an appearance around my house during fishing season.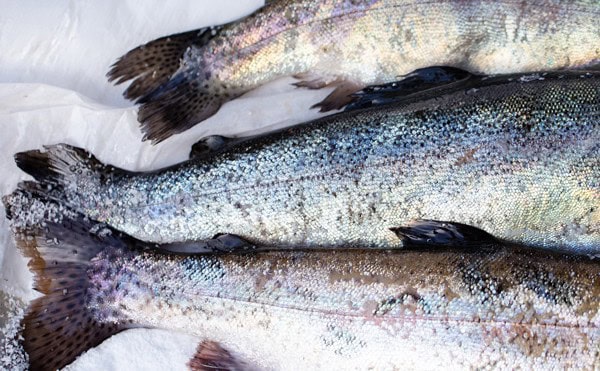 Usually served at big family dinners there's actually really no reason to wait for a special occasion. Because even though it looks crazy-impressive it's super easy to make from common pantry ingredients – herbs, spices and Morton Kosher Salt.
Save now on Morton Kosher Salt
Morton Coarse Kosher Salt is the salt I've been reaching for for as long as I can remember! The light, not overpowering, flavor and coarse, opaque white flakes can always be trusted to add the perfect touch. From seasoning and marinating grilled meats and veggies, brining meats, making pickles, or salting before serving, Morton Kosher Salt elevates any dish.
And the new Morton Coarse Kosher Salt packaging, available at your local Safeway, has a versatile lid that flips up or twists off. So now it's even easier to enjoy the seasoning power of Morton Coarse Kosher Salt! Whether you need to shake a bit, pour a little, or measure a lot!
Simply flip the top and shake a little to add the perfect amount of seasoning to your dish. Or use the easy-pour side of the lid to measure exactly the amount your recipe calls for. Or easily twist off that lid and conveniently pour a lot of salt when you need to. Like this Salt Baked Fish that calls for a whopping 4.5 cups of Morton Kosher Salt.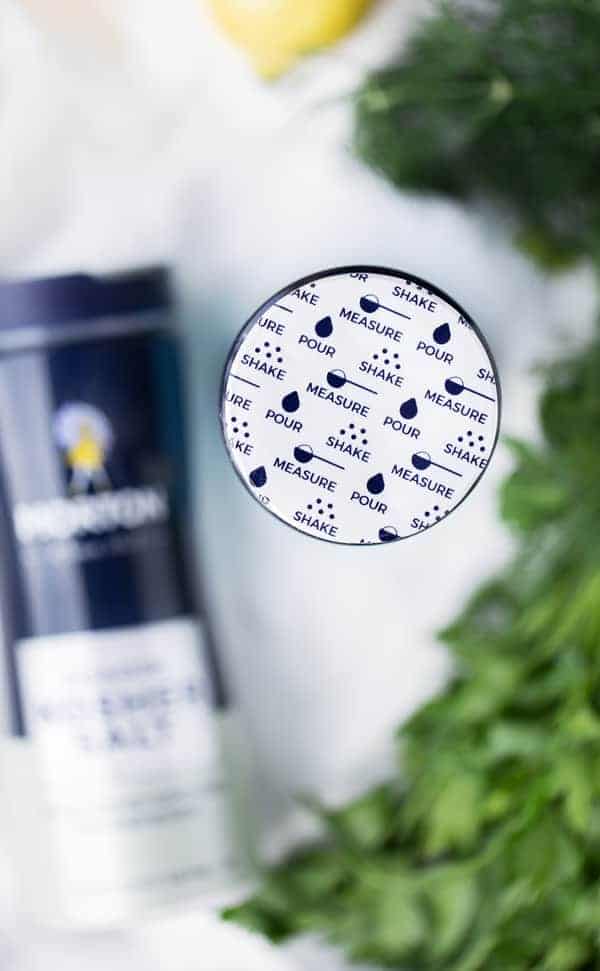 What does all that salt do?
Although it may sound like a lot of salt, it's not too salty at all! I promise! A lot of people who are wondering what salt baked fish tastes like are afraid of the saltiness. But the salt isn't imparted in the flavor of the fish; it simply creates an airtight seal, locking in flavor for the most amazing, tender, and flaky fish. Trust me, it's so much better than simply popping it in the oven! The salt crust acts as insulation protecting the tender fish inside and creating essentially an oven inside an oven. Locking in the natural deliciousness of the fish, imparting it with whatever seasonings you put inside while also allowing the fish to cook low and slow. All of these factors results in perfect evenly-cooked fish, every time!
And now, you can pick up enough for loads of salt-baked fish for a great price in the spice aisle at your local Safeway!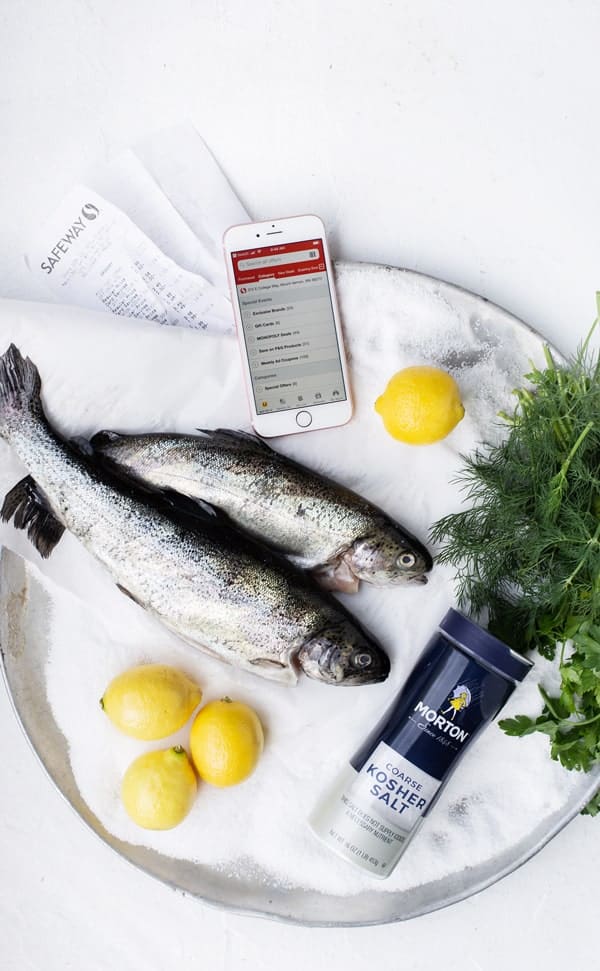 How to Make Salt Crusted Fish
First choose a baking dish large enough to fit your fish while allowing for plenty of space around it for the salt crust. A baking sheet, pizza pan or large casserole would all work.
Then make the crust mixture. Whip egg white until frothy, either with a mixer or by hand with a whisk. Place Morton Kosher Salt, lemon zest and 2 tablespoons chopped fresh parsley in a large bowl and stir in the whipped egg whites.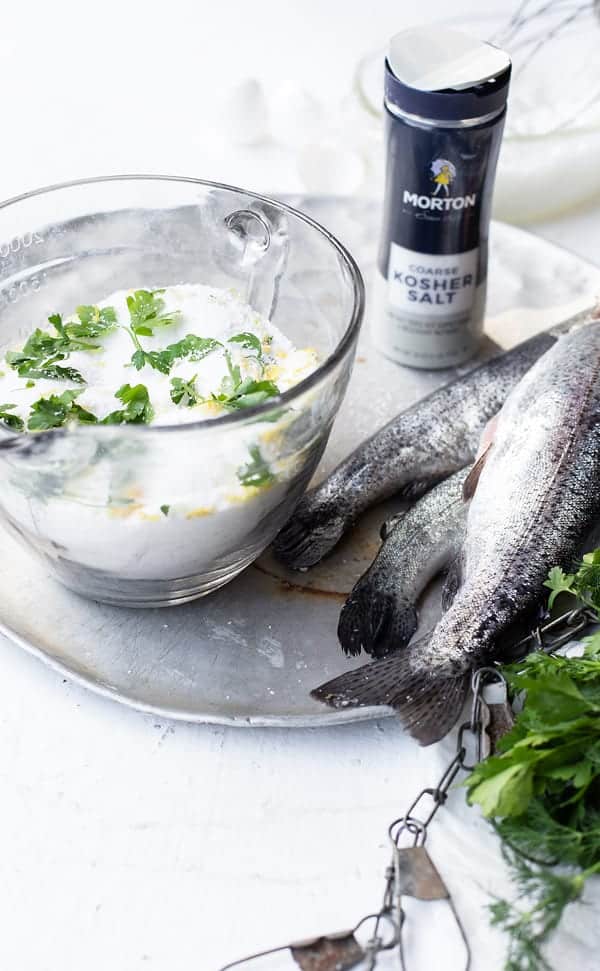 Now, unleash your inner child and get your hands in the sand-like salt mixture. Mound some up under and around the fish gently patting to form a smooth, sealed mound either leaving the fish head and tail exposed or covering the entire fish with salt before using a spoon to create a few rows of "scales' on the fish body.
The crust will harden up and retain the shape after baking. Making it so fun to get creative and play around with different designs! But honestly, it's totally optional and you can just cover it with salt and pop in the oven if you prefer.
Because regardless of what you choose the REAL fun comes after baking when you crack open the salt crust, remove the top layer and reveal the deliciousness inside.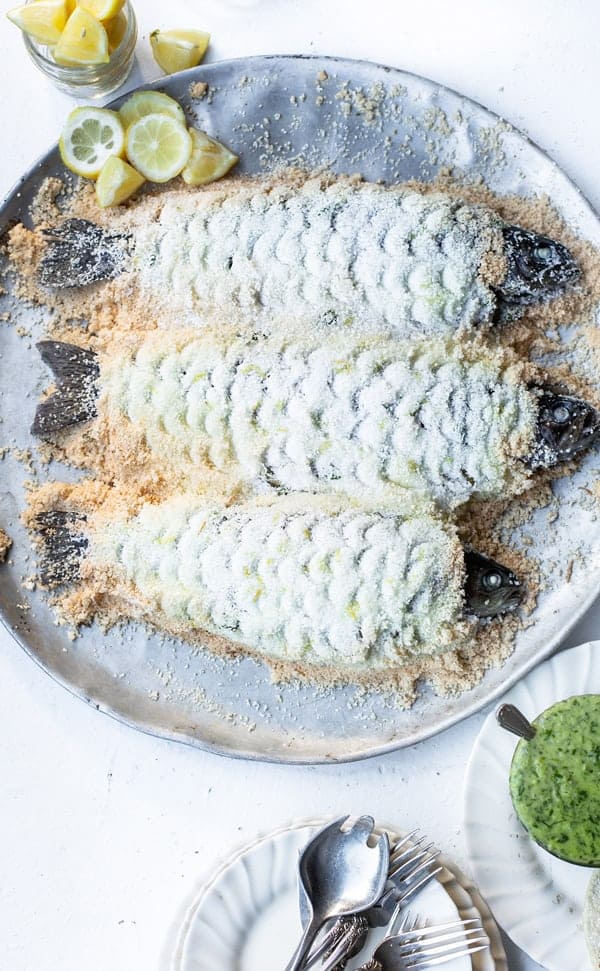 Then simply peel away skin, remove bones and serve this beautiful creation to your anxiously-awaiting crowd.
What kind of fish to use in Salt Baked Fish?
This baked fish recipe works for any whole fish you have on hand, whether it's a handful of itty-bitty lake trout or a large salmon! Simply adjust the amount of salt and eggs you use and how long to cook it for. If you only have fish fillets, you can use this same method! Using skinned fillets will allow the flesh to absorb more salt though.
How do you know when baked fish is done?
The salt crust makes it difficult to determine when the fish is fully cooked. Choose any of these methods to know when salt baked fish is done:
Stick the tip of a knife or a metal skewer through the salt and into the thickest part of the fish. Then, remove and place on chin. If it's too hot to hold for 15 seconds, it's done.
Or, use an instant read thermometer and remove when the internal temperature reaches 140 F.
Or skip both the knife and the thermometer and prevent puncturing the crust with the eye method. A benefit of leaving the fish whole is that you can tell when a fish is over, under or perfectly cooked by looking at its eye. If the eye is still translucent, then it needs more time. Opaque white means it's done. Nearly invisible and sunken? Sorry friend, it's overcooked.
How to serve salt baked fish?
Serve as you would any other fish. With lemon wedges, steamed veggies and rice pilaf. Or tuck the flaky fish into a charred corn tortilla and top with Chimichurri Verde made with parsley, lemon and dill.
Customize It!
Like all great cooking methods, this recipe has so much opportunity for customization! Season simply with salt and pepper or take advantage of the huge flavoring potential of the airtight seal and get creative with flavors! Much like when cooking in parchment "papilotte" or foil, whatever citrus, herbs, and spices are placed inside will be lightly infused into the fish.
Salt Baked Fish Recipe
Ingredients
4.5

cups

Morton Kosher Salt

roughly three pounds

4

large

egg whites

1

whole

2-3 pound fish

or 3-4 smaller fish, cleaned

4

small

lemons

2

sprigs

dill

fresh

2

sprigs

parsley

fresh
Instructions
Heat oven to 450 degrees F. Zest and slice 2 of the lemons into rounds, and cut the other 2 into wedges for serving.

Rinse fish thoroughly with cold water and pat dry with paper towels.

Whip egg white until frothy, either with a mixer or by hand with a whisk. Transfer to a large bowl and stir in Morton Coarse Kosher Salt, lemon zest and 2 tablespoons chopped fresh parsley.

Choose a large rimmed baking sheet, roasting pan or casserole dish large enough to fit your fish with plenty of space. Place enough salt mixture on the bottom of the baking sheet to cover a space roughly the size and shape of the fish with about 1" of space around it and ½" deep. Place a few lemon slices and a sprinkle of fresh herbs on the salt, then top with the fish. Tuck remaining lemon slices and fresh herbs inside the cavity of the fish. Top fish with remaining salt mixture and pat with your hands to form a smooth, sealed mound, keeping fish and tail exposed or covering completely with salt.

Using a spoon, create a few rows of "scales" on the fish body. If head and tail are covered, create tail lines with the handle of the spoon and use your finger to make an indent for the eyeball (optional).

Place in oven and roast for 15 minutes or until it reaches 140 degrees. Remove and let rest 5 minutes before serving. Either crack and remove crust at the table or serve each fish individually and allow guests to crack with their own mallets. Once top layer of salt is removed, peel away skin, remove bones and serve.
Nutrition
Calories:
32
kcal
|
Carbohydrates:
6
g
|
Protein:
3
g
|
Sodium:
38
mg
|
Potassium:
135
mg
|
Fiber:
2
g
|
Sugar:
1
g
|
Vitamin A:
45
IU
|
Vitamin C:
38.6
mg
|
Calcium:
19
mg
|
Iron:
0.4
mg
enjoy!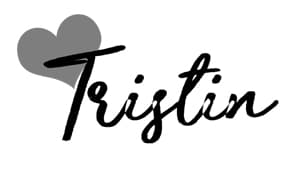 pin for later!