Homemade Blueberry Lemon Gelato highlights the vibrant flavor of berries by churning fresh blueberry lemon puree with sweet milk and cream custard into a smooth, dense frozen dream of a dessert.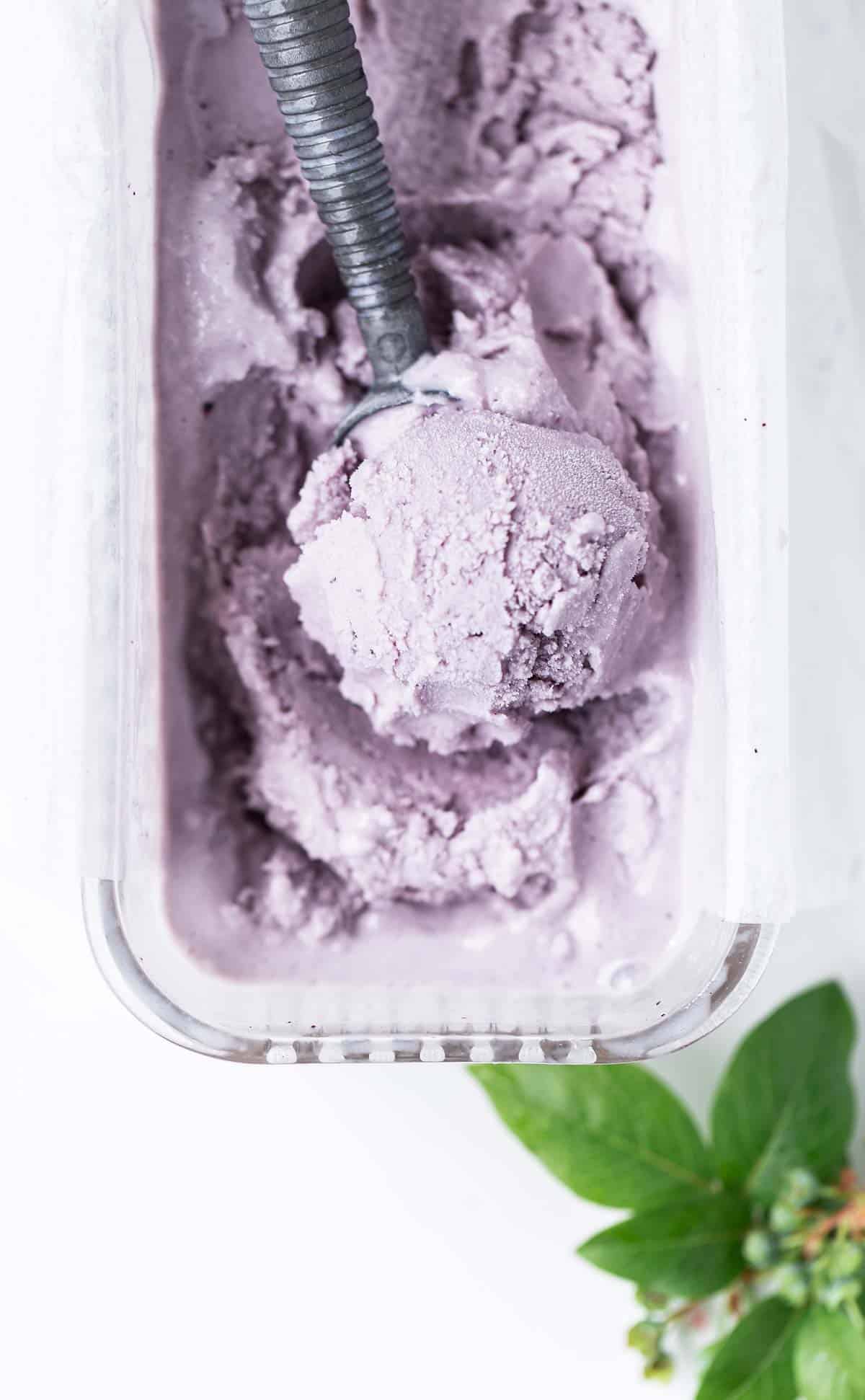 With or without an ice cream maker homemade gelato is the perfect make-ahead dessert for summer potlucks, parties and dinners. And with all the seasonal fresh fruit at the market once you know this easy-to-customize method you'll be able to whip up any delicious fruit gelato you can imagine!
Rediscovefing the joy of cooking
This section was originally called How Stella Got Her Bloobs Back. But I chose to play to the SEO gods and name it something a bit more apt to point the bots in my direction and make google happy. But in all honesty, this is totally a story of how Stella got her bloobs back 😉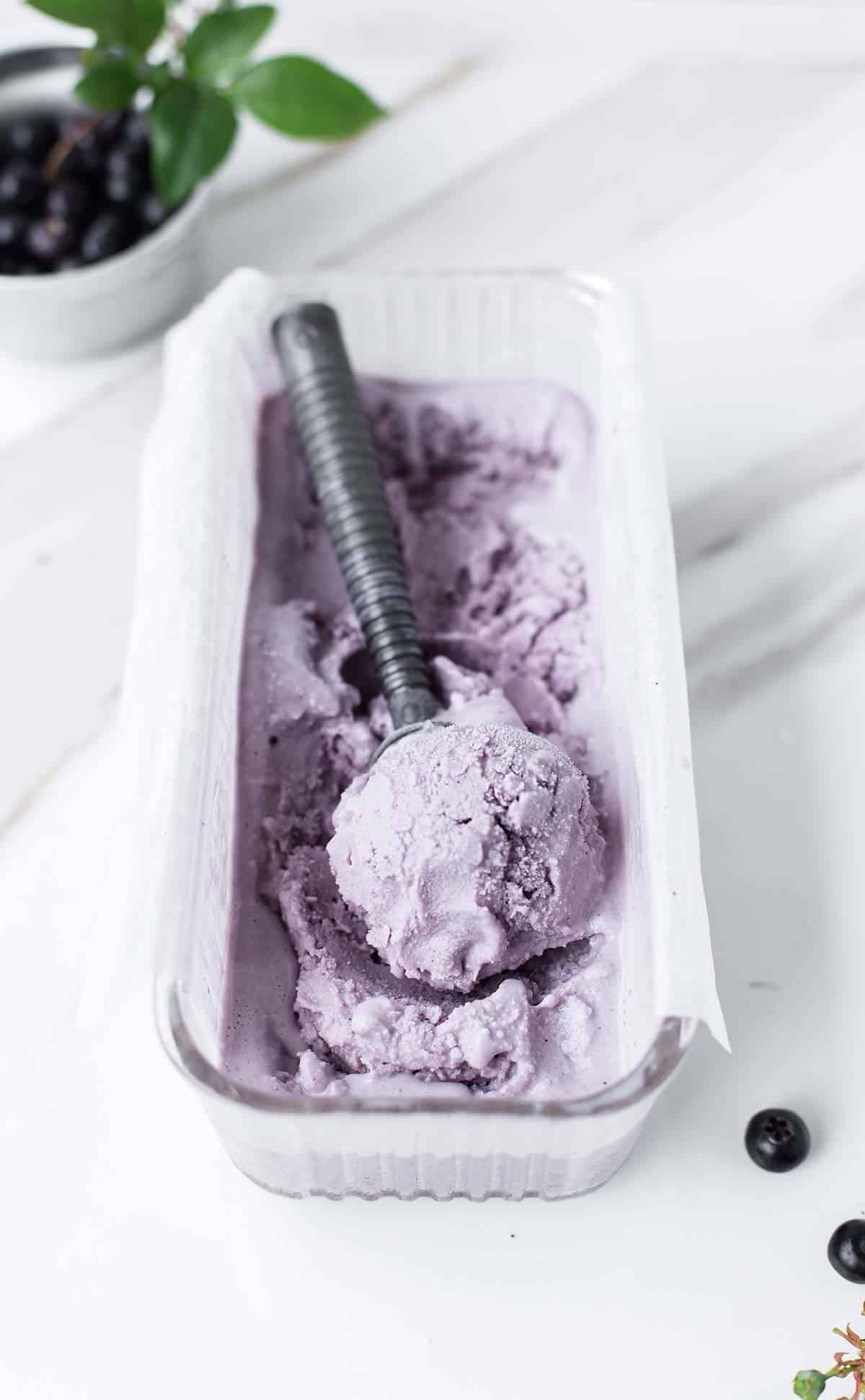 Cooking can be exhausting. Even a lifelong lover of the kitchen who finds joy in creating new delicious dishes to share with her loved ones can get burnt out when cooking for the same people with the same likes and (very much voiced) dislikes day in and day out.
So when some childhood friends came up with the idea to enjoy each other's company and indulge our mutual love of cooking eating and drinking together – I jumped right on the chance!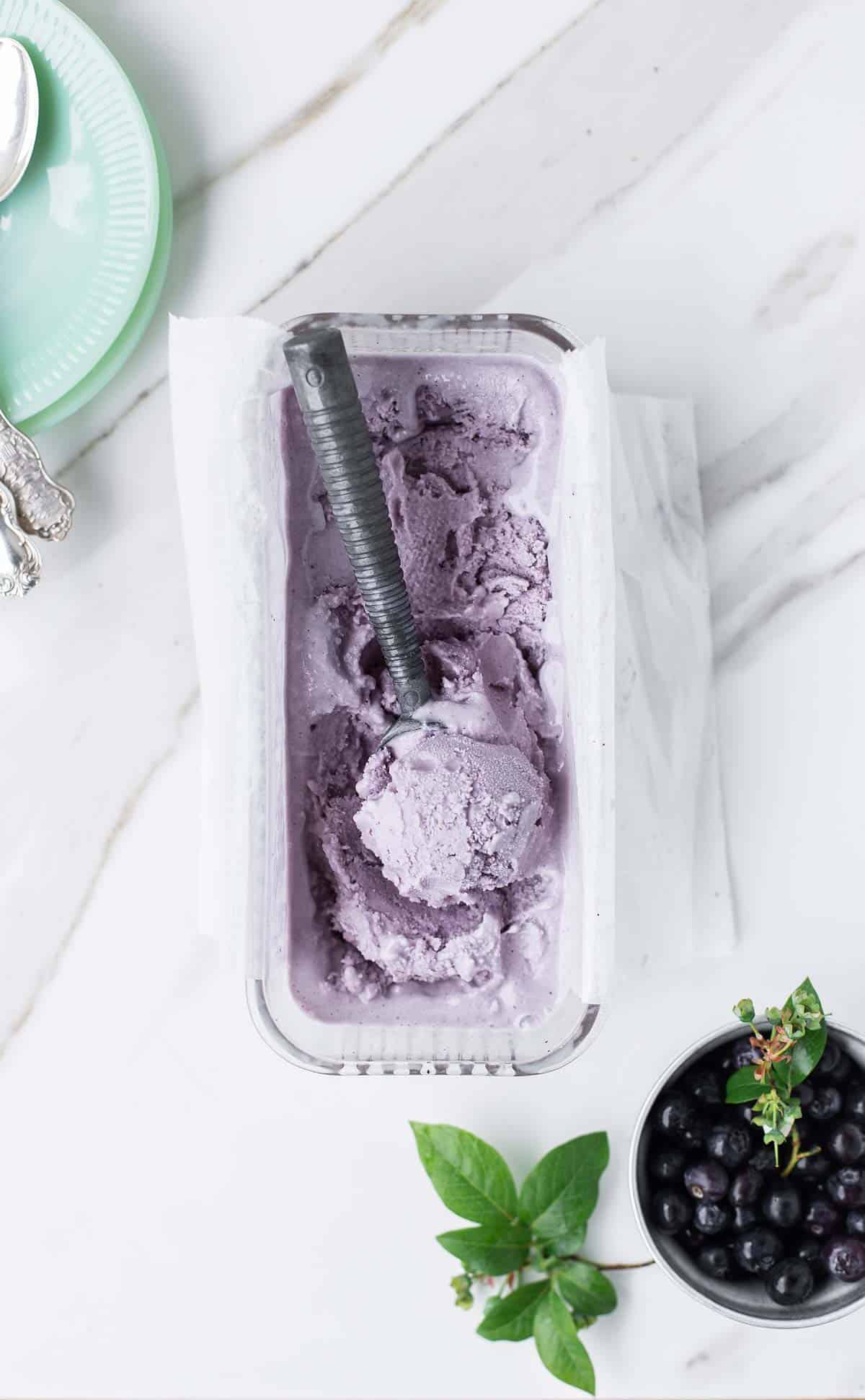 A low key friends potluck
To throw your own low key friends potluck simply choose a date and location and maybe a loose theme (or even a cookbook!) to tie things together. Have each guest brings their choice of course and an accompanying beverage. With starter, soup, salad, main, side, and dessert it's the perfect way to get everyone together for a feast while sharing the work! Easy on everyone!
The only restriction for our first friends potluck was that the dish had to be delicious. Well, that and loosely PNW seasonal. And being that we chose memorial day weekend at my house it was the unofficial kickoff to summer vacation.
Knowing right away I wanted to go the ice cream route I strategically chose dessert. Universally loved by all frozen desserts are perfect party food because they have to be made ahead of time. To highlight the theme of summer in the Pacific Northwest I chose blueberries. And to ensure their juicy flavor held true in the final dish gelato was the best option.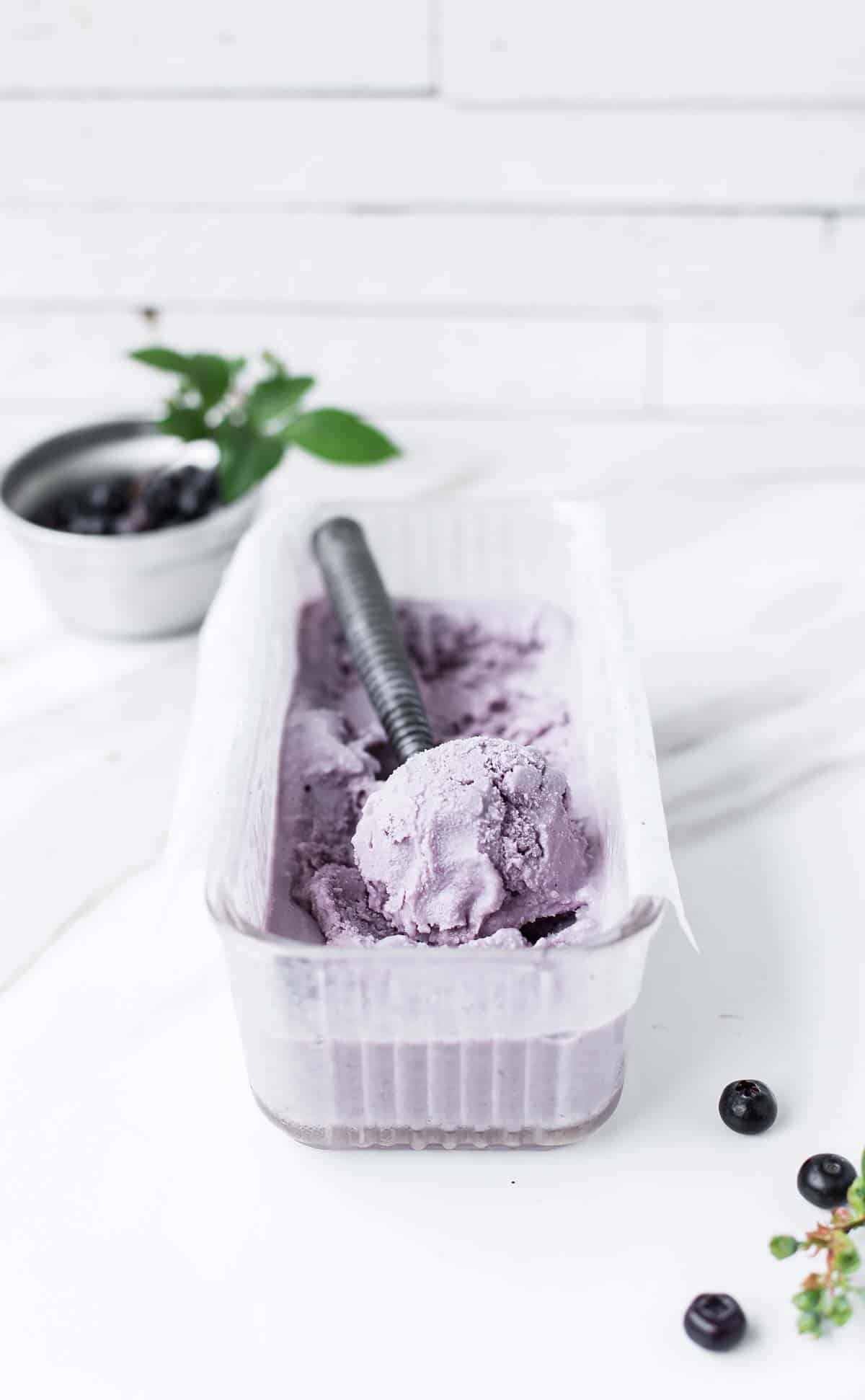 Btw – We had a great first friend's potluck, and I completely forgot to take pictures – the sign of a great party, no?
But the night ended huddled around my kitchen counter with a handful of lifelong friends and our kids, spoons in hand enjoying homemade gelato. It was perfect.
And tonight we're off to our second friend's potluck with this group! The theme is Italian and ironically I will not be making gelato 🙂 Stay tuned for my Italian dessert choice and photos of our potluck dinner party in the woods.
Ice cream versus gelato?
Air, fat and temperature are the main differences between ice cream and gelato that make the latter my choice for delivering fresh vibrant flavor. With less dairy fat in the mix gelato is able to be slow churned resulting in a smooth, dense texture. With ribbons that fall from spoon to bowl rather than whipped and fluffy like ice cream. This rich texture allows gelato to be served at a higher temperature than ice cream without turning into a soupy, milky mess.
How to Make
Make a concentrated fresh fruit puree and chill.
Make gelato custard base and chill.
Then combine the two and churn whenever you're ready!
Pop in the freezer.
In 4-5 hours your gelato will be the perfect texture to serve.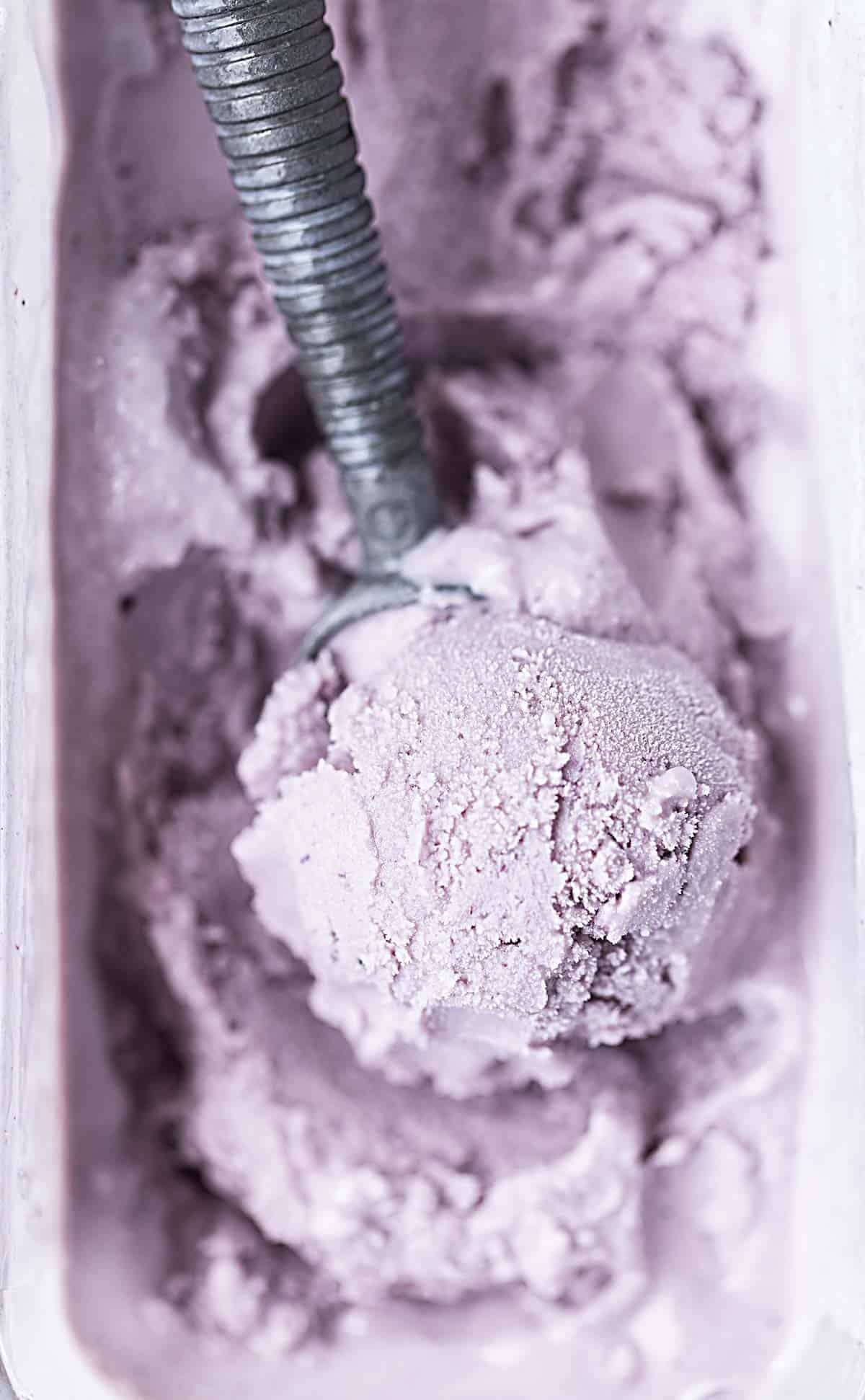 How to Make gelato without an ice cream maker machine?
There are a few different methods for making ice cream and gelato without an ice cream maker.
No churn versions fold whipped cream into a custard base then freeze.
Or, you can hand churn gelato, stirring the freezing custard at even intervals until set, for the flavor and texture of gelato sans ice cream maker. The Stay at Home Chef's blog post and video outline how to make gelato by hand. If hand churning try mixing in the fresh fruit puree at different times for ribbons of contrasting flavor and texture.
Customize it!
To make any other fresh fruit gelato simply swap fruit of your choice for blueberry and proceed as directed. Use this same homemade ice cream recipe to make raspberry swirl ice cream, blackberry swirl ice cream, strawberry swirl ice cream or a mixed berry ice cream combination of any or all fruits!
No lemon? Try mixing up the recipe with any other citrus juice like lime or orange.
For streaks of flavor, churn the base completely (or add just a small amount of fruit), then add thick swirls of puree before freezing.
Make Ahead Frozen Dessert
A great make-ahead recipe for entertaining gelato can be churned up to two days in advace.
Or, prepare the fruit puree and gelato base up to 3 days in advance as it fits your schedule. Then churn and freeze at least 6 hours before serving.
Ingredients
fresh fruit puree
3

cups

blueberries

fresh or frozen

¾

cup

granulated sugar

2

teaspoons

lemon juice
basic gelato
4

large

egg yolks

¾

cup

granulated sugar

2

cups

whole milk

1

cup

heavy cream

¾

teaspoon

kosher salt
Instructions
Fresh Fruit Puree
Combine berries, sugar and lemon juice in a saucepan and let macerate 30-60 minutes. Then, place over medium heat and bring to a boil. Reduce heat to low and simmer until thicken about 10 minutes. Remove and refrigerate until cool then puree smooth, straining if desired, into an airtight container.
Gelato Base
In a large saucepan whisk the egg yolks and sugar until slightly lighter in color and well combined. Whisk in milk, cream and salt.

Cook mixture over medium heat, whisking frequently until it reaches 170 degrees. Remove from heat and immediately strain through a fine mesh strainer into a chilled airtight container to cool. Place in refrigerator until ready to churn, up to 3 days.
Blueberry Lemon Gelato
When ready to churn add 2 cups of fresh fruit puree to gelato base and stir to combine, reserving remaining fruit puree to swirl in or top the gelato. Churn according to manufacturer's instructions until firm and billowing, about 30 minutes usually.

Transfer to airtight container and freeze until hardened at least 4-5 hours.

Eat within 2 days, same day preferred.
Notes
Tip: store fruit puree in the same container you'll be storing your ice cream. Do not wipe out puree after whisking into gelato base and pour churned gelato back into container for beautiful swirls of fruit puree.
yield: about 1 ½ pints
Nutrition
Calories:
344
kcal
|
Carbohydrates:
49
g
|
Protein:
4
g
|
Fat:
15
g
|
Saturated Fat:
8
g
|
Cholesterol:
139
mg
|
Sodium:
260
mg
|
Potassium:
154
mg
|
Fiber:
1
g
|
Sugar:
46
g
|
Vitamin A:
690
IU
|
Vitamin C:
6
mg
|
Calcium:
103
mg
|
Iron:
0.4
mg
Nutrition Facts
Blueberry Lemon Gelato
Amount Per Serving
Calories 344
Calories from Fat 135
% Daily Value*
Fat 15g23%
Cholesterol 139mg46%
Sodium 260mg11%
Potassium 154mg4%
Carbohydrates 49g16%
Protein 4g8%
Vitamin A 690IU14%
Vitamin C 6mg7%
Calcium 103mg10%
Iron 0.4mg2%
* Percent Daily Values are based on a 2000 calorie diet.
The combination of fresh fruit and citrus make your mouth water? Then you'll love Blueberry Lemon Crisp, Strawberry Lemonade Hand Pies, Blueberry Switchel Spritzer and Blueberry Butter Cake!