Blackberry Creme Brulee with fresh berries is a fresh seasonal version of everyone's favorite classic, creamy dessert. And when you use a sous vide machine you can rest assured your little custards will be cooked perfectly, every time with very minimal effort on your part.
Jump to:
Creme brulee with berries
The flavor and texture variation of the cool creamy custard and the crunchy caramel topping is irresistibly delicious.
And there's so many different ways to change up that perfect classic custard flavor.
You can stir in additions to the custard base for an overall flavor change, like melted chocolate or instant espresso powder.
Or, you can substitute other liquids, like egg nog or coconut milk, for some of the cream to change the flavor that way.
Another option is to simply stir in some whole chunks of fruit like berries or bananas into the classic custard and get BIG EXPLOSIONS of flavor.
This Sous Vide Berry Creme Brulee recipe customizes the flavor of both the custard base AND adds whole fruit flavor explosions. It also changes up the classic way to cook creme brulee. Taking the water bath out of the oven and placing it right on your counter, thanks to a sous vide machine.
Why sous vide creme brulee?
With less cream and a bit more egg yolks sous vide creme brulee achieves the same luscious thickness as classic creme brulee, with a lot less effort!
Cooking individual portions of creme brulee with a sous vide machine takes all the guesswork out of the process. No more wondering if the custard is cooked. No more serving too-soft or hard-as-a-rock creme brulee. When you use a sous-vide machine to cook creme brulee you set it to the exact temperature for the desired texture and end up with perfect dessert, every time!
Check your sous vide machine usage instructions for specific instructions.
Ingredients
Step by step instructions
Whisk egg yolks with sugar, sea salt, heavy cream and a handful of berries.
Divide remaining berries among jars. Then pour the egg mixture over top leaving about ½″ of room.
Allow the jars to sit for 30 minutes so air bubbles rise, then skim the bubbles and place lids and rings on the jars, sealing until you start to feel a little resistance.
Once tightened place jars into a large container with the sous vide machine. Fill with water and set the machine to cook to the desired temperature.
Creamy soft creme brulee – set the temp to 176 degrees Fahrenheit
Thick and rich creme brulee – set the temp to 181 degrees Fahrenheit
Firm creme brulee – set the temp to 185 degrees Fahrenheit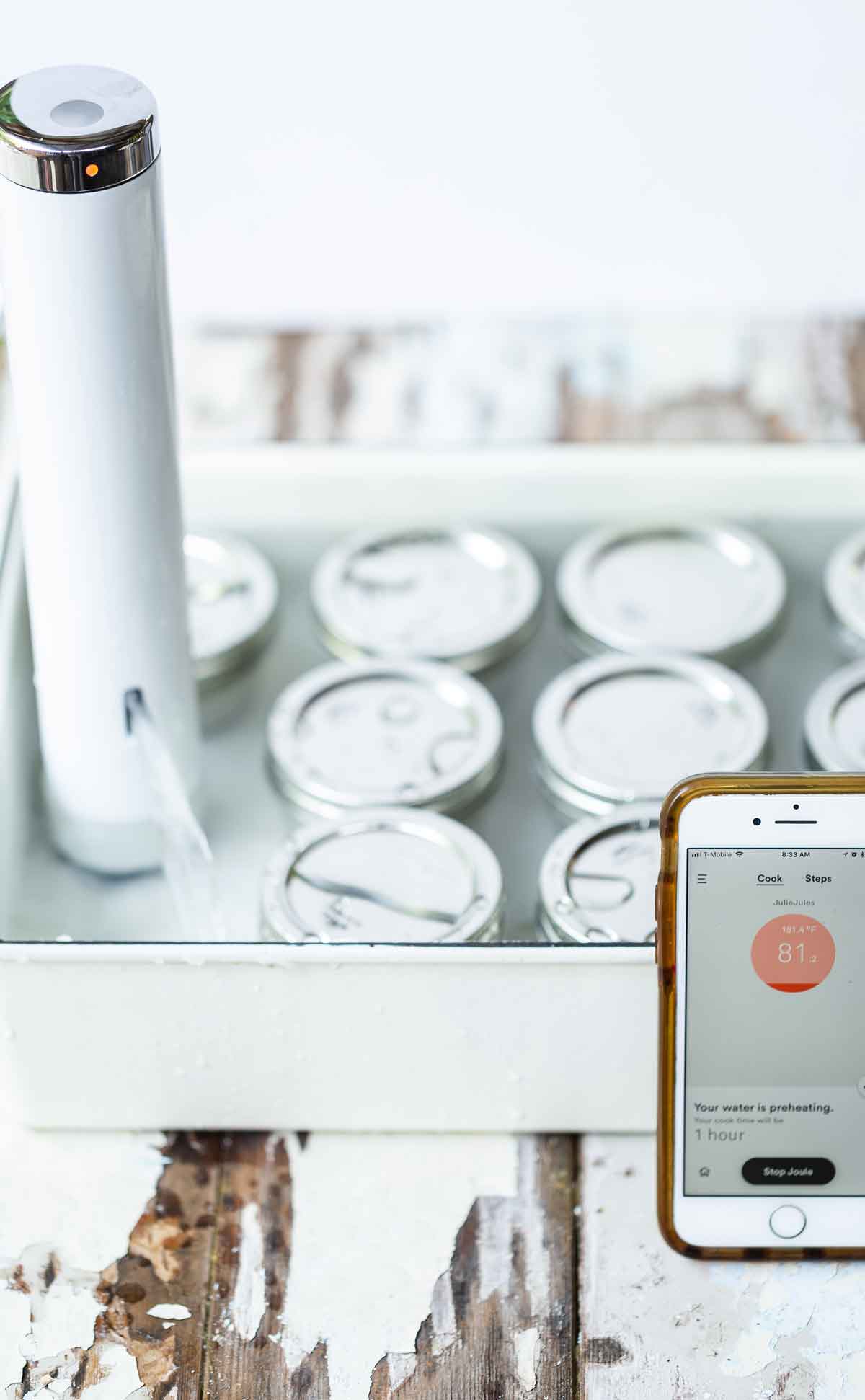 When finished cooking to the desired temperature remove creme brulee jars from water and transfer to the refrigerator to chill, at least 1 hour and up to 3 days.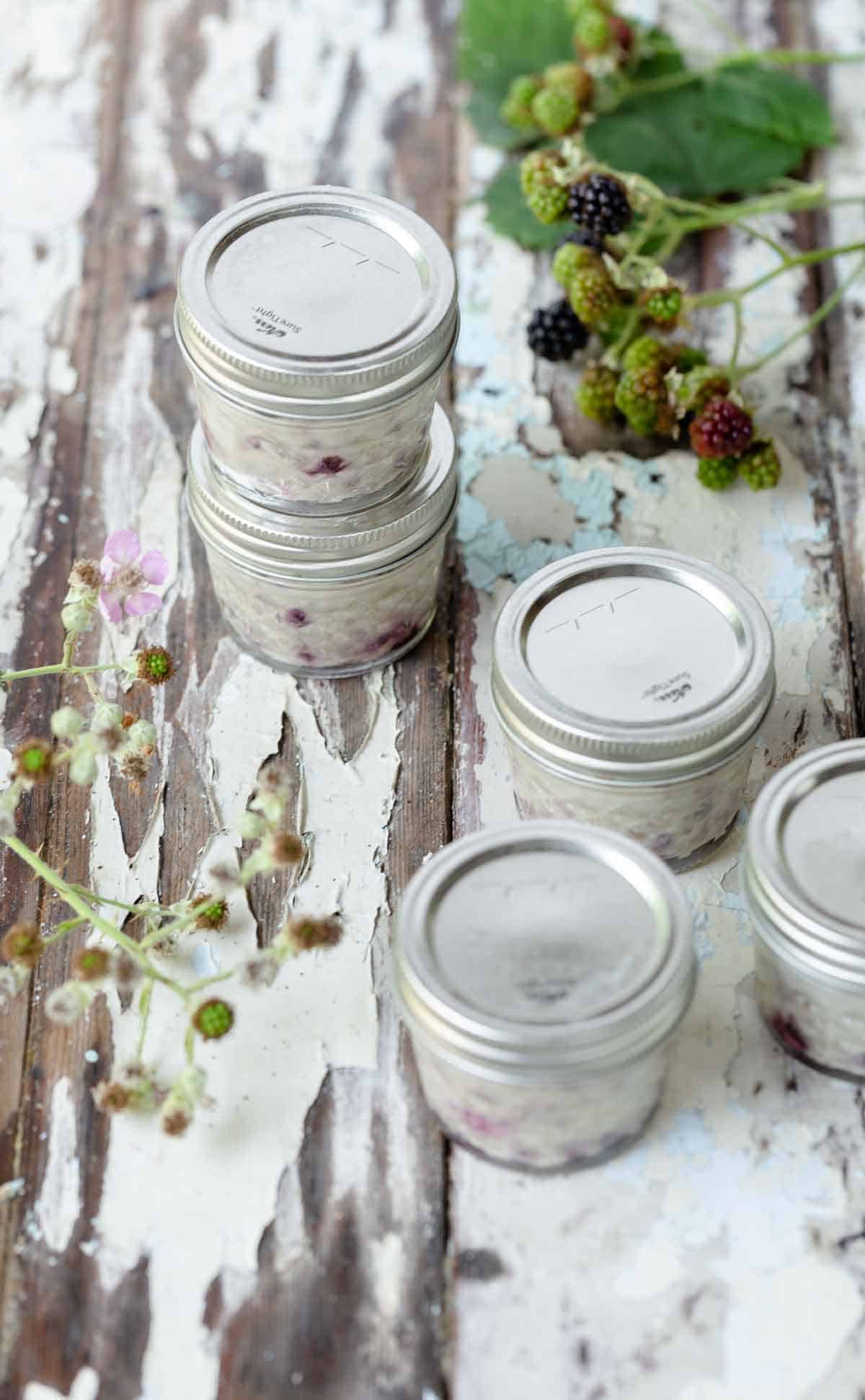 When ready to serve bring to room temperature and blot any accumulated moisture from top of custard.
Cover creme brulees with a layer of sugar.
Then caramelize, either with a hand torch or under the broiler, until a thick crust forms. Repeat with all custards.
Let rest for several minutes before serving.
Enjoy!
How to cook in the oven
To make creme brulee in the oven instead of sous vide creme brulee bake in a water bath in a preheated 300 degree oven for 45 minutes to an hour.
How to caramelize
If you don't have a hand torch to caramelize creme brulee, use the broiler. On high heat, place creme brulees with sugar topping on a baking sheet on the top shelf and broil just until the sugar melts.
Yield
This recipe yields roughly 10 ½ cup, or 4 ounce, servings.
How to make ahead
Cooking creme brulee with the sous vide method makes it even easier to prep it ahead of time. Perfect for entertaining! Simply keep the jars sealed and refrigerate up to three days. When ready to serve simply bring to room temperature then cover with a layer of sugar. Caramelize with a hand torch or pop under the broiler for a stunningly delicious, almost entirely made ahead, dessert.
How to store
Before topping with sugar and caramelizing store creme brulee covered in the refrigerated for up to 3 days. Sprinkle with sugar and torch before serving.
Ingredients
3

cups

heavy whipping cream

at room temperature

10

large

egg yolks

at room temperature

1 ¼

cups

granulated sugar

½

teaspoon

sea salt

½

cup

blackberries

or other berries, rished and dried
Instructions
Clean and dry (10) 4 ounce jars with lids. Place inside a large shallow dish that will also fit a sous vide machine.

In a large mixing bowl combine egg yolks, 1 cup sugar, salt and ¼ cup blackberries. Whisk until smooth.

10 large egg yolks,

1 ¼ cups granulated sugar,

½ teaspoon sea salt,

½ cup blackberries

Add cream and whisk until combined. Divide remaining ¼ cup berries amongst jars and pour egg mixture over berries leaving ½″ of room. Let sit for at least 30 minutes to allow air bubbles to rise. Skim bubbles off surface and seal jars fingertip tight, or just until you can start to feel some resistance being careful not to over tighten.

3 cups heavy whipping cream

Place sous vide machine in shallow dish along with custards and fill with water. Plug machine in and set to desired temperature, from 176 degrees Fahrenheit for soft custard to 185 degrees Fahrenheit for firm custard. Preheat machine and cook as instructed.

Once cooked, remove from water bath, dry and refrigerate until ready to serve, at least 1 hour up to 3 days.

When ready to serve, open lids and dab excess moisture off the surface. Sprinkle on an even layer of sugar and using a blowtorch caramelize the sugar until a crust forms. Repeat with all custards. Let rest 5 minutes before serving.
Notes
No blowtorch? Pop creme brulee under the broiler just until sugar caramelizes.
Nutrition
Calories:
400
kcal
|
Carbohydrates:
28
g
|
Protein:
4
g
|
Fat:
30
g
|
Saturated Fat:
18
g
|
Cholesterol:
282
mg
|
Sodium:
151
mg
|
Potassium:
83
mg
|
Sugar:
25
g
|
Vitamin A:
1310
IU
|
Vitamin C:
2
mg
|
Calcium:
70
mg
|
Iron:
0.5
mg
Nutrition Facts
Blackberry Creme Brulee
Amount Per Serving
Calories 400
Calories from Fat 270
% Daily Value*
Fat 30g46%
Cholesterol 282mg94%
Sodium 151mg7%
Potassium 83mg2%
Carbohydrates 28g9%
Protein 4g8%
Vitamin A 1310IU26%
Vitamin C 2mg2%
Calcium 70mg7%
Iron 0.5mg3%
* Percent Daily Values are based on a 2000 calorie diet.