Perfect French Macarons Recipe this delicious gluten free cookie is actually easy to make at home with the right ingredients, tools and method.
Naturally gluten free and dairy free macaron cookies take a little precision and patience but this recipe using Italian cooked meringue makes perfect crisp and light macarons at home!
What are macarons
French macarons are a naturally gluten free cookie made from meringue and almonds.
Made from simple ingredients these naturally gluten free, dairy free cookies are a guilt free snack. Dainty little cookies that are crispy on the outside served with all different fillings.
Macarons aren't hard to bake but they do have a few steps that must be completed with accuracy in order to be successful and avoid the common issues with homemade macarons. Common issues that people face when making macarons at home are lumpy cookies, too big cookies, underbaked gooey macarons, etc.
But these problems can all be avoided with proper planning, equipment (kitchen scale and candy thermometer) and a perfect macaron cookie shell recipe.
With a nice, crisp exterior and tell-tale macaron "foot" this macarons recipe with Italian meringue and precise measurements makes for the perfect macarons recipe.
Once you learn the recipe for these macarons you can make any flavor cookie and filling combination to make them perfect for any occasion!
Macarons vs macaroons
Although spelled and pronounced similarly macarons and macaroons are two completely different pastries. French macarons are essentially light gluten free almond biscuits or cookies sandwiched with filling. While macaroons are an equally delicious gluten free cookie but made without almond flour and instead made with shredded coconut and sweetened condensed milk. If that's what you're looking for check out this Coconut Macaroons recipe or these similar Chewy Coconut Cookies.
Ingredients
Almond meal – also called almond flour, simply finely ground almonds. The finer the almond flour the better. If you feel like your almond meal isn't fine enough you can always pulse in a food processor before sifting.
Powdered sugar
Egg whites
Granulated sugar
Water
Gel food coloring – optional
Step by step instructions
Prepare tools and ingredients. Measure ingredients with scale, prepare piping bag and baking sheets and preheat oven.
Sift almond meal and powdered sugar.
Fold 82 grams of egg whites into sifted mixture and blend until paste like.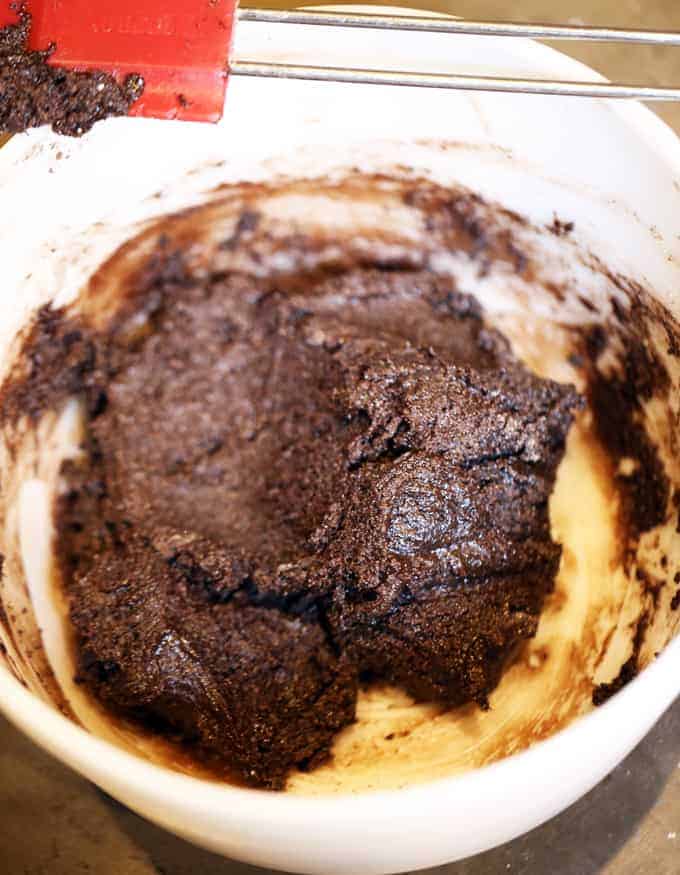 Heat granulated sugar and water over medium high heat and place a candy thermometer to the side to make cooked syrup for the Italian meringue.
When syrup reaches 200 degrees F begin whisking 90 grams egg whites on medium speed. Whisk until soft peaks form. Then turn mixer to low.
When syrup reaches 248 degrees F, increase mixer to medium while and begin slowly pouring the sugar syrup down side of mixing bowl.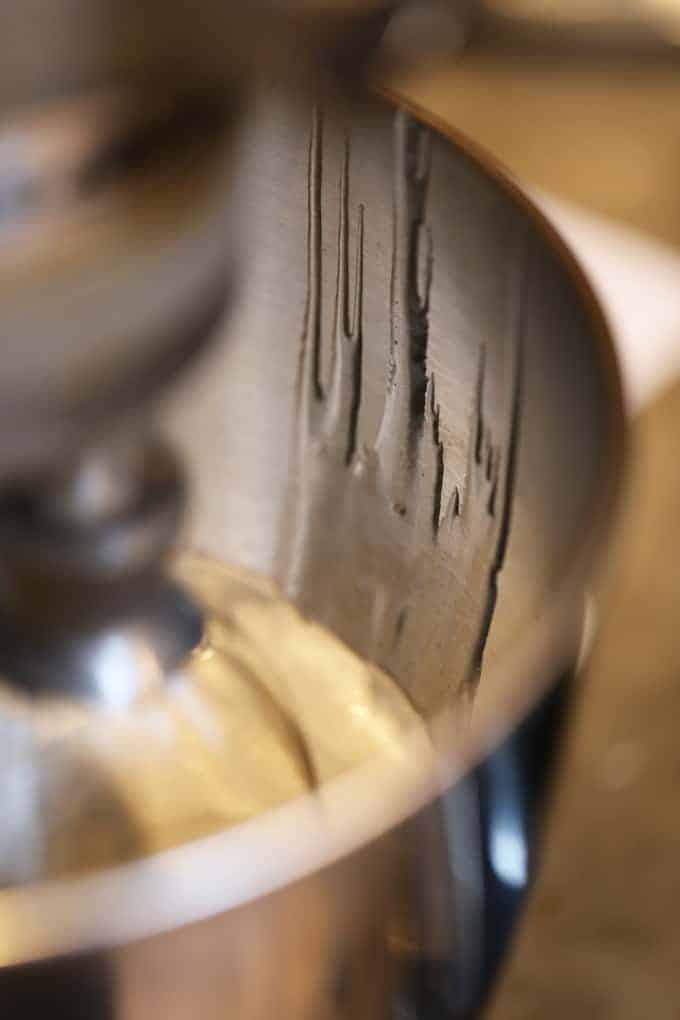 Increase speed to medium high and whisk to glossy stiff peaks, when the meringue holds a peak when flipped over.
Add ¼ teaspoon gel food coloring and gently fold until completely incorporated and thick ribbons run off spatula.
Transfer batter to piping bag and pipe 1 ½ inch circles one inch apart holding bag directly above prepared baking sheet until entire baking sheet is filled.
Allow to rest until a skin has formed, 10 to 20 minutes, or until they are dry to touch and no batter comes off when touched gently touched.
Place rested macarons in preheated 350 degree fahrenheit oven and immediately reduce heat by 25 degrees to 325.
Bake 10-12 minutes or until macarons haven risen slightly and feet have formed.
Remove and cool on baking sheet for 3-5 before transferring to cooling rack.
Repeat same steps for baking the remaining macaron batter, increasing oven temperature back to 350 degrees F before baking each batch.
Allow macarons to cool completely before filling as desired.
Macarons filling
Macaron cookies are versatile and can be filled however you like.
Make raspberry macarons with raspberry jam macaron filling. Or fill macarons with other jams, jellies, curds and custards or even fresh raspberry buttercream.
Or make chocolate macarons filled with Chocolate Ganache, No Bake Cookie Dough, or even chocolate ice cream and marshmallow fluff like these Rocky Road Macaron Ice Cream Sandwiches.
It's so fun to get creative with different macaron filling ideas and macaron flavors!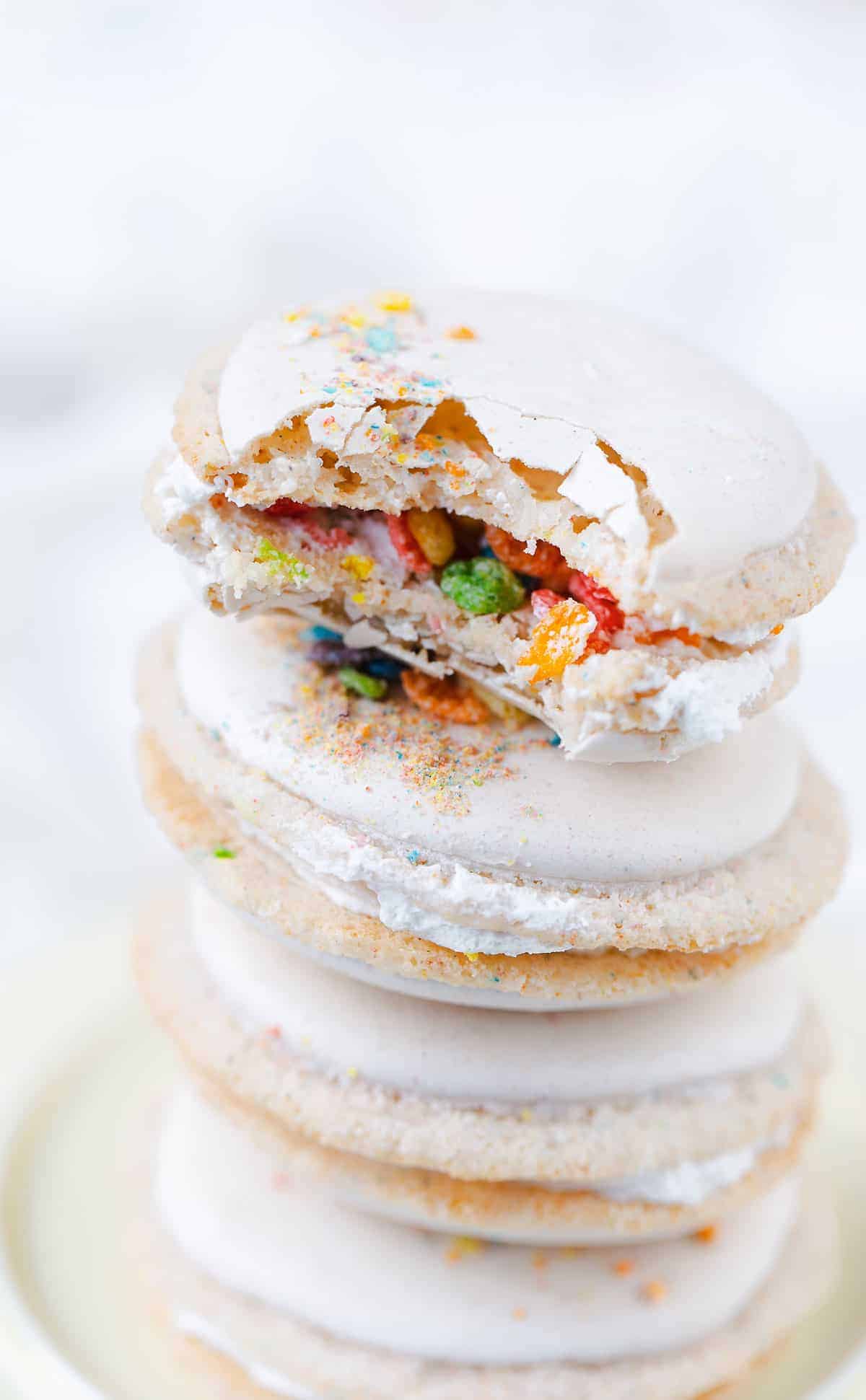 Yield
This recipe yields about thirty 1 ½″ round macaron cookie shells, enough for 15 macarons.
How to store
Macarons have a long shelf life if stored properly. If stored in a cool, dry location in an airtight container they will last up to 7 days at room temperature depending on the filling you choose.
Or macarons will last up to 7 weeks if stored in the fridge.
To make macarons last even longer they can be frozen for up to 4 months. Simply defrost at room temperature then enjoy!
You can also store macarons before filling in the same way and you won't have to worry about the shelf life of the filling ingredients.
Ingredients
212

grams

almond meal

212

grams

powdered sugar

82

grams

egg whites

90

grams

egg whites

236

grams

granulated sugar

158

grams

water

¼

teaspoon

gel food coloring
Instructions
Prep and measure all of your ingredients with scale.

Prep your piping bag with your ½-inch tip.

Line 2 baking sheets with parchment paper or silicon baking liner.

Preheat oven to 350 degrees.

Combine almond meal & powdered sugar together in a bowl. Sift one time to remove any lumps, then mix together to break up clumps.

Make a well in the center of the dry mix and pour the 82 grams of egg whites into the center of the dry mixture. Fold together until blended and paste-like and set aside.

To make your syrup, heat granulated sugar and water in a pot on medium heat with a candy thermometer attached to the side. Once the thermometer's temperature reaches approximately 200 degrees F, place the 90 grams of measured egg whites in your stand mixer and whisk on medium speed.

Continue to whisk until soft peaks form. Once formed, turned your mixer down to low speed to keep your egg whites moving.

As soon as the sugar syrup reaches 248 degrees F, remove from heat. Quickly increase mixer speed to medium and begin slowly pouring the sugar syrup down the side of your mixing bowl until thoroughly combined. THEN increase the mixing speed to medium high and whisk sugar and egg whites together until glossy and stiff peaks form. (The meringue should completely keep its form.)

Add ¼ teaspoon gel food coloring to the meringue, and gently fold into the almond/powdered sugar mixture in thirds, until completely incorporated. (If you're making more than one color, add the food coloring right after your mac batter is ready and has been divided.

Continue to fold your batter in a circular motion, going around the edges of the bowl until smooth and thick ribbons run off your spatula.

Transfer batter into your prepped piping bag(s).

Pipe 1 ½ inch circles about one inch apart on your baking sheet.

Be sure to hold your piping bag directly above your baking sheet when making your rounds. Continue to pipe until you've filled your entire baking sheet.

Before placing your macs in the oven, allow them to rest until a skin has formed. This can take anywhere from 10 to 20 minutes. Test by touching your piped macs to make sure they're dry to touch and that no batter comes off on your fingers.

Once the skin has formed, place your macarons in the middle rack of your oven and reduce heat by 25 degrees (325)

Bake for about 10-12 minutes until the feet have formed.

Remove from oven and allow 3-5 minutes to cool.

Gently transfer to a cooling rack.

Repeat same steps for baking the remaining macaron batter, increasing your oven back to 350 degrees F before baking each batch.

Allow your macarons to cool completely before filling
Notes
recipe by Posh Little Designs
Nutrition
Calories:
100
kcal
|
Carbohydrates:
16
g
|
Protein:
2
g
|
Fat:
3
g
|
Sodium:
10
mg
|
Potassium:
9
mg
|
Sugar:
15
g
|
Calcium:
15
mg
|
Iron:
0.3
mg
Nutrition Facts
Perfect French Macarons Recipe
Amount Per Serving
Calories 100
Calories from Fat 27
% Daily Value*
Fat 3g5%
Sodium 10mg0%
Potassium 9mg0%
Carbohydrates 16g5%
Protein 2g4%
Calcium 15mg2%
Iron 0.3mg2%
* Percent Daily Values are based on a 2000 calorie diet.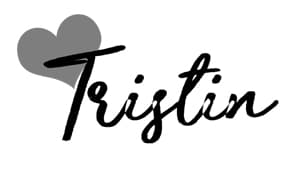 Pin for later!