Nooksack Falls in the North Cascades National Park is an easy outdoor adventure in Glacier, WA that's a perfect day trip for all ages and abilities. Especially with these five tips for outdoor family adventures!
Whether it's a destination on it's own or a quick stop along the scenic drive up to Mount Baker the view will blow you away, and the awe-inspiring sights are only a few steps from the parking lot.
Family friendly adventure to Nooksack Falls // Glacier, WA
A few steps is all that it takes to take in the splendor of Nooksack Falls as the glacial runoff plummets almost 100 feet down into a deep, rocky river canyon.
Finding adventures where you can have a big payout with minimum effort is makes it easy to get out in nature with kids!
The hubs and I love it because we get to explore new places and go on 'nature dates' like we used to, only with a few more 'third wheels' in tow than we had before. Plus to open my children's eyes to the beautiful world we live in and the power of grounding, close-to-earth nature play makes me feel like I am doing something right and can celebrate a little parenting success. And the kids just enjoy feeling brave on adventures.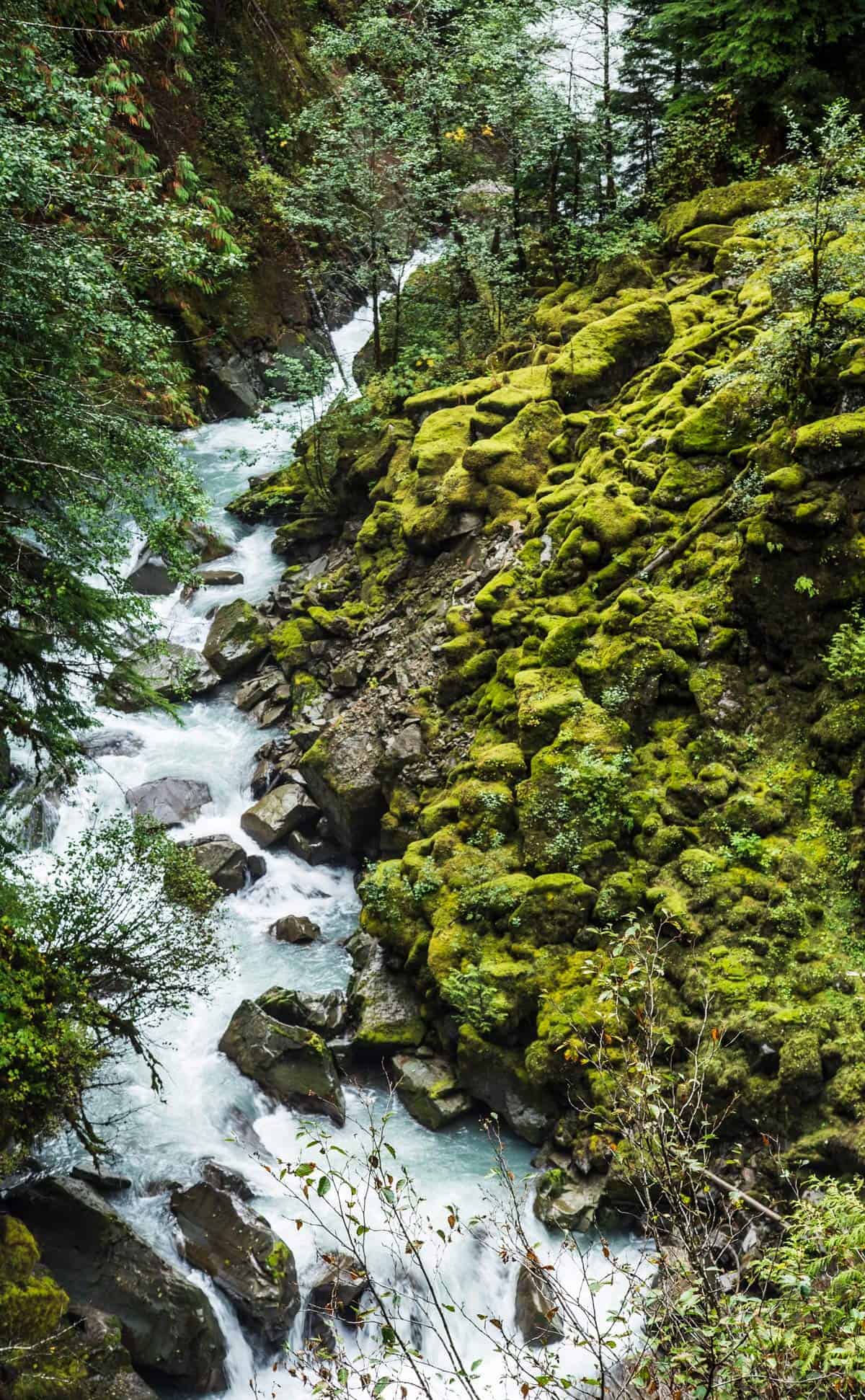 This is a great family adventure because there really isn't much hiking or effort required. You only have to walk a very short distance for a big payout! Plus, there's a safety fence surrounding the entire falls, so that's a bonus!
The walkway is fun for kids to explore but is not stroller or wheelchair friendly. In the winter months, the road is only passable by snowshoe or cross country skier, so get out in the spring when the water is roaring or in the summer or fall.
How to get there
To get to the Nooksack Falls viewpoint near Mount Baker, head east from Maple Falls, along Highway 542. Proceed 7 miles past the Glacier Ranger Station, to Wells Creek Road # 33 (also has Nooksack Falls signs marking the road) Proceed ⅔ of a mile down to the parking area on the left with the short trail leading to the viewpoint on the right.
Other area attractions
Once you're in the Mount Baker area there's lots more to do and explore.
After the Falls drive up Mount Baker Highway a bit and you'll find a short boardwalk along the river that is another easy spot to safely enjoy the river.
Explore longer adventures and hikes like Horseshoe Bend or Artist Point in the summer. Or, Excelsior Peak, Heliotrope Ridge, or Hannegan Peak if you're sans-kids and feeling a bit more adventurous.
Visit the town of Glacier while you're in the area. The pastries and espresso at Wake and Bakery are to die for and if you're looking for adult refreshment make a pit stop at Graham's and enjoy a cold beverage on the same bar top that Clark Gable and Robert Deniro visited while filming movies in the area.
On the way up or down stop by Deming, WA for a lunch and a pick me up at Xtreme Bean Espresso
Consider taking the long way home and driving scenic Chuckanut Highway with a stop by Teddy Bear Cove or Taylor Shellfish Farm.
Stop by the charming town of Edison to grab some locally made cheese and other provisions to enjoy when back at home while pondering your next visit to the North Cascades.
And if you're visiting during the right time of year, drive by the Tulip Festival to check out the views as you make your way back to the interstate.
Instructions
Dress for the Elements – remember rain coats, river shoes, sunglasses or whatever else your child may need for the weather that day. Warm and dry kids are happy kids.

Consider Age and Endurance – the younger the child, the shorter the attention span. Seek activities with BIG payoff from only little effort. Choosing short, semi flat hikes with a special feature like a lake, waterfall or something else to keep the kids focused on gives them a goal and keeps them wanting to go on more adventures in the future.

Play Along – for kids, the excitement is all about just being out in nature – the journey is just as fun as the destination, so try to remember that raw excitement about nature and play with your kids. If after a bit of walking down a trail, the excitement wears off, have a few games like a scavenger hunt (or animal scat hunt), I spy, the alphabet game or even a magnifying glass up your sleeve!

Give it Time – adventures with kids happen at a much slower pace than you may be used to. They like to find sticks, look at leaves, take lots of water breaks and spend time playing in the dirt. Encourage creative exploration and plan for enough time to really let your kids delve into discovering nature. And remember, it's about the journey so don't get in a hurry and rush to reach the destination.

Fuel Up – Eat a great meal before heading out and pack snacks to fuel you (and the kids) through the adventure. Let the kids get involved in choosing, packing and carrying their own light snacks on adventures. Give them their own kid sized water bottle and snack filled pack.