With common foods, edible flowers and adaptogens it's easy to whip up a delicious Aphrodisiac Chocolate Bark just in time for Valentine's Day!
Do you believe in the feel-good power of foods and flowers? You just might after reading this article! But one thing's for certain regardless of whether you're yet a functional foods believer, this homemade dark chocolate candy is such a sweet treat!
Are Aphrodisiac Foods Real?
Aphrodisiac comes from the ancient Greek word 'aphrodisios' meaning 'of Aphrodite', the Greek goddess of love. And the definition of aphrodisiac is something that is believed to cause sexual desire (ie increase libido) in people. With so many factors that go into libido it's no surprise that there are natural compounds that have the power to effect them. Many plants, flowers, and foods have properties that can increase feelings of happiness, decrease stress and relax the brain. Therefore possibly increasing libido.
Aphrodisiac foods
By no means an exhaustive list of aphrodisiac foods these are merely suggestions of functional foods and flowers and their known effects. All which happen to be delicious in dark chocolate bark.
almonds – increases blood flow and contain selenium and zinc which are essential for reproductive help
ashwagandha
cinnamon – heats the body, increases appetite and improves cognitive function
chilis – the spiciness increases blood flow, increases endorphins and stimulates nerve endings
cardamom – increases blood flow and releases muscular tension
cordyceps – increases testosterone, reduces fatigue and increases blood flow
chamomile – relaxes the brain and eases the stomach
dark chocolate – contains a stimulating chemical known as phenylethlamine, that stimulates the sense of excitement and well being boosting seratonin in the brain
ginger – increases blood flow and warms the blood
ginseng – 'korean gingseng' increases desire and performance
guarana
lavender
maca – 'peruvian ginseng" increases stamina and heightens awareness
mucuna – dopamine and energy booster
passionflower tea – increases the effects of mucuna
pumpkin seeds – high in magnesium and zinc, which is essential for healthy sperm production and preventing testosterone deficiency in men.
rose – often associated with love it is said to offer us the ability to accept the love of others and ourselves
saffron
vanilla bean – the smell and taste are highly rated as euphoric and sensual and has been shown to have a calming effect
walnuts
Step by step instructions
Whether you're looking for a great make-ahead holiday gift. Or want a fun (and sexy!) diy date-night-in idea, look no further! Making this easy dark chocolate bark is as easy as melting chocolate and sprinkling on your choice of toppings.
Prep everything
Gather and prep all ingredients. Line a baking sheet with parchment or wax paper. And find a large stockpot and a medium bowl that fits into the pot while also resting on the edge. Having everything ready will ensure that you can temper your chocolate with ease and that your perfectly tempered chocolate doesn't harden before you add in all the goods.
Temper Chocolate
This recipe uses my favorite method for tempering chocolate. Start by bringing a large pot of water to a simmer. When the water is simmering turn off the heat and place ⅔ of your dark chocolate in the bowl. Place bowl in the pot so the bottom is resting in the water but no water escapes over the edge. If you get even a drop of water in your chocolate it will seize and you'll have to start over.
Once the bowl is over the warm water let it sit uncovered. Do not stir. When it is about ¾ melted gently stir until it is completely melted and remove from the water bath. Then slowly and gently stir remaining ⅓ chocolate into the melted chocolate until it's completely melted.
Add the goods and chill
Stir your choice of adaptogenic powders into the tempered chocolate and throw in a handful of whichever other ingredients you desire.
Pour into a parchment or wax paper lined pan and top with remaining ingredients. Leave out at room temperature to cool or pop in the fridge if you're in a hurry. Break into pieces and enjoy!
Make sure your gift comes with a warning of what's inside if you choose to add more potent funcional foods like adaptogens or cbds. Wondering what in the heck functional foods like adaptogens are? To learn more about different adaptogens and their potential powerful effects here.
Rather not purchase all the ingredients separately? Cup of Te offers an organic herbal tea blend that comes complete with many of these ingredients mixed in!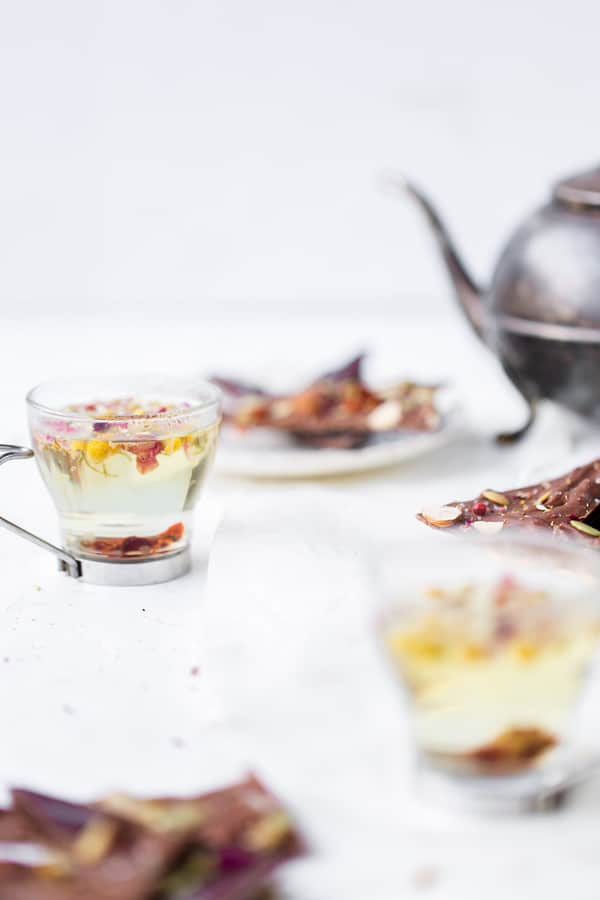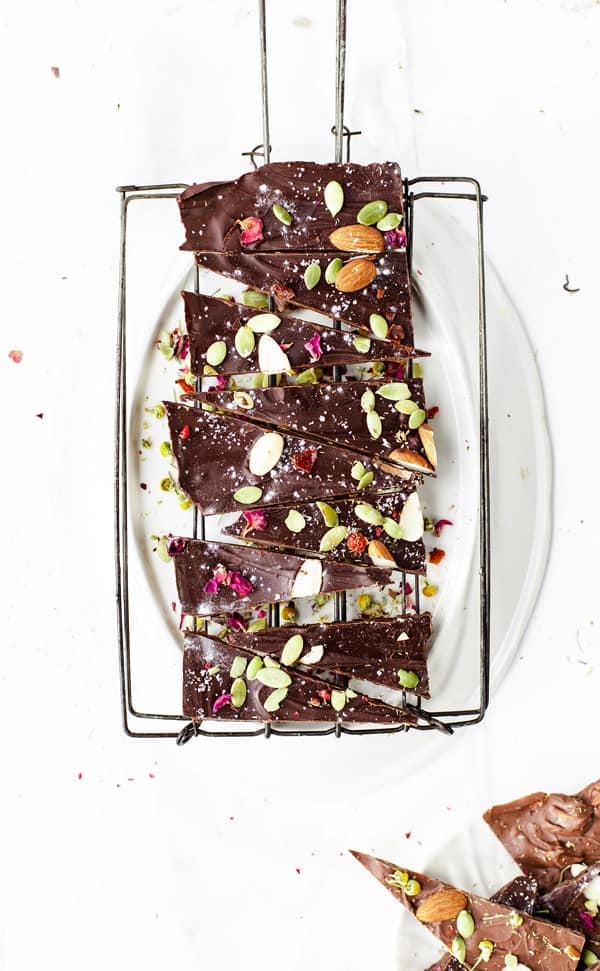 Ingredients
3

cups

bittersweet chocolate chips

at least 60% cacao, about 20 ounces

½

cup

almonds

¼

cup

pumpkin seeds

2

teaspoons

mucuna powder

½

teaspoon

flaky sea salt

pink peppercorns

optional

rose hips

optional

chamomile flowers

optional
Instructions
Cover a baking sheet with parchment or wax paper. Choose and prep all ingredients. Place 2 cups of chocolate in a very dry heat safe bowl that can fit snugly inside a large pot and rest on the edge.

Fill a large pot with water and bring to a simmer. Turn off the heat. Place bowl with chocolate inside the pot of water and do not stir. The bottom of the bowl should be submerged and water should slightly come up the sides without spilling out and into the chocolate.

Let sit uncovered until the chocolate is about ¾ of the way melted. Then gently stir until it is completely melted.

Remove from water bath and dry the bowl, then slowly and gently stir in the remaining 1 cup of chocolate chips until completely melted.

Sprinkle mucuna powder over the tempered chocolate and stir to combine. Then add in a handful of the almonds and pumpkin seeds reserving most to sprinkle on top.

Pour onto prepared lined baking sheet and sprinkle additional ingredients on top while still warm.

Leave out at room temperature to set. Or refrigerate to speed up the process. Once cool snap or cut into pieces. Cover and store at room temperature up to 6 weeks.
Nutrition
Calories:
142
kcal
|
Carbohydrates:
13
g
|
Protein:
2
g
|
Fat:
8
g
|
Saturated Fat:
6
g
|
Sodium:
72
mg
|
Potassium:
168
mg
|
Fiber:
1
g
|
Sugar:
7
g
|
Vitamin C:
0.1
mg
|
Calcium:
76
mg
|
Iron:
0.5
mg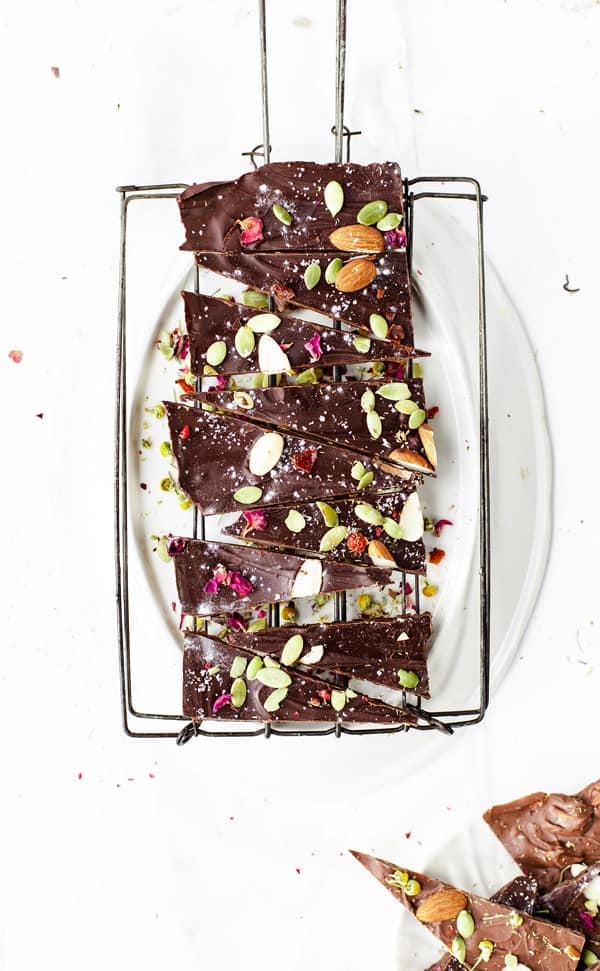 enjoy!