Blueberry Moon Milk will lull you to sleep with delicious and nourishing adaptogens, cardamom, turmeric and ginger.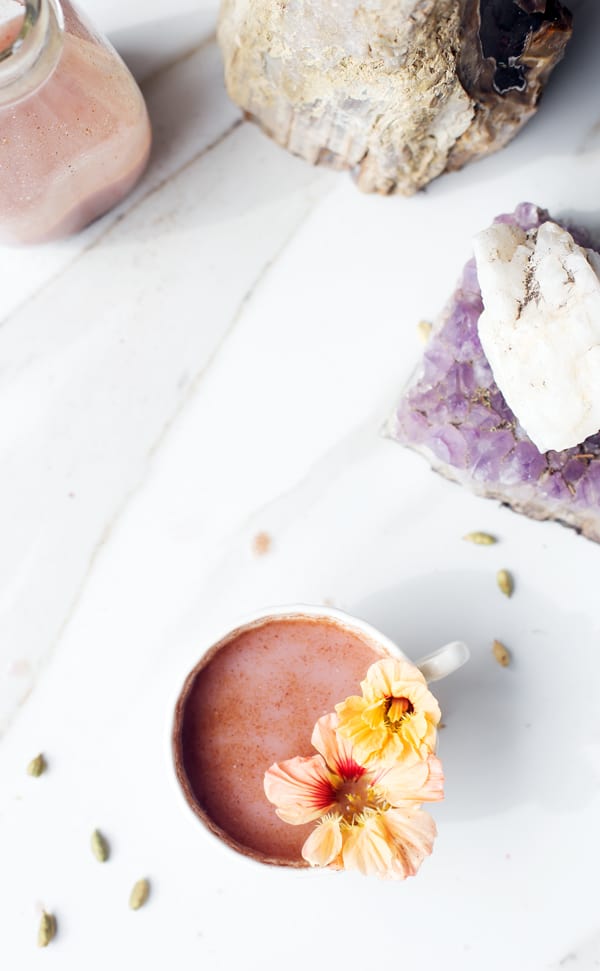 I have been hearing about adaptogens like ashwaghanda for a few years.  Always interested in ayurvedic medicine I sort of expected to research adaptogenic herbs more and come back to it.  I am not the kind of person who just jumps in with both feet because 'everyone else is doing it'. I have to learn for myself and make my own decisions regardless of what everyone else is doing. And my adaptogen journey is the same.
What are Adaptogens?
Adaptogens are a group of non-toxic natural substances that are said to modulate your body's response to stressers of all kinds- physical, chemical or biological.  They are tools to restore balance to bodily functions and bring us 'back to center'.
I learned about adaptogens when reading about ayurvedic medicine. Back then they weren't readily available on the market. But now with alternative medicine becoming more mainstream you can even find adaptogens on restaurant menus.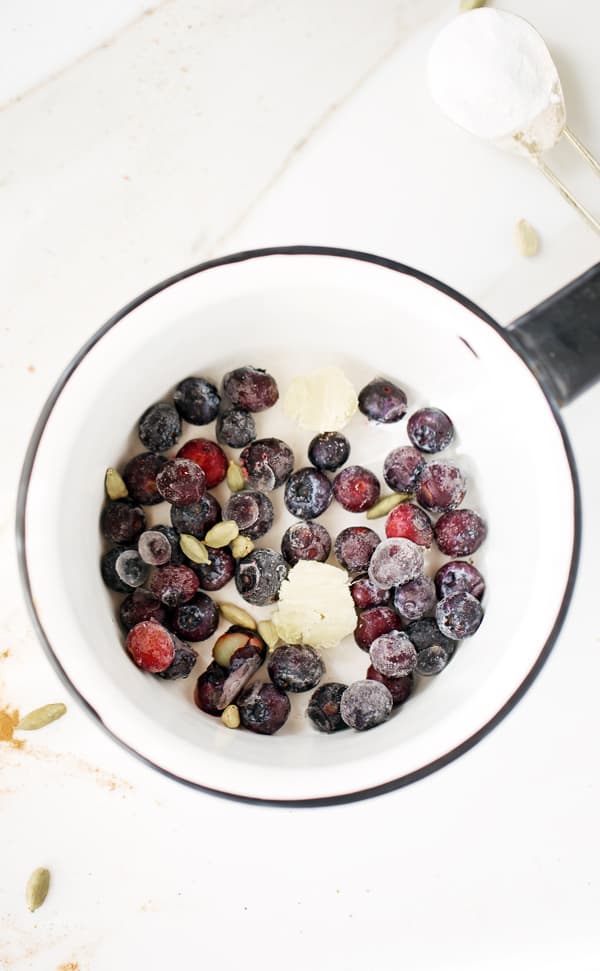 With all sorts of easy-to-find adaptogens the problem shifts to how to decipher which information and products are trustworthy. I asked some friends who I recognized as early adapters to the adaptogen trend to see what advice they could give. And was given recommendations about trustworthy adaptogen sources and how to consume them.
The first adaptogen to gain western popularity was ashwagandha but there are an entire array of adaptogenic herbs.
Common Adaptogens
Ashwagandha
a plant in the nightshade family that is not only a adaptogen but also a powerful antioxidant and antinflammatory that reduces long term stress, anxiety and resulting hormone imbalances and insomnia. Regulates cortisol, the body's stress hormone. And supports thyroid function. Boosts the immune system.
Holy Basil (tulsi)
herb in the mint family that can be eaten fresh. reduce short term stress, depression and anxiety. Increases cognitive function. Good for gut issues, reducing bloating and gas.
Asian Ginseng
root that reduce long term stress and resulting hormone imbalances. Increases energy.
Siberian Ginseng
root reduce short term stress and anxiety. Increases energy.
Cordyceps
mushroom that increases antioxidants and decreases oxidation that is responsible for aging. Also balances hormones to help increase stamina and energy. Support kidney and lung heath and treats infertility, sexual dysfunction, dizziness, and fatigue. Boosts athletic performance.
Maca
herb that boosts energy and libido. Packed with vitamin C. Boosts immunity and supports hormone health in both men and women.
Rhodiola
succulent plant that works quickly to reduces stress and depression and increases physical and mental stamina. Balances blood sugar and supports reproductive health.
Schisandra
berry that reduces short term stress and anxiety and supports adrenals.
Reishi
mushroom that helps the body break starch into sugar helping to lower blood sugar levels.
Chaga
antioxidant mushroom antiviral and immune balancing. great for skin
Rhaponticum
antioxidant root that promotes cell health and stimulates brain activity.
Mucuna
bean extract with L-Dopa, a dopamine precursor. Reduces stress.
Shiitake
mushroom that can be eaten fresh. Studies have shown it to reduce tumor growth.
How to Use Adaptogens
The options for consuming adaptogens are actually endless. Bake something sweet or savory with them, blend them up into smoothies, sneak them into soups and salad dressings or make them into teas, tinctures and infusions. Just like anything else, all adaptogens have different flavor profiles and the more you try the more inspired you will be to find different uses.
I am not a medical professional. Please talk to your doctor before adding adaptogens to your diet or routine.
I prefer to sneak them into my existing routines though. I find some adaptogens have a deep, dark, earthy almost chocolately flavor. In the morning I stir a scoop of one of these dark adaptogens into my morning cup of coffee (or right into the french press). Some adaptogens are lighter in color and flavor and have creamy vanilla undertones. These are great for smoothies and 'golden milk' or what are now being referred to as 'moon milk' or 'midnight milk'.
What is Moon Milk
Based on the Turmeric Milk or Golden Milk, These warm concoctions all basically have the same function – to deliver the nutrients of various herbs, roots, spices and mushrooms to your system while and (hopefully!) providing a moment of relaxation.  Reminiscent of my childhood routine of chamomile tea and falling asleep reading a book a Moon Milk routine provides a moment of stillness to the calm the mind and induce sleep.
How to Make Moon Milk
There are many different versions of moon milk popping up all over, but they all have a few things in common. Milk and fat are used to extract nutrients from plants and and deliver them to your system.
Traditionally made with full fat cow's milk many have been switching it out for milk alternative like coconut milk and almond milk. If using a lower fat milk alternative just make sure you don't skip over the extra fat from coconut oil. The fat helps our body absorb the nutrients in the plant based herbs and spices, like turmeric.
In addition to turmeric there's usually black pepper, ginger, cardamom, cinnamon, nutmeg and various adaptogenic herbs. All having their own powerful reason for being included. For example, black pepper works to increase the effectiveness of the nutrients by increasing their ability to be entered into the blood stream and circulated through the body.
Blueberry Moon Milk Recipe
This version ups the flavor ante a bit with the addition of frozen blueberries. The blueberries go well with the gingery cinnamon flavor. But feel free to use whichever fresh or frozen berries you desire. A low simmer with milk to extract their flavor and color gives just that little something extra. Just make sure you don't bring it to a full boil or you will curdle the milk.
This recipe makes a double batch  – enough for one large cup or to share. I usually take the time to enjoy my Moon Milk with a magazine or a few pages of a book I've been meaning to read. Or, while reading or playing a quick card or board game with the kids. It's not always possible but the goal is to have some undistracted time to intentionally focus on what's important and connect with those around you. To read more about this 'golden hour', golden milk, and ayurvedic medicine visit the Gaia blog for a nice concise summary.
Of course, you can be completely EXTRA and top it with edible flowers like rose petals, lavender or nasturtiums (like me!). But completely not necessary 🙂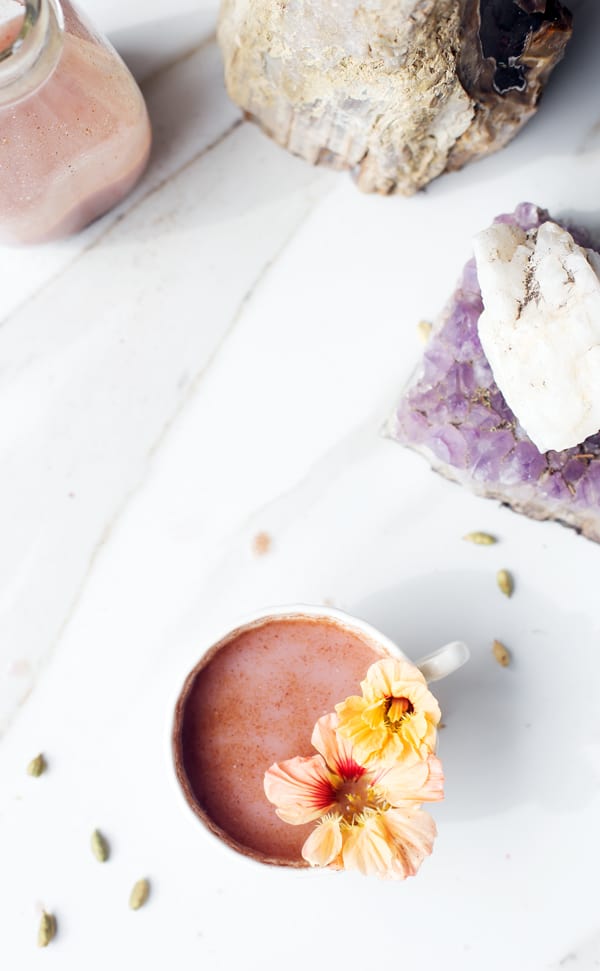 Ingredients
2

cups

whole milk

¼

cup

blueberries

frozen or fresh

2

teaspoons

coconut oil

or ghee

1

teaspoon

ginger root

½

teaspoon

dried turmeric

½

teaspoon

ground cinnamon

2

teaspoons

mucuna powder

1

pinch

cardamom

or a handful of whole pods

1

pinch

black pepper

1

pinch

sea salt
Instructions
In a small saucepan over medium low heat melt coconut oil. Add turmeric, cinnamon, black pepper and both ginger and cardamom if using the dried ground versions. heat until spices have become fragrant.

If using whole cardamom pods and fresh ginger root, add now along with blueberries, otherwise just add blueberries. Warm berries through then add milk.

Over medium low heat stir mixture and bring to a gentle simmer. Simmer up to 10 minutes being careful not to boil.

Remove from heat and whisk in sea salt and mucuna or any other adaptogen you choose.

Strain into drinking glasses to remove any ginger and blueberry chunks and enjoy warm.
Notes
Optional: Add 1 teaspoon honey or sweetener of your choice after simmering and cooling to drinking temperature.
Nutrition
Calories:
197
kcal
|
Carbohydrates:
15
g
|
Protein:
7
g
|
Fat:
12
g
|
Saturated Fat:
8
g
|
Cholesterol:
24
mg
|
Sodium:
124
mg
|
Potassium:
322
mg
|
Sugar:
14
g
|
Vitamin A:
395
IU
|
Vitamin C:
1.8
mg
|
Calcium:
276
mg
|
Iron:
0.2
mg