Chive Blossom Vinegar is a beautiful, naturally pink vinegar made from infusing the edible flowers abundantly growing atop chives in the spring with vinegar. A chive flavored vinegar that's such a simple way to add flavor and zest to all sorts of dishes!
Chive blossoms
Chive blossoms are the edible purple blossoms that appear on chive plants in the late spring to early summer.
The edible flowers taste and smell mildly of floral garlic similar to chives.
And look similar to the bloom of other alliums too. Made up of many little florets globe-like purple chive blossoms can be sprinkled like a seasoning or garnish.
Perfect on salads, pastas, avocado toast, sandwiches and even hotdogs.
Or preserve chive blossoms into vibrant Chive Blossom Vinegar!
How to use chive blossom vinegar
This chive blossom vinegar is a great way to add a little extra flavor and fun to anything you'd typically use vinegar in! Perfect for people looking for purple foods or naturally pink foods for a party, baby showers, bridal brunches, Valentine's Day and more!
As a base for homemade salad dressings and chive blossom vinaigrette and marinades.
As a condiment for fish and chips and other fried foods
Combined with oil and more chives as a dip for bread.
You can even use flavored vinegars like this as a shrub like addition to cocktails.
Also the gorgeous hue and long shelf life means this homemade infused vinegar is perfect for gifting, for holidays or as a hostess gifts!
Ingredients
The ratios for chive blossoms to vinegar are very adjustable. Use anywhere from 1 part chive blossoms to 2 parts vinegar up to 1 to 1 for a stronger infusion.
Chive blossoms – snip chive blossom blooms directly at the base leaving stems for another use. Find chive blossoms in your own yard or forage from friends and neighbors. Or find chive blossoms at many farmers markets and National Co Op Grocers in the spring and summer. Regardless of where you find chive blossoms always look for the freshest, brightest flowers available. You can use older, more faded blooms but they will result in a chive blossom vinegar with substantially less flavor and color.
White vinegar – or other similar light colored vinegar to allow the purple color and delicate chive flavor that the chive blossoms will impart to fully shine through. If white vinegar's sharp acidic taste is too much for your liking substitute with another light colored vinegars. Like white wine vinegar, champagne, rice wine or white balsamic vinegar.
Step by step instructions
Following these steps for cold infusing vinegar with chive blossoms you preserve the color and delicate flavor of the fresh blooms resulting in a the best chive blossom vinegar!
Collect chive blossoms and plunge into a large bowl of cold water to rinse away any dirt and critters. Scoop chive blossoms from the surface of the water and place on towels to dry.
Meanwhile wash, clean and sterilize jars in boiling water or using the high temp sanitize option on your dishwasher.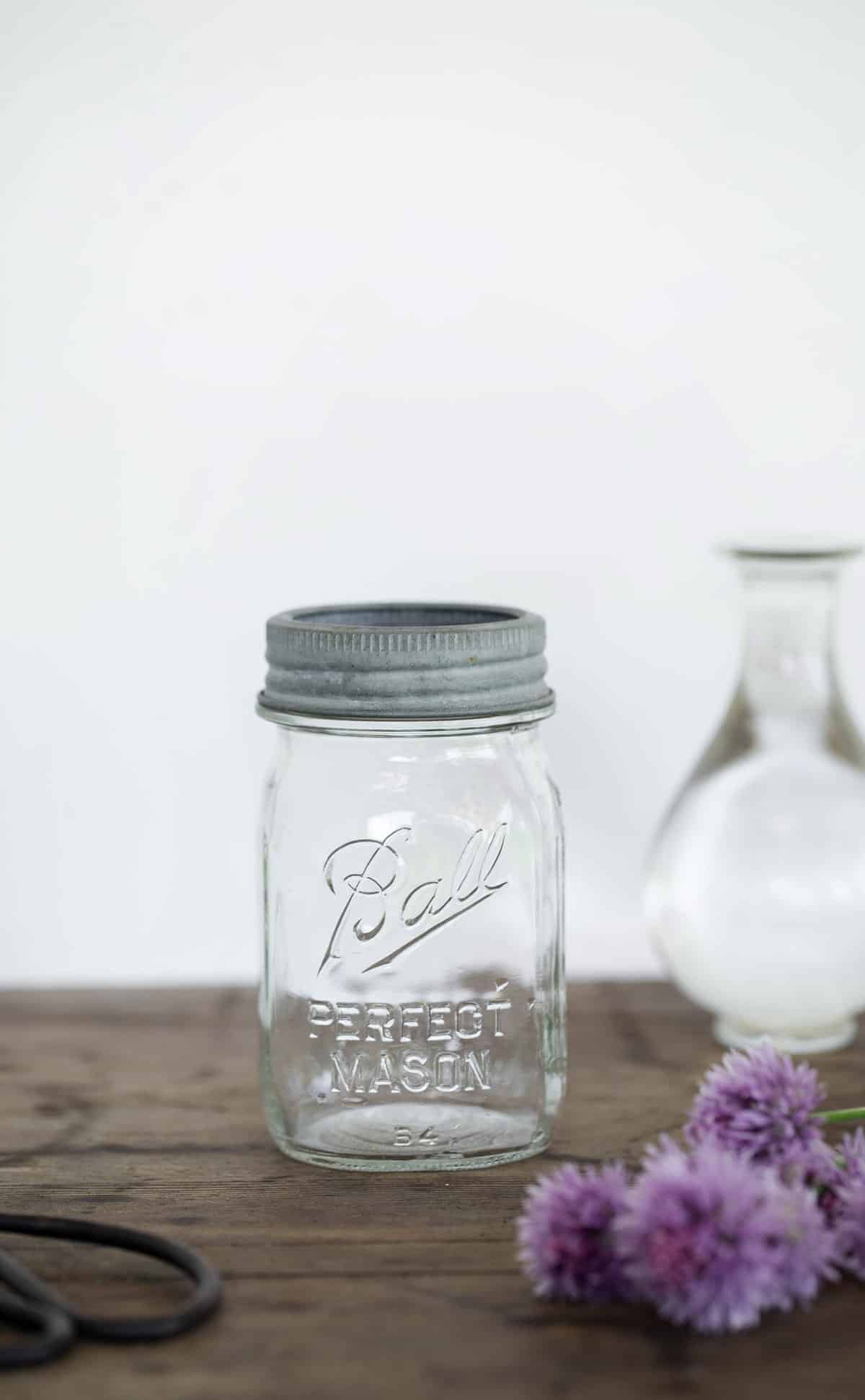 Fill jars at least halfway with blossoms or pack jars full with blooms.
Cover with vinegar.
Add non reactive lid and steep in a cool dark place, shaking every few days. A plastic lid or cloth secured with rubberband prevents corrosion from the metal reacting to the vinegar.
After about for 1-2 weeks desired flavor and color should be reached.
Strain vinegar using cheesecloth, clean kitchen towel or coffee filter, ensuring all plant matter is removed. A fine mesh strainer may be used in a pinch. But runs the risk of allowing small pieces of plant matter through and reducing shelf life of finished product. Discard chive blossoms or pickle them.
Store in jar or decant into vinegar bottle and enjoy!
Quick method
For a quick Chive Blossom Vinegar infusing method you can heat vinegar to not quite simmering then pour hot vinegar over chive blossoms. Infuse for a few hours or a few days.
Or save yourself the trouble and smell of simmering vinegar and use the cold infused method above instead.
Pickled chive blossoms
To make pickled chive blossoms simply add steeped blossoms to a small jar and fill with a mixture of vinegar, water, sugar and salt. Refrigerate and consume pickled chive blossoms within a week.
Yield
Recipe amounts yield roughly one quart, four cups or 32 ounces of steeped vinegar. But only half or slightly more than half than that after blossoms are removed.
Shelf life
Chive Blossom Vinegar will keep for up to 6 months at room temperature if all plant matter is properly strained.
Ingredients
1.5

cups

chive blossoms

cleaned

2.5

cups

white vinegar

room temperature
Instructions
Pack sterilized jars with fresh chive blossoms.

Cover with room temperature vinegar.

Place lidded jars in a cool dark place to steep for 1-2 weeks, or until desired. Shaking every few days.

Strain, ensuring all plant matter is removed and store, covered at room temperature up to 6 months.
Nutrition
Calories:
133
kcal
|
Carbohydrates:
3
g
|
Protein:
2
g
|
Fat:
1
g
|
Saturated Fat:
1
g
|
Sodium:
15
mg
|
Potassium:
190
mg
|
Fiber:
2
g
|
Sugar:
1
g
|
Vitamin A:
2612
IU
|
Vitamin C:
35
mg
|
Calcium:
93
mg
|
Iron:
1
mg
Nutrition Facts
Chive Blossom Vinegar
Amount Per Serving
Calories 133
Calories from Fat 9
% Daily Value*
Fat 1g2%
Sodium 15mg1%
Potassium 190mg5%
Carbohydrates 3g1%
Protein 2g4%
Vitamin A 2612IU52%
Vitamin C 35mg42%
Calcium 93mg9%
Iron 1mg6%
* Percent Daily Values are based on a 2000 calorie diet.