Asian Shrimp Lettuce Wraps are a colorful and flavorful meal that take less time to get on the table than it does to drink a glass of wine!
With fully cooked shrimp and a spread of vegetables, this is one family friendly dinner that promises to please.
Joy in the Everyday
Take all the stress out of mealtime with a choose-your-own-culinary-adventure DIY meal. Offer an array of nutritious components no matter what they choose, or how they combine it you can feel good about what you're feeding your loved ones!
This post has been sponsored by Clos du Bois and SeaPak. All thoughts and opinions are my own. The following content is intended for readers who are 21 or older.
The requirements of daily life make it difficult to find time to do all the things you really love, or even just a few! Always putting off wants until after the needs are completely taken care of. There's laundry, bills, cleaning, organizing. Not to mention creating humans and teaching them to be BOTH competent and kind. THEN, there's Halloween costumes… birthday parties… haircuts.. dentist appointments, school meetings AND a gazillion other to-do-list frequent fliers.
There will ALWAYS be SOMETHING on your to-do list. Instead of waiting and waiting for time to do the things you love, find joy in the everyday.
There are many different tips for finding joy in the everyday, but for starters simply think differently about must do tasks to give perspective and make them more enjoyable. Be grateful for the dinner party (or the three kids!) that create those messes you must clean up. Be thankful for the washer and dryer to clean all those loads of laundry. And for the tv and the Wi-Fi and streaming to entertain while folding said never-ending pile of laundry! note to self- add 'teach the kids how to do laundry' and 'make a chore chart' to the to-do list.
Also, weave the things you love to do in with your daily tasks. Instead of only enjoying a glass of wine when out with friends or on a date night, or after the house is clean and quiet for the night, integrate it into your everyday. I pour myself a glass of my favorite Clos du Bois Chardonnay while contemplating the daily "what's for dinner?" question.
Clos du Bois Chardonnay is the same delicious wine I've used as a base for other recipes like wine spritzers.. It's so light and versatile! The same bright fruitiness that makes it perfect for sangrias and spritzers also pair well with the crisp vegetables and rich buttery SeaPack® Butterfly Shrimp in these Asian Shrimp Lettuce Wraps.
Visit SipBackRelax.com to find out how you can be rewarded for rewarding yourself with a little joy in the everyday.
A DIY dinner spread
With a busy family of five, each member with their own personal ideas of how to answer the dinnertime question, finding joy in nightly family meals can be extra difficult.
Flavorful, nutritious meals that are easily customized at the table are my trick for complaint free family dining.
Anything that resembles DIY, self-service or a buffet spread is a winner. Meals like tacos, noodle bowls, loaded baked potatoes, wraps and chili cheese fries that are easy to deconstruct. Customizations are a breeze when all the meal components and/or toppings are served separately. That way, Mom and Dad don't feel like short order line cooks and each family member takes responsibility for their own picky eating. With an array of nutritious choices, you can feel good about what you're offering- no matter what they choose or how they combine it!
What to serve with lettuce wraps? For a quick weeknight meal not much else is needed. Alternately though for a party buffet spread the options for the offerings are endless!
Add a good assortment of dipping sauces. Anything from peanut sauce and sesame ginger dipping sauce to chili garlic paste and orange marmalade. Think restaurant-style and serve sauces in larger containers with serving spoons and smaller dishes. That way, guests can mix up their own sauces to be as spicy or mild as they choose!
Make it a hearty meal with grains. Serve brown, white and/or black rice and quinoa either be eaten separately or inside the shrimp lettuce wraps.
Include a range of other finger and chopstick appetizers. Steamed and fried dumplings, egg rolls, spring rolls, and skewers would all fit in well.
Using fully cooked SeaPak® Butterfly Shrimp, this meal can be on the table in the time it takes to finish a glass of wine. Simply preheat the oven, pour a glass of Clos du Bois Chardonnay and prep the veg while the shrimp bakes.
Ingredients
Fully Cooked Shrimp – in less than 15 minutes, SeaPak Butterfly Shrimp goes from freezer to oven crispy. Or, can be cooked even quicker in a deep fryer. The family size 18-ounce box is large enough to feed my entire family of five (with leftovers!). For more variety use half a box of SeaPak Butterfly Shrimp and half a box of SeaPak Jumbo Coconut Shrimp. I love the extra flavor burst from the coconut coating, Plus, the coconut variety includes a yummy Orange Marmalade Sauce!
Lettuce – any lettuce that will hold its shape is great for lettuce wraps. Butter (or 'boston' or 'bib') lettuce is naturally cup shaped and rolls easily. Romaine hearts or iceberg have great texture and sturdiness. And although more suited to lettuce cups than lettuce wraps will still work and be just as delicious!
Cellophane Noodles – also called Chinese vermicelli, bean thread or crystal noodles, should be pantry staple in every cook's weeknight-quick-meal arsenal. Sold in packages of 3 bunches often with no discernable directions, using them can be a bit intimidating though. Once you know how, you'll be cooking with cellophane noodles all the time! Soften to use in stir fries, wraps, rolls and soup by soaking noodles in hot water. Or, serve them puffy anytime you want to add a satisfying but light crunch to meals. Pull bunch or 'noodle nest' apart cutting with scissors if needed. Then fry in hot oil just until puffed, flipping and pressing down if needed then drain on paper towels. Serve freshly puffed.
Carrots – simply shred carrots with a box grater or create ribbons with a hand peeler.
Customize It!
Use the same ingredients to create more than Asian Shrimp Lettuce Wraps. Up the amount of lettuce and make an Asian Shrimp Entrée Salad. Omit the lettuce and increase the cellophane noodles for Asian Shrimp Noodle Bowls. Or, wrap it all up in rice paper wrappers for Asian Shrimp Fresh Rolls. These are also great way lunchbox options and a fabulous way to use up the leftovers.
Asian Shrimp Lettuce Wraps are easy to customize to your own unique tastes and what you have in the fridge and cupboards.
Use any lettuce or other green as the wrap. Collard greens (lightly blanched), swiss chard, cabbage or kale are all great options.
Include whatever fillings you want. Peanuts, almonds, coconut, avocado, mango, bell peppers, puffed cellophane noodles or crispy rice add great flavor and texture.
Just don't leave out the SeaPak Butterfly Shrimp as your perfect protein base ingredient that'll be ready just as you prepare for your next glass of Clos du Bois Chardonnay.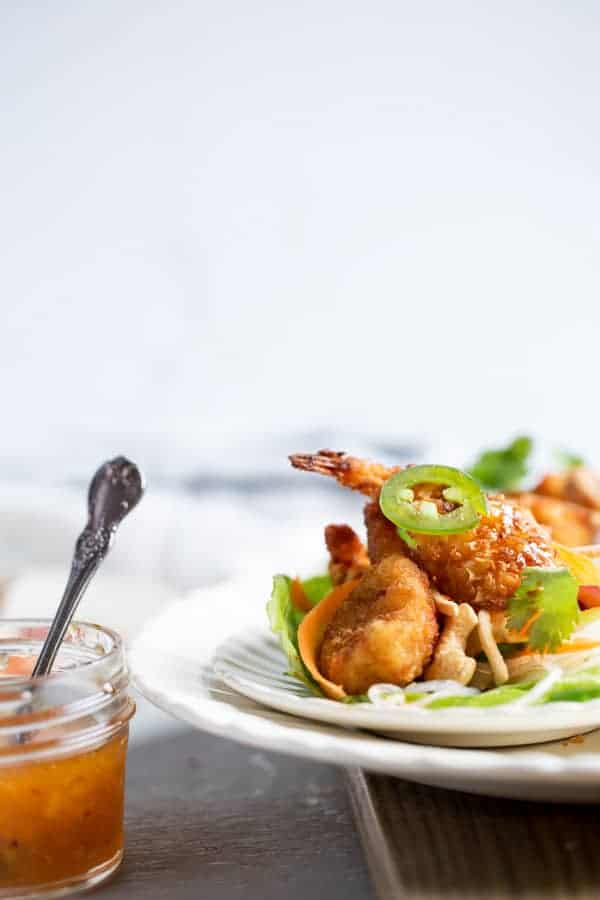 Ingredients
18

ounces

fully cooked SeaPak Butterfly Shrimp

frozen, about 40 medium

1

bunch

cellophane noodles

1 cup cooked

2

heads

butter lettuce

about 36 leaves

2

medium

carrots

shredded

½

medium

english cucumber

cut into sticks

2

medium

scallions

thinly sliced

1

medium

serrano chile

sliced

¼

cup

cashews

roasted and salted

1

medium

lime

cut in half

¼

cup

fresh basil

¼

cup

fresh cilantro
Sesame Soy Dipping Sauce
3

tablespoons

low sodium soy sauce

1

tablespoon

rice wine vinegar

1

tablespoon

fresh ginger

grated

1

clove

garlic

shredded

1

teaspoon

sugar

1

teaspoon

toasted sesame oil
Instructions
Preheat oven to 425 degrees Farenheit. Bring 2 cups of water to boil over high heat, then pour boiling water over cellophane noodles in medium bowl. Soak until soft, about 10 minutes then drain and rinse with cold water. Set aside.

Bake fully cooked frozen shrimp as directed on package, usually about 10-15 minutes. When golden brown and crispy, remove from oven and transfer to serving dish. Sqeeze the juice of half a lime over hot shrimp.

Meanwhile, clean and cut vegetables and prepare sesame soy dipping sauce and other fillings.

Serve buffet style with a stack of lettuce leaves, shrimp, other fillings and dipping sauces. To build a wrap, overlap two lettuce leaves and top with a pinch of cellophane noodles, add 2 butterfly shrimp, carrots and cucumber. Top as desired with fresh herbs, sauces, cashews and chiles.
Sesame Soy Dipping Sauce
Stir all ingredients until combined.
Nutrition
Calories:
147
kcal
|
Carbohydrates:
7
g
|
Protein:
19
g
|
Fat:
4
g
|
Cholesterol:
214
mg
|
Sodium:
946
mg
|
Potassium:
326
mg
|
Fiber:
1
g
|
Sugar:
2
g
|
Vitamin A:
5345
IU
|
Vitamin C:
8.2
mg
|
Calcium:
156
mg
|
Iron:
3.2
mg
Nutrition Facts
Asian Shrimp Lettuce Wraps
Amount Per Serving
Calories 147
Calories from Fat 36
% Daily Value*
Fat 4g6%
Cholesterol 214mg71%
Sodium 946mg41%
Potassium 326mg9%
Carbohydrates 7g2%
Protein 19g38%
Vitamin A 5345IU107%
Vitamin C 8.2mg10%
Calcium 156mg16%
Iron 3.2mg18%
* Percent Daily Values are based on a 2000 calorie diet.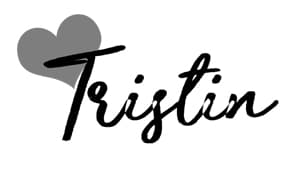 Pin for later!