Whipped Coffee Iced Lattes are easy and fun to make at home. A great alternative to typical iced coffee!
Made in minutes without any special tools or equipment and only 3 ingredients it's easy to see why this photo-worthy iced coffee is the newest craze to take over the internet.
What is whipped coffee?
If you're a fan of iced coffee beverages in general you'll love fluffy Whipped Coffee! Similar to cold foam cold brew whipped coffee is like a reverse capuccino made from strong sweetened espresso-like foam on top of iced milk.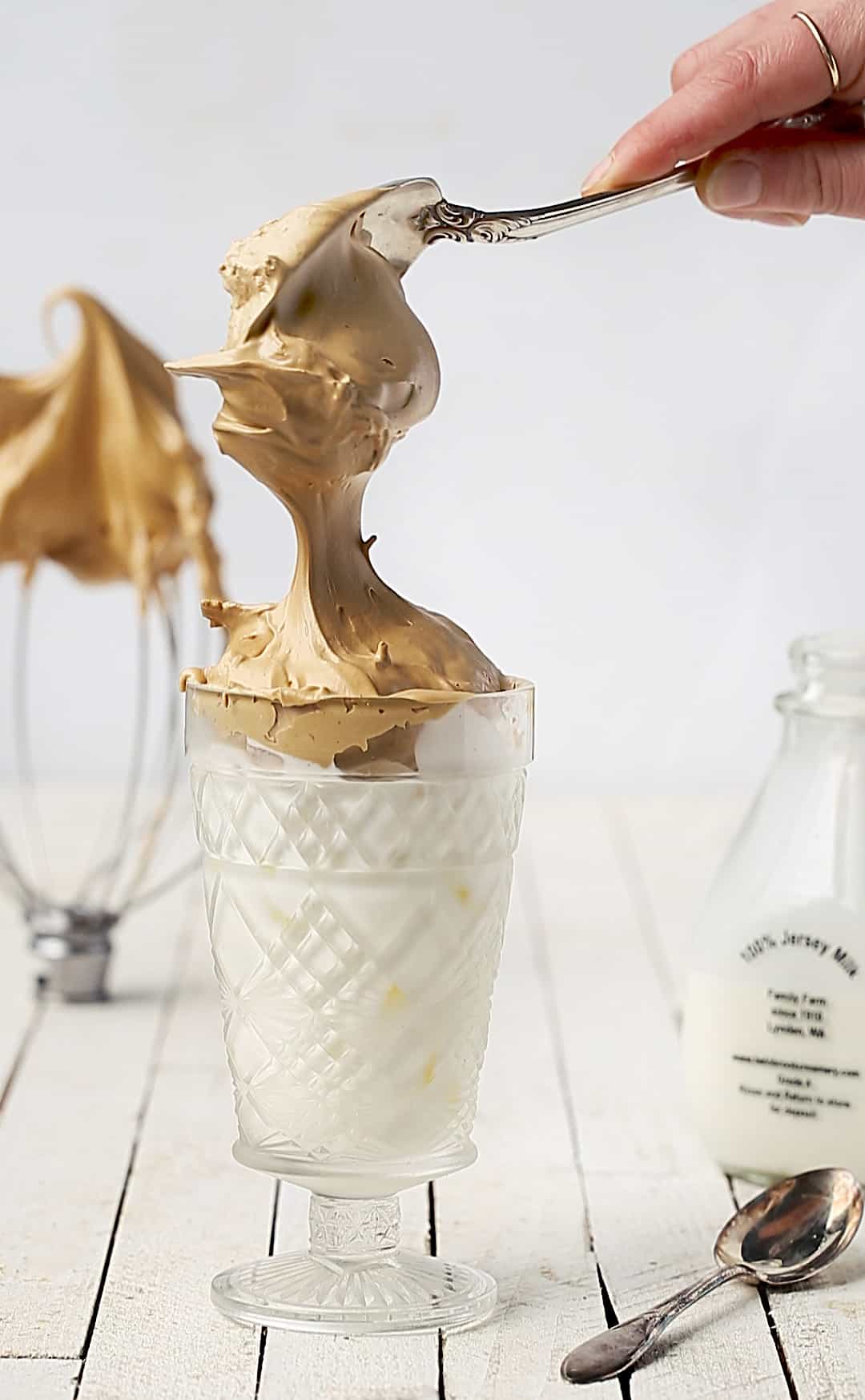 The name 'dalgona' comes from it's resemblance to honeycomb toffee candy, called 'dalgona' in South Korea. Though, to me the foam is more like thick meringue or stretchy gelato than fluffy frothy milk.
TikTok coffee
This luscious homemade coffee recipe has been around the world for a long time. But the majority of us are now being introduced to it thanks to a TikKok sensation recently taking the internet by storm.
Just last week my teen came busting out of her room at 10 pm telling me about a whipped coffee that looked exactly like whipped cream made with only sugar, water, coffee and a fork. I promptly informed her it was impossible.
Eventually giving in I handed her a bowl, whisk and an instant coffee packet. It didn't work. So we tried again with the Vitamix. And it was a big fail.
Then a day or so later I was watching my ig stories and saw a tutorial of a TikTok recipe that was taking the internet by storm… whipped coffee. Wait up. Hold it.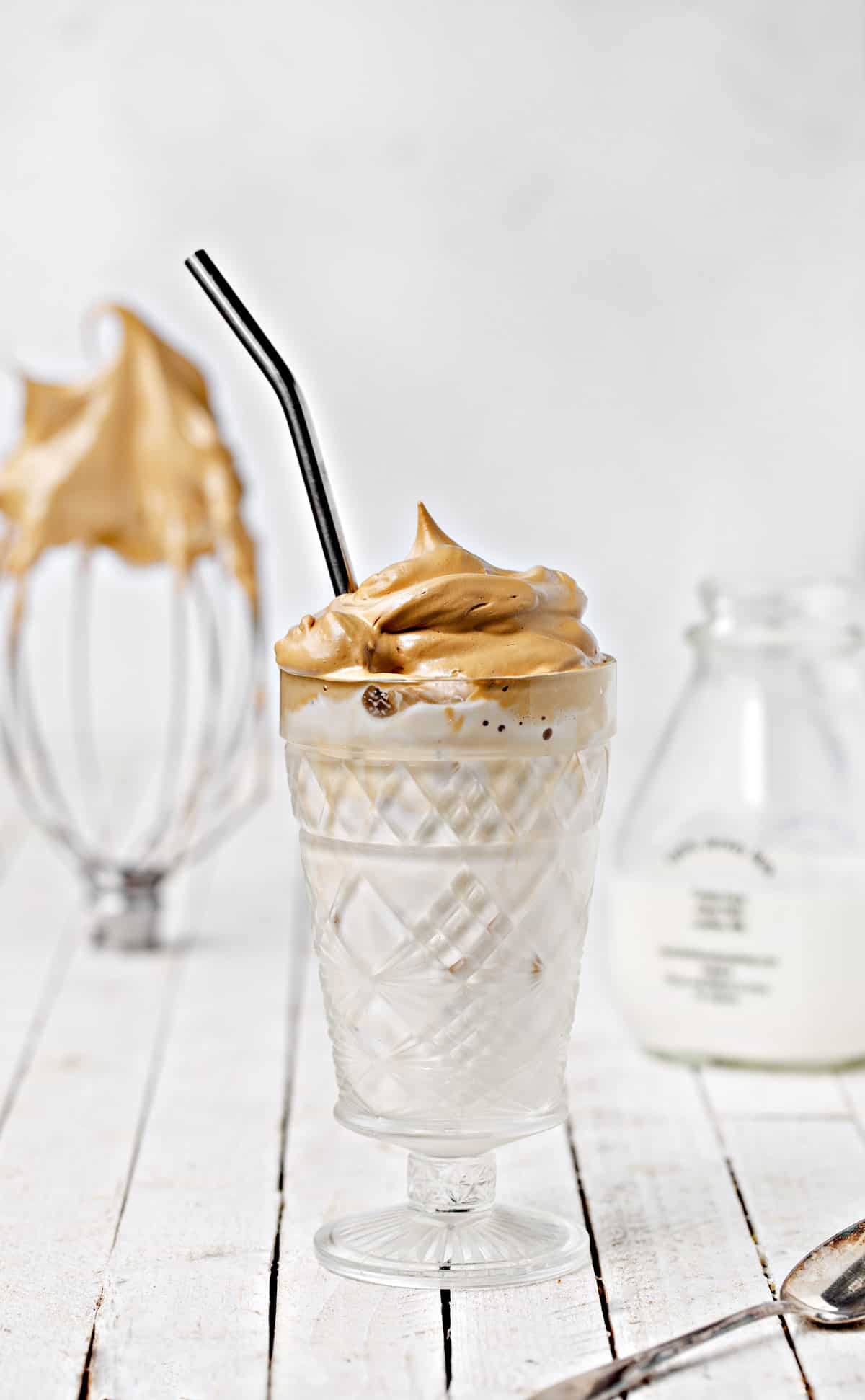 Was it true that my daughter was not crazy?! Was it actually possible to create something similar to whipped cream or a perfect cappuccino foam from just sugar, water and instant coffee?
I profusely apologized to Chayce for not trusting her TikTok recipe abilities. And tried again with hot water, Nescafe and a whisk.
And it totally worked! I'm not sure how but something about how instant coffee is made combined with the chemical reaction of the hot sugar allows for it to froth up and hold it's shape perfectly.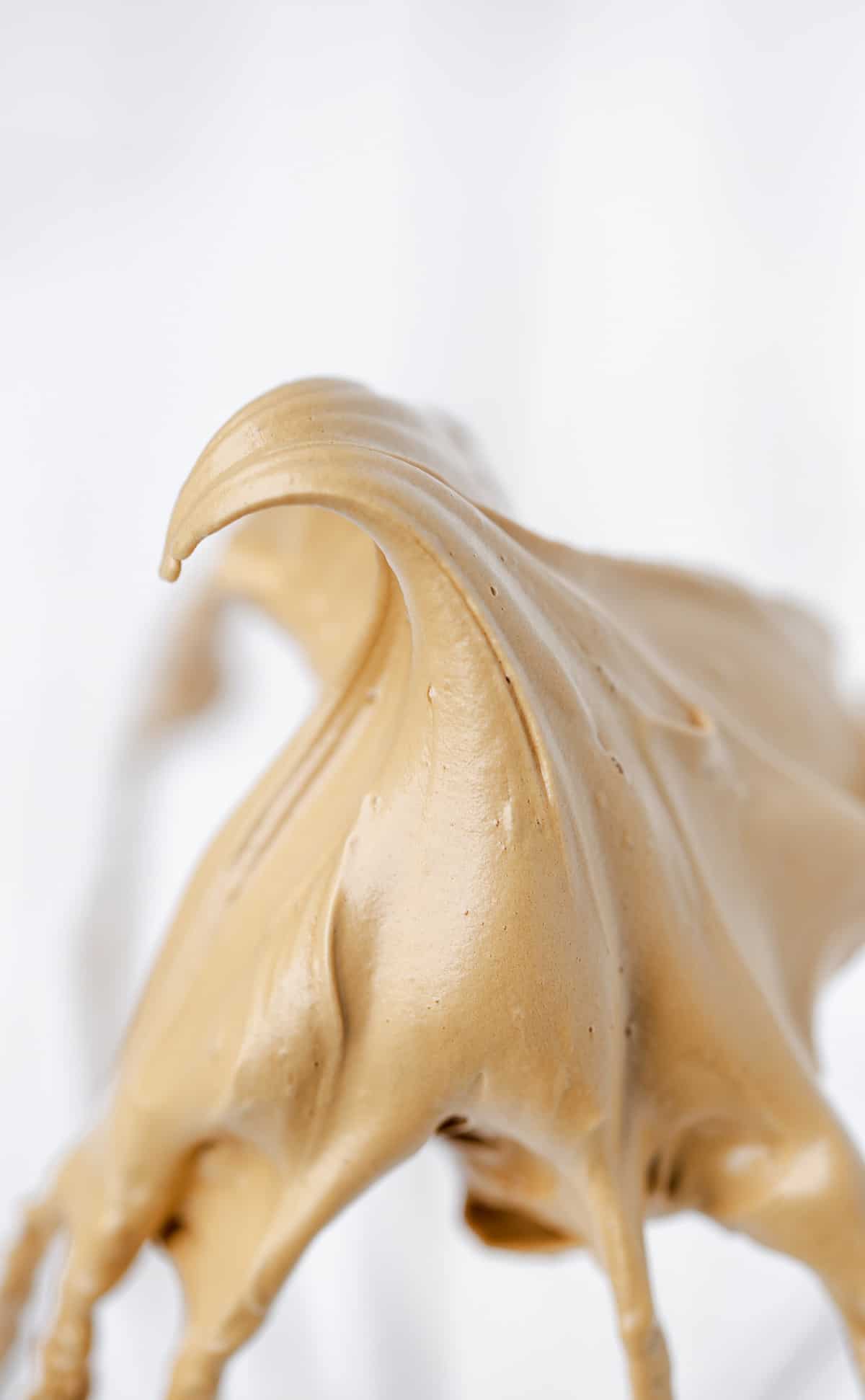 Oh and in case anyone's wondering. The teen's fully caught the TikTok coffee craze and has gone through a huge container of Nescafe instant crystals (the equivalent of 150 shots of espresso!) in the last 5 days during quarantine…. it's been a GREAT time.
What does whipped coffee taste like?
The flavor is EXTREMELY strong. Like punch-you-in-the-face-and-throw-a-shot-of-espresso-at-ya S T R O N G. But through a straw with milk it's creamy and luscious. Use a small dollop or add a big swirl, the strength of this iced latte is completely up to you.
When combined with the creamy milk the strong and sweet coffee flavor actually reminds me of an old-school Cinnabun Mocha Latta Chill. The blended coffee that used to fuel my weekly mall walks in the 90s.
Ingredients
Simply equal parts coffee, sugar and hot water.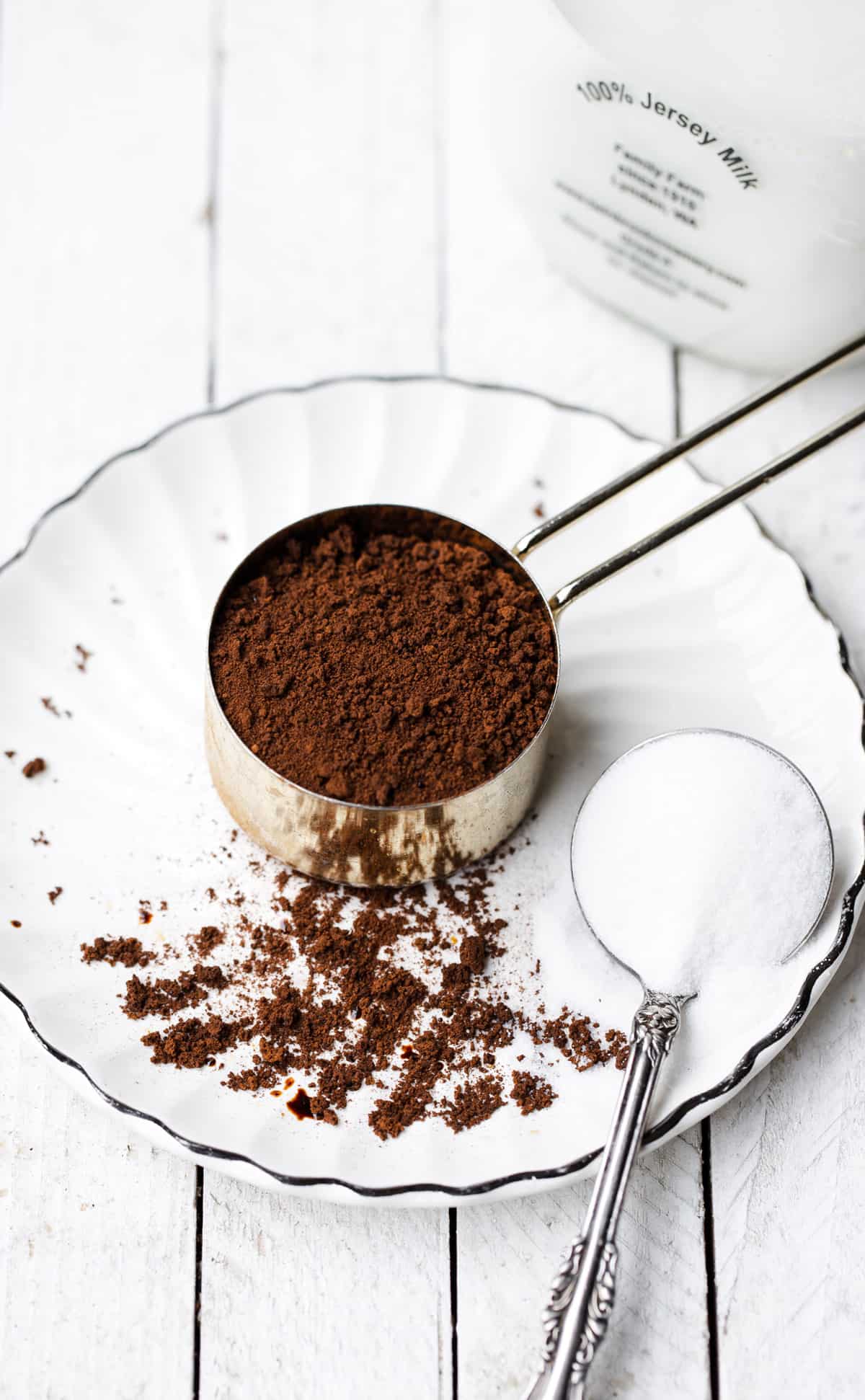 Instant coffee – you cannot make whipped coffee with traditional coffee grounds or fancy instant espresso. Freeze dried instant coffee granules work because all the oils have been removed. Choose something that tastes good but doesn't break the bank, because this recipe uses a TON of coffee!
Granulated sugar – ANY granulated sugar or alternative sweetener will work.
Hot water – the water MUST be hot, preferably boiling. Hot water activates the instant coffee and melts the sugar so that it can suspend the whipped-in air particles and make a meringue-like creamy cold foam coffee.
Milk – any milk (hot or iced) can be used as the base. Choose whole milk or half and half for creaminess. For a nutty flavor make a coconut milk or oat milk latte.
How to make
It takes only 3 – 5 minutes and minimal tools to make Whipped Coffee.
Combine equal parts sugar and instant coffee in a large bowl.
Whip to stiff peaks, around 3 minutes on high in a stand mixer. Or 5-6 minutes whisked briskly by hand.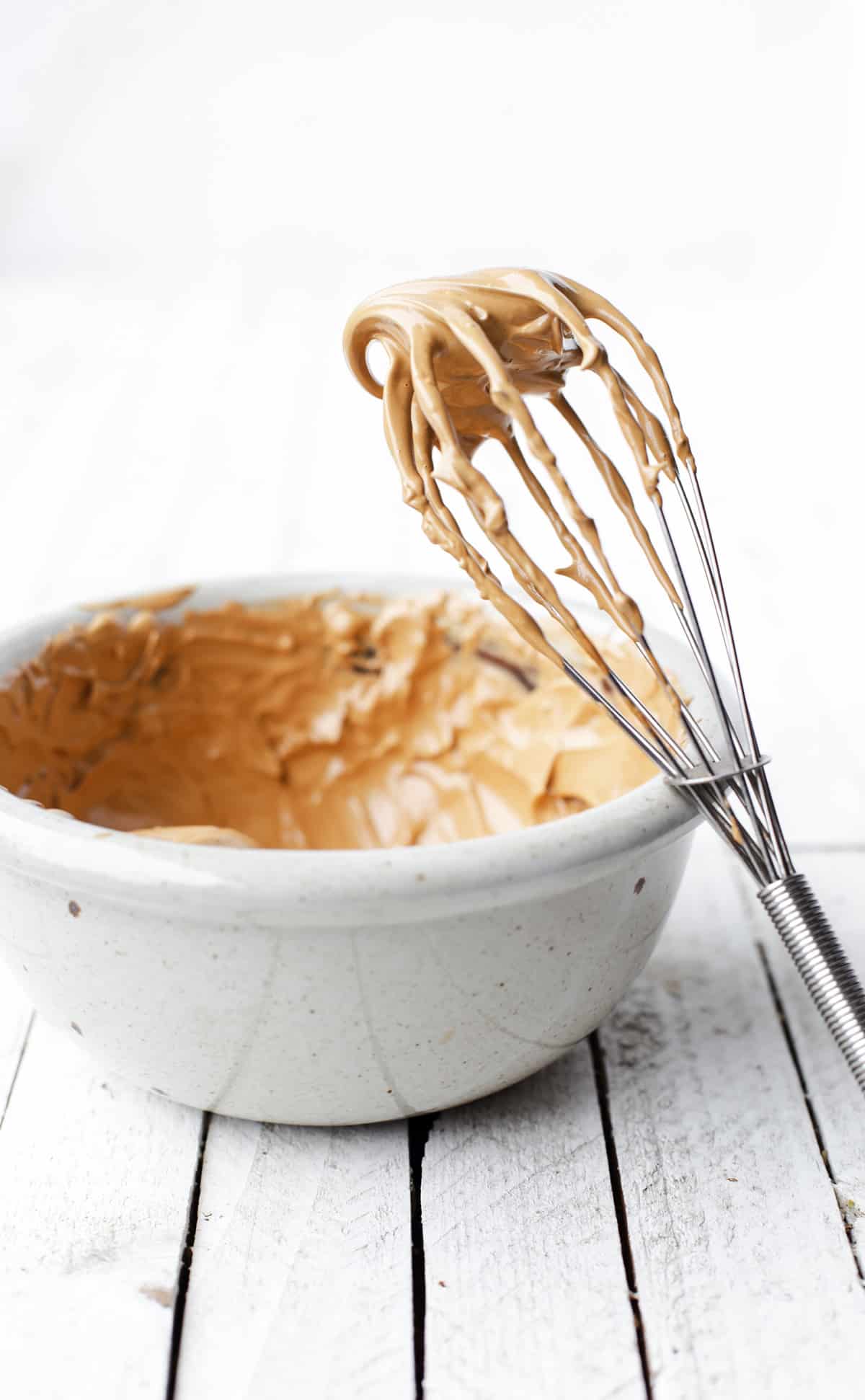 Fill up a cup with the stuff (careful, it's strong!) and pour milk or cream over the top. Or, fill a glass with milk and top with a few dollops of coffee cold foam.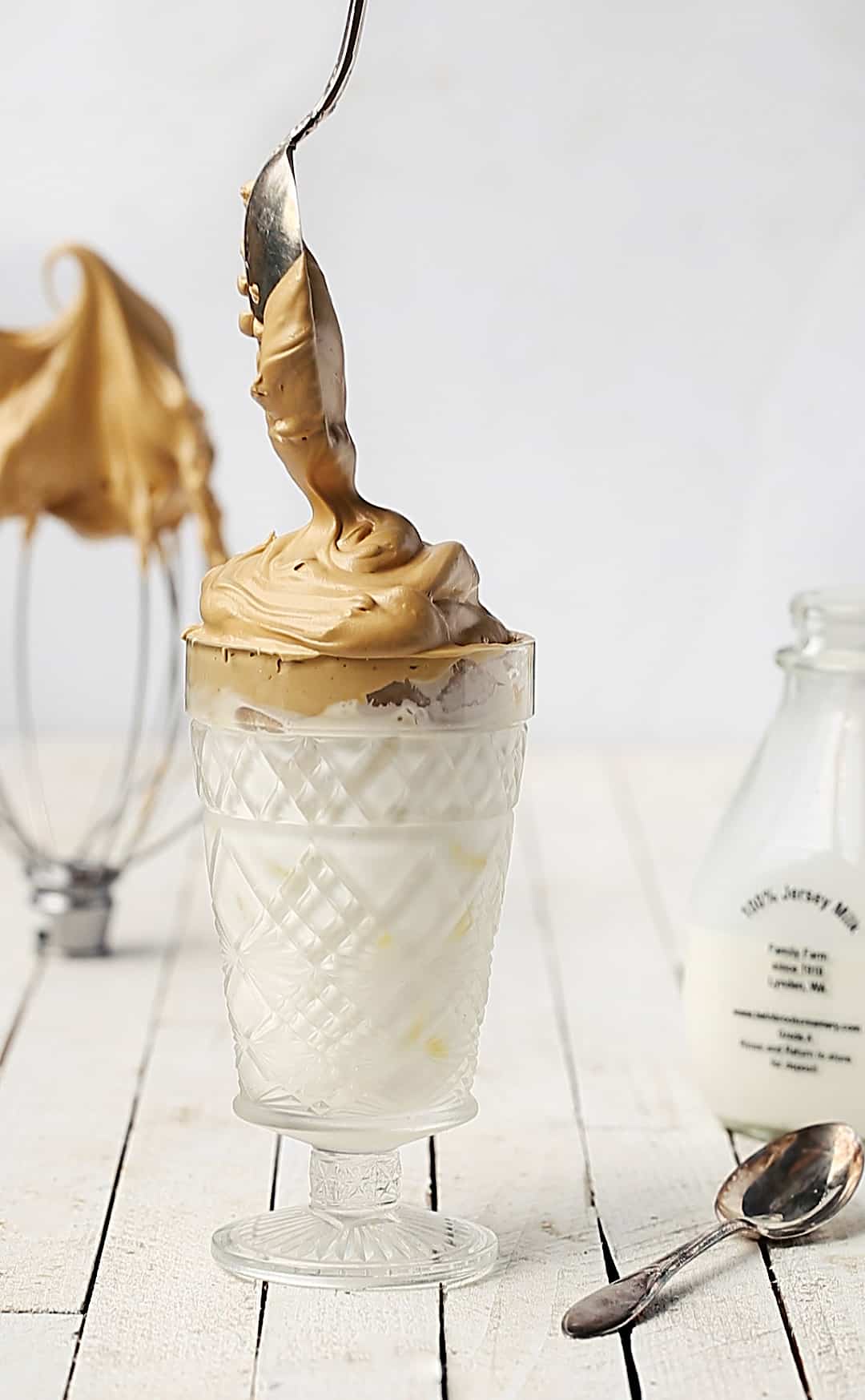 Serve with a spoon or straw.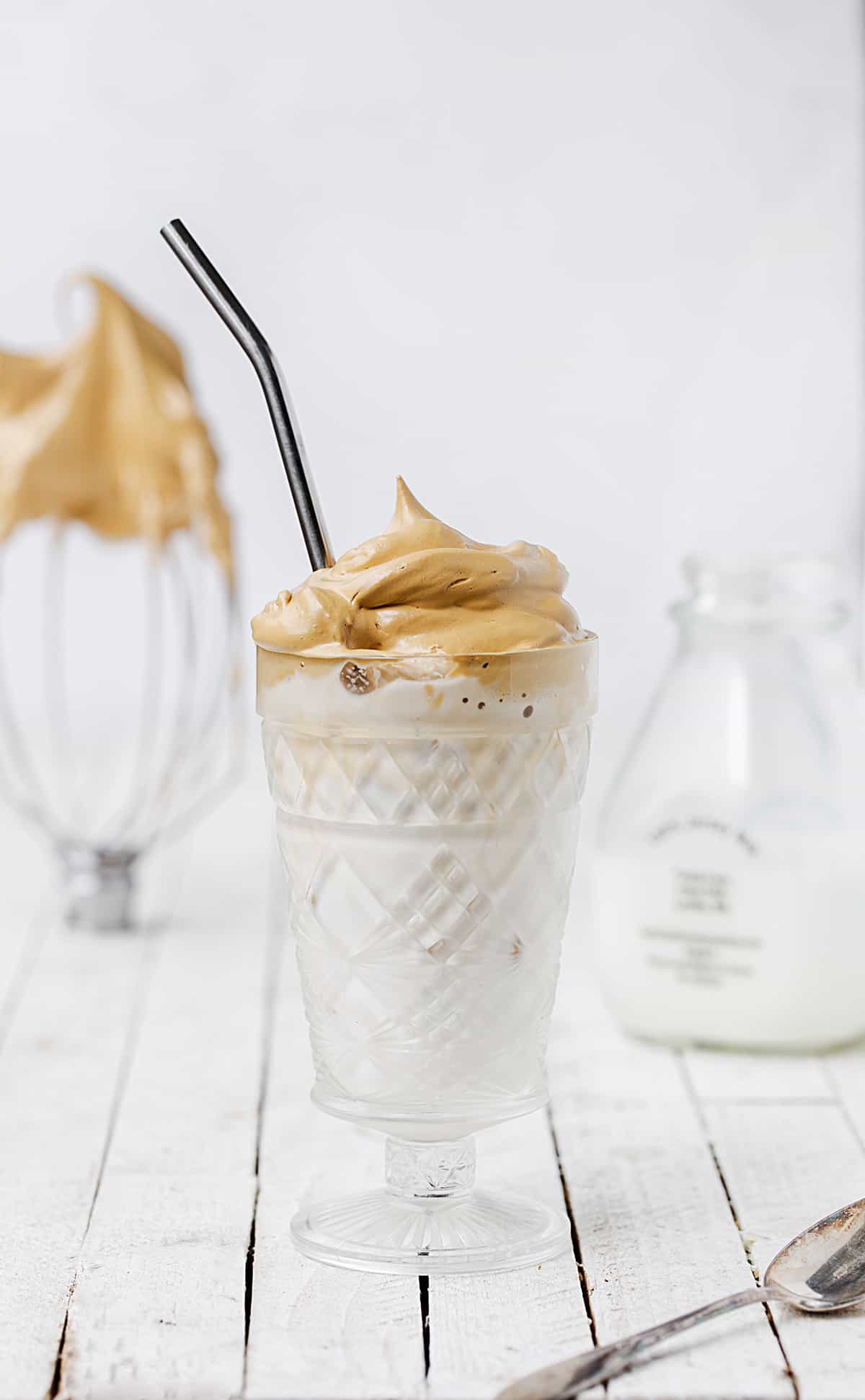 Stir whipped coffee foam into the milk to combine and enjoy!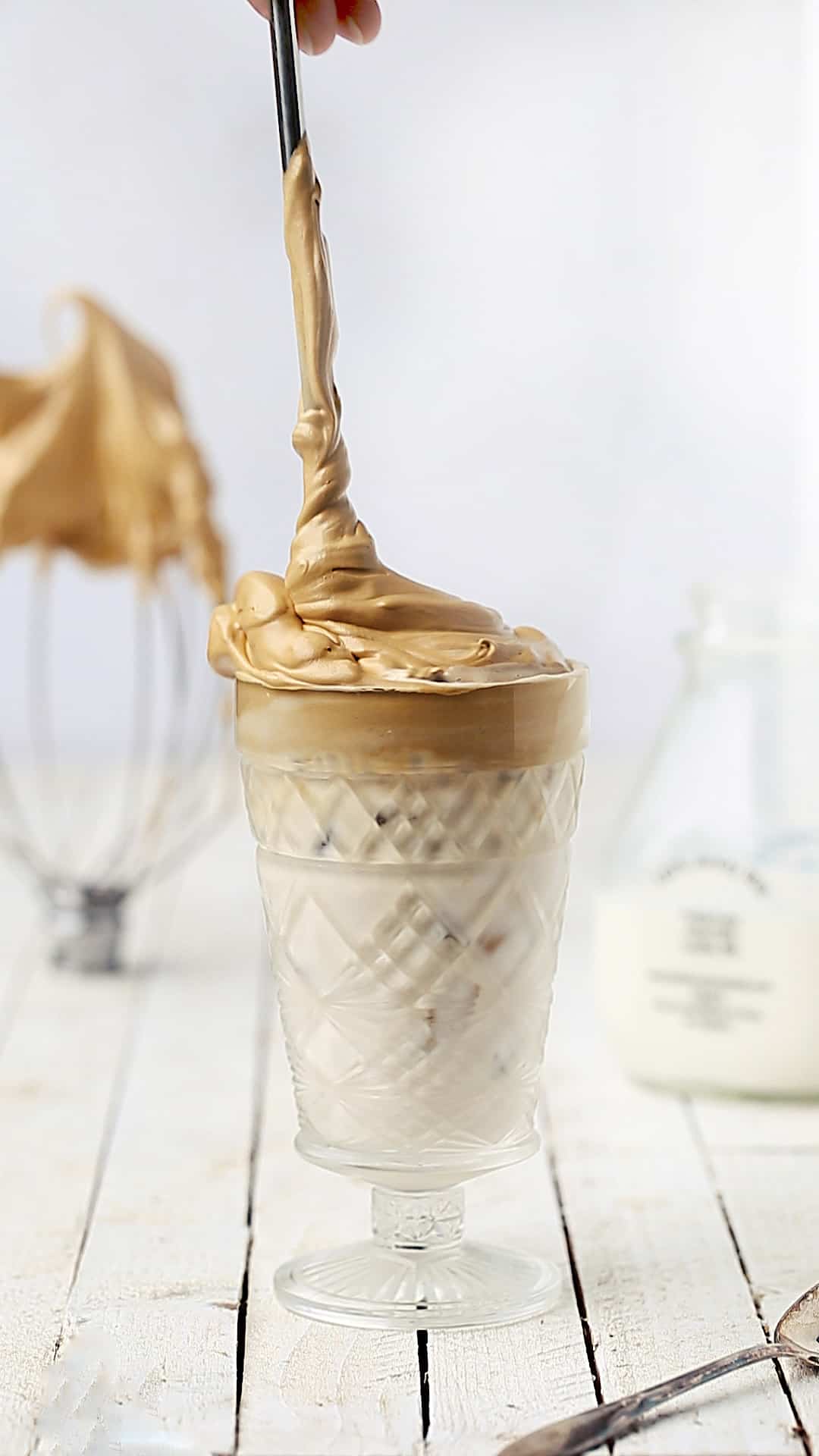 Yield
Using 2 tablespoons (the minimum recipe) yields two servings. But whipping is much easier with ¼ cup of each ingredient and makes enough coffee foam for roughly 8 drinks.
Each teaspoon of instant coffee is equal to about a cup of coffee or one shot of espresso. So the usual 2 tablespoon recipe yields two servings of whipped coffee that are each equivalent to 3 cups of coffee or a triple espresso.
Make ahead
Stored refrigerated whipped coffee will keep for a long time. I've had whipped coffee in the fridge for up to 7 days and, after being stirred, it's almost the same as day one. Not quite as light and airy as it is when made fresh, but still frothy and delicious.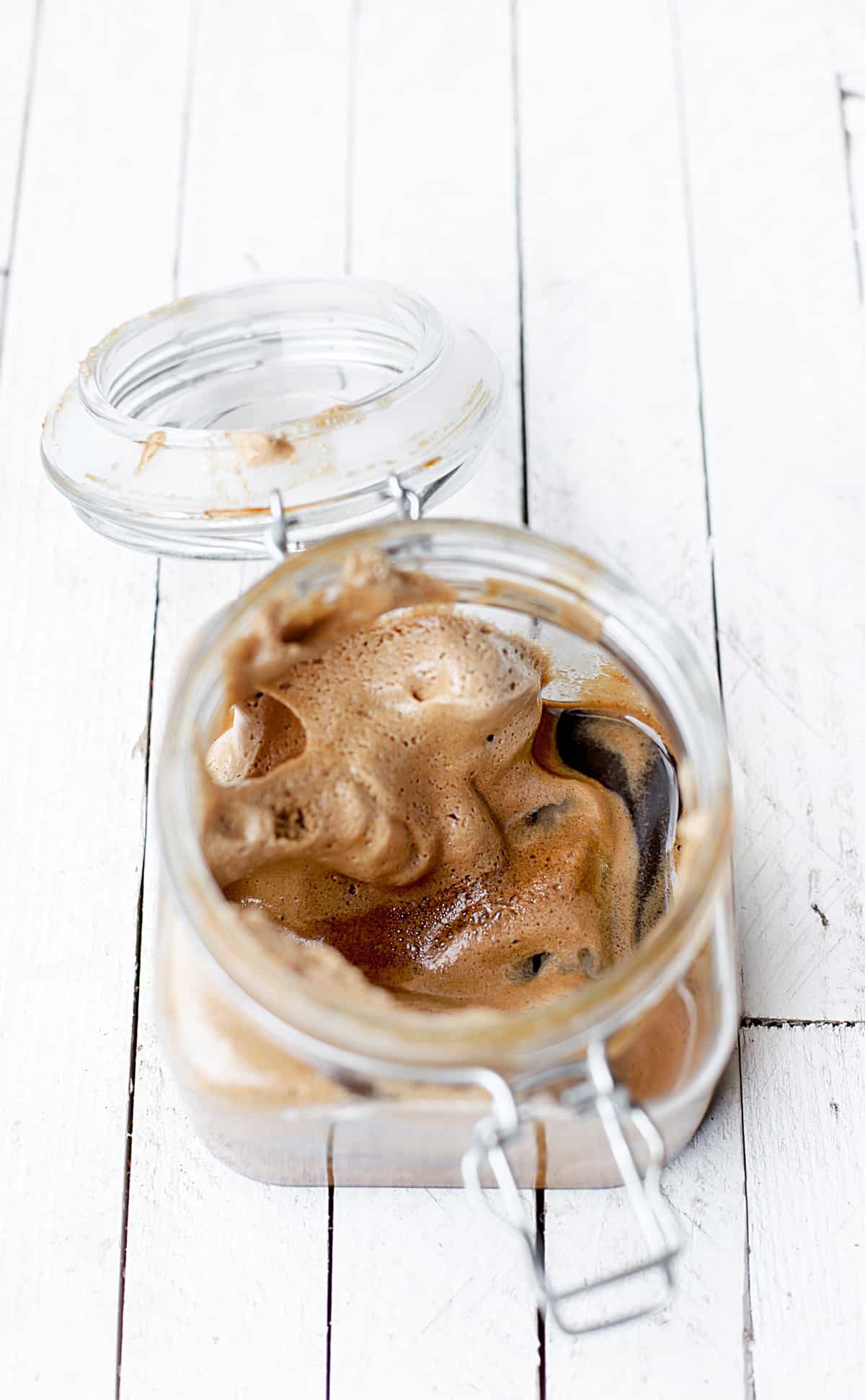 Or make a big batch and store frozen for up to 3 months or even longer to make an easy no churn non dairy Dalgona Coffee Gelato.
Look out cold brew coffee, this make-anywhere-latte may just take over as my number one favorite coffee recipe for camping. Because we ALL know that easy caffeination when camping is a lifesaver ?.
Make it your own
This is such an extremely versatile recipe. Use whatever you want for the base. And the finished whipped coffee has endless uses too.
Vegan cappuccino – simply substitute any diary alternative for a vegan iced coffee drink (hemp, oat, coconut, almond milk, etc).
Dirty whipped coffee chai with iced chai tea as the base
Mocha whipped coffee with chocolate milk or hot cocoa as the base
Whipped affogato sundae using gelato as the base to top with with whipped coffee
No-churn, non-dairy espresso shots – freeze a big batch and spoon into airtight containers. A little strong by itself by perfect as a float or swirled with vanilla ice cream.
Use as a dip on your next festive dessert board or to dip cookies during movie night. How's that for making sure mom stays awake for the whole thing!
Use as filling or frosting in cakes, macarons and frozen ice cream cookie sandwiches.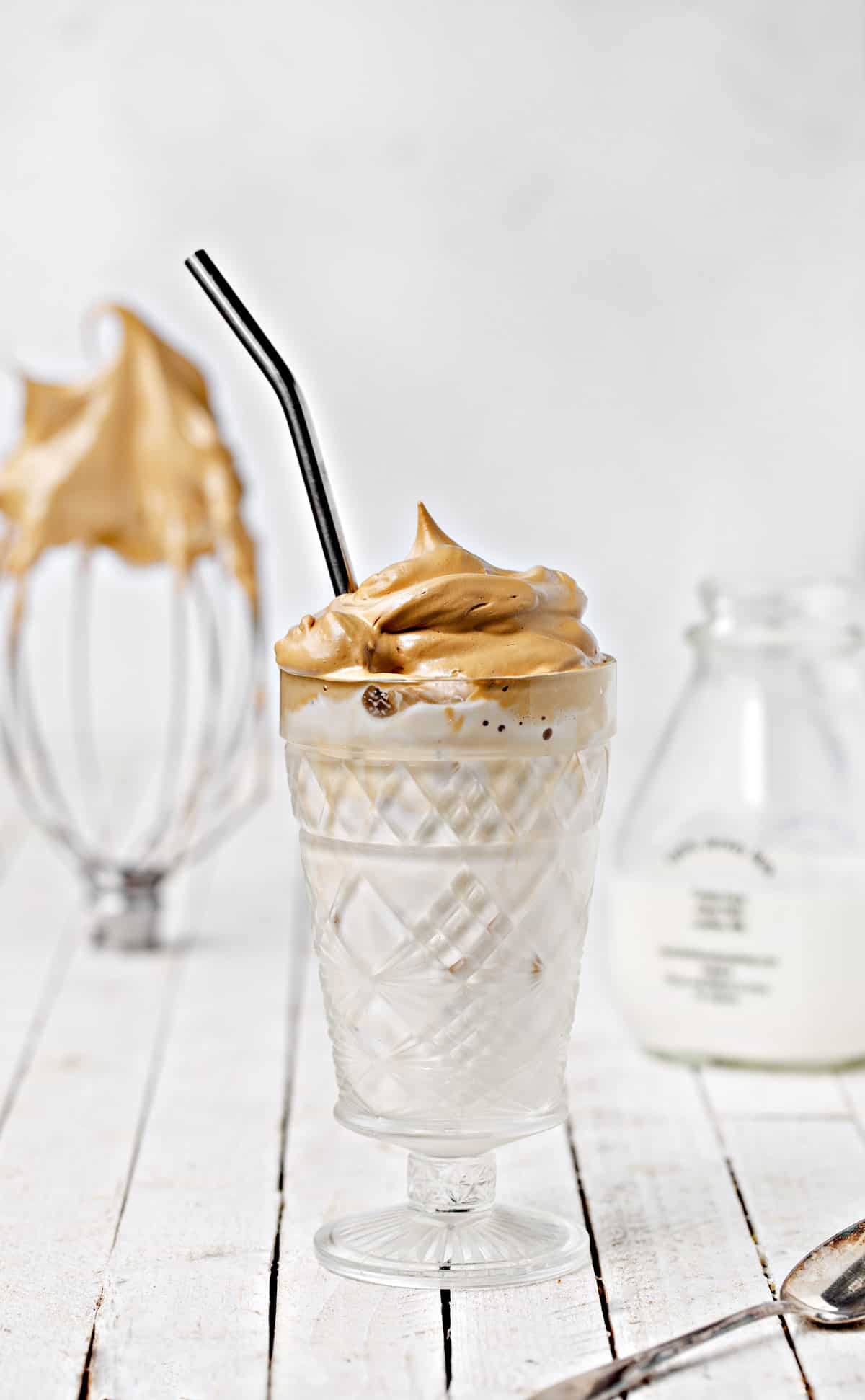 Ingredients
2

tablespoons

instant coffee

preferably Nescafe freeze dried granules

2

tablespoons

granulated sugar

2

tablespoons

boiling water

1 ½

cups

milk

whole milk, cream, almond milk, oat milk, etc.
Instructions
In a large mixing bowl, or the bowl of your stand mixer, combine sugar and instant coffee granules.

Add hot water and whip vigorously to stiff peaks.

Pour milk over ice in a mug or glass and top with whipped coffee foam.

Serve with a straw. Stir and enjoy!
Notes
Whipped coffee foam can be made in any size batch. Use equal parts all ingredients and store refrigerated for up to 7 days. Or frozen for up to 3 months. Combine with milk before serving.
Nutrition
Calories:
175
kcal
|
Carbohydrates:
24
g
|
Protein:
6
g
|
Fat:
5
g
|
Saturated Fat:
3
g
|
Cholesterol:
18
mg
|
Sodium:
81
mg
|
Potassium:
418
mg
|
Sugar:
21
g
|
Vitamin A:
295
IU
|
Calcium:
214
mg
|
Iron:
0.2
mg
Nutrition Facts
Whipped Coffee Foam Iced Latte
Amount Per Serving
Calories 175
Calories from Fat 45
% Daily Value*
Fat 5g8%
Cholesterol 18mg6%
Sodium 81mg4%
Potassium 418mg12%
Carbohydrates 24g8%
Protein 6g12%
Vitamin A 295IU6%
Calcium 214mg21%
Iron 0.2mg1%
* Percent Daily Values are based on a 2000 calorie diet.
Cheers!
Shop this post
Please note: ONE armed MAMA is a participant in the Amazon Services LLC Associates Program, and these customized links, provided by Amazon, track the referrals to their website for the purposes of assigning commission on these sales.