Roasted Garlic Cheese Buns are a savory take on the classic cinnamon roll. Stuffed with three kinds of cheese, loads of garlic and fresh herbs, these savory buns are great accompaniment to any meal!
With the same light, moist crumb and pillowy texture of classic cinnamon rolls and fun pull-apart layers, these ooey gooey cheese-filled buns are a hit with kids (of all ages)! This is the kind of dish that feels special for the holidays – no matter when you serve it! And no one has to know how easy it is to turn humble dinner rolls into something special with Bridgford Frozen Ready-Dough®. Whether you're hosting or being hosted, you'll be so glad you saved this easy, crowd-pleasing recipe this holiday season!

This post has been sponsored by Bridgford® Foods Corporation. All thoughts and opinions are my own.
Homemade Rolls in Half the Time
I love working with yeast dough – the smell of the dough, the smooth texture of the dough, the satisfaction of watching something transform after rising. But, it's finicky, and I'm always unsure of whether the stars are going to align giving me perfect bread or not.
Frozen Ready-Dough gives the same experience without requiring the same level of patience. It's perfect for the busy holiday season (and any time, really) when making homemade dough does not hold the highest priority on the to-do list. Convenient and easy to use, there's no doubt that it will rise and bake up perfectly every time.
How To Make Savory Stuffed Rolls
These savory cinnamon roll inspired buns are super delicious and easy. You'll find yourself coming up with excuses to make them all the time. They do need a bit of forethought to defrost the Ready-Dough but other than that there's not much required.
Defrost Ready-Dough by removing it from the freezer and placing it in the refrigerator overnight. Or, if you're in a hurry the package also includes directions for a quick microwave defrost option.
While dough defrosts, roast garlic using the best-ever garlic roasting method!! Remove the papery peel from the outside of the garlic bulb and snip just a small piece of the root end off of each individual clove. Coat with oil and sea salt, then roast. This way, once the garlic cooks down, it's so easy to get all the roasted garlic out without much of a sticky mess.
Once the dough is defrosted combine two loaves to make one large loaf and roll dough out to a 12″ x 16″ rectangle. Use your hands to press into shape if it's too bouncy for the rolling pin.
Combine roasted garlic with cream cheese, fresh garlic and scallions to make the herbed cream cheese.
Dollop cream cheese over dough and spread evenly, leaving a ¾ inch border on the long edge furthest from you.
Sprinkle with cheese and herbs and press lightly to stick to herbed cream cheese.
Starting at the long end nearest you roll tightly and pinch to seal. Stretch and smooth the roll to be a smooth even shape.
Cut into 12 even pieces using a sharp serrated knife or a piece of unflavored dental floss so you don't crush the dough. Start by slicing down the middle to create two halves, then separate each half into three even pieces and divide each of the six pieces in half again for 12 roughly-even pieces. You can also choose to cut the ends off and discard them since they often have contain very little filling.
Carefully place in a greased 13″ x 9″ baking pan and top with a sprinkle of Parmesan cheese and crushed red pepper flakes.
Let rise until they are nearly double in size and there's no space between them, 1 to 1 ½ hours.
Bake in preheated oven until golden brown and puffed, 25 to 30 minutes, rotating pan after 15 minutes.
Remove and top with melted butter and sea salt and let cool 10 minutes before serving.
How to Make Cheese Buns Ahead of Time
There's a few different options for making cheese buns ahead of time.
Make them a day in advance by going all the way through filling, slicing and arranging in the pan (step 8) then pop in the refrigerator to rise and bake the next day.
Or avoid day-before prep work, which is especially nice during the holidays, by making Roasted Garlic Cheese Buns up to three months in advance and pop them in the freezer! Simply remove cheese buns from the freezer and let them defrost/rise for a few hours before baking.
This is the perfect solution for holidays like Christmas and Thanksgiving when you're up super early anyway. By the time they're fully risen, everything else should be out of the oven and resting giving you the opportunity to pop the rolls in, along with any vegetable dishes that need rewarming to enjoy fresh baked buns with your meal.
Customize It
The cream cheese, chive, garlic combination is one of my favorites, and it's one that only get's better when you add in bacon! Sprinkle crumbled bacon on before rolling for a delicious and easy-to-make-ahead Bacon and Cheese Stuffed Morning Bun. Perfect for brunch or serving to a holiday crowd.
Or, add sun-dried tomatoes with the herbs for a festive Red and Green Cheese Bun.
Make Jalapeno Cheese Rolls with fresh jalapeno, pepper jack cheese and cilantro!
Add pepperoni or other pizza toppings to up the pizza flavor and make them Pizza Cheese Buns.
Or, get the kids in the kitchen and let them choose how to fill up their own buns with a DIY Dessert Cinnamon Roll Bar! This recipe uses two out of the three loaves in the package, so why not take the third loaf and do something fun with it! Give it to the kids play with and use their imagination in creating their own unique flavors. Set out bowls of chocolate chips, sprinkles, nuts, fruit and spices and let them get creative and have fun.
Roasted Garlic Cheese Buns Recipe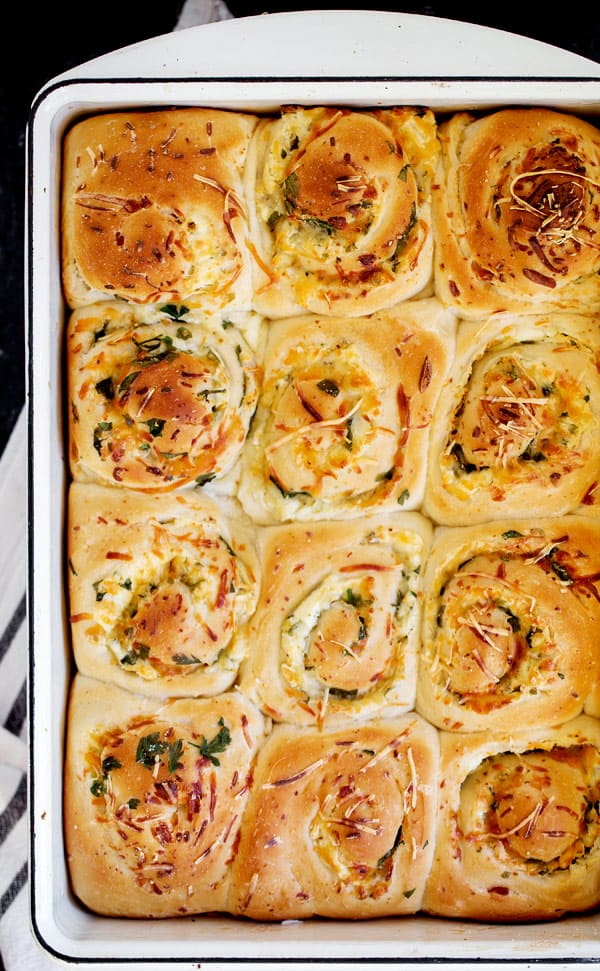 Ingredients
2

pounds

Bridgford Ready-Dough

1

large head

garlic

1

teaspoon

olive oil

½

cup

parmesan cheese

shredded

¼

cup

mozzarella cheese

shredded

8

ounces

cream cheese

1 block, room temperature

1

medium

scallion

sliced

½

cup

basil

chopped

¼

cup

parsley

minced

¼

cup

chives

chopped

pinch

Sea salt

pinch

red pepper flakes

optional
Instructions
Thaw Bridgford dough in refrigerator overnight or quick thaw in the microwave as directed on package.

Preheat oven to 350 degrees Fahrenheit.

Remove papery peel from garlic and separate into individual cloves, chop two cloves and reserve. Cut just a little bit off the root end of all the other cloves. Place in an aluminum foil packet, drizzle with olive oil and sprinkle with sea salt. Place foil packet directly on the rack in the oven and bake until fragrant and roasted, 30-45 minutes. Remove roasted garlic and let cool.

Once roasted garlic is cool squeeze out of papery peels into a medium bowl with room temperature cream cheese, scallions, and reserved chopped garlic. Stir to combine.

Meanwhile, on a lightly floured surface roll defrosted dough to a 12" x 16" rectangle with the long side facing you. Use your hands to press into shape. Then dollop garlic cream cheese mixture onto dough and spread evenly, leaving a ¾" border along the top edge. Sprinkle roasted garlic cream cheese with chopped herbs and shredded cheese. Press filling slightly to adhere.

Carefully roll the dough into a tight cylinder starting with the long edge closest to you. Pinch the dough together to seal and carefully place it seal side down. Gently stretch and smooth the cylinder until it is even throughout before slicing with a sharp serrated knife into 12 even pieces.

Using a light hand arrange the rolls in a greased 13" x 9" baking pan. Top with a sprinkle of Parmesan cheese and red pepper flakes.

Let rise in a warm place until they have nearly doubled in size and are pressed against each other, 1 ½ to 2 hours.

Bake rolls in preheated oven until golden and puffed, 25 to 30 minutes. Brush with melted butter and sprinkle with sea salt. Let cool 10 minutes before serving.
Nutrition
Calories:
284
kcal
|
Carbohydrates:
36
g
|
Protein:
7
g
|
Fat:
10
g
|
Saturated Fat:
4
g
|
Cholesterol:
25
mg
|
Sodium:
498
mg
|
Potassium:
43
mg
|
Fiber:
1
g
|
Vitamin A:
510
IU
|
Vitamin C:
2.6
mg
|
Calcium:
84
mg
|
Iron:
0.2
mg
Nutrition Facts
Roasted Garlic Cheese Buns
Amount Per Serving
Calories 284
Calories from Fat 90
% Daily Value*
Fat 10g15%
Cholesterol 25mg8%
Sodium 498mg22%
Potassium 43mg1%
Carbohydrates 36g12%
Protein 7g14%
Vitamin A 510IU10%
Vitamin C 2.6mg3%
Calcium 84mg8%
Iron 0.2mg1%
* Percent Daily Values are based on a 2000 calorie diet.
Enjoy!