Pack a Sustainable Beach Picnic with this easy make ahead meal and compostable Open Nature® products brought to you in partnership with Safeway!
Help protect the earth while enjoying it, too, with this simple menu and tips for an easy picnic that's perfect for Earth Day, or any day!
Products with purpose
To celebrate the launch of their new (and exclusive to Safeway!) Open Nature® earth-friendly products, my friends at Safeway sent me an Open Nature Earth Day Box. Filled to the brim with high-quality sustainable products with purpose it had the unexpected bonus of sparking important conversations with each of my kids.
BPI certified and made from tree-free, plant-based materials. Open Nature products are better for the environment and safe for your home.
Compostable Cutlery and Compostable Plates are so sturdy and can stand up to the sauciest dishes without bending or breaking.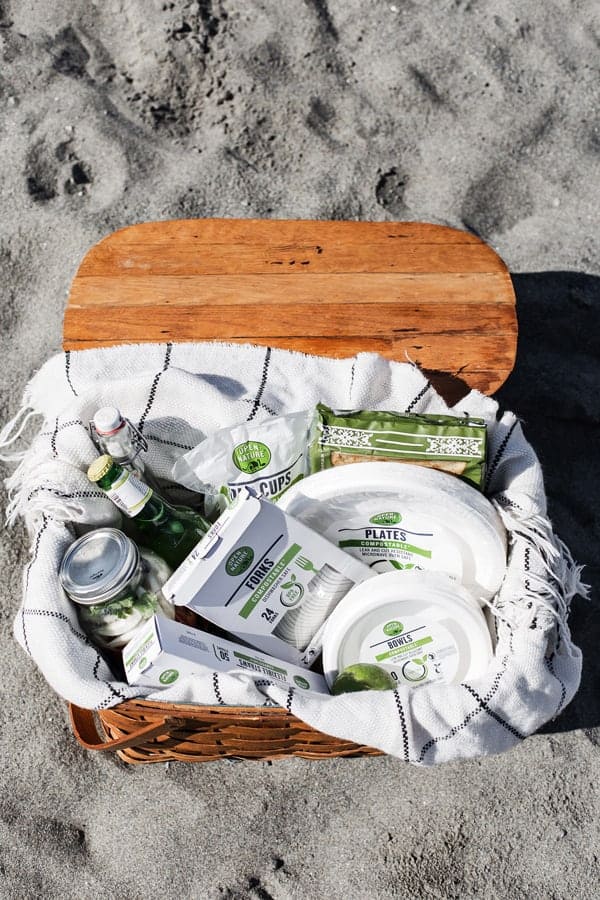 And you can even pop the cutlery in the dishwasher and reuse if you're so inclined because they're dishwasher safe. Similarly, the super absorbent and thick Open Nature Bamboo Paper Towels are meant to be hand washed up to 100 times and reused, too!
*All components are made of plant-based material certified compostable in industrial composting facilities. Check locally, as these facilities may not be available in your area. No current certification for backyard composting.
An easy picnic menu
With an easy menu and a stocked picnic basket it's easy to go out on an outdoor adventure.
Simply pack up a mix of make-ahead dishes in reusable glass storage containers and jars, keeping the ribs and potato salad chilled with cooler or ice packs and you'll have everything you need for a fabulous picnic!
Fall Off the Bone Pork Spareribs with Homemade Pork Rub Blend – cook early in the day or make a double batch for dinner the night before, then sear on park BBQ if available or enjoy cold
Cucumber Tomato Salad – layer a fresh mix of onions, herbs, cucumbers and tomatoes then mix right before serving
Dill Potato Salad – make a day or two in advance to allow for the flavors to meld
Pretzel Chip Cookies – these chewy chocolate chip cookies packed full of pretzels are a sweet (and salty) end to the picnic
Fresh vegetables
Tortas, chips or bread
Salami or pepperoni
Dried fruits and nuts
Open Nature Compostable paper towels, trash bags, plates, bowls, cold cups, cutlery and straws
Enjoy!