Baker Lake Camping reconnecting with great friends, over delicious food and amazing wine is the perfect way to savor summer.
Follow along on a three day group camping trip to Horseshoe Cove State Park in Washington State's Mt. Baker – Snoqualmie National Forest.
Baker Lake + Mount Baker
In the Mount Baker – Snoqualmie National Forest on the edge of the North Cascades National Park Baker Lake is a fabulous destination for camping, hiking, boating or splashing in a glacier-fed lake and picnicking in a picturesque location! Just 3 hours north of Seattle and you can be doing it all with the most breathtaking view as your backdrop.
With an amazing view of the nearby snow-capped active volcano, Mount Baker. Baker lake camping offers you the prime viewpoint to take in the glacier-filled volcanic crater and the neighboring Mount Shuksan in all their glory.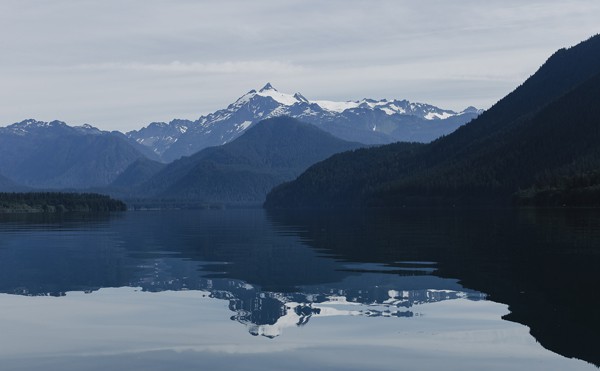 Baker Lake campgrounds
With many different day use and overnight options Baker lake campgrounds are as varied as the North Cascades themself. Some campgrounds are super remote and boat-in only. While others are easy to access but have just a handful of sites for privacy.
Horseshoe Cove – spacious group sites with easy access to the cove make this our favorite of all the Baker Lake campgrounds. Open from mid-May to mid-September there's first-come, first-serve and reservable sites available. Reserve group sites up to 12 months in advance.
Swift Creek – formerly Baker Lake Resort and cabins this large campground offers kayak and boat rentals + group sites. Reserve group sites up to 12 months in advance
Panorama Point – a small campground with a handful of sites, day use area and great beach access
Boulder Creek – for a more private, tranquil experience
Bayview – directly across the cove from Horseshoe Cove currently only available on a first come, first serve basis
Pro Tip: traveling with a group? Reserve a group site when camping at Baker lake to get everyone together in one area. AND also access the best semi-private locations at Baker lake!
The beauty of traveling to a location like this is that there so much to do if you want to. Or you can simply sit back, relax and soak it all in.
How to get there
Head east on Highway 20 from Interstate 5. Exploring picturesque small towns with family farms and loads of fabulous food and drinks along the way. Before making the shores of crystal-blue Baker Lake your nature home for a few days.
Meal plan
It can be easy to plan camping food if you keep it simple, even when camping with a group. A few potluck style meals like diy pizza, burgers and tacos allow everyone to come together 'stone soup' style. Otherwise let everyone fend for themselves. Of course sharing is always encouraged.
Camp Cold Crew – This quick to make coffee is simply cold brew, a drizzle of sweetened condensed milk and a float of cream. Make cold brew ahead of time or stop by your favorite local espresso stand on the way for pre-made.
Hodge Podge Breakfast – sausage and bacon + fried potatoes with onions + peppers + scrambled eggs + biscuits and gravy + pancakes. A potluck of all campers breakfast offerings.
Campfire Wine + Cheese – Pop open a few bottles of Decoy Wine, warm some grilling cheese over the campfire and invite your friends to do the same. Assorted Decoy Wine + grilling cheese + assorted other cheeses + crackers + pita + hummus + fruits and veggies + pickles, olives + whatever!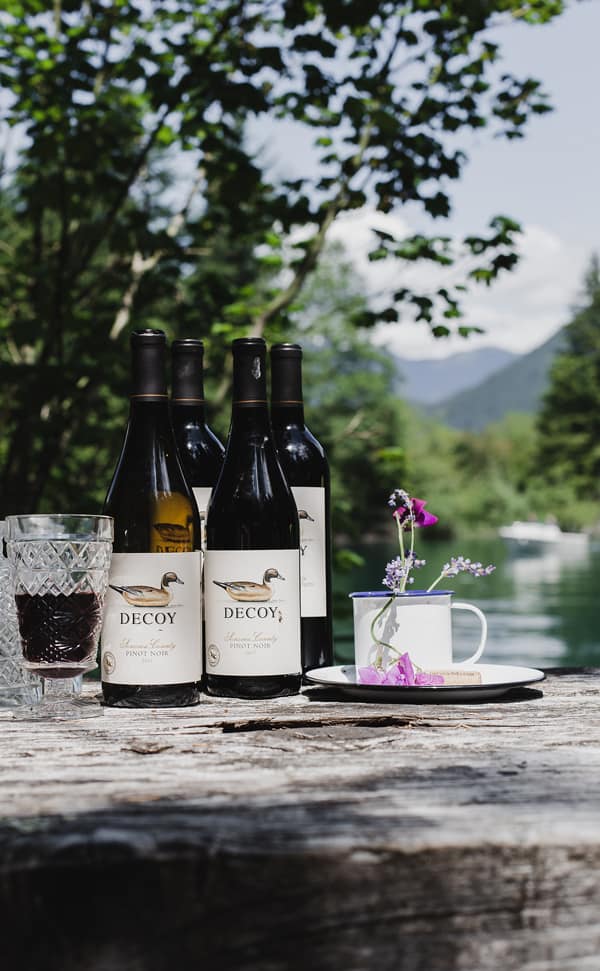 Carne Asada Tacos – Citrus Marinated Skirt Steak + Cilantro Lime Coleslaw + tortillas + guacamole + salsa + cilantro +onions. Make guacamole, marinate skirt steak and prep coleslaw ahead of time. Freeze steak and store slaw and dressing separate until ready to eat.
Grilled Pizza Dinner – pizza sauce (squeeze bottle preferred!) + pesto sauce + pizza dough + roasted garlic + mozzarella cheese + pepperoni, basil + green salad. Buy dough or make ahead of time and store in oiled freezer bags.
Pro Tip: Don't over complicate food! Plan a few potluck style meals and let everyone do their own thing otherwise, sharing highly encouraged of course 🙂
Local grocers and farmsteads
Take advantage of the amazing local farms and pick up some of your supplies locally! Just make sure to hit the brakes if you approach Baker Lake Grocery and think you might have forgotten anything. It's your absolute last chance.
Area restaurants
Stop along the way to grab a meal prepared by someone else NOT over a campfire.
Area attractions
In addition to being a prime location for boating, fishing, swimming, and picnicking , you can also access to a variety of spectacular trails along the lake and in the nearby Mt. Baker National Recreation Area.