Homemade Playdough recipe can be made in minutes from simple pantry staples!
This playdough recipe makes a soft long lasting dough tthat smells delicious, keeps forever at room temperature and makes the most beautiful pastel hues (that won't bleed color on your hands!)
Made simply from what you have
There are so many recipes for homemade play dough. And I've probably tried them all. But for over 15 years I keep coming back to some variation of this version. A homemade playdough that's cooked on the stove with simple pantry ingredients plus a little something extra just for fun.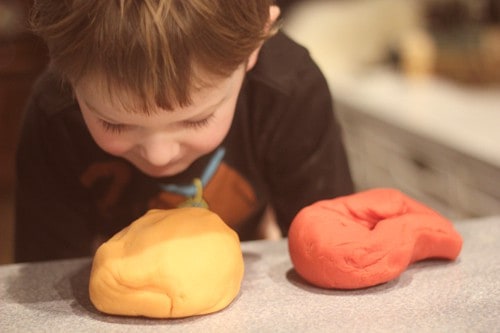 It's a perfect go-to play dough recipe that's actually quite fun and easy to whip up.
Ingredients
2 cups all purpose flour
1 Tablespoon cream of tartar – to make the playdough super soft and help preserve it for longer. Optional.
½ cup fine salt
2 Tablespoons cooking oil
1 packet Kool Aid.  
Step by step instructions
Stir together dry ingredients (flour, salt, cream of tartar, kool-aid) in a large saucepan over medium heat.  
Mix together oil and water and add to dry ingredients. It will look like a goopy mess but just keep constantly stirring over medium heat until the mixture becomes smooth.
Continue stirring until mixture becomes very thick and gathers in one large clump in the center of the saucepan.
Turn out onto counter and knead a few times by hand, being careful not to burn your hands.
Playdough is ready for play once it is cool enough to handle.
Enjoy!
How to store
Keep, covered, at room temperature for up to 8 weeks.
Playdough gift idea
Handmade toys like this are great for gifting at birthday parties and even over the holidays!
For an easy homemade gift for any kids on your list make up a few large batches of dough and peruse the kitchen goods aisle or antique store for some unexpected dough toys. Pack up a rainbow of dough in little containers and gift it in a fun box like this one from Sugar Paper LA for Target or a small vintage suitcase or even an old lunch box.
I like these small glass canning jars from Bormiolo Rocco. Add a ribbon and a few toys and it's a super easy and cute gift.
Ingredients
2

cups

all purpose flour

½

cup

fine salt

1

Tablespoon

cream of tarter

1

package

Kool Aid

2

Tablespoons

cooking oil

1

cup

water
Instructions
Combine dry ingredients in a large saucepan over medium heat. Stir to combine.

Add water and oil and stir continuously until it clumps up in a big lump in middle of pan.

Turn out on counter and knead a few times.

Keep at room temperature either in plastic bag or container.
Shop this post
Please note: ONE armed MAMA is a participant in the Amazon Services LLC Associates Program, and these customized links, provided by Amazon, track the referrals to their website for the purposes of assigning commission on these sales.