A Festival Themed Camping Party is the perfect simple backyard party idea for a glamorous birthday, dinner, or overnight sleepover party that guests of all ages will enjoy!
Whether looking for a backyard party for a sweet 16 or for adults this festival themed camping party, sponsored by Coleman, is a great backyard party idea!
Fun backyard party idea
I was more than a little surprised when daughter, whose now more interested in makeup and malls than trees and bonfires, told me that she wanted to take her friends camping for her 14th birthday.
Living in the Pacific Northwest getting my family outside to experience a wide variety of nature has always been a family value of ours.
I do like to accomodate my kids unique party ideas on their birthday but I knew that something more than our typical camping trip was needed.
So I got started planning a backyard festival party.
Planning
Begin planning a backyard festival party by searching for ideas, creating a mood board and color palette.
Instagram is great for finding fresh and unique photos. Asearch of #boho or #festivalvibes brings up so many images! Use Pinterest to saves and organizes ideas with links to the originals and create your mood board. Then use that mood board to guide your party color choices. For this party succulents and flowers lead to a purple and green color scheme.
When entertaining, it's important to keep your event cohesive. Whether you're in a house, a hall, or the great outdoors think about how everything will go together. What design elements will be weaved throughout? How will you arrange for the best flow between areas? How can you incorporate the theme while caring for the needs of your guests?
Location
To make it easier to invite friends and reduce the scope of the party look for campgrounds nearby. If you do a little investigating I'm sure you'd be surprised at just how many public parks and local campgrounds there are in your area. Or, you can throw a boho camping party in your own backyard!
Invitations
I sent out (free!) online invitations from my favorite online invitation supplier, which made it quick and easy to gather RSVPs.
Another fun option would be to have custom festival wristbands made as invitations. There are so many options for different styles ranging from economical tyvek to more long lasting woven bracelets.
Decorations
These festival party decorations are also festival camping essentials. Simple wall hangings and comfortable bedding with lots of floral touches and a
For a more festival-chic, less girl scout scene build a simple T frame tent.
Cut five branches the same length and a sixth longer one for the top. After tying two together at each end he placed the longer branch across the top and added a stability branch down the middle. Add tapestries or sheer curtain panels and the look is absolutely magical. You can also use old sheets tied to the branches. Use whatever you have!
A macrame wall hanging and cut flowers in shades of purple and green were hung from the branches. Bamboo, fresh herbs and eucalyptus are perfect for creating a bohemian vibe.
Comfort and style really is what turns camping to a beautiful birthday bash. To make sure that the tent would be comfortable and glamorous I picked up a Coleman 18″ Queen Airbed (on sale!) at Target.
The air mattress comes with it's own built in pump so there's no searching for a pump or batteries. Simply plug in, turn on and it inflates in minutes. Even better, the pump stores inside the mattress so it will actually be there next time I want to use it.
I was surprised by how thick and sturdy it is! Once covered with textured blankets you couldn't even tell that you were sitting on an air mattress. Random rugs, a lambswool throw and a vintage velvet Moroccan tapestry defined the space and furthered the festival feel.
Tree stumps in the corners were a great spot to set lanterns and more flowers. I love the way vintage lanterns look but modern lanterns are so much easier to use! To get the look of vintage with the usability of modern lanterns, cluster vintage with modern LED lanterns like this Coleman Lantern.
For a picnic area, I included a low table and used blankets and pillows on the ground instead of chairs.
Food and drink
Festival themed party food ideas I've learned to keep party food simple. Unless having a dinner party, I opt for easy grab and graze foods like fruit platters and cheese plates.
These foods are also good for even the pickiest of eaters and they pack equally well for quick trips and overnighters.
Fill a cooler, starting with a layer of ice packs (or ice cubes in large freezer bags), top with various sliced cheeses, pre sliced salami and cut fruit. With the prep work done ahead of time, it's quick and easy to put together at the campground. Crackers, beef jerky, and mixed nuts are also great options.
I always like to include a few of the guest of honor's favorite things. I made a wildberry pie with lattice crust because, since she was 3, Chayce has always asked for berry pies on her birthday.
Topped with succulents in shades of green and purple, it was a showstopper!
When I saw this vintage metal cooler I knew I had to include it in the party somehow.
Filled with ice and assorted bottled beverages from Target. I grabbed whatever looked good and matched the color scheme. At the campground, I propped the cooler top open and added fresh flowers to glam it up a bit.
Games and activities
When guests arrived I lead them to a table full of succulent jewelry and flower crowns. They each chose their favorite. It's nice to give people an idea of the party theme right from the beginning so they have an idea of what's in store.
Allowing guests to hang out and do what they want for a while before starting any activities sets a nice low key tone for the party and doubles as a great time to snap some candid shots of the whole group together. Looking back at birthday parties, I like to have group pictures of guests every year.
After eating, I brought the girls over to a crafting area to make hanging succulent garden terrariums.
I always have a hands on activity at parties. You can lead it yourself or hire a local professional to come in and teach their craft. Search for local makers in your area and shoot them a message to see if they'd be interested in coming to your party. Crafters and makers love to share their expertise!
For this activity, I filled a large basket with different mosses and green pebbles and scattered loosely separated succulents and sedums down the middle of the table. Each girl had a hanging glass terrarium and a vintage aluminum baking mold filled with soil waiting for them.
To build a terrarium, start with a little soil, add moss, tuck in succulents and top with pebbles. After a quick lesson, I let the girls get creative and have fun crafting together.
The succulent terrariums turned out so cute! Sending guests home with a new skill and a little something they created is how I prefer to do 'party favors'.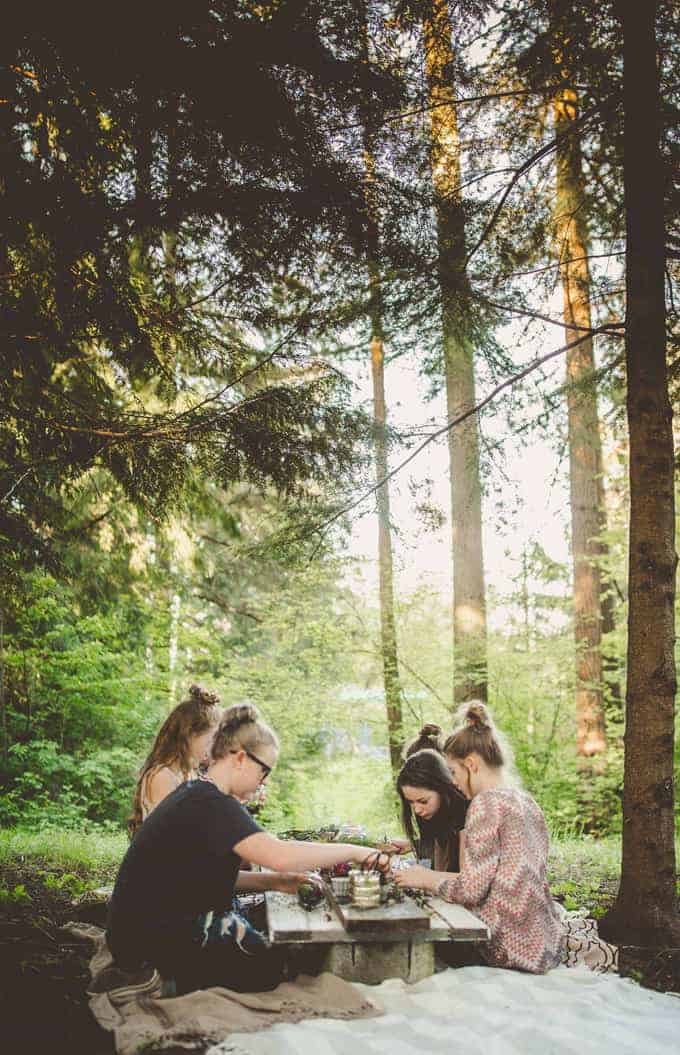 Vendors & Sources
Photography
Johannah Chadwick Photography
Styling + Party Planning
Tristin Rieken
Furniture Rentals
Rustic Events Rentals
Succulent Jewelry
Pozie by Natalie
Coleman Air Mattress
Target
Coleman LED Lantern
Target
Instructions
Keep the party to just a few hours rather than an overnight by finding a campground or park close to home.

Even if not staying overnight, set up a lounge area with a tent, air mattresses, loads of pillows, blankets, tapestries, and rugs.

Hire a local professional to make an appearance and teach guests a fun new craft –  sticking with the boho theme – flower crowns, cactus terrariums, macramé, dream catchers and henna art would all be perfect!

Limit food and beverage options to keep things simple. Think about foods that pack well in coolers.

Include the guest of honor by serving some of their favorite things to eat or drink.

Skip elaborate gift bags and send guests home with a crafted item as a party favor.

Whether you're planning a boho chic camping party, want to sleep out under the stars in your own backyard, or are packing to go for an all out camping trip, Coleman has the products to make your life easier and camping more enjoyable.