Simple to put together, this Upscale Charcuterie Grazing Table is sure to WOW guests over the holidays. Or any time of year!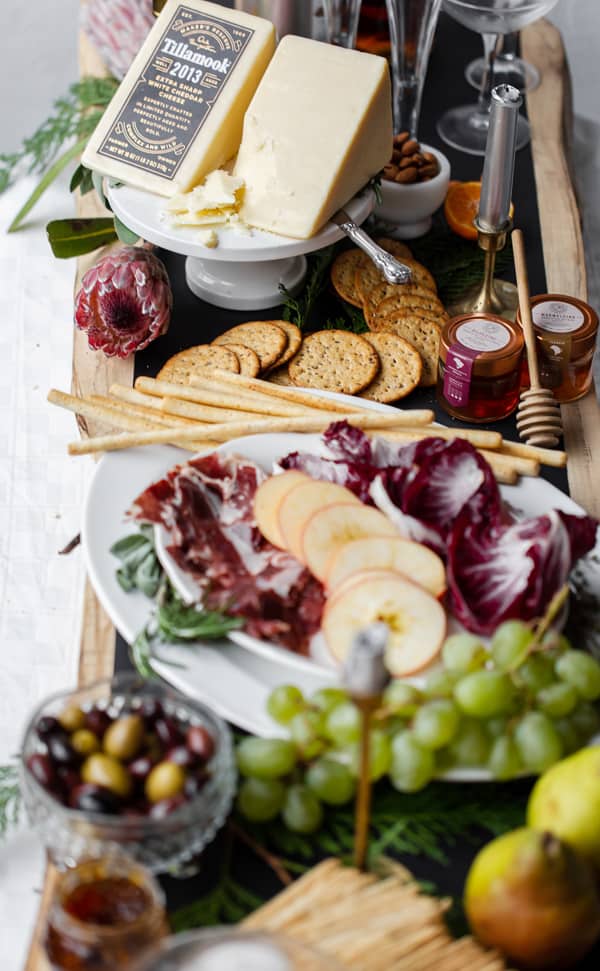 With a theme in mind and a fabulous stock of high quality ingredients this loooooong party -platter-style cheese board is fun (and easy) to put together! And whether you're throwing a party or serving up a romantic picnic-style meal for two you can customize it and serve up the perfect Upscale Grazing Table with these simple tips.
Stunning Table Centerpiece
Thank you Tillamook for sponsoring this post. Try Tillamook Maker's Reserve! Available at Costco.
It doesn't have to be expensive, time-consuming or difficult to put together an upscale charcuterie-style grazing table! With a few simple tips and a delicious variety of spreads, fruits, pickles, breads, and cheese- a beautiful and festive grazing table is easily within reach!
Theme
Choose a simple overarching theme to make it easy to narrow down what you offer. The theme is totally up to you and dependent on your crowd, the season and the nature of the event. But with some guidelines in mind it'll be easy to curate a nice, refined selection of bites.
For the holidays go a little *extra* with an upscale theme and load up on those limited-edition, top-shelf products you've been eyeing.
Color Palette
In addition to a theme choose a color palette. Then keep it in mind when choosing both grocery store items and tablescape items like dishes, plates and serving pieces.
A refined color palette in shades of red and green with metallic accents is perfect for this elegant holiday spread. Deep rich red tones and bright greens are abundant at the grocery store and it's easy to pull mix-and-match serving pieces in mixed metal tones.
When you head out with a simple theme and a color palette a great selection of curated items will easily just present themselves to you.
When I spotted the gorgeous black and gold packaging of Maker's Reserve 2013 Vintage White Cheddar by Tillamook I knew it would be perfect for featuring on my Upscale Holiday Grazing Table. Only available at Costco stores in the Pacific Northwest and San Francisco Bay Areas you can get 18 ounces for only $8.99! Such a steal for this bold, creamy aged cheddar with the perfect little bite to it. Since my local store still had some on the shelves, I took the chance to stock up and you should too! Click here to see if Maker's Reserve is at a Costco near you.
High Quality Offerings
In addition to the crowd-pleasing favorites -like Maker's Reserve 2013 Vintage White Cheddar – choose some bold offerings that you might not otherwise indulge on. Set out a variety of dips, preserves and spreads and lots of nuts, crackers and breads to sop it all up with. Fresh fruit, dried fruits and savory bites like olives and pickles compliment the meats and cheeses with a little acidity. And of course all these flavors are perfectly paired with a bottle of bubbly 😉
Fresh herbs, large flowers and greenery affordably fill a large space on the table so you can buy more of the good stuff – cheese and champagne!
With such a fun mix there's no end to the creative nibbles you can assemble.
What to Pair with Vintage White Cheddar
If this grazing table were to greet you at a party, what would your first combination be?
While there's no wrong way to do it (let your senses guide you!) I've put together some ideas for pairing Maker's Reserve 2013 Vintage White Cheddar. Sure to satisfy palates that love the complex refined taste of aged cheddar.
Rosemary flatbread + Vintage White Cheddar + radicchio + pear + honey + thyme (top and side left)
Vintage White Cheddar + 'toum' garlic sauce + sage on dried apricot with Fleur de Sel (middle)
Mulitgrain cracker + honeycrisp apple + Vintage White Cheddar + Iberico Ham + deli mustard (top right and bottom)
Whether you serve it up over the holidays, for your love on Valentine's day or on a picnic blanket in the summer this Simple Upscale Grazing Table makes your event special as it is an event all it's own!
Enjoy!