Spiked Blueberry Switchel Spritzer is a refreshing, fruity and fizzy way to get your drinking vinegar fix! Spiced rum pairs perfectly with the warm ginger and bright blueberry flavors, but leave it out and this delicious switchel cocktail becomes an equally invigorating mocktail!
If you're currently asking the following questions, what is switchel? what does switchel taste like? And why in the world would I even want to drink such a crazy thing? Read on to find out and snag the recipe for this easy 3 ingredient switchel cocktail!
What is Switchel?
Switchel is a old timey beverage that you most likely have never heard of.
But, you should get to know it! This apple cider drink tastes similar to kombucha or ginger beer. Tangy and tart with a deep flavor while being super refreshing.
But, unlike kombucha and ginger beer switchel isn't fermented. So no live bacteria, no fizz, and no waiting for weeks to drink the rewards of your labor.
It's simply a drinking vinegar. Very similar to the more-concentrated shrub, with an interesting sweet and sour flavor that is super addicting and perfect as a cocktail mixer!
Served hot, over ice, mixed with club soda, or into a switchel cocktail, it's refreshing any time of day!
My personal favorite way to get my switchel fix is of the spiked and sparkly variety, of course. Spiked Blueberry Switchel Spritzer has it all! Refreshing, fruity and fizzy! And the spiced rum pair perfectly with warmth of the ginger and backed with a little sweetness and fresh fruit flavors. A great cocktail to transition into fall.
Where to get Switchel?
People have been making their own switchel for what has been debated to be as long as centuries. And you can too! Simply mix apple cider vinegar, ginger, a sweetener of some kind, and water.
Some recipes call for simmering or juicing the ginger to extract more flavor. While others simply put it all in the jar, give it a shake and let it chill in the refrigerator overnight. Some use honey, some maple syrup and some even call for molasses. Really, it seems that although there may be better ways to do it. There is no right way.
If you'd rather not play around with making your own switchel, you can now buy bottled switchel. Check the refrigerated juices section of your local market. Or, find locally made switchel at farmers markets and specialty shops.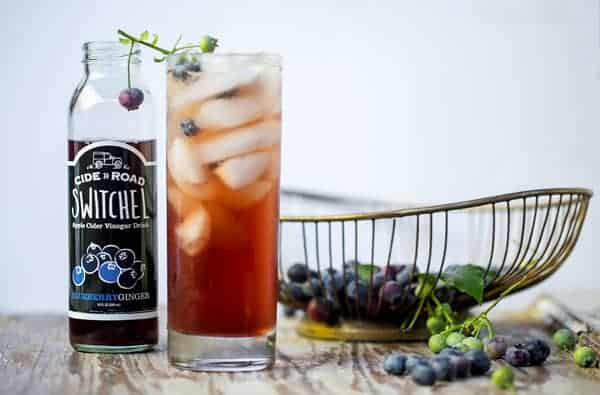 Cide Road's Organic Maple and Ginger is super refreshing and zingy. But, after trying their blueberry and cherry switchels I found myself wanting to drink switchel all the time. The tangy vinegar and warm ginger of the original switchel recipe pairs perfectly with the fresh natural sweetness of blueberry and cherry juices. You can also mix up your own flavored switchels by adding a splash of fresh fruit puree or juice to the original ginger flavor.
Ingredients
Step by step instructions
A few seconds are all you need to be on your way to sipping this refreshing spritz!
Simply pour spiced rum over ice. I always like to pour my drinks on the low end of the alcohol scale so I can enjoy more of them 😉 but you can customize the quantity of liquor to your own liking.
Add a generous amount of switchel and top with club soda.
Optional add a squeeze of lemon or lime and a sprig of fresh mint and fresh blueberries.
Enjoy!
Customize it!
Ginger switchel is great for colds served hot with honey, lemon, cayenne and tumeric!
Replace water with switchel when diluting concentrated iced tea. Like the quick iced tea method I shared whem making Iced Blackberry Earl Grey Tea.
Add a squeeze of citrus – lemon, lime, or even orange!
Mix up a switchel cocktail with any flavor switchel. Plain ginger is great by itself, topped with club soda, or mixed with run!
Ingredients
1

ounce

spiced rum

4

ounces

blueberry switchel

2

ounces

club soda
Instructions
Fill a tall glass with ice.

Add blueberry switchel, or substitute kombucha or juice with a splash of apple cider vinegar.
Notes
Optional: serve with a squeeze of lime and a sprig of fresh mint.
Nutrition
Calories:
89
kcal
|
Carbohydrates:
1
g
|
Sodium:
17
mg
|
Potassium:
82
mg
|
Iron:
0.2
mg
Nutrition Facts
Spiked Blueberry Switchel Spritzer
Amount Per Serving
Calories 89
% Daily Value*
Sodium 17mg1%
Potassium 82mg2%
Carbohydrates 1g0%
Iron 0.2mg1%
* Percent Daily Values are based on a 2000 calorie diet.