Pink Lady Apple Kombucha made with in season apples and fresh pressed cider, is an absolutely delicious way to enjoy this this fizzy probiotic beverage.
Jump to:
What is kombucha?
Kombucha, a fermented sweet tea, fits the requirements to be right on the top of my list of favorite beverages – fizzy, lightly sweet and fruity.
In its simplicity, kombucha is just sweet tea combined with starter tea and scoby (symbiotic colony of bacteria and yeast). Which after 5-7 or so days devours the sugar resulting in basic unflavored kombucha.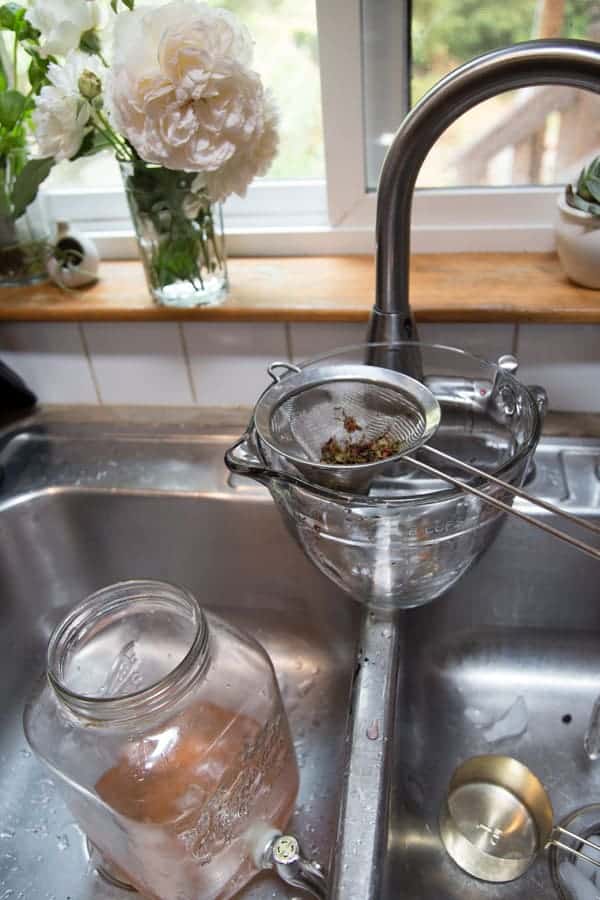 Unflavored kombucha can be refrigerated and consumed as is. But I like it best after a second ferment because this us when the flavor and fizz happens.
To flavor plain kombucha at home simply infuse with fruits, herbs or flowers then bottle and ferment again.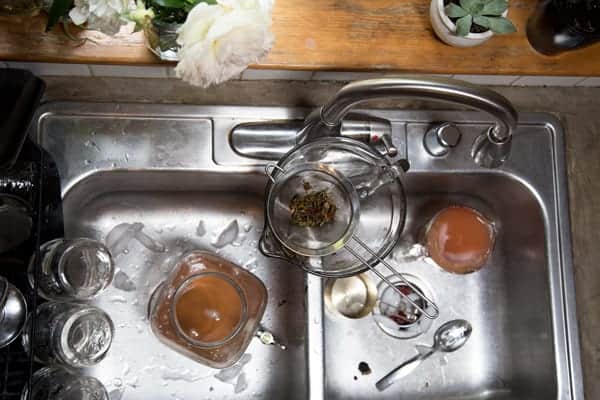 Simply add fruits, herbs or flowers to already brewed kombucha. The fruit can be in chunk form, purée, or as a juice and it adds just the right amount of flavor and fizz.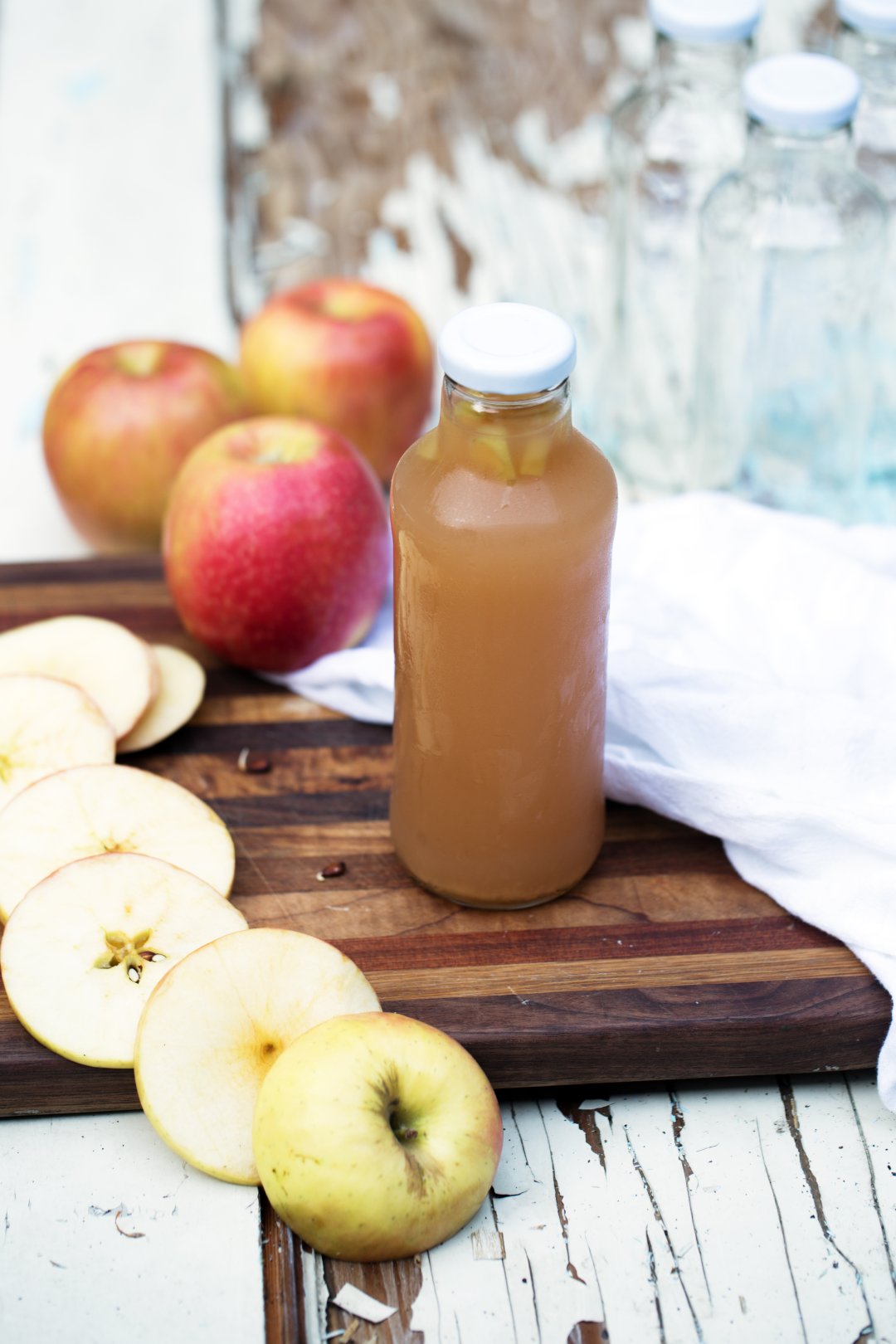 I usually experiment with flavors based on what's available seasonally. Strawberry Basil, Blueberry Honey, Lemon Raspberry and Blackberry Mint are all very delicious kombucha flavors.
But of all the different tea, fruit, herb combinations I have mixed up Pink Lady Apple Kombucha is my favorite. The lightly sweet, tart flavor of the tea is a perfect pair for unfiltered apple cider.
Tart kombucha tea with juicy pink lady apples and not too sweet apple cider.  Hands-down favorite homemade kombucha yet.
Ingredients
Plain kombucha – either home brewed or store bought
Pink lady apples – diced
Apple cider – the most unfiltered you can find
Step by step instructions
For Pink Lady Apple Kombucha's second fermentation divide cubed apples among bottles.
Add apple cider to fill the bottle no more than 30%.
Fill each bottle with plain kombucha leaving very little headspace so that it gets fizzy faster.
Let sit at room temperature (70- 85 degrees) for at least 72 hours up to 7 days.  Warning. The more sugar from fruit and juice, the faster the kombucha will fizz up and the greater the risk of explosion.
Store refrigerated to greatly slow fermentation until ready to serve.
Enjoy!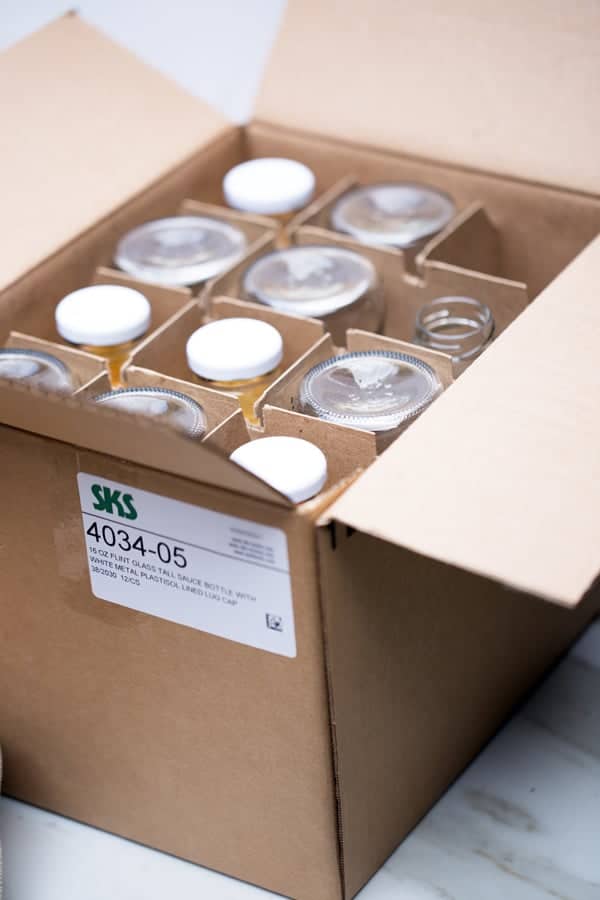 How to reduce the risk of exploding kombucha
Kombucha bottle explosion is no joke. Fizz is great but too much fizz is really bad.
Good quality containers really reduce the risk, but I have also learned that it is best to store lidded kombucha in a covered box during second fermentation to reduce the damage from exploded kombucha bombs. Labeling the bottles with a Fermented Since date via sticker or chalk marker is also very helpful in preventing over fermentation.
How to serve
After chilling serve apple kombucha over ice or use as a mixer for cocktails or mocktails.
The apple flavor pairs well with gin or whiskey or as a substitution for apple cider in cocktail recipes like Harvest Cider Whiskey Spritz. Or to replace cider vinegar in homemade dressings like this Herb Cider Vinaigrette.
Ingredients
64

oz

plain kombucha

either home brewed or store bought

1 ½

cups

pink lady apples

diced

3

cups

apple cider

unfiltered
Instructions
Divide the chopped apples and cider into 16 ounce lidded bottles ensuring that the total fruit/juice amount does not exceed 30% of the bottle.

Pour plain kombucha to fill leaving very little headspace, so that it gets fizzy as fast as possible. Secure lids.

Let sit at room temperature (70- 85 degrees) for at least 72 hours up to 7 days.

Then store the bottled kombucha in the refrigerator until you are ready to drink.
Notes
The longer you let the second ferment sit at room temperature the more the vinegar flavor will develop. With increased fermentation you also increase the risk of explosion. Fermenting inside a cardboard box is recommended.
Nutrition
Calories:
73
kcal
|
Carbohydrates:
18
g
|
Sodium:
14
mg
|
Potassium:
264
mg
|
Sugar:
14
g
|
Vitamin A:
15
IU
|
Vitamin C:
2.5
mg
|
Calcium:
11
mg
|
Iron:
0.2
mg
Nutrition Facts
Pink Lady Apple Kombucha
Amount Per Serving
Calories 73
% Daily Value*
Sodium 14mg1%
Potassium 264mg8%
Carbohydrates 18g6%
Vitamin A 15IU0%
Vitamin C 2.5mg3%
Calcium 11mg1%
Iron 0.2mg1%
* Percent Daily Values are based on a 2000 calorie diet.