A Karate Birthday Party is a great easy party theme idea for kids who love karate!
Last week I threw a karate themed birthday party for Fletcher's 7th birthday. Karate is his jam right now so it was no surprise when he chose it for his birthday theme. We rented his karate dojo for the event – with a group of twenty six and seven year olds who need a lot of space to get crazy this was the perfect choice!
Technically, Fletcher's birthday isn't until right before Christmas. We've learned over the years that since December is a crazy busy time for everyone and the week before Christmas is not good for turn out. I had the genius idea of throwing his birthday a month early and I smartly chose the week before Thanksgiving. Not the best, but still better than 12/18.
As with any event once we picked a theme I took to Pinterest to browse for ideas. Since I love getting the kids involved in their planning I let Fletcher search for ideas that stood out to him and we pinned them all.
There are more ninja parties than karate specific parties so we searched for both and found a ton of ideas. Some of my favorites came from The Party Wall's elaborate ninja party. Check it out for crafts, games and meal ideas.
Since Fletcher's birthday was not during a meal time and taking place at a dojo with karate lessons and games already planned, I didn't get a chance to use too many of the ideas. We kept it simple with snacks and sweets and let the sensei take the reigns on activities.
I always use the invitations as a way to set the tone for the party and build excitment. For this, I knew I wanted to create a scroll invitation. I found this tutorial and used it as inspiration.
The scrolls are from Oriental Trading Company and I printed them right at home on my inkjet printer. A printable version of my scroll invitation can be downloaded here and filled in.
My whole family loves Pocky and Hi Chew candies, so I knew we had to incorporate japanese candy. I purchased a variety of Pocky flavors and Hi Chews as well as fortune cookies and Botan Rice candy.
I set up an assembly line and my family helped fill the take out box goody bags with the japanese candy, lucky coins, and ninja action figures. We tied beginner chopsticks to the top of each with grosgrain ribbon.
The take out boxes were as beautiful as they were fun and the parents enjoyed them almost as much as the kids.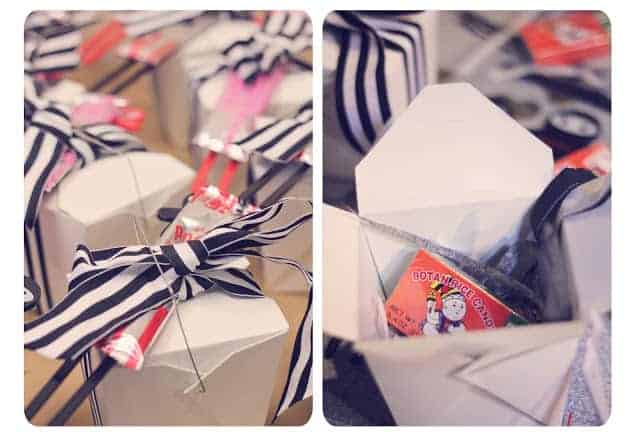 Decorations were kept to a minimum since the dojo has all the charm and character needed for a karate party. I hung 'Happy Birthday' vertical banners and a hand painted scroll.
Tables were lined with simple Kraft paper and topped with all the goodies.
Rice Krispie 'sushi' in a bamboo steamer.
Fruit swords, vegetable dragon roll and babybell cheese ninjas.
I also piled up store bought rice rolls, extra Pockys, fortune cookies and candies all over the table.
The cake and cupcakes are my favorite triple chocolate cake topped with fluffy frosting.
The ninjas cake topper fit with the red, black, white, gold and brown color scheme perfectly and I used fortune cookies to top the cupcakes.
As guests arrived they were greeted by the karate instructor and started out playing some of Fletcher's favorite karate class games.
After a lesson on kicking and the fundamentals of karate – respect, honesty, manners, focus, confidence, leadership and self discipline – they watched the birthday boy break a board in half with his hand then snacked on sweets while he cut his cake with a samurai sword.
I think the party was a success! Fletcher had a smile on his face the entire time. Turn out was great despite the holiday season and the kids treated me like a celebrity at the school a few days later PLUS a mom even asked if she could pay me to plan her parties. I call that a win.
Sources
Venue – Boom Elite Martial Arts
Scrolls – Oriental Trading Company
Take out boxes – Amazon
Ribbon – Amazon
Chinese coins – Amazon
Ninja action figures – Oriental Trading Company
Ninja training chopsticks – Oriental Trading Company
Happy Birthday vertical banner – Oriental Trading Company
Wall scroll – Amazon
Food swords – Oriental Trading Company
Gold cupcake liners – Wilton
Black food marker (for the babybell ninjas) – Bakerpan
Save