Bacon Corn Chowder is a hearty corn soup made with fresh or frozen corn, smoky bacon, herbs and potatoes.
The best easy creamy chowder recipe that can be on the table in under thirty minutes!
Corn chowder recipe
When the nights start to cool down there's nothing more comforting than a warm bowl of soup. And this Bacon Corn Chowder is the perfect way to kick off the start of soup season right when delicious corn on the cob is in season in late summer and early fall.
Chowder is a thick soup that originated in the French caribbean, most likely in the 17th century based on the names for the vessel that the soup was cooked in, whether the French word for cauldron 'chaudron' or 'chodier', a French Caribbean Creole name for a large cooking pot or bucket.
Over time chowder became known as a soup for seafarers consisting of fish, salt pork and onions stewed and thickened with biscuits, commonly the rationed biscuits called 'hardtack'. And chowder is now known as a thick soup or stew made with seafood or corn with potatoes, onions and milk.
The most common chowder is known as New England Clam chowder, a creamy chowder with clams, pork and potatoes. There are also other versions of chowders like Fulton Market style chowder, also called Manhattan Clam Chowder, New York Clam Chowder or Coney Island Clam Chowder, commonly made with tomatoes and allspice.
Like most corn chowders this corn chowder recipe a creamy chowder similar to New England Clam Chowder, with corn being used instead of clams. You can make corn chowder with fresh corn, frozen corn or even canned corn. The fresh corn will add a touch of sweetness to the chowder but chowder is a savory soup and not overly sweet.
You can even make a spicy corn chowder that cuts the natural sweetness of the corn with jalapeno or a drizzle of hot sauce.
However you choose to serve it this Bacon Corn Chowder recipe puts a delicious, hearty, comforting chowder on the table in just around 30 minutes!
Ingredients
Bacon – corn chowder recipes with bacon are very typical because smoky bacon adds such a great depth of flavor to the corn soup. But you can make corn chowder without bacon too! Stir in some crab, smoked salmon, shrimp, lobster or clams to make seafood corn chowder. Or substitute ham, chicken, or sausage for the bacon.
Corn – sweet corn is in season typically around May through September. Which makes corn chowder a perfect recipe to use corn. Because corn is in season as the weather starts to cool down which is also the beginning of soup season! But, since sweet corn on the cob is available at grocery stores year round you can still make this even when there is not farm fresh corn at the market. You can even make this corn chowder with frozen corn or canned corn.
Stock – vegetable or chicken stock gives corn chowder lots of flavor in a little time. But if you have more time you can even make corn stock from the corn cobs. To make corn stock simply cut corn kernels off cobs then simmer the cobs in water.
Butter
Onion
Scallions – or substitute leeks
Garlic
All purpose flour
Thyme – dried thyme or fresh thyme
Celery
Potatoes – the best potatoes for chowder are yukon gold which have a nice creamy texture but also keep their shape well. You can also substitute russet potatoes or make chowder without potatoes.
Milk – whole milk or cream can be substituted instead. Or make dairy free corn chowder without cream or milk by substituting your favorite non dairy milk like almond milk or oat milk.
Salt and pepper
Step by step instructions
If using fresh corn for chowder begin by cutting corn kernels off the cobs.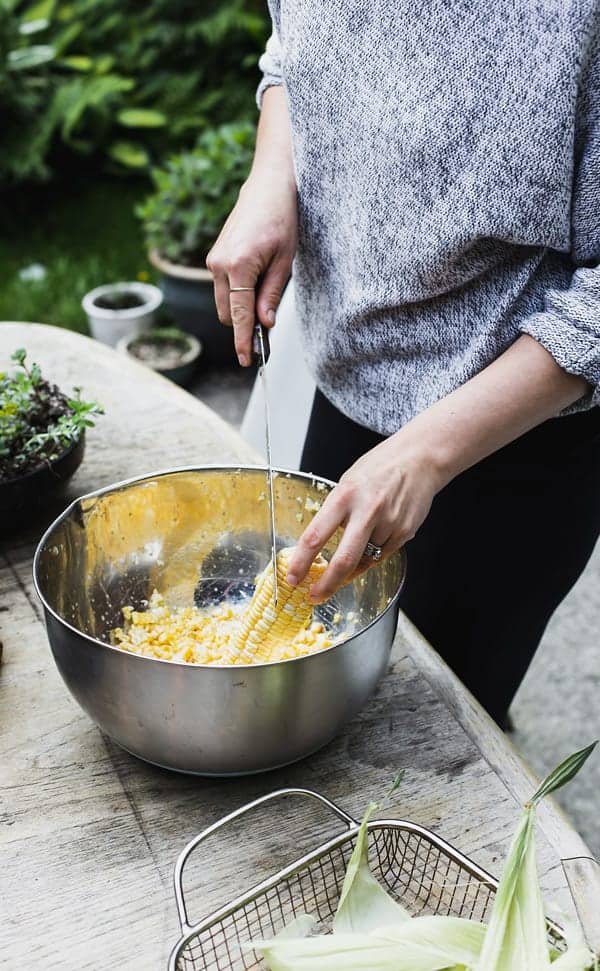 Then use the fresh corn for chowder and add corn cobs to stock or water in a large pot. Simmer the corn cobs to flavor the liquid and make a flavorful fresh corn stock. Or you can simply discard the cobs and use only chicken or vegetable stock if you'd prefer.
In another large saucepan or dutch oven cook bacon until crispy over medium high heat. Then set bacon aside for later, leaving rendered bacon grease in pan.
Add the celery, garlic, onions and herbs to rendered fat and cook until soft fragrant.
Then sprinkle flour over aromatics to make a roux that will thicken the chowder. If you'd rather make a gluten free corn chowder you can leave out the flour and slightly mash some potatoes instead to thicken the chowder.
Add corn infused stock while stirring and bring chowder to a simmer.
Then add diced potatoes and corn kernels and simmer until potatoes are tender.
Then reduce heat and add in the milk and most of the crispy bacon bits, reserving the rest of the bacon to garnish the chowder with. Season to taste with salt and pepper.
Serve chowder with additional bacon, scallions, hot sauce and anything else you'd like to top the chowder with.
Enjoy

!
Customize it!
To make Bacon Corn Chowder in a slow cooker brown bacon and render fat then place all ingredients except milk and flour in crock pot and set to desired time. When ready to serve whisk flour into room temperature milk then stir into soup to thicken. Stir in bacon and scallions then season to taste with salt and pepper and serve.
To make Bacon Corn Chowder in an instant pot pressure cooker use the sear setting to brown bacon, set aside, then add the remaining ingredients, except milk and flour, cook for 5 minutes, de-pressurize 10 minutes then whisk milk and flour and whisk into soup to thicken. Stir in bacon and scallions then season to taste with salt and pepper and serve.
How to serve
Wondering what goes with corn chowder? Chowders and stews are best served with a with a variety of toppings to add flavor and texture. Like sliced scallions, hot sauce, and fresh herbs like cilantro or basil. All of which make excellent corn chowder topping options. You can also serve corn chowder with sliced radishes, diced avocado and even corn nuts or popcorn which add amazing texture to the corn soup.
Serve corn chowder with salad and a sandwich or some rustic bread, dumplings, biscuits, or anything else that you can dip in the soup because OF COURSE something crusty and carby is required for dipping into the corn chowder.
To cut through the buttery rich chowder a buttery but refreshing glass of chardonnay is the perfect pair.
How to store
Corn chowder will stay good in the fridge refrigerated for up to 4 days. Or corn chowder can be frozen up to 3 months.
To freeze corn chowder place in freezer bags or vacuum seal and place the bags flat in the freezer. Corn chowder can be frozen for up to 3 months. To serve simply defrost refrigerated and reheat on the stovetop or in the microwave.
Yield
This recipe makes roughly 6 small bowls of soup. Perfectly portioned for 3 to 4 people with light appetites and families who don't like to have leftovers. But if you love having a big ole bowl of chowder for dinner and leftovers for the week I highly suggest making a double batch.
Ingredients
1

pound

bacon

2

cups

corn kernels

from roughly 4-6 ears of corn

4

cups

chicken stock

2

cups

water

2

tablespoons

unsalted butter

1

medium

onion

chopped

¼

teaspoon

dried thyme

or about 1 tablespoon fresh

2

medium

scallions

sliced whites and greens separated

4

cloves

garlic

diced

4

tablespoons

flour

2

stalks

celery

chopped

2

medium

yukon gold potatoes

or russet, peeled and cubed

1

cup

whole milk

or cream

salt and Pepper

to taste
Instructions
While bacon is still cold chop into roughly ½ wide slices.

Bring chicken stock to a simmer with 2 cups of water in a large stockpot.

Meanwhile, stand corn on end in a large bowl and cut kernels from corn cobs. The 4 ears should yield about ½ cup kernels each for 2 cups total. Scrape cobs with the back of a knife to remove the sweet inner pieces and add this and any juice to the bowl. Then place cobs in simmering stock mixture.

In a large pot brown bacon over medium heat. When crispy and most of the fat has rendered place bacon bits to the side and remove all but 3 tablespoons grease. Add butter, onion, thyme, leeks and scallion whites and ¼ teaspoon salt. Sauté until softened, about 5 minutes. Add the celery and garlic and sprinkle the flour over cooking until flour is lightly browned, about 3 minutes.

Meanwhile, strain corn cobs from stock into a large measuring bowl and add water to bring back to 6 cups total as some may have boiled down and reduced.

Increase heat to medium high and slowly add strained stocked, scraping up any flavorful bits off the bottom while it deglazes. After all broth is added and the mixture comes to a boil add the fresh corn and potatoes and simmer over medium low until potatoes are tender, about 12 minutes.

Reduce heat to medium, add milk and ½ of the bacon bits, reserving the rest for topping the bowls. Season to taste with salt and pepper and serve topped with scallion greens, remaining bacon bits and and garnished with fresh thyme, if desired.
Nutrition
Calories:
548
kcal
|
Carbohydrates:
33
g
|
Protein:
19
g
|
Fat:
38
g
|
Saturated Fat:
13
g
|
Cholesterol:
68
mg
|
Sodium:
812
mg
|
Potassium:
850
mg
|
Fiber:
3
g
|
Sugar:
9
g
|
Vitamin A:
435
IU
|
Vitamin C:
14.2
mg
|
Calcium:
91
mg
|
Iron:
3.2
mg
Nutrition Facts
Bacon Corn Chowder
Amount Per Serving
Calories 548
Calories from Fat 342
% Daily Value*
Fat 38g58%
Cholesterol 68mg23%
Sodium 812mg35%
Potassium 850mg24%
Carbohydrates 33g11%
Protein 19g38%
Vitamin A 435IU9%
Vitamin C 14.2mg17%
Calcium 91mg9%
Iron 3.2mg18%
* Percent Daily Values are based on a 2000 calorie diet.