Fruity PEBBLES™ Cereal Milk Macarons are a perfect classic vanilla macaron shell with colorful flecks of tropical fruit flavored cereal and finished with a cereal milk cream macaron filling.
Jump to:
Cereal milk macarons
With gluten-free cereal 'flour' in the macaron shells and filled with a stabilized whipped cream made from PEBBLES™ cereal milk cream. These gluten-free treats look like a festive birthday cake macaron but the flavor is all Fruity PEBBLES™.
Fruity PEBBLES™ cereal and French macarons are a match made in heaven. Made with almond flour, sugar and egg whites, macarons are (and have always been) gluten-free. And so have Fruity PEBBLES™ which are made with sweetened crispy rice! But even though gluten-free they're both equally loved by everyone – gluten-free and gluten-full alike! So why not double up the gluten-free goodness with a macaron + cereal mashup infusing macarons with TONS of Fruity PEBBLES™ flavor!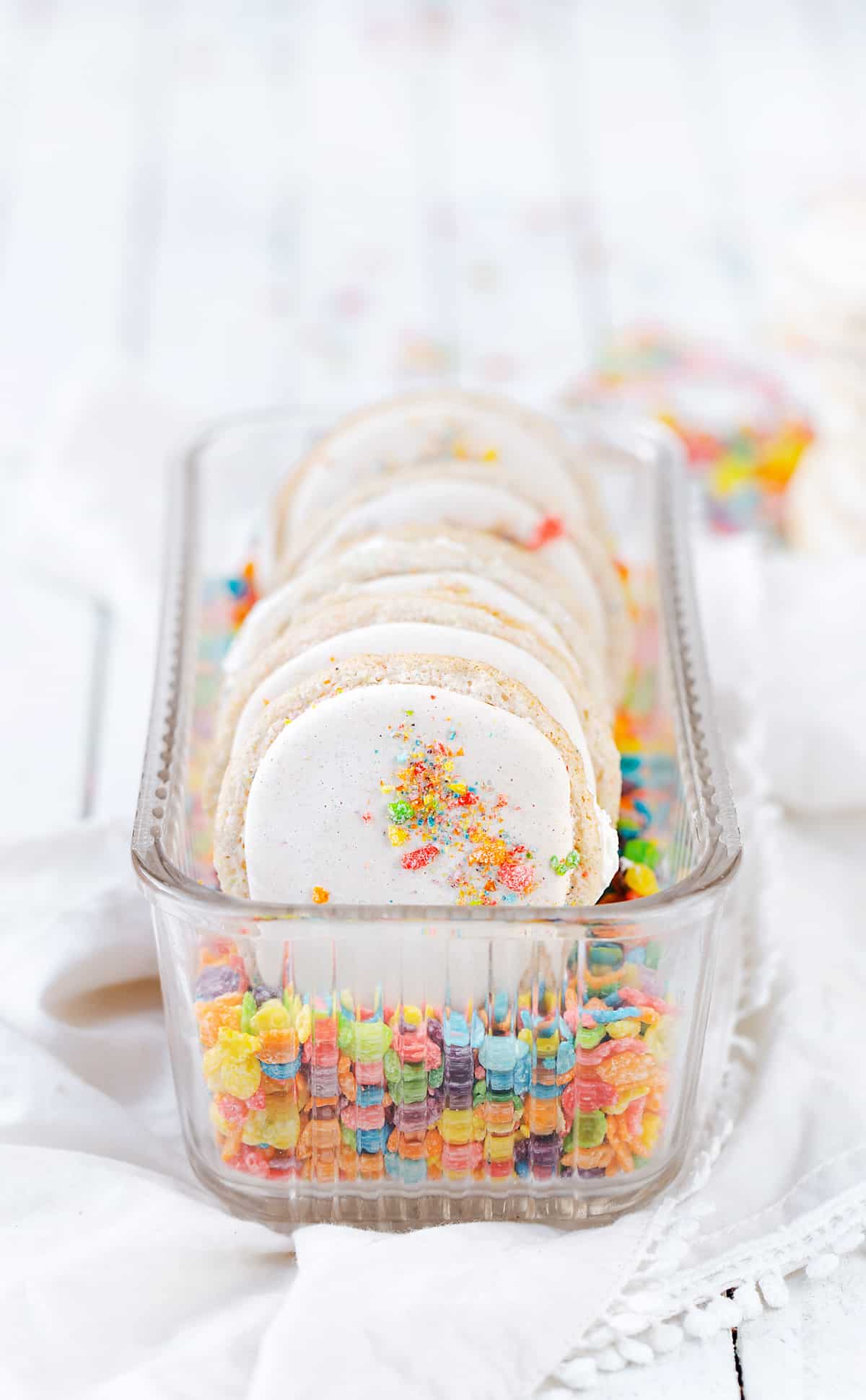 There are all sorts of recipes using Fruity PEBBLES™ as a way to amp up the flavor. Donuts, cereal bars, cheesecake, French toast, ice cream, cupcakes and more! So why not Fruity PEBBLES™ Cereal Milk Macarons?!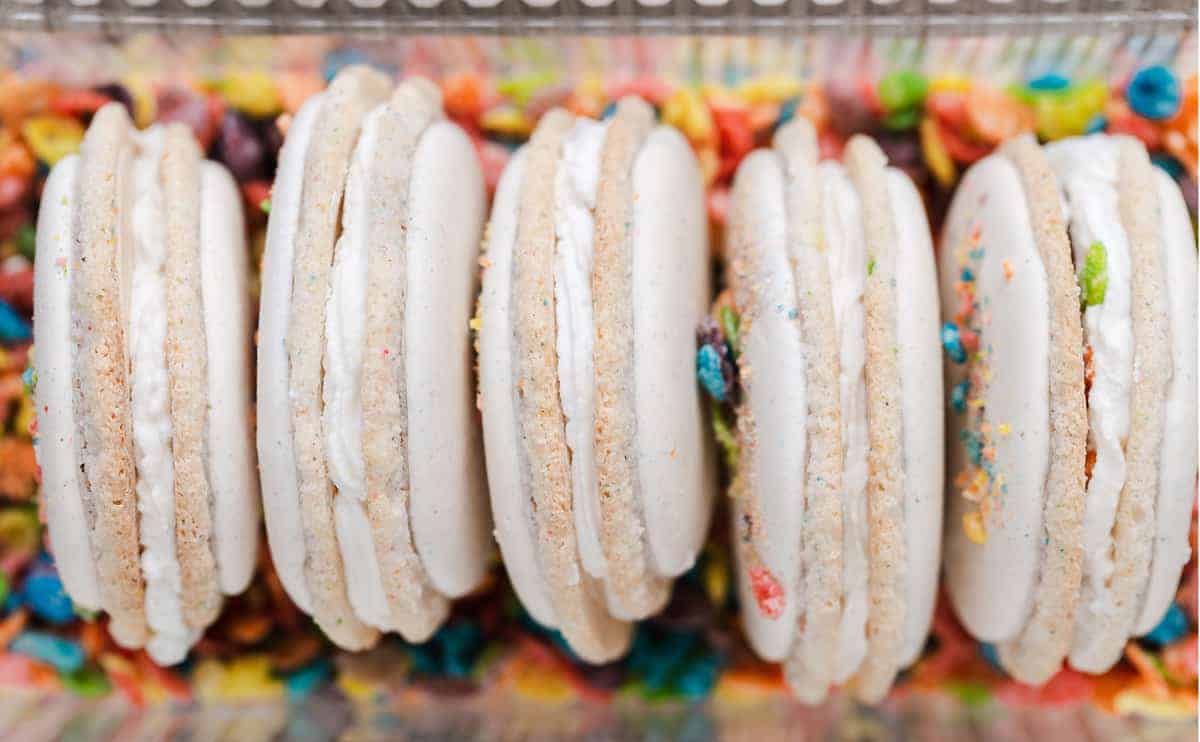 Making beautiful macarons from scratch that are full of fruity flavor is easy with a few essential tools and ingredients and a perfect macaron recipe.
Ingredients
Almond flour – also called almond meal. Almond flour is just finely ground almonds. Either grind your own or purchase almond flour or 'meal'. I recommend purchasing your own then giving it a few whizzes in the food processor or high powered blender to make it even more fine.
Confectioners sugar – also called powdered sugar
Fruity PEBBLES™ cereal – for the fruity flavor and bright pops of rainbow color that make these cookies so fun.
Egg whites
Granulated sugar
Heavy whipping cream
Powdered gelatin
Tools
Baking sheets
Candy thermometer
Kitchen scale that measures grams
Piping bag and ½″ round piping tip
Stand mixer or good quality whisk and strong arms for whipping meringue to stiff peaks
Parchment paper or silicone baking liners – essential for baking light crisp macarons without over browning or sticking
Room temperature egg whites – cold eggs are much more difficult to whip
Fruity PEBBLES™ cereal –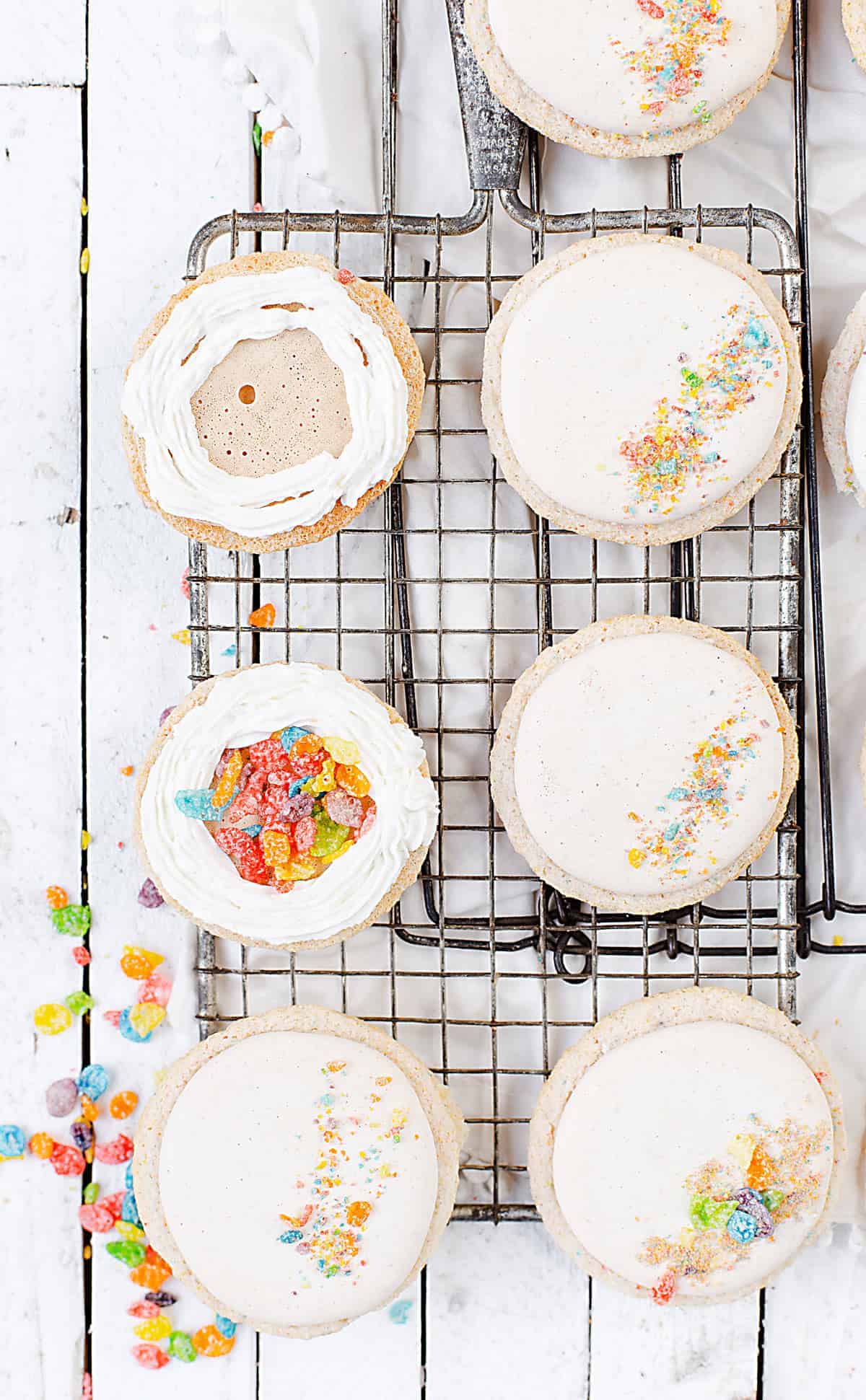 Step by step instructions
Process PEBBLES™ – Make Fruity PEBBLES™ 'flour' by pulsing Fruity PEBBLES™ until super fine. Crush ¼ cup PEBBLES™ and set aside to decorate the tops of the macaron shells later.
Prep – Soak ½ cup PEBBLES™ in 1 ½ cups heavy cream and place in the refrigerator to chill. Measure all ingredients with kitchen scale, line baking sheets with silicone mats or parchment paper, fit piping bag with round tip, and preheat oven to 350 degrees Fahrenheit.
Make Batter 'Paste' – Pulse almond flour until completely fine then sift it with PEBBLES™ flour and powdered sugar until no lumps remain. Add egg whites and fold until blended into a thick paste.
Make Italian Meringue – Combine egg whites whipped to soft peaks with hot sugar syrup and whip together until glossy stiff peaks form.
Mix Macaron Batter – Gently fold meringue into paste until smooth and ribbons run off the spatula.
Pipe – Make 1" rounds on prepared baking sheets and decorate half with PEBBLES™ cereal. These will be the macaron 'tops' while the undecorated halves will be used as the bottoms. Allow to rest at room temp until a skin has formed.
Bake – Start the oven at 350 then reduce to 325 after each sheet that you put in to bake. This will help form a nice tall 'foot' on the macaron shells.
Make Filling – Strain cereal from cream. Then whip with powdered sugar and gelatin to make Cereal Milk Cream macaron filling.
Assemble – Once cool pipe a generous round of cereal milk cream around the edge of the undecorated shells shells. Then sprinkle some whole PEBBLES™ in the center and top with a decorated shell.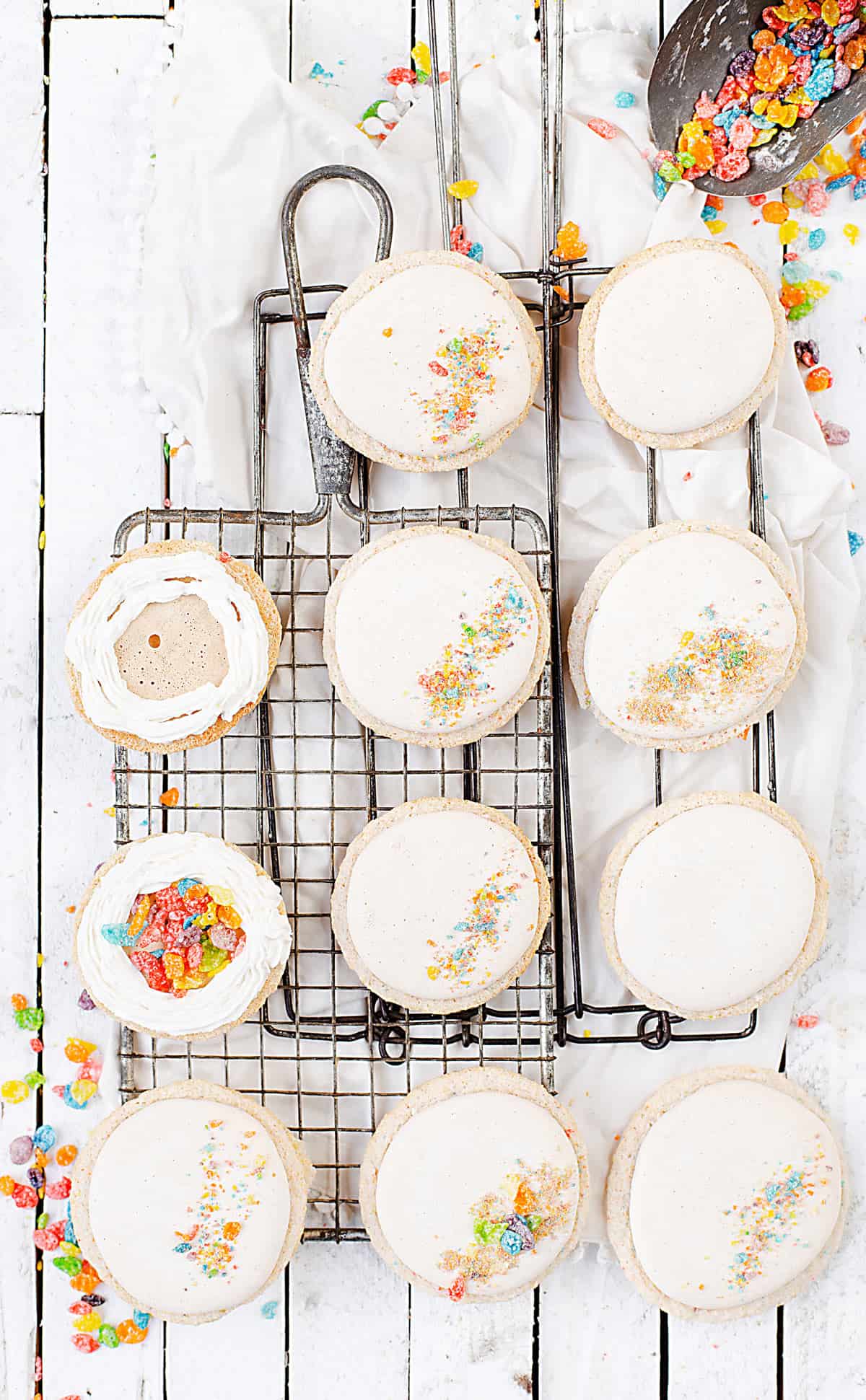 Enjoy!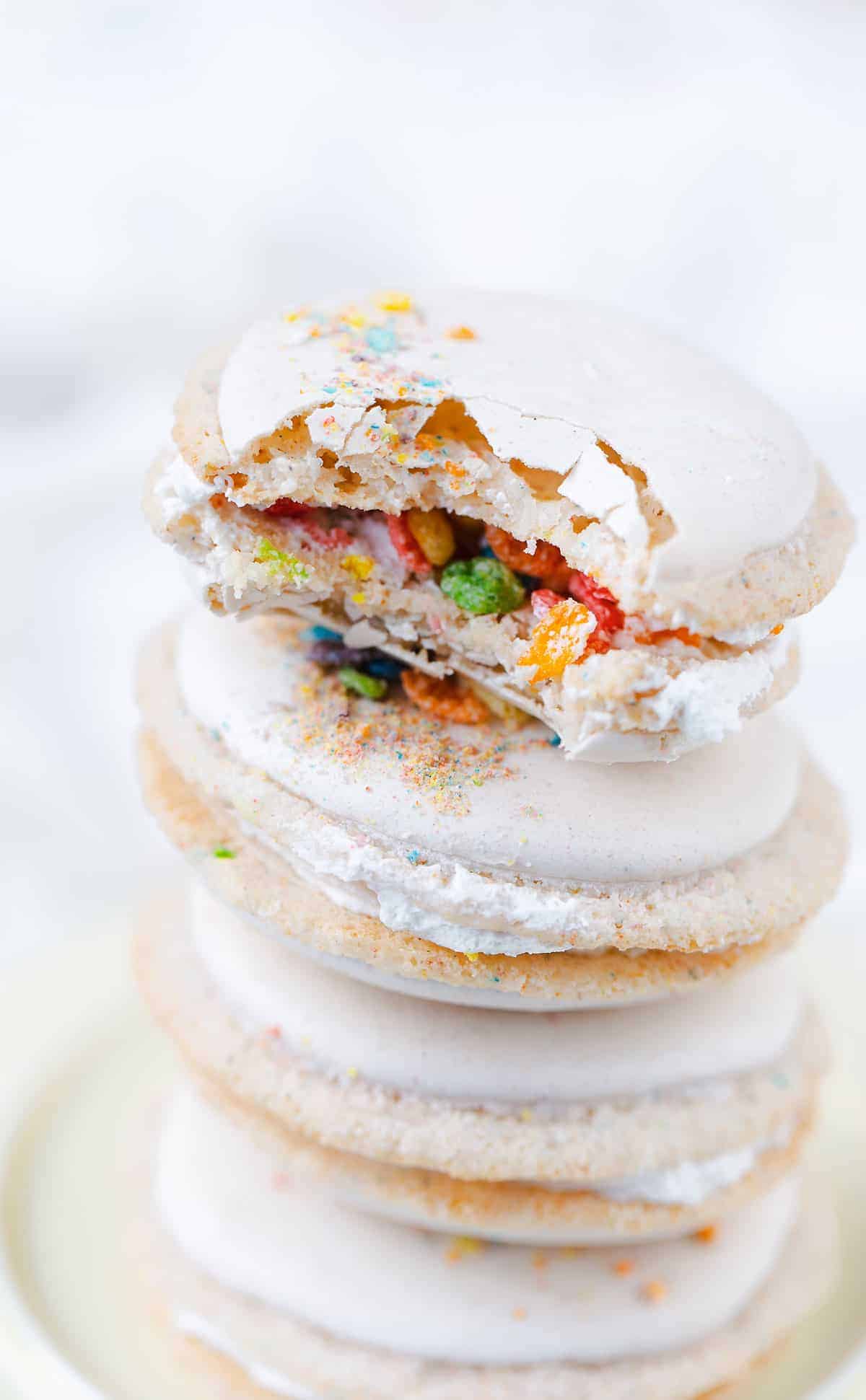 Yield
This recipe will yield roughly 36 filled macarons.
How to store
Store cereal milk macaron shells in an airtight container at room temperature for a day, refrigerated for up to 7 days or freeze for up to 6 months.
Cereal milk cream macaron filling will maintain its shape at room temperature for a couple of hours, but it's best store filled macarons refrigerated.
Ingredients
PEBBLES™ cereal milk macaron shells
187

grams

almond flour

or almond 'meal', about 2 cups

212

grams

powdered sugar

about 2 ¼ cups

25

grams

powdered Fruity PEBBLES™

82

grams

egg whites

room temperature

90

grams

egg whites

room temperature

236

grams

granulated sugar

about 1 ¼ cups

158

grams

water

about ⅔ cup

¼

cup

Fruity PEBBLES™

lightly crushed

¼

cup

Fruity PEBBLES™

whole
PEBBLES cereal milk cream macaron filling
½

cup

Fruity PEBBLES™

2

cups

heavy whipping cream

¼

cup

powdered sugar

1

teaspoon

powdered gelatin
Instructions
Preheat oven to 350 degrees Fahrenheit.

Grind Fruity PEBBLES™ cereal to a fine dust in a high-powered blender, food processor or by hand using a rolling pin and a freezer bag (must finely strain if doing by hand to eliminate any large pieces).

Combine ½ cup PEBBLES™ and 1 ½ cups heavy whipping cream in a medium bowl then place in the refrigerator to chill until the flavor is infused, about an hour or more. The color will not bleed but the flavor will.

Then weigh all ingredients with the kitchen scale and set aside, ensuring that you remember which egg whites are 90 and which are 82.

Line baking sheets with silicone mats or parchment paper and fit piping bag with the round tip. Place prepped piping bag in a large glass to hold it upright.

Combine powdered sugar and almond flour in a food processor and pulse until very fine, about 15 times.

Pour into a large bowl, whisk in fruity PEBBLES™ powder then sift together to mix and remove any remaining lumps.

Pour dry ingredients into a large bowl and make a well in the center. Carefully pour the 82 grams of egg whites into the center. Fold until well blended into a thick paste and set aside.

Gently heat granulated sugar and water in a small saucepan over medium heat fitted with a candy thermometer and place a stand mixer fitted with the whisk attachment, or in a large mixing bowl using an electric mixer, nearby.

Once the temperature reaches 200 degrees place the 90 grams of egg whites in the stand mixer and whisk on medium speed until soft peaks form (when beaters are lifted out of the bowl the tip of the meringue flops over slightly). Then turn to low speed only to keep the whites moving and prevent them from separating while continuing to heat syrup to 248 degrees Fahrenheit.

As soon as syrup reaches 248 degrees remove from heat and increase mixer speed to medium and carefully pouring the syrup down the side of the mixing bowl until thoroughly combined. Then increase the speed to medium high and whisk sugar and egg whites together until glossy and stiff peaks form (will stand straight up without flopping over when beaters are lifted)

Once your Italian meringue has reached stiff peaks, gently fold into the almond/powdered sugar paste in thirds, until completely smooth and thick ribbons run off your spatula.

Transfer batter to prepped piping bag. Holding the piping bag directly above the prepped baking sheet, pipe 1″ rounds about 1″ apart. Once all the rounds are piped, sprinkle a stripe of crushed PEBBLES™ down the side of half of the circles, leaving half unadorned. Give the sheet a couple good whacks on the counter to help release any air bubbles, then allow them to rest at room temperature until a skin has formed. This depends on the humidity of your kitchen and how large your cookies are among other factors, but it's usually around 15-30 minutes. You know they're ready when you can touch them and no batter sticks to your finger.

Once the skin has formed, place macarons in the middle rack of the oven, reduce heat to 325 degrees, and bake for 10-12 minutes.

Remove from oven and cool on baking sheet 3-5 minutes before transferring to a cooling rack.

Repeat for remaining macarons, increasing oven back to 350 degrees before baking each batch, then again reducing to 325.

Meanwhile, make cereal milk cream. Place a couple teaspoons of cool water in a small bowl and sprinkle gelatin over. Allow to dissolve then heat until clear and set aside to cool. Strain cereal from heavy cream using a fine mesh strainer and pressing down on the solids to remove as much of the liquid as possible. Add additional cream to bring the total amount of liquid to 1 cup total then place in mixing bowl. Add powdered sugar and whip the mixture until it starts to thicken and soft peaks form, then turn the mixer to low speed. Slowly pour in the gelatin mixture until well combined. Increase the mixer to medium speed and continue mixing until stiff peaks form.

Once completely cool and ready to assemble, flip over the half of the shells that do not have a PEBBLES stripe and pipe a generous round of cereal milk cream around their edges. Sprinkle the space in the center with whole Fruity PEBBLES and top with one of the shells with a PEBBLES stripe.
Nutrition
Calories:
131
kcal
|
Carbohydrates:
15
g
|
Protein:
1
g
|
Fat:
7
g
|
Saturated Fat:
3
g
|
Cholesterol:
18
mg
|
Sodium:
20
mg
|
Potassium:
13
mg
|
Sugar:
13
g
|
Vitamin A:
240
IU
|
Vitamin C:
0.4
mg
|
Calcium:
20
mg
|
Iron:
0.3
mg
Nutrition Facts
Fruity PEBBLES™ Cereal Milk Macarons
Amount Per Serving
Calories 131
Calories from Fat 63
% Daily Value*
Fat 7g11%
Cholesterol 18mg6%
Sodium 20mg1%
Potassium 13mg0%
Carbohydrates 15g5%
Protein 1g2%
Vitamin A 240IU5%
Vitamin C 0.4mg0%
Calcium 20mg2%
Iron 0.3mg2%
* Percent Daily Values are based on a 2000 calorie diet.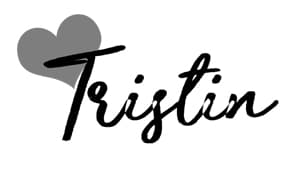 THE FLINTSTONES and all related characters and elements © & ™ Hanna-Barbera. (s19)