Cherry Clafoutis is a quick and easy (but super impressive!) dessert with a velvety custard like texture that's studded with delicious pockets of fresh juicy berries.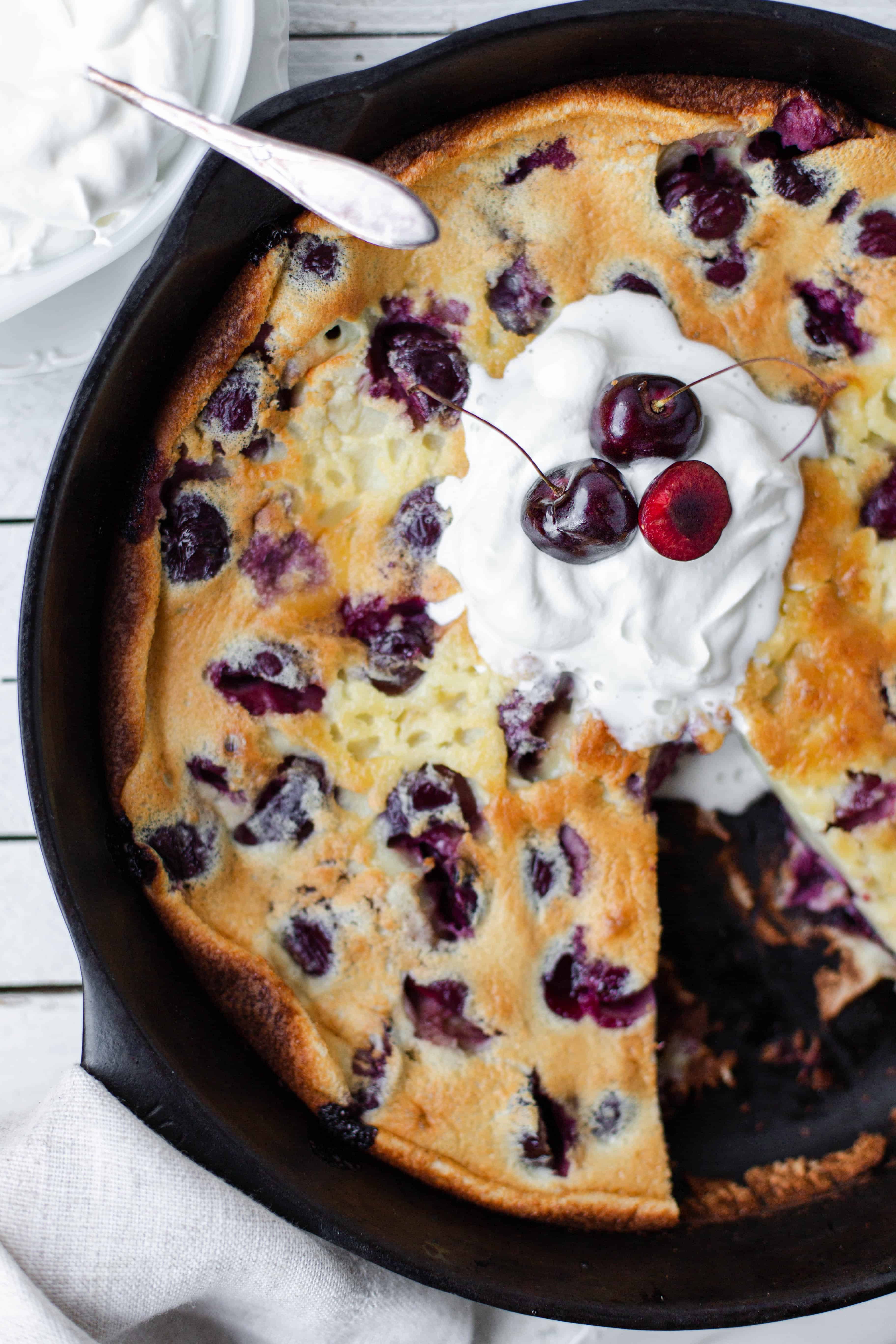 Clafoutis recipes are made with an an egg heavy batter similar to Dutch baby pancakes or Yorkshire pudding and although clafoutis is traditionally served as a dessert is can also be served at breakfast or brunch!
What is clafoutis
Clafoutis is a light custard like French dessert made of eggs, sugar, milk and flour originating from the cherry-producing Limoges region in central France. Pronounced 'kla-foo-tee' this French dessert is often spelled clafouti leaving off the silent s. And translates in French to 'batter pudding'.
Cherry Clafoutis puffs up (a lot!) when baking. Resulting in a light golden crust with creamy custard like interior. The taste of clafoutis is often described as being a dense thick custard dessert like flan or creme brulee. Basic clafoutis batter is not too sweet on it's own. The cherries, or other fruit studded throughout the custard, add sweetness and little bursts of flavor.
You can also make clafoutis without fruit. But traditionally clafoutis is made with cherries, unpitted black cherries specifically. This clafoutis recipe is made with pitted cherries, though, to make this dessert easier to serve to guests of all ages. Clafoutis can also be made into all sorts of variations using seasonal fruit. Like plum, pear, raspberry, apple clafoutis, fig, peach, apricot, grape or blueberry clafoutis. Blackberry clafoutis is also amazing and the bright purple fruit looks equally stunning as black cherries.
Ingredients
Cherries – or other fresh fruit. If substituting a fruit with a lot of juice, like pineapple or peaches, roast in the hot pan slightly to release excess juice before topping with batter.
Large eggs – it is important to not substitute a different size egg. Clafoutis may be rubbery if the eggs are too large. Or cakey if the eggs are too small.
Milk
Granulated sugar
Vanilla extract
All purpose flour
Butter
What to bake a clafoutis in?
A nice solid cast iron skillet retains heat well and works great for baking clafoutis. But you can also make individual servings in ramekins or even bake it in a tart pan or pie dish.
Step by step instructions
Adapted from Julia Child's Clafouti recipe from the book Mastering the Art of French Cooking volume one.
Preheat oven to 325 degrees Fahrenheit.
Whisk eggs, sugar and milk vigorously by hand then whisk in the flour until combined. You can also pulse in the blender being careful not to overmix the flour. Which could make clafoutis tough and rubbery instead of rich and luscious.
Place butter in oven safe skillet and place in preheated oven to warm just until butter melts.
Then remove pan from oven, swirl butter evenly over bottom and scatter cherries over top. This is also a great time to roast juicier fruits like pineapple to remove some moisture before baking.
Pour clafoutis batter over cherries. And return to oven to bake about 40-45 minutes. Clafoutis is done when the internal temp reaches 160 degrees or when a knife inserted in the center comes out clean instead of eggy and is firm to the touch but still slightly jiggly when the pan is shaken. Clafoutis should not be runny or rubbery. It should be light and fluffy and creamy.
Remove from oven and allow to cool slightly, about 5 minutes. The clafoutis will deflate slightly and will thicken as it cools.
Serve topped with a dusting of confectioners' sugar, whipped cream or ice cream.
Enjoy!
How to serve
Best served warm several minutes out of the oven while still poofy. You can serve as is or top with a sprinkle of confectioners' sugar. Or a dollop of freshly whipped cream or even a scoop of ice cream.
You can also enjoy room temperature or cold. Clafoutis firms up as it cools. And can be eaten by hand when chilled making it a great option for picnics.
Make ahead
You can make clafoutis ahead of time and serve slices cold or reheated slightly. But, since clafoutis really is best served a few minutes after it comes out of the oven, for best results prepare only the batter and fruit in advance. Then combine and bake before serving.
How to store
Store refrigerated once cool. Clafoutis lasts up to 5 days and can be eaten chilled or reheated slightly before serving.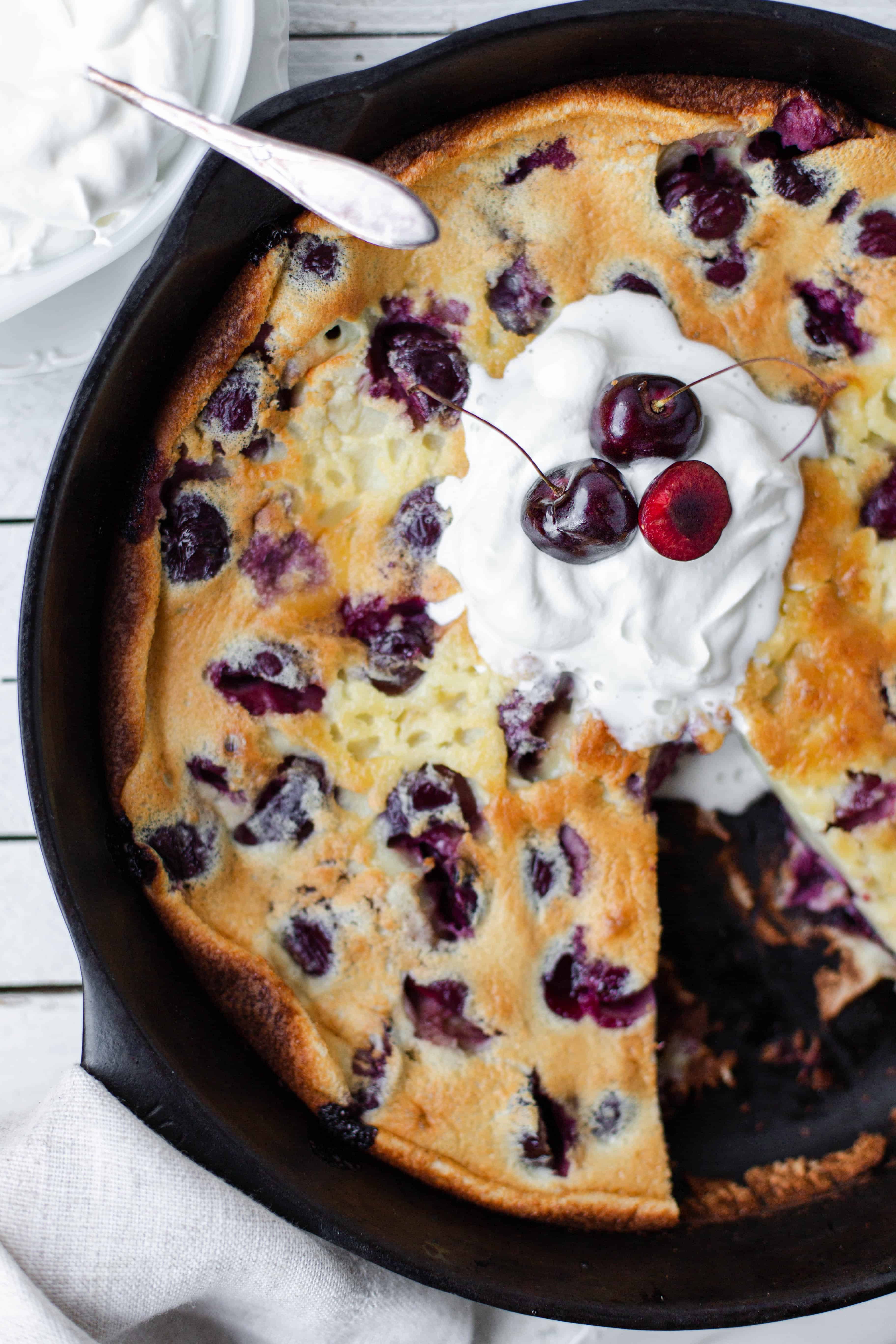 Ingredients
3

cups

cherries

stemmed, pitted and halved

1

cup

whole milk

½

cup

granulated sugar

3

large

eggs

1

teaspoon

vanilla extract

1

teaspoon

salt

⅔

cup

all-purpose flour

2

tablespoons

butter
Instructions
Preheat oven to 325 degrees Fahrenheit.

In a large bowl, whisk eggs, milk, sugar, vanilla, and salt.

Whisk in flour just until smooth, being careful not to overmix.

Place butter in oven safe skillet and place in preheated oven just to melt butter and warm pan slightly.

Remove from oven, carefully swirl butter over bottom and scatter cherries evenly over butter.

Pour batter over cherries and return to oven to bake until clafoutis is puffed and browned and only slightly jiggly, 40-45 minutes.

Remove and allow to cool slightly.

Serve as is or top as desired with confectioners' sugar, whipped cream, ice cream, etc.
Nutrition
Calories:
190
kcal
|
Carbohydrates:
30
g
|
Protein:
5
g
|
Fat:
6
g
|
Saturated Fat:
3
g
|
Polyunsaturated Fat:
1
g
|
Monounsaturated Fat:
2
g
|
Trans Fat:
1
g
|
Cholesterol:
81
mg
|
Sodium:
352
mg
|
Potassium:
200
mg
|
Fiber:
1
g
|
Sugar:
21
g
|
Vitamin A:
271
IU
|
Vitamin C:
4
mg
|
Calcium:
58
mg
|
Iron:
1
mg
Nutrition Facts
Cherry Clafoutis
Amount Per Serving
Calories 190
Calories from Fat 54
% Daily Value*
Fat 6g9%
Cholesterol 81mg27%
Sodium 352mg15%
Potassium 200mg6%
Carbohydrates 30g10%
Protein 5g10%
Vitamin A 271IU5%
Vitamin C 4mg5%
Calcium 58mg6%
Iron 1mg6%
* Percent Daily Values are based on a 2000 calorie diet.