Learn how to pack an Easy Snack and Spritzer Picnic with picnic food ideas, picnic basket essentials and more!
A picnic basket with a few essentials and a quick stop by the grocery store is all you need to Pack an Easy Snack and Spritzer Picnic.
Picnic ideas for easy picnic food
Whether you're looking for picnic suggestions and food for two (or for a crowd) you can have an elegant, relaxing and laid-back afternoon with these tips and just a handful of items that are quick and easy to grab at your local Kroger store.
Imagine this. You're stretched out on a blanket. Sun on your face with a plethora of yummy little things in front of you – chocolate, mixed nuts, fruits, and cheeses.
You're creating interesting flavor combinations from your snacking situation and enjoying the sparkly Mandarin Orange White Wine Spritzer in hand. A light refreshing fruity wine spritzer that was made in seconds with Canada Dry® with Orangeade Ginger Ale.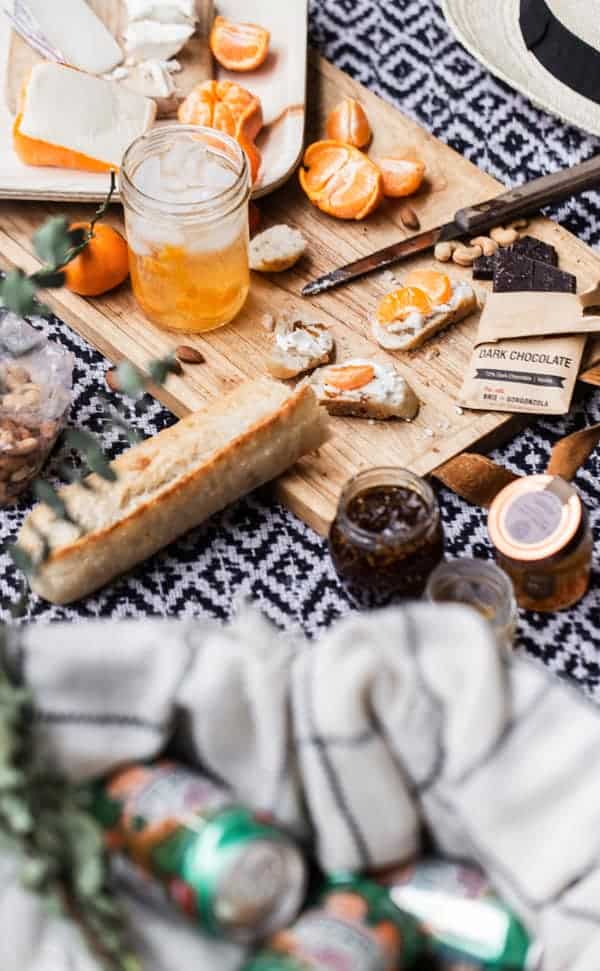 This post has been sponsored by Canada Dry®. All thoughts and opinions are my own.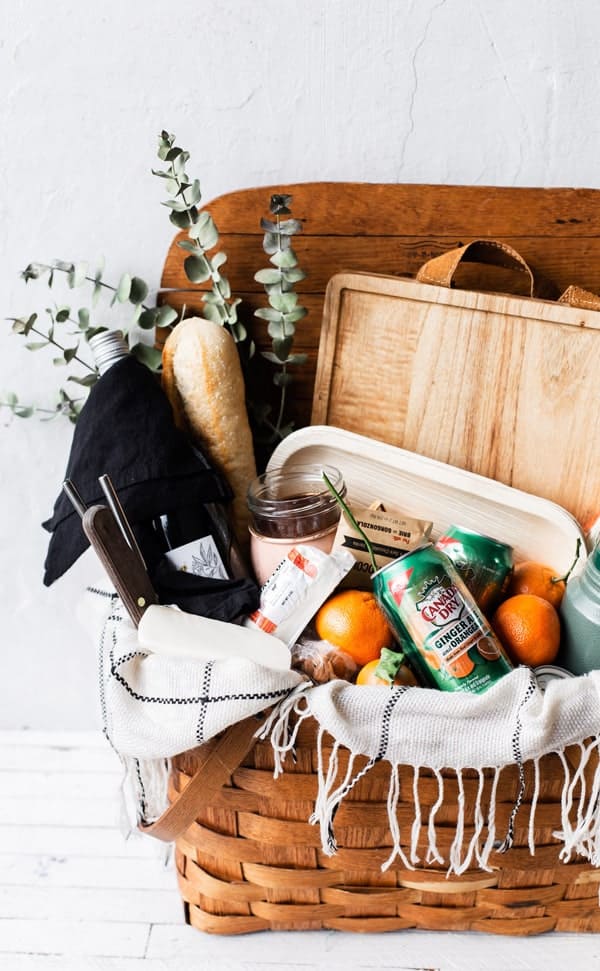 With this list of picnic essentials and picnic food ideas you can have an easy Snack and Spritzer Picnic basket packed up and ready to head out on adventure in minutes.
Perfect for an elegant, relaxing, laid-back afternoon.
I suggest keeping a basket, or other tote, filled with all the essentials then all you have to do is grab a few picnic foods and drinks and head out for an impromptu adventure to the woods , on the road or to the beach.
Picnic basket essentials
Picnic Basket – by all means, if you have a picnic basket, use that! But all you really need is a sturdy vessel that can transport quite a bit of stuff. A milk crate, large backpack, roomy beach bag or even a good quality reusable shopping bag would all work
Cutting Board – a clean, knife-friendly surface serves as a prep station, serving platter or extra plate. And is invaluable whether you're in the woods, at the neighborhood park or even in your own backyard
Corkscrew – find a cheap version so you can always keep one in the basket. Even better if you can find one that also has a bottle opener. Or only pack along glass-free beverages in cans that do not require a corkscrew.
Plates, Cutlery + Drinkware – a few forks, plates, cups & one all-purpose knife, either reusable plates and cutlery or biodegradable plates and cutlery are best to pack a sustainable picnic.
Trash Bag – make 'carry in, carry out' easy and keep a few trash bags in your basket. They also make excellent ponchos and can be sliced open and laid under the picnic blanket if the ground is damp
Blanket – the best picnic blankets are lightweight but large so that they can cover a good amount of space but fold down small
Towels – use sturdy kitchen towels to wrap up delicate items like wine bottles and soft fruits in the basket. Then use them to at the picnic to protect food from bugs and clean up messes like a champ
Mini Condiments – save packets of hot sauce, ketchup, mustard, jams, honey, and s + p from take-out, fast food and room service
Large Insulated Mug – fill with ice to use as a compact, portable ice bucket
First Aid – travel bug spray, sunblock, as well as a few band aids don't take up much space but are invaluable when you need them
Of course, if you frequently picnic with BBQs or picnic at the beach, you can also keep fire starter, briquettes, matches, an oyster knife and tools for cracking shellfish in your basket. Customize it to what's essential to you.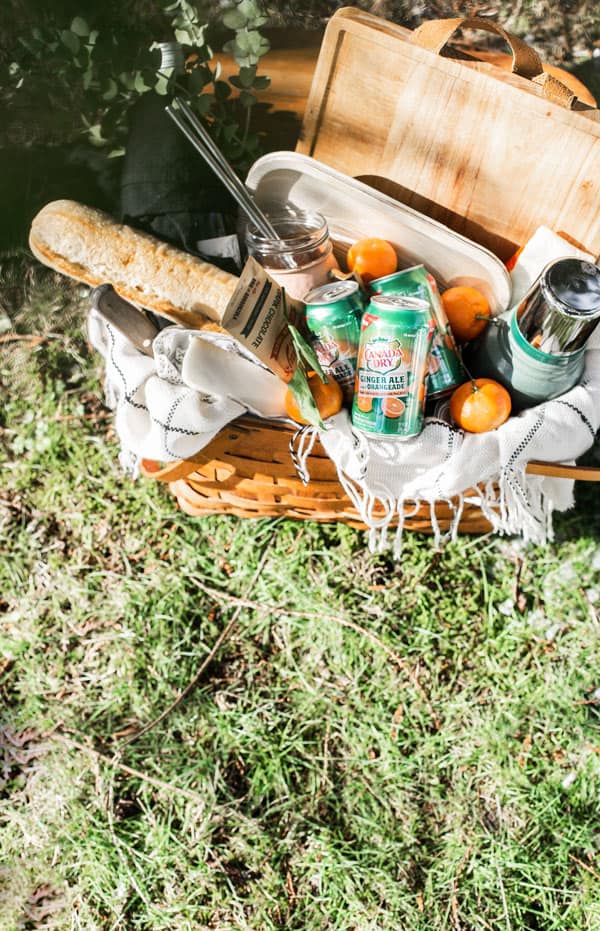 Picnic food ideas for an easy snack and spritzer picnic
When all the components are delicious by themselves but complement each other beautifully, there are endless combinations and something for everyone- no matter the size of your crowd.
Chocolate
Dried Nuts
Cheese – choose cheeses that complement your other offerings. Chevre, gouda and brie are all great with oranges and chocolate
Small Baguette
Oranges
Canada Dry Ginger Ale and Orangeade
Dry White Wine – sauvignon blanc, chardonnay, or whatever you have
Something sweet to spread – fig spread , apricot jam, honey, etc.
Snack on items individually. Or combine these few items into endless combinations of sweet and savory picnic snacks!
Doesn't get much better than super easy cocktail in a beautiful setting with the ones you love.
Enjoy responsibly!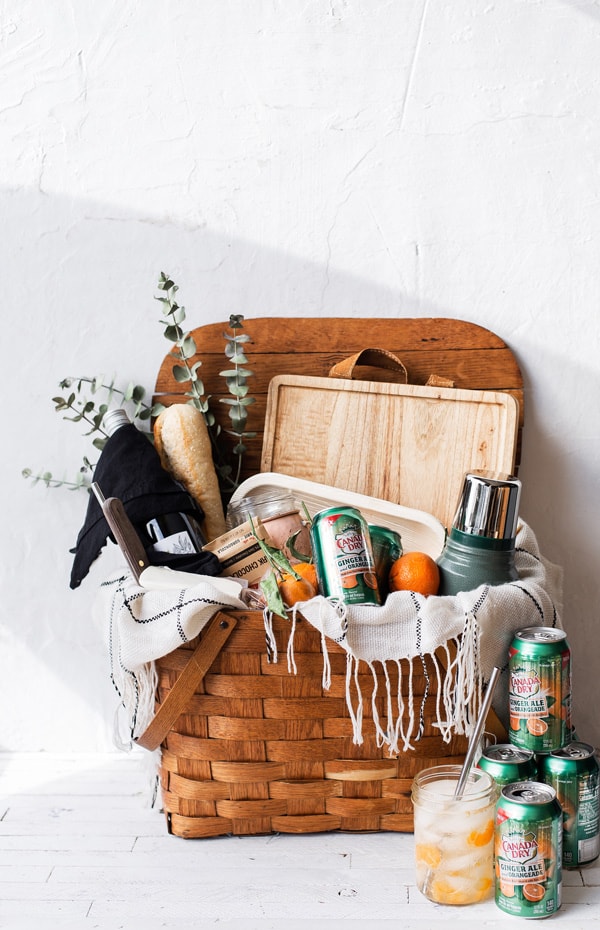 Ingredients
Chocolate

Dried Nuts

Cheese – choose cheeses that complement your other offerings. Chevre

gouda and brie are all great with oranges and chocolate

Small Baguette

Oranges

Canada Dry Ginger Ale and Orangeade

Dry White Wine – sauvignon blanc

chardonnay, or whatever you have

Something sweet to spread – fig spread

apricot jam, honey, etc.
Instructions
Start by layering the picnic blanket in the bottom of the basket.

Add large heavy items first. Followed by the lighter large items.

Tuck smaller picnic basket items into any remaining spaces.