Craft memorable family traditions while checking things off your to-do list by throwing a kids Holiday Wish List Party!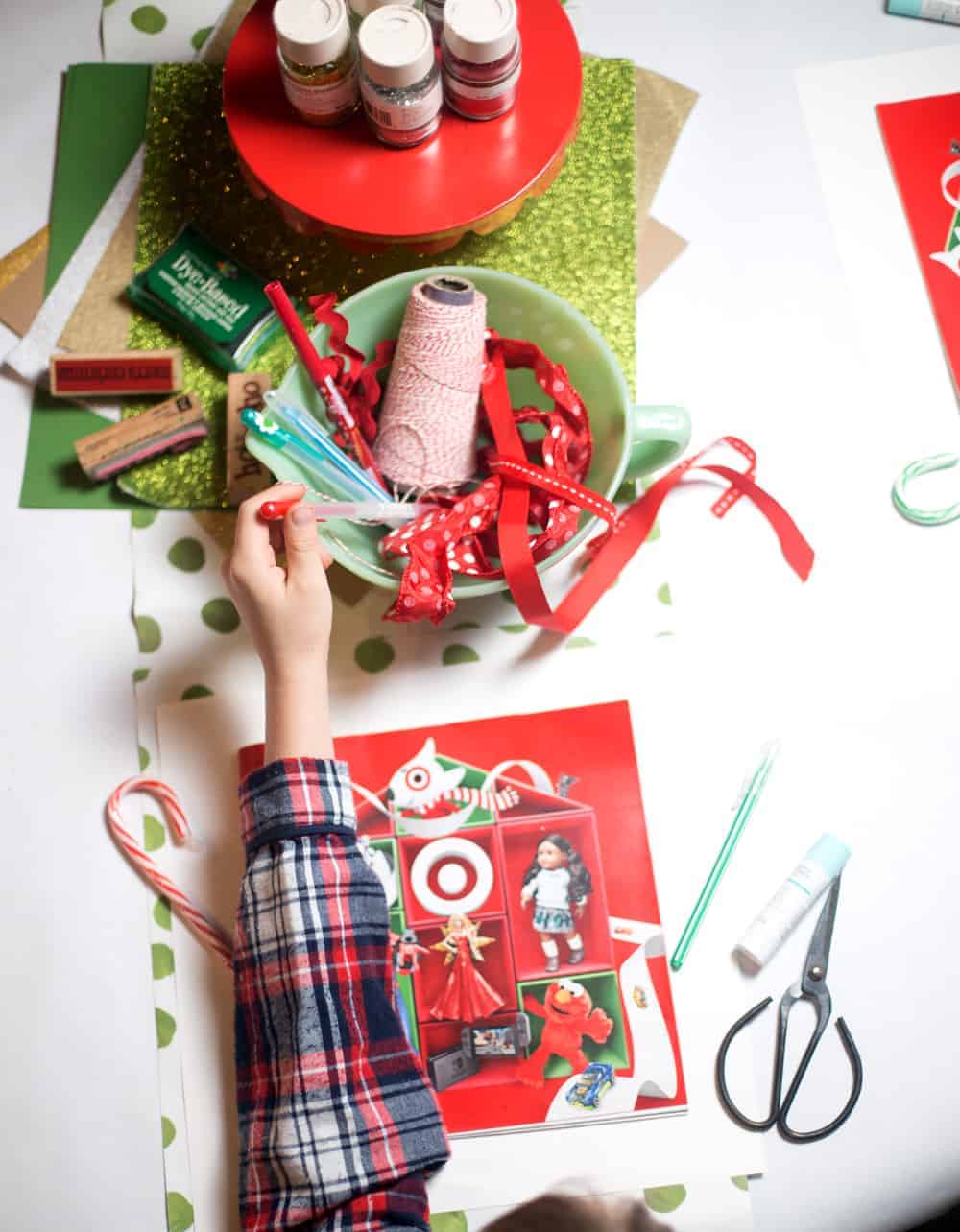 Plan and organize your busy holiday season with a fun night of crafting, cocoa and cookies with your family!
How to plan a holiday traditions Wish List Party
Kick start the holidays, get in the gifting mood and load up on gift ideas with this festive family night sponsored by Samsung and Target.
Holiday traditions help us focus on what's important. Likewise they help prevent becoming overwhelmed during this very hectic season. Plus holiday traditions are just plain fun. They're what childhood memories are made of.
Create unique holiday traditions for your family based on your own childhood holiday memories.
Whatever your traditions I'm sure you can check many of them off in one night with this easy holiday party.
In the fall, it's all about picking pumpkins and roasting pumpkin seeds.
In the winter, its new pajamas, sugar cookies, light displays, hot cocoa and chocolate croissants, National Lampoon's Christmas Vacation on repeat and Christmas wish lists.
Decorations and ambiance
Start planning with stop by Target for inspiration and supplies. Grab handfuls of holiday toy catalogs from customer service, stickers and glitter from the dollar spot, and hot cocoa, candy canes and marshmallows from the holiday home department and a new Samsung S8 from the tech department!
To create great holiday ambiance use your existing holiday decorations. And simply put on your favorite holiday music playlist. Or play your family's favorite movie.
Then let the wish list crafting supplies serve as decoration. A table piled high with craft supplies is fun and beautiful. Use ribbon, stamps, glitter, stickers, and whatever else you can round up.
Food and drink
A food and drink station with a carafe of hot cocoa and various toppings adds to the holiday ambiance. Children and adults alike will love having candy canes, whipped cream, marshmallows, and sprinkles to add to their cocoa.
Make or buy a few traditional holiday sweets like sugar cookies, soft and chewy ginger cookies, and buttery jam thumbprint cookies.
Activities
Making wish lists is the only activity needed. And anything else you choose to include is just extra.
A pile of craft supplies and a stack of toy catalogs should keep littles busy for quite some time.
Give each child a pair of scissors, a glue stick, a piece of blank paper or a printable wish list and let their imagination soar!
Alternately, if you want more activities the sky's the limit!
Set up multiple stations with different activities and turn this simple family night into a kid's holiday crafting extravaganza. Include stations for sugar cookie decorating, wish list creating, holiday ornament crafting, gift wrapping and more.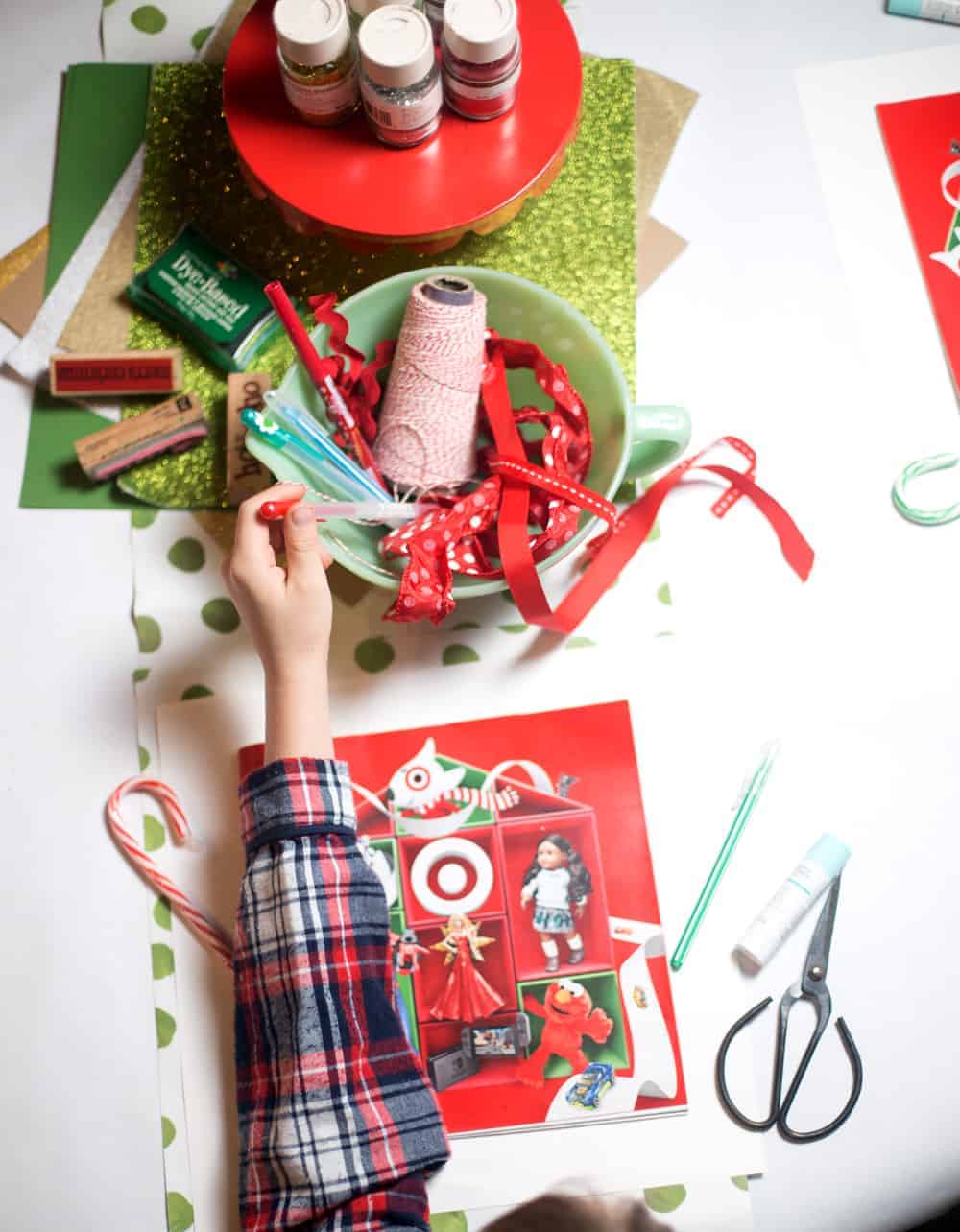 Ingredients
10

large

pieces of paper

5

large

glue sticks

5

pairs

scissors

5

large

holiday toy catalogs

misc

ribbons, glitter, stickers and more
Instructions
Create holiday ambiance with holiday music playlists or holiday movies.

Keep it simple and let existing decoration and craft supplies be the decoration.

Combine multiple holiday traditions in one party based on your own childhood tradition memories.

Keep the food and beverages to a minimum and use store bought items if needed.

Take it easy on yourself and realize that the main goal is spending time with your loved ones. Don't strive for perfection.