This Ultimate List of Hot Dog Toppings Ideas makes it so easy to throw together an easy hot dog bar food station at your next party! With the following 25 + gourmet hot dog recipe ideas and this HUGE list of hot dog toppings, condiments and sides you will be looking for reasons to throw a hot dog party all year long just so you can have a chance to try all the flavor combinations!
Jump to:
The perfect party food station
DIY food stations, like hot dog bars, are perfect for laid-back entertaining. Especially nice warm weather celebrations like Memorial Day, graduation, Father's Day and Independence Day that make it a breeze to fire up the grill and serve guests outside.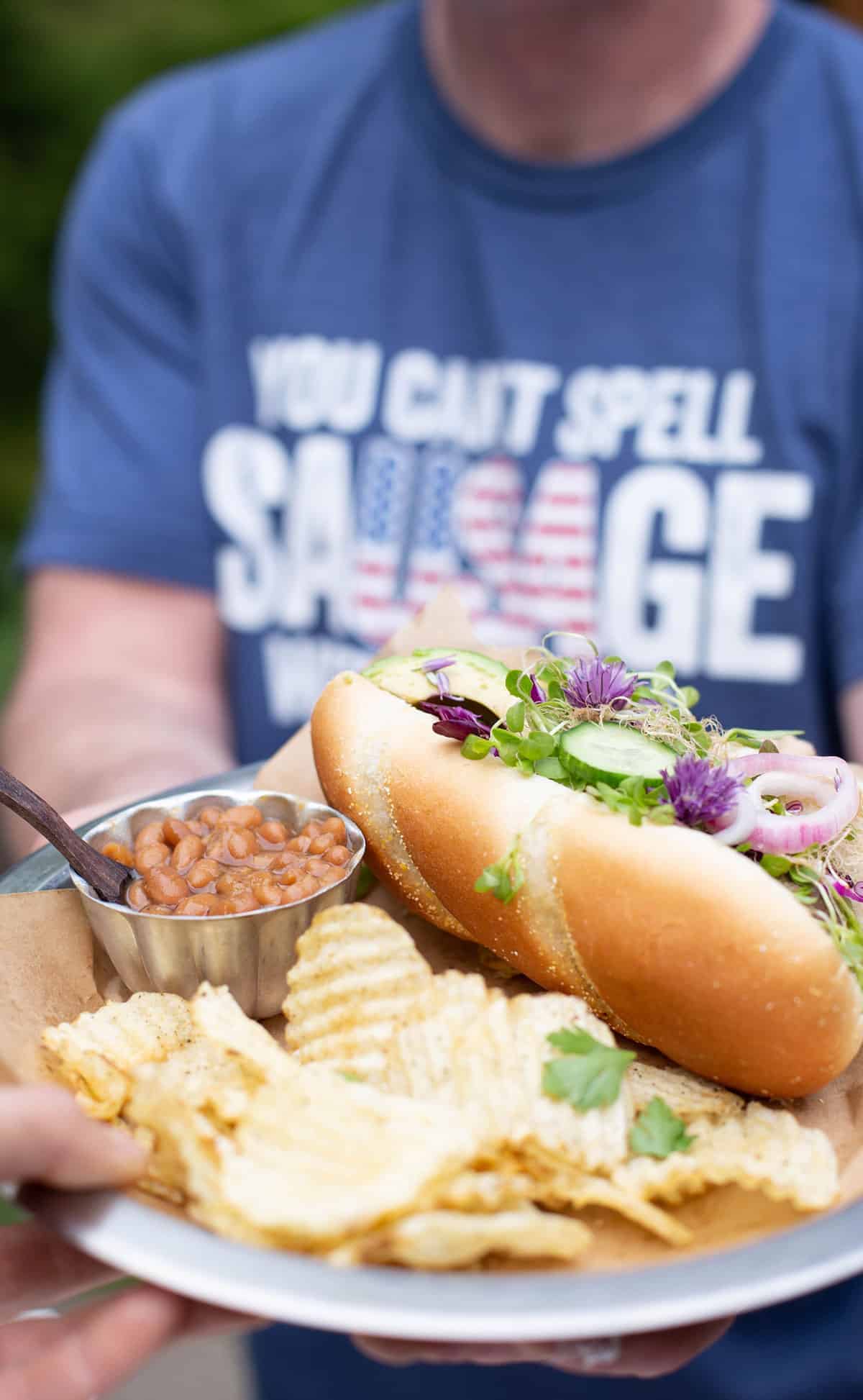 To set up a hot dog bar simply pick and choose a variety of ingredients that can be combined together in a few ways to keep it interesting. Then prep all ingredients except sausages ahead of time. When ready to serve display hot dog toppings on a long table, using chilled trays with ice if needed for perishable ingredients like dairy. Cook sausages on the grill or rent a hot dog roller for an easy option to serve up a large crowd. Crack open a cold beverage and have fun trying all sorts of hot dog creations!
These hot dog toppings are great all served together as a part of a hot dog bar. But you don't have to include all the toppings. If you do you'll have enough hot dog toppings to try all 25+ of the gourmet hot dog recipes and toppings ideas that follow.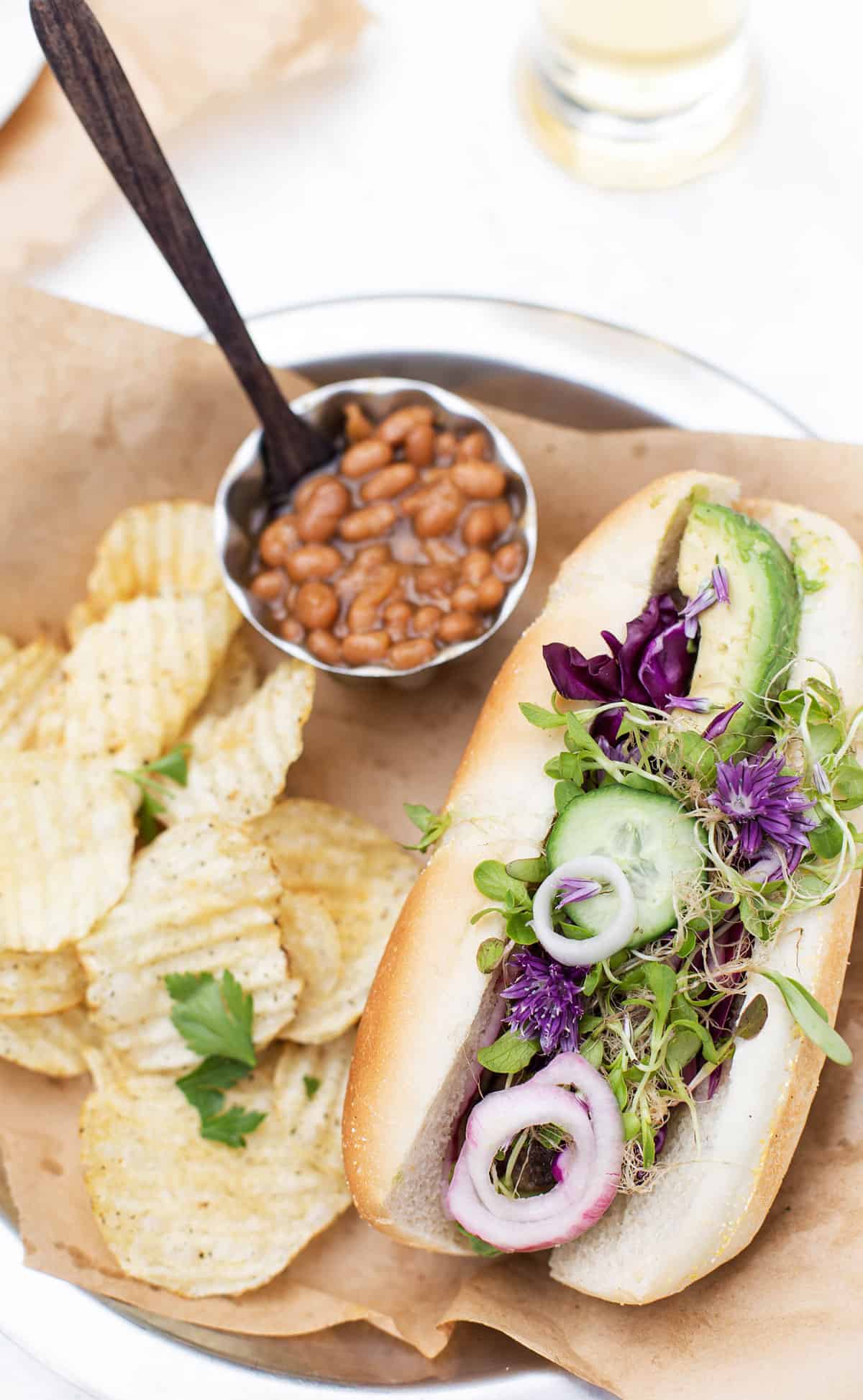 Or simply save the following 25+ gourmet hot dog recipes to use as easy recipe ideas all grilling season long.
Hot dog bar ingredients
Wondering what to serve with hot dogs at your party? Whether it's classic and traditional, fancy and gourmet or wild you'll be covered with this list of hot dog toppings!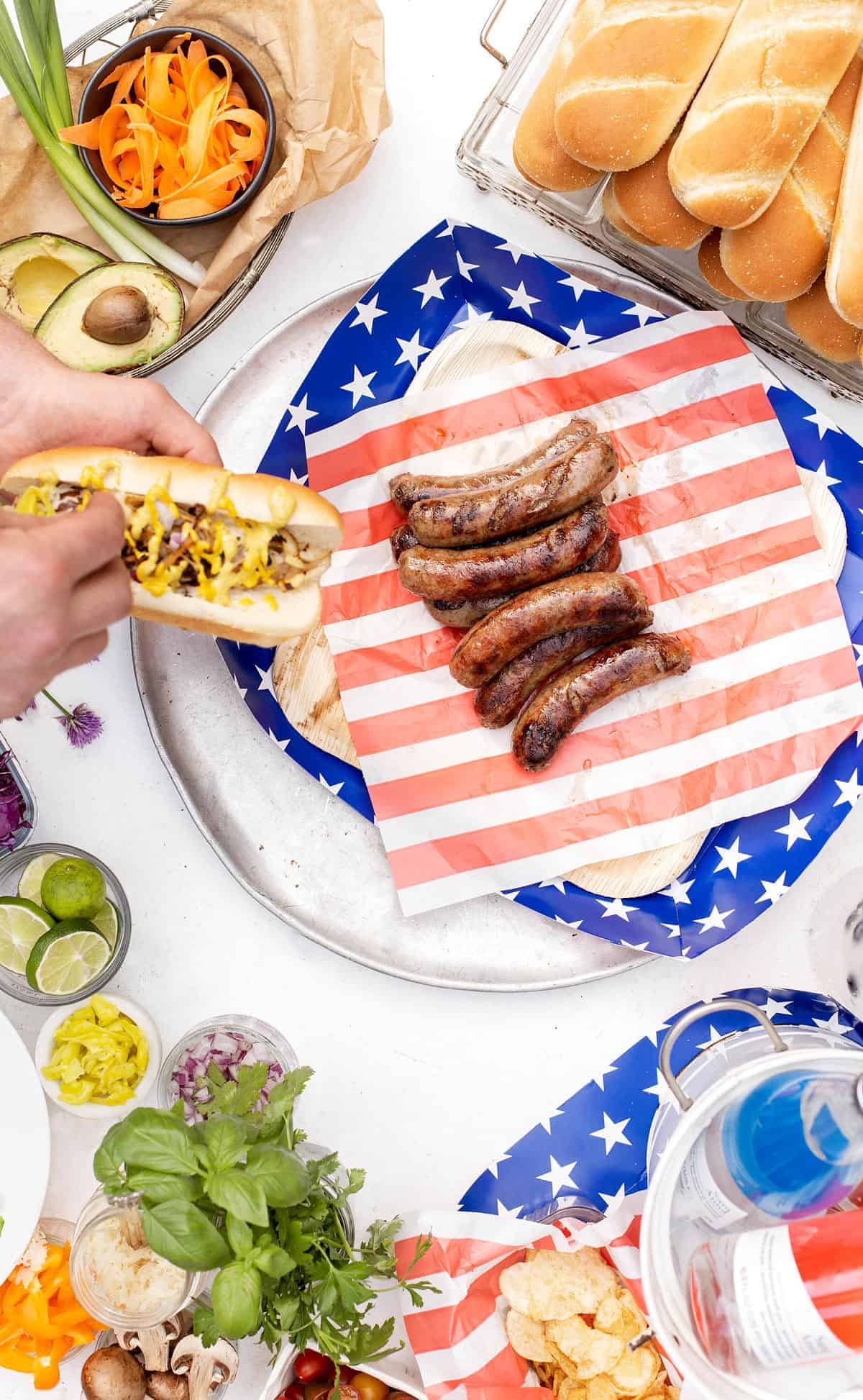 Hot dogs – bratwurst, classic all beef franks, chicken sausage, bacon wrapped, or even vegan dogs! A variety of classic hot dogs and more flavorful sausages or bratwurst will ensure that you appeal to all types.
Hot dog buns – standard hot dog buns, potato rolls, sweet Hawaiian hot dog buns, pretzel buns, French bread loafs, baguettes, grilled pita, bolillo rolls, anything!
Fresh hot dog toppings – Diced tomatoes, diced onions, diced peppers, sliced cabbage and/or lettuce, sprouts, fresh herbs (chives, cilantro, parsley, basil leaves, edible flowers, etc), diced avocado (or guacamole), sliced limes
Dairy – shredded cheddar cheese, crumbled cotija cheese and/or crumbled feta, cream cheese, sour cream, nacho cheese sauce
Pickled and preserved – sauerkraut, kimchi, pickled onions, dill pickle spears, giardiniera pickled vegetables, pepperoncini peppers, sliced olives, crispy fried onions, shoestring potatoes
Hot dog condiments – yellow mustard, grainy deli mustard, mayo (classic or Kewpie), sriracha hot sauce, basil pesto or chimichurri sauce, chili garlic crunch, bbq sauce, teriyaki sauce, tomato salsa, pineapple salsa, salsa verde, peanut butter, thousand island dressing, reduced balsamic vinegar glaze
Hot dog sides (that double as toppings!) – beef and bean chili, baked beans or pinto beans, pulled pork, coleslaw, macaroni and cheese, crumbled bacon, grilled corn on the cob, assorted potato chips, grilled (or sautéed) peppers, onions and mushrooms, fresh (or grilled) pineapple, roasted peanuts, French fries, onion rings or tater tots and salami and sliced cheeses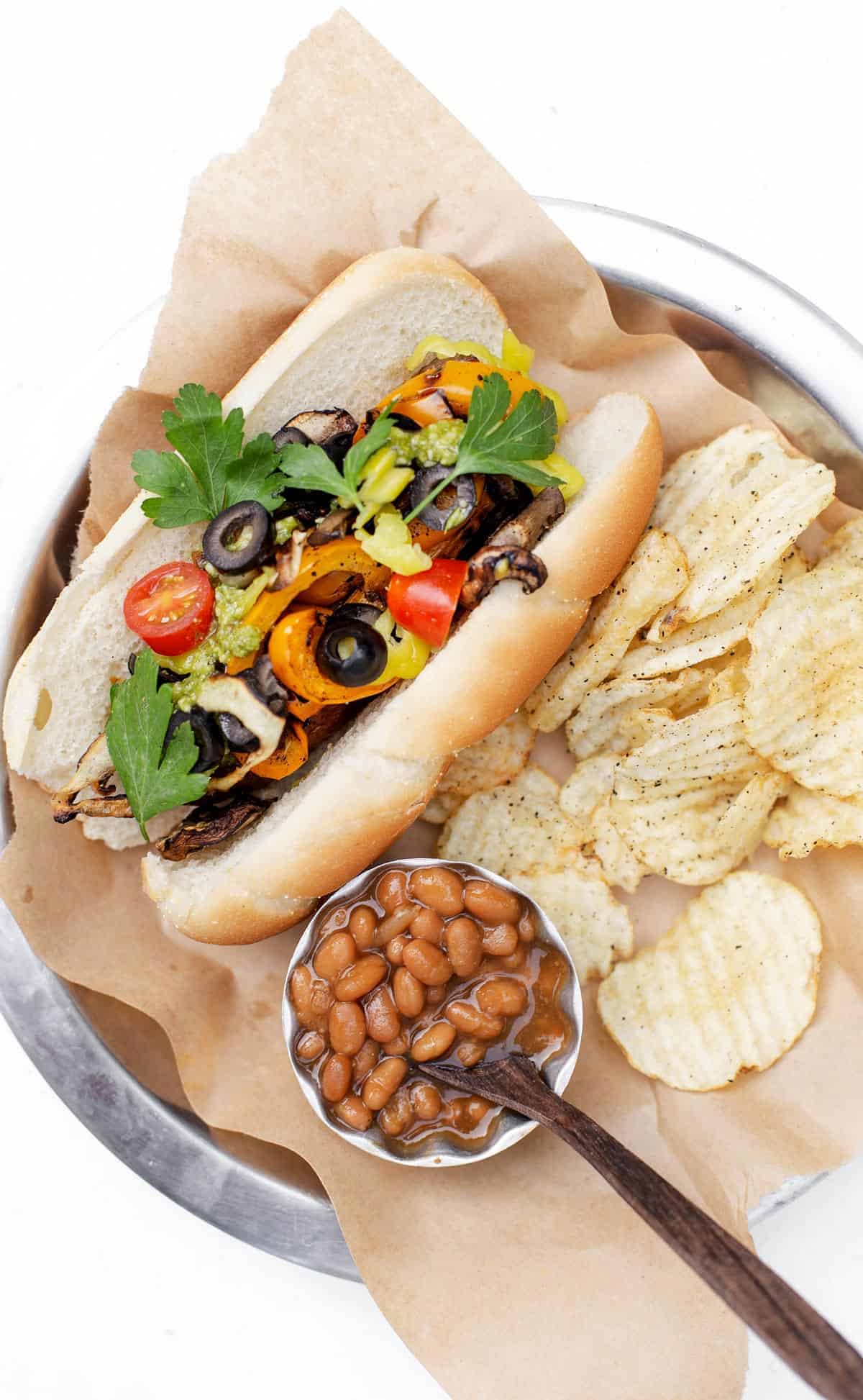 25+ Gourmet Hot Dog Recipes
Bacon Mac Dog – Mac and cheese and bacon with chives
Loaded Chili Dog – beef and bean chili, cheddar cheese and diced onions is a classic Detroit 'Coney Dog'. Add sour cream, chives and crumbled cornbread to turn it into a Loaded Chili Dog.
Deli Dog – Sauerkraut and diced onions with grainy mustard
BLTA – bacon crumbles, lettuce, tomato, avocado and ranch or mayo
Emerald City – Make like a Seattle-ite and top your dog with sauteed onions, cream cheese, sauerkraut and a drizzle of sriracha or sliced jalapenos. Add grilled mushrooms to turn it into a Pacific Northwest Dog.
Chicago Dog – diced onions, diced tomatoes, pickles, pepperoncini peppers + mustard
The Jersey – grilled onions and bell peppers, pepperoncini peppers, diced tomatoes + pesto. Add sliced salami, ketchup and/or balsamic glaze to make it a "Messy Jersey".
The Elote – grilled corn, cotija cheese, cilantro, and mayo
The Deli Dog -Sauerkraut, diced onions and grainy mustard
Thai Peanut Dog – sriracha + mayo, jalapeno, cucumber, lime, carrots + cilantro + red cabbage and peanut butter and/or peanuts
The LA Dirty Dog – Crumbled bacon (or bacon wrapped dog), grilled peppers and onions and sliced jalapenos
The Green Goddess – sprouts + cabbage + cucumber + avocado + chimichurri, and edible flowers or chive blossoms (if you have 'em!)
The Bacon Wrapped Jalapeño Popper – grilled or fresh jalapeno slices, cream cheese + crumbled bacon and jalapeño chips or even take it over the top and add some sliced jalapeno poppers too!
Beanie Weenie –baked beans, crumbled bacon, cheddar cheese, and crushed chips
The Porker – a pulled pork sandwich but make it hot dog. Pulled pork, crispy coleslaw and sweet pickles or pickle relish.
All American Hot Dog– plain with mustard and ketchup
Sonoran Hot Dog – crumbled bacon, pinto beans or baked beans, diced onion, mustard, mayo, chopped tomatoes, sliced jalapeño
Tex Mex Hot Dog– sauteed peppers and onions, salsa, avocado, jalapenos, cilantro, lime and sour cream
BBQ Bacon Dog– bacon crumbles, bbq sauce and fried onions (or onion rings)
The Grecian Dog– hummus, cucumbers, olives, tomatoes, pickled onions and crumbled feta on pita
Island Dreamer– pineapple, avocado, teriyaki sauce, and crispy fried onions or pickled onions
Korean BBQ Dog– kimchi, scallion, basil, shredded lettuce, chili garlic crunch (or sriracha)
Korean Dog – Top a hot dog with crumbled corn bread, French fries and ketchup for a riff on Korea's french fry coated corn dogs.
The Rueben Dog– thousand island dressing, sauerkraut and grilled onions
Peanut Butter Bacon Dog– peanut butter, bacon crumbles, pickled red onions, sriracha and peanuts
In-N-Out Animal – French fries, cheese, onions, and thousand island dressing
The Caprese Dog – mozzarella, diced tomato, fresh basil and cream cheese and a drizzle of reduced balsamic glaze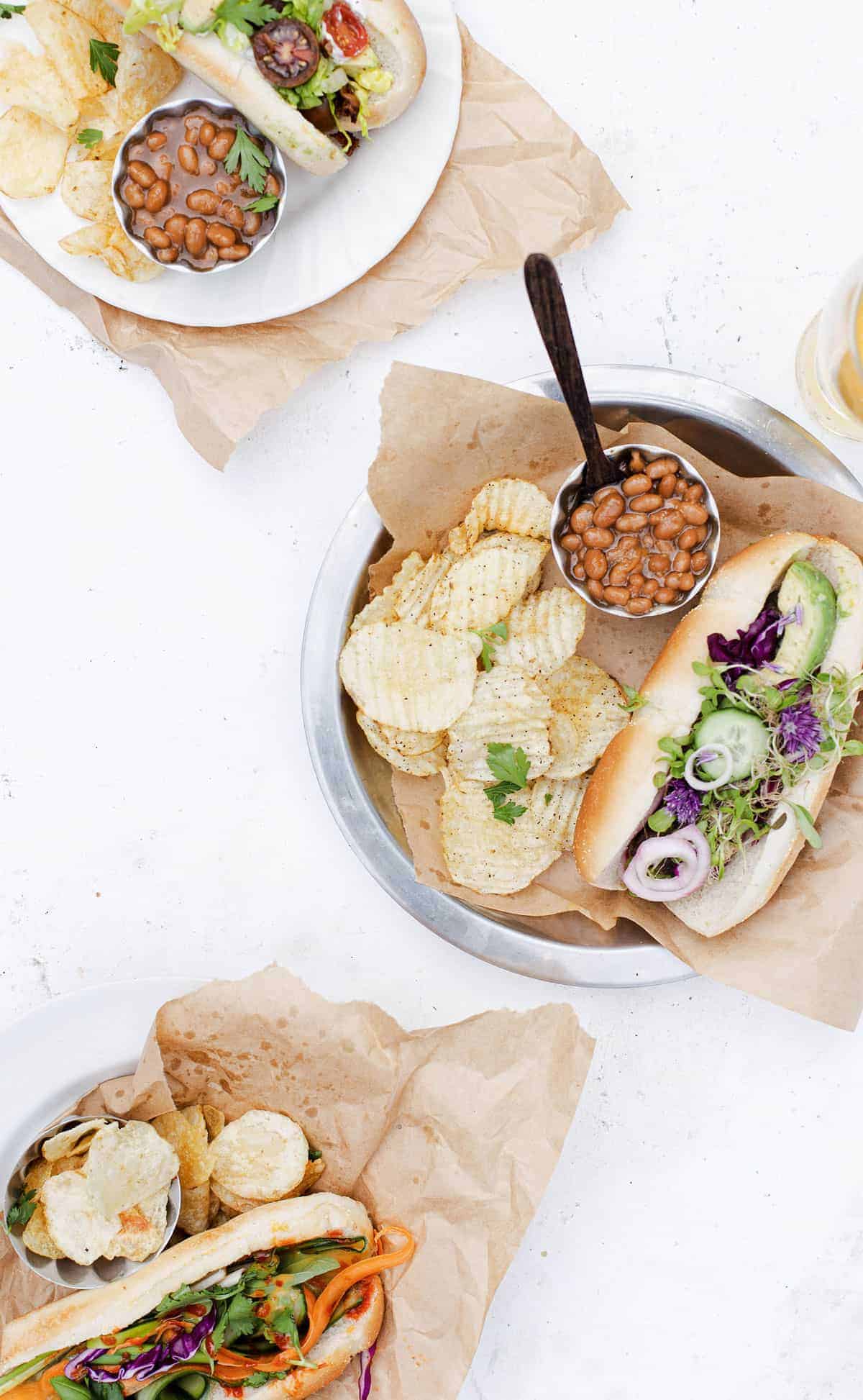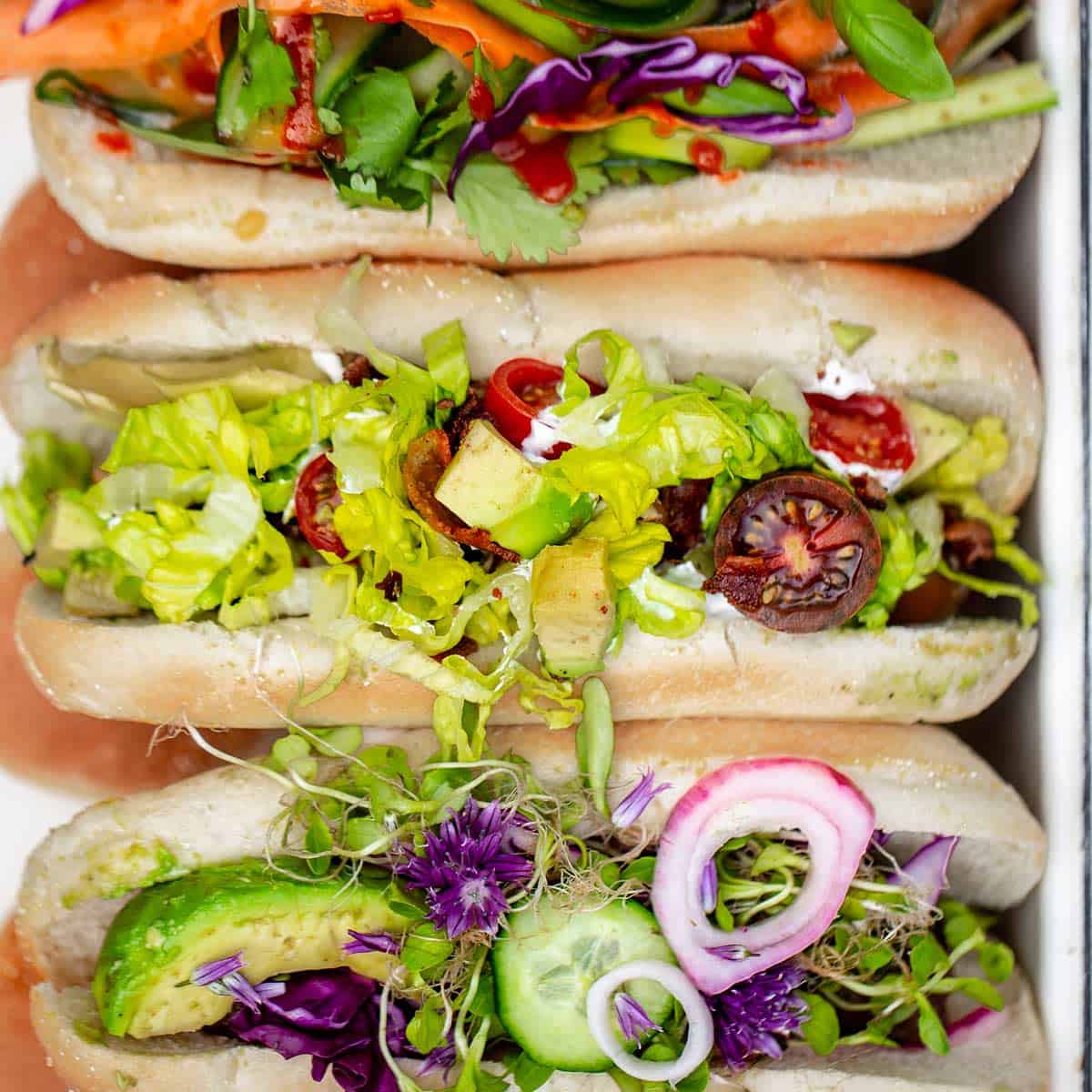 Ingredients
8-10

assorted

hot dog toppings

hot dog buns

hot dogs

plates and napkins
Instructions
Choose an array of hot dog toppings and sides and prepare in advance as much as possible.

Steam buns ahead of time and keep warm in foil trays, or grill to order.

Grill hot dogs, sausages, and bratwurst according to package directions.

Place all toppings, sauces, and condiments in separate serving containers.

Enjoy!