Spiced Fresh Peach Cobbler with a fluffy, biscuit-like topping like grandma (and mom) used to make!
Only my take on this classic fruit dessert has a fresh peach filling flavored with spiced rum and a sprinkle of fresh mint to finish. Other than that, this fruit cobbler with a cake like biscuit topping is the recipe that my mom wrote down over 30 years ago after asking her mother-in-law, my grandma. And I'm sharing my take on the recipe today!
Cobbler Like Grandma Used to Make
There's lots of different cobbler topping recipes. Some with oatmeal, some without. There are pie-like cobbler toppings and some that are more like a sugar cookie. This Blackberry Mojito Cobbler uses the sugar cookie version. And then there is the classic, light and fluffy, cake-like topping like grandma used to make. Well, I don't know about your grandma but this is literally based on the recipe my grandma used to make. And still does.
I found it floating around the Betty Crocker cookbook that held permanent residence on my mom's kitchen counter. Just the look of the yellow lined paper and the way my mom either misspelled or scribbled 'cobbler' across the top, brings me right back to 5 years old. And reminds me of the fact that I actually thought this delicious seasonal dessert was called 'gobbler' for at least the first 10 years of my life!
It's a great basic cobbler that is reminiscent of a quick 'bisquick' like topping. Only so much better. Soft, cake-like and not overly sweet. The perfect companion to sop up juicy peaches. Or any fruit for that matter! Save this recipe and customize it to make apple, blueberry, blackberry, cherry, or any-combination-of-fruit cobbler based on what you have on hand and what's in season.
How to Make Peach Cobbler
You can find fresh juicy peaches in markets only during select times of the year. Depending on where you live, this could be only from April to September, or even less time. Begging you to snatch them up while you can! But, this recipe can also be made with frozen or canned peaches. Simply defrost frozen peaches before using. Or, if using canned peaches, reduce the sugar to account for any sweetness left from the canning liquid.
If using fresh peaches, you have to peel them. Trust me, I am a huge proponent of skipping peeling fruits/vegs and doing anything I can to prevent having to peel peaches because it's an awful job. Messy, wasteful and time-consuming I just do not have the patience required to find joy in these things. BUT, if baked with peels on you end up with slimy little chunks of peach peel that get in the way of enjoying that perfect creaminess of the peaches and soft biscuit topping. So, take the time to peel your peaches. You'll thank me later.
This Spiced Fresh Peach Cobbler recipe calls for a splash of spiced rum to add flavor and depth to the peaches. It's a nice touch because the warm spiciness goes so well with fresh peaches. But, feel free to substitute vanilla extract if you don't have spiced rum on hand.
I made it in a casserole dish but I've made this peach cobbler in a pie pan, dutch oven, cast iron skillet, whatever you've got! As long as it's oven safe, you can bake this peach cobbler recipe in it. You'll know it's done when the top is golden brown and the filling is bubbly.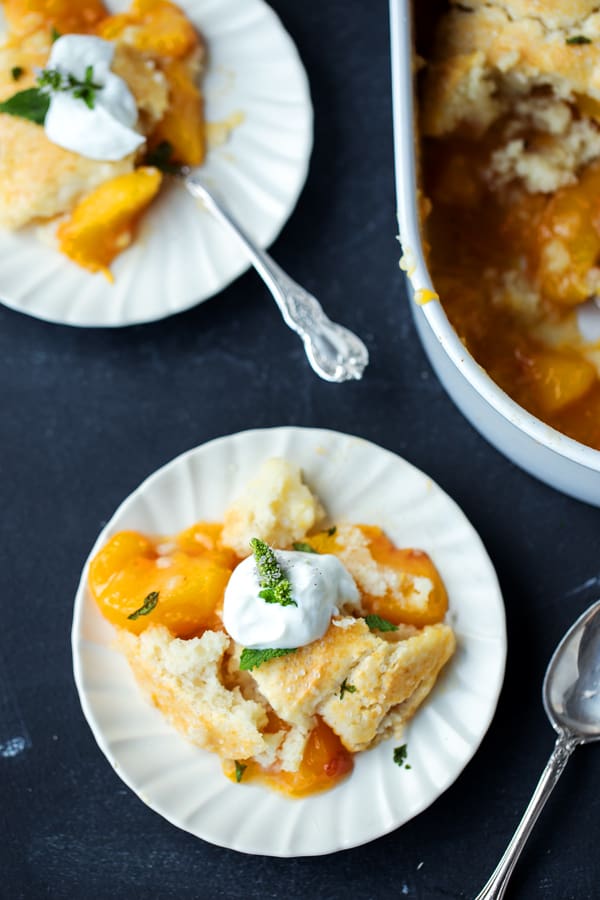 Serve with sweetened whipped cream, ice cream or greek yogurt for a nice creamy contrast to the warm cobbler. If you happen to find some mint flowers, go ahead and be sooo extra (like me!) and sprinkle a bit of that on top. Or, just cut up fresh mint or other herbs to garnish.
Spiced Fresh Peach Cobbler Recipe
How to Make Cobbler Ahead of Time
Prepare and refrigerate components separately, unbaked. Simply prepare the filling and topping and keep it separate, for up to one day. Then, top and bake when ready. The biscuit topping won't be as light and fluffy because it won't rise quite as much, but it will be very delicious all the same.
Fully bake and refrigerate up to one day ahead of time. Bake the cobbler and cool, uncovered, until room temperature. Then, cover and refrigerate up to 24 hours in advance. When ready to serve, preheat oven to 350 degrees, bring cobbler to room temperature by bringing it out of the fridge for about an hour, then bake until warm, about 20 minutes. Cover with foil if cobbler topping is getting too brown.
Fully bake and freeze up to 3 months. Bake, cool and freeze cobbler, covered, until firm. Then, transfer to a freezer bag or gently vacuum seal and freeze up to 3 months. When ready to serve, defrost overnight in the refrigerator, bring to room temperature on the counter for about an hour. Then bake until warm, about 20 minutes. Cover with foil if cobbler topping is getting too brown.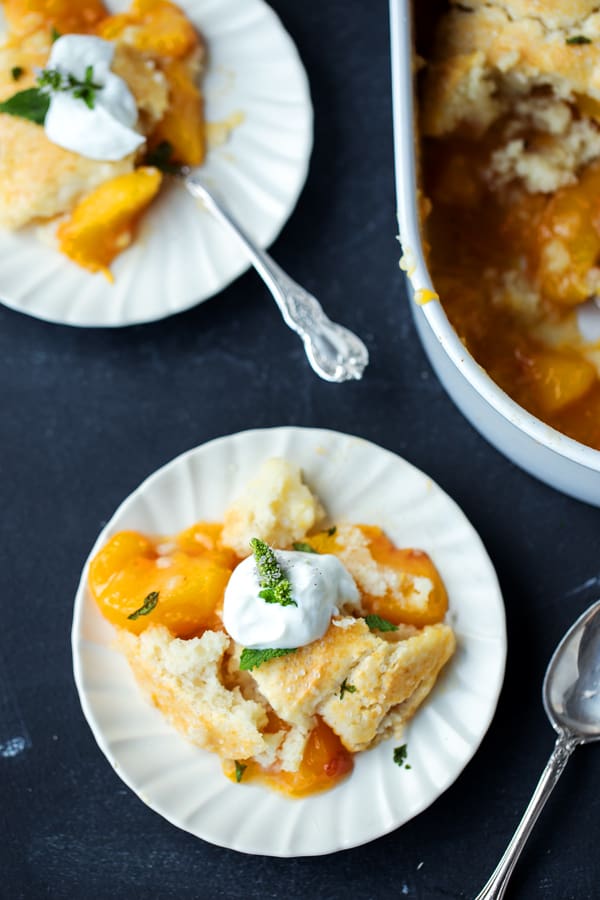 Ingredients
Cobbler Topping
½

cup

unsalted butter

room temperature, 1 stick

½

cup

granulated sugar

2

cup

all purpose flour

1

cup

milk

1

teaspoon

baking powder

1

teaspoon

salt

1

tablespoon

coarse sanding sugar

or raw sugar

1

teaspoon

fresh mint

(optional)
Spiced Peach Cobbler Filling
2

pounds

fresh peaches

about 5-7 large peaches, peeled pitted and thickly sliced or chunked

⅓

cup

granulated sugar

2

tablespoons

spiced rum

2

teaspoons

cornstarch

pinch

salt
Instructions
Preheat oven to 350 degrees Fahrenheit.

Place peeled and sliced peaches into 8" square baking dish. Gently toss with sugar, cornstarch, salt, and spiced rum.

Prepare topping by whipping room temperature butter with granulated sugar until fluffy. Add milk and whisk until incorporated.

Combine flour, baking powder and salt. Slowly add to wet ingredients and stir until no streaks remain. Scoop onto peach filling leaving a little bit of space between scoops. Sprinkle with coarse sugar.

Bake until browned, 45-50 minutes.

Let cool slightly. Top with fresh mint and serve with whipped cream or ice cream (optional).
Nutrition
Calories:
334
kcal
|
Carbohydrates:
52
g
|
Protein:
4
g
|
Fat:
11
g
|
Saturated Fat:
7
g
|
Cholesterol:
29
mg
|
Sodium:
272
mg
|
Potassium:
301
mg
|
Fiber:
2
g
|
Sugar:
29
g
|
Vitamin A:
690
IU
|
Vitamin C:
6.7
mg
|
Calcium:
63
mg
|
Iron:
1.6
mg
Enjoy!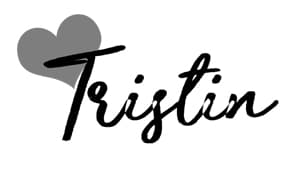 Nutrition Facts
Spiced Fresh Peach Cobbler
Amount Per Serving
Calories 334
Calories from Fat 99
% Daily Value*
Fat 11g17%
Cholesterol 29mg10%
Sodium 272mg12%
Potassium 301mg9%
Carbohydrates 52g17%
Protein 4g8%
Vitamin A 690IU14%
Vitamin C 6.7mg8%
Calcium 63mg6%
Iron 1.6mg9%
* Percent Daily Values are based on a 2000 calorie diet.
pin for later!