This shop has been compensated by Collective Bias, Inc. and its advertiser. All opinions are mine alone #BackToSchoolGoals18 #CollectiveBias
Learn How to DIY a Giant Post-it Wall Calendar in as little as five minutes with this super easy tutorial and free modern script calendar months printable!

This easy hanging jumbo wall calendar takes only minutes to put together and can be easily updated each month with just a few Post-it® Super Sticky Notes. Perfect for back to school, starting the new year off right, or just getting in routine any time of year!

No More Hot Mess Mom
Are you the kind of person who can remember all your appointments and obligations? I really used to be. And it was soooo niiiiiice.
But now it feels nearly impossible to keep all my own obligations in line. With sports teams and meetings and PTA and school events, when the back to school season hits I'm just flying through life as a hot-mess-mom. Thankfully, I've created a way to keep my life on track with Post-it® products and I'm sharing all the details (and a free printable!!) so you can too!
I really shouldn't blame all my hot-messness on my children and my work. Keeping track of dates and appointments has never been my strong suit.
No more super embarrassing hot-mess moments
There was that one time that I showed up to a wedding a day early. Dressed to the nines with gift in hand. During the wedding rehearsal 😐  Or the other time when I leisurely strolling into my statistics final, not a care in the world. To find out that it had started two hours prior and there was only five minutes remaining! Yeah… I guess dates and times have always been difficult for me! lol! oh and by the way, if you're wondering…. I aced the test 😉
But, it's never fun or easy to be flailing through life with no plan or schedule, just picking up the pieces and doing "okay'. Organized, on-time and prepared is always the goal. And with a jumbo calendar hanging in direct eyesight in a high traffic area of the house, it's easy to achieve!  Read on to get the step by step tutorial and a FREE modern script calendar months printable. In as little as five minutes you'll be on your way to getting your family (and your life!) on track and saying goodbye to hot-mess-mom-dom.
Back to School Ready
As summer starts to wind down I always get thinking about strategies to make the back to school transition smooth and easy for my family. While stocking up on school supplies at Walmart with the kids I spotted all the different Post-it® products and knew that they were my answer!
With a huge homemade Post-it wall calendar in my high-traffic hallway everyone knows what to expect. And, when mom tries to double (or triple!) book a day. Or when I completely forget about appointments or believe they're at a different time than they are, my family is able to take a look at the calendar and reign me in.
Boom! No more hot-mess. Well…. as far as scheduling is concerned anyway.
Not only is this calendar stupidly easy to make and super functional, but it also looks great! Just like this Modern Art Box Tops Holder the aesthetic of the Giant Post-it Wall Calendar blends right in with most décor. And it can be completely customized to personal tastes.
For more back-to-school inspiration visit Create with 3M!
How to Make a Giant Post-it Wall Calendar
It's all in the supplies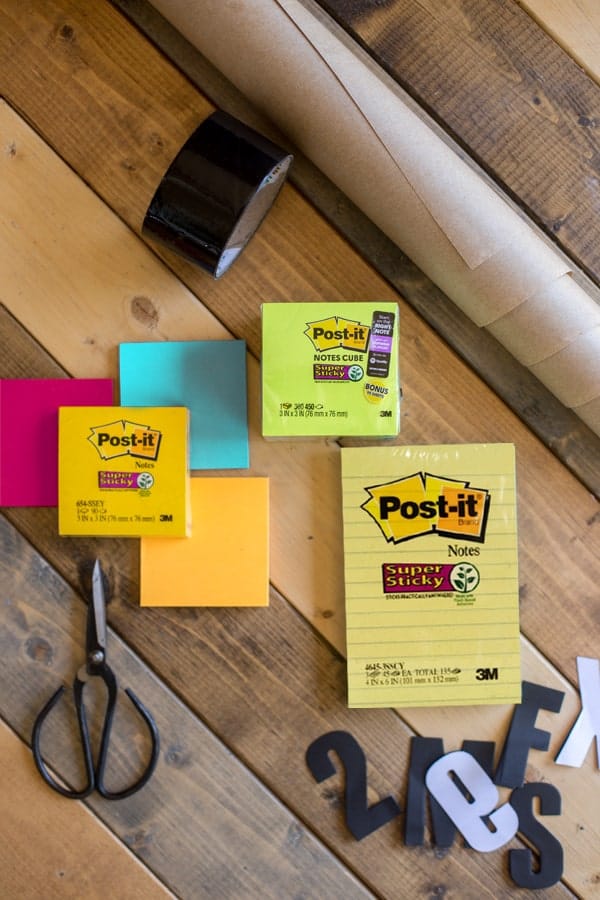 Post-It Notes
Walmart always features the best back to school deals in their center bins and you can find the Post-it® products there as well as the back to school and office supplies aisles. I chose 3×3 Post-it® Super Sticky Cube. With three different colors in one pack the 3 x 3 Post-it® Super Sticky Cube provides a ton of variety in just one package.
I also picked up a Post-it® Super Sticky Notes Single Pack in Electric Yellow and a pack of the large 4″ x 6″ Post-it Super Sticky Lined Notes in Canary Yellow. With all the different size and color options it's easy to match any décor!
Large piece of paper with cut lines on the back
You can use any wrapping paper, kraft or butcher paper or even a poster board.  I always have a few large paper rolls on hand to use for everything from wrapping paper to photo booth backers and dessert table decor. But for this project I suggest stopping by the wrapping paper aisle while you're at Walmart to choose an option with cut lines on the back. Most wrapping papers have a nice 1″ grid on the back that not only helps to cut the paper straight, but it's also a huge time saver when laying out this project.
Die cut or sticker letters for the days of the week
Calendar months free printable
Simply download your free printable calendar months labels. Then save and print onto cardstock.
Or hand letter the calendar months on pieces of cardstock instead. You can do the same with the days of the week too!
Step by Step Giant Post-it Wall Calendar Tutorial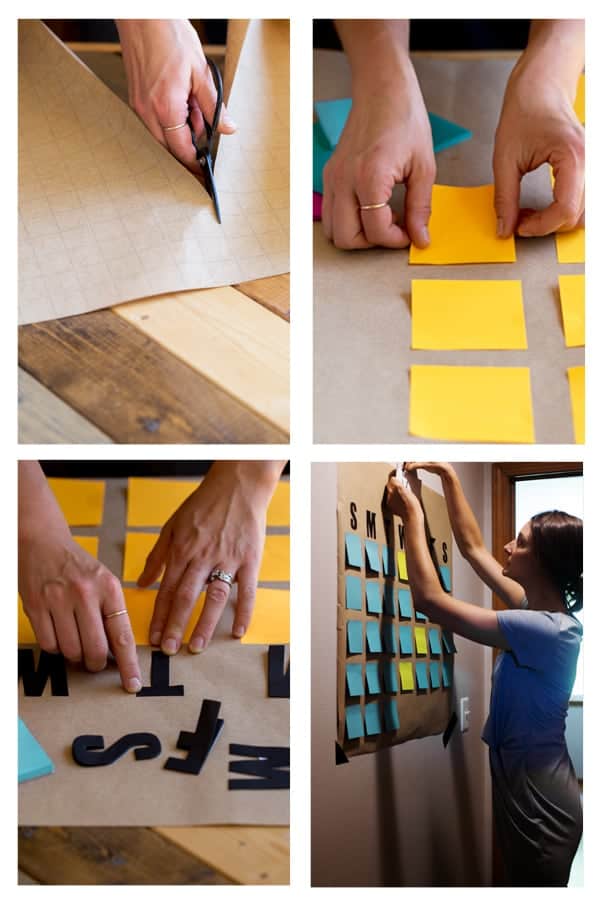 Gather supplies.

Print and cut calendar months. Optional: skip the printable and write the months onto cardstock or plain paper.

Measure wall and cut the paper to fit.

While 30″ high by 31″ wide is the minimum space required you can do whatever works for your space. Use 2 x 2 Post-it Notes Cube instead of the 3 x 3 to fit a smaller area. Or use 4 x 6 lined notes if you have a larger space to fill. You can also add extra inches either to the height or width to leave space to add goals, dinner menus, chores, or inspirational photos.

Use Post-its to lay out the days.

With a 2″ border place seven Post-it Notes spaced 1″ apart across and five spaced 1″ apart down. Use all the same color sticky notes or mix it up with different colors for weekends, holidays, etc.  And no worries about changing your mind because it's so easy to update!

Add the days of the week across the top.

Use a single letter die cut or sticker for a clean modern look. Or, write the days in with a permanent marker.

Hang the calendar up with pieces of strong tape at the edges.

Cut lines parallel to the poster board with a sharp blade for a nice finished look that nods to vintage photo edges. Or leave as is.

Place a binder clip top and center and store all the calendar months under it

Fill up your Giant Post-it Wall Calendar

Add anything you want! Holidays, gardening schedules, moon phases, goals, etc.

Then simply move the current one to the back at the end of the month

This 5 minute DIY Giant Post-it Wall Calendar can be used indefinitely! Simply update with new Post-it® Notes every month.
Dream it up and Make it Stick!
What you stick up is totally up to you. But, make it intentional because written goals are proven to be better than their unwritten counterparts! For real! Did you know that goals are actually 42% more likely to stick if you write them down? So what are you waiting for?! Pick up your Post-its® at Walmart today then Dream it Up and Make it Stick!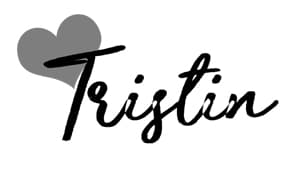 This post created in partnership with Post-it® Thank you for supporting the brands that support me! Post-it® Facebook | Twitter | Instagram
Pin for later!