Gingerbread Crinkle Cookies are a nicely spiced chewy cookie with crisp edges and crunchy icing-like crinkle coating perfect for Christmas!
A perfect festive treat with a glass of milk for the big guy during his busy night. Or, even better with a cup of coffee or spiced tea the next morning.
Virtual cookie party
My favorite cookie of all time are my Soft and Chewy Ginger Cookies. They're soft and chewy on the inside with crisp edges and just a hint of spice. I first tasted them on my wedding day as I waited patiently to walk down the aisle a great-aunt totally came through for me when she gifted me not only her favorite cookie recipe, but also a delicious little box of treats to go along with it. And ever since they've been what I've considered cookie perfection.
But, recently while preparing for my friend Cosette's annual Virtual Cookie Party I started thinking about whether or not it would be possible to improve on perfection?
And I think I've done it with this Gingerbread Crinkle Cookie recipe!
With more molasses, more chew, more spice, and even a bit of heat (thanks to freshly ground black pepper) these Gingerbread Crinkle Cookies are even better than perfect! And even more insta-worthy thanks to the beautiful crackle coating.
But, don't take my word for it, whip up a batch and see for yourself!
Then make sure to check out #virtualcookieparty2019 on social media. Or, scroll to the bottom of this page for a link to all the best Christmas cookie recipes this season has to offer!
How to make Gingerbread Crinkle Cookies
A simple to make cookie, the magic of these festive little cuties lies in their powdered sugar crackle. Not only for looks, when the sugar melts the final cookie is covered with an icing-like coating. Although it is pretty *insta-worthy* with it's contrast between dark gingerbread cookie and stark white sugar. Okay, maybe it's for looks and taste 😉
preheat oven to a low temp of 325 degrees Fahrenheit which helps prevent the powdered sugar from melting too much
whisk dry ingredients to combine
beat butter and sugars until light and fluffy
add egg yolks and molasses
beat in dry ingredients until combined
shape into ½″ balls using a scoop and drop directly into sugar in order to maintain as many cracks and lines as possible do not roll with hands
coat with granulated sugar and a generous amount of powdered sugar
bake until just cooked through but still very soft and remove immediately to cooling racks. Cookies will look underdone but will continue to harden as they cool
enjoy!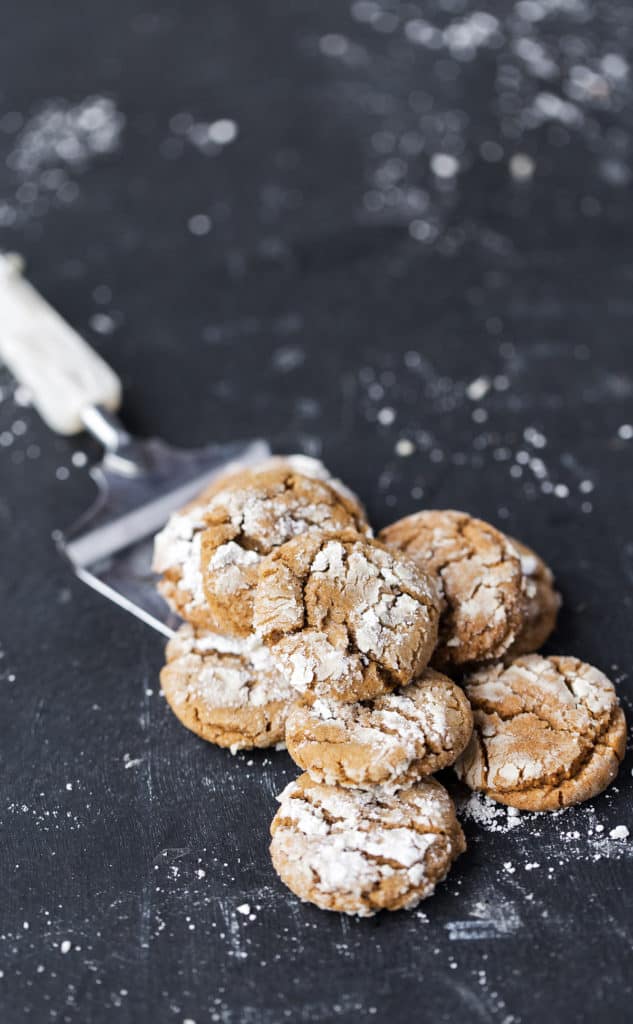 Customize it!
This recipe makes a huge batch which is just the right size for making over the holidays for your Christmas cookie gift boxes. But, simply cut it all in half to make a normal batch of cookies.
Not a fan of spice? All of the spice amounts in this recipe can be adjusted to fit your personal taste, even the black pepper which you can leave out completely if you'd prefer more of a traditional molasses ginger cookie flavor.
Gingerbread Crinkle Cookie recipe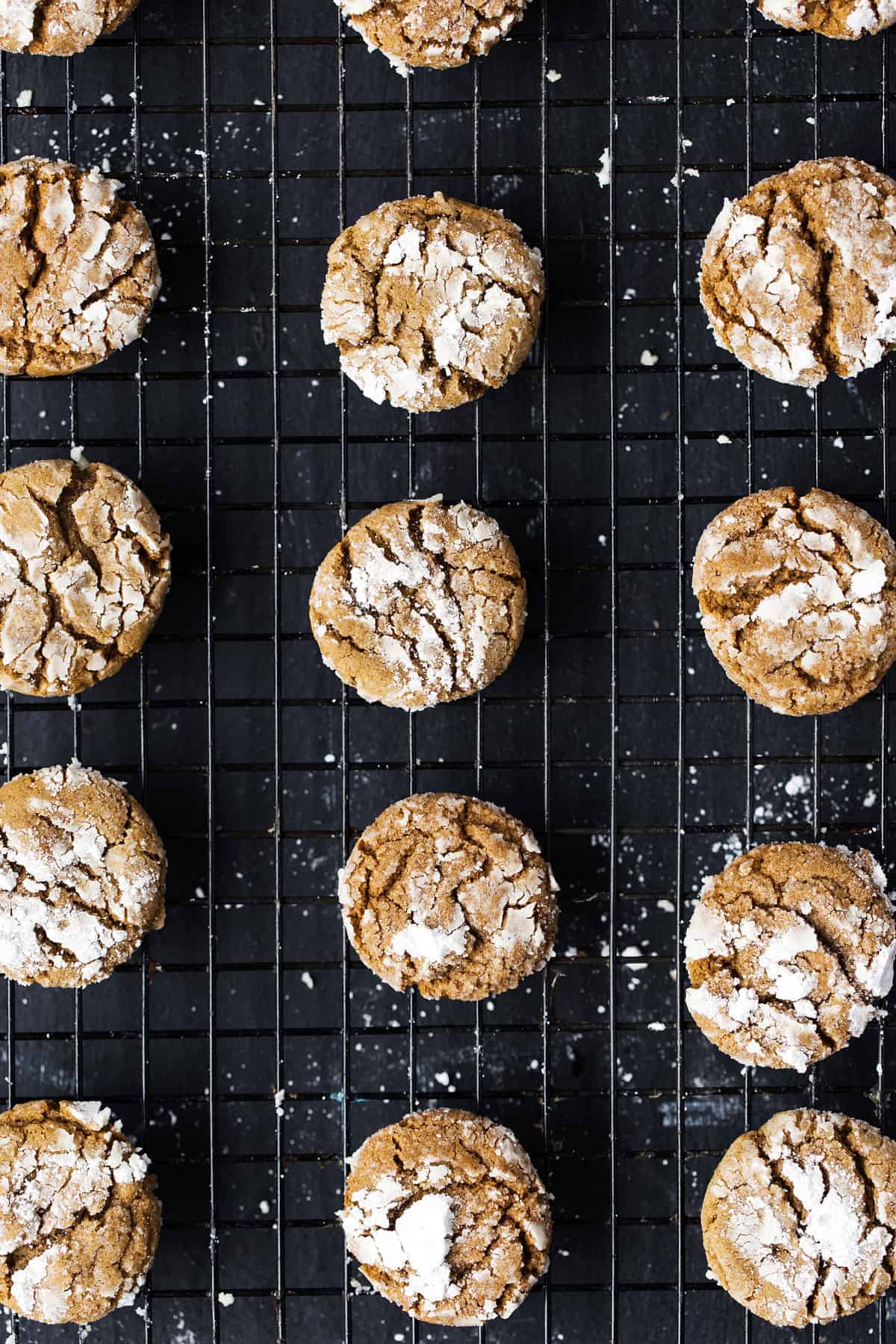 Ingredients
1 ½

cups

unsalted butter

¾

cup

granulated sugar

¾

cup

dark brown sugar

packed

2

large

egg yolks

1

cup

dark molasses

4 ½

cups

all purpose flour

3

teaspoons

baking soda

1

teaspoon

baking powder

½

teaspoon

salt

4

teaspoons

ground ginger

3

teaspoons

ground cinnamon

2

teaspoons

ground cloves

½

teaspoon

ground black pepper

½

cup

granulated sugar

½

cup

confectioner's sugar
Instructions
Preheat oven to 325 degrees. Line two baking sheets with parchment paper.

Whisk flour, baking soda, baking powder, salt and spices until combined.

Beat butter, ¾ cup granulated sugar and brown sugar together until light and fluffy.

Add egg yolks and beat well until incorporated. Add molasses and beat until combined, scraping down sides as necessary.

Slowly add dry ingredients and beat until combined. Using a small ½″ round scoop, scoop directly into shallow dish containing remaining ½ cup of granulated sugar. Roll to coat then place in shallow dish with confectioner's sugar. Press lightly to coat then place 2″ apart on ungreased baking sheets.

Bake, one sheet at a time, 9-12 minutes and immediately transfer to cooling racks. Cookies will look underdone but will stiffen up as the continue to cool.
Nutrition
Calories:
116
kcal
|
Carbohydrates:
18
g
|
Protein:
1
g
|
Fat:
4
g
|
Saturated Fat:
2
g
|
Cholesterol:
17
mg
|
Sodium:
73
mg
|
Potassium:
100
mg
|
Sugar:
11
g
|
Vitamin A:
140
IU
|
Calcium:
20
mg
|
Iron:
0.7
mg
enjoy!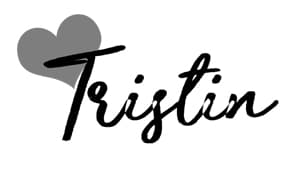 Virtual cookie party 2019