The Full Moontini is a sparkly, fruity, tropical Halloween cocktail disguised in a veil of black by a pinch of activated charcoal powder.
Paying homage to the beauty of a full moon in the dark black sky this tropical cocktail in disguise is actually perfect any time of year!
Black Halloween cocktail
Recently after calling it home for 15 years, my family moved from our tiny cabin in the woods to The 1967 House. Complete with 5 beautiful acres and a house FILLED with retro finds. To celebrate the move we invited friends over for a 60/70's Halloween Housewarming!
Everyone was asked to dress in 60s or 70s attire, we dusted off the basement bar, put out a chocolate and cheese fondue spread and blasted a funky flashback playlist. We also served period-appropriate slightly spooky black Halloween cocktails that nodded to the gypsy mysticism and mad-men glamour of the era.
A pitch black martini paying tribute to the moon – a Full MOONtini!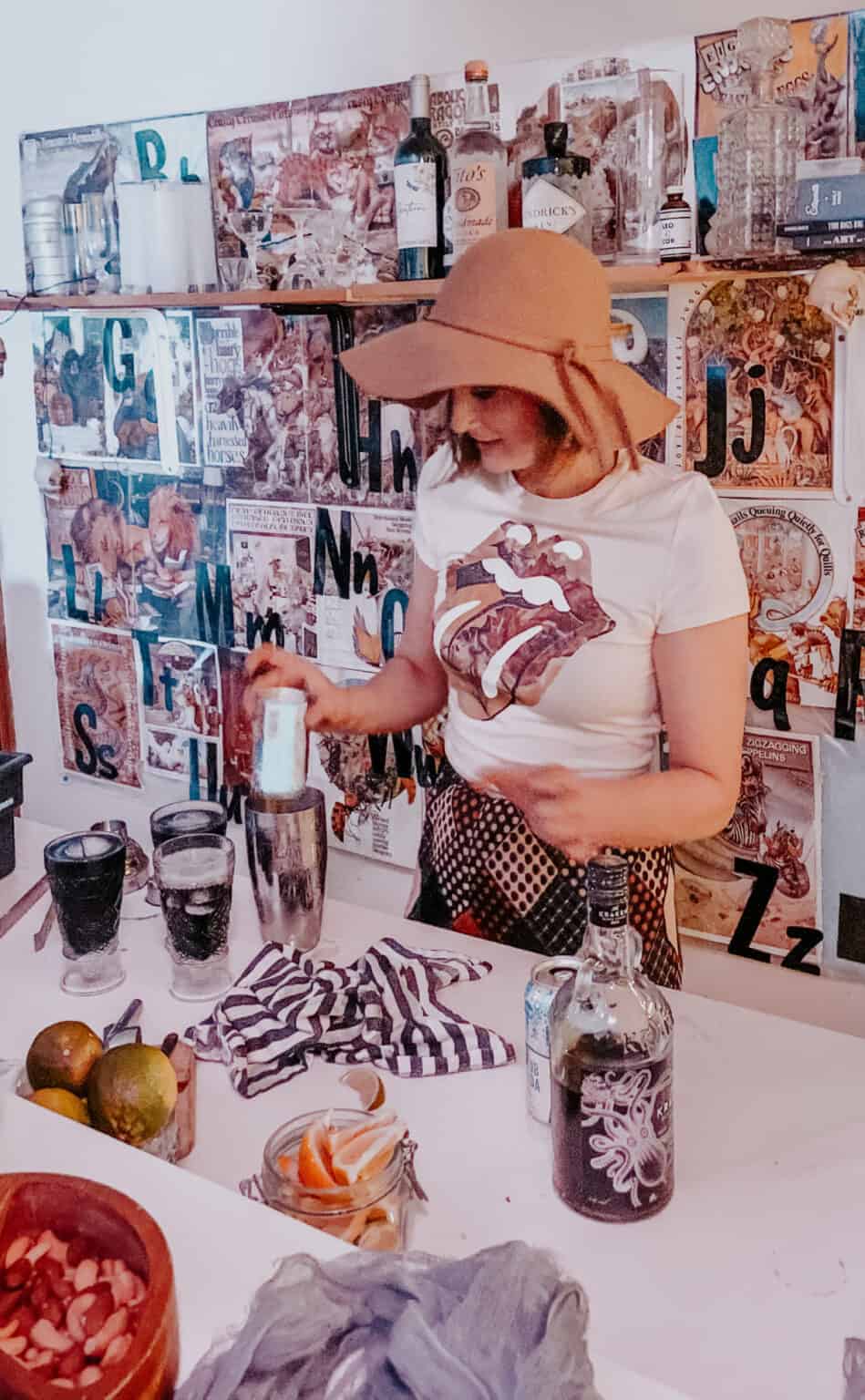 Yes, I know it's not technically a martini but 'moontini' was just too good to pass up. I mean when presented with the chance to name a spooky black Halloween cocktail after something as magical as a full moon, how could I resist?
Ingredients
Activated charcoal powder – With many claimed benefits from aiding in detoxification, purification, digestion, and hangover prevention, it's no surprise that activated charcoal is now making it's way as a big trend in cocktails. Preventing hangovers during happy hour? Yes, please! One teaspoon is all you need to make enough black liquor for a pitcher of cocktails or use a tablespoon to infuse a whole bottle. The charcoal adds color and a bit of texture but no flavor. Don't want to mess with charcoal? Try black sesame powder or even squid ink instead. Or, skip it altogether and just call it a "tropical martini".
Disclaimer: As with any supplement, please consult your healthcare practitioner prior to consuming activated charcoal powder.
Gin – I love the botanical flavor gin adds to fall cocktails like these Slime Rickey's green Halloween cocktails. But feel free to substitute with vodka or even rum. Or try my Mysterious Mango Margarita that's made with tequila and mango puree.
Pineapple juice – Either canned or fresh squeezed if you're feeling like a fancy witch. Apple cider, cranberry or cherry juice are all fabulous substitutions, though.
Lime juice – Fresh squeezed, always.
Club soda – A splash of soda on top adds just a bit of bubbles. Feel free to substitute with sparkling water, tonic or your favorite soda.
Round ice sphere – Not necessary for flavor but SO FUN for the full moon effect. Use a silicone ice mold to make the ice spheres then transfer them to a freezer safe container until ready to use.
Step by step instructions
Prepare sphere ice in ice molds and place serving glasses in freezer to chill.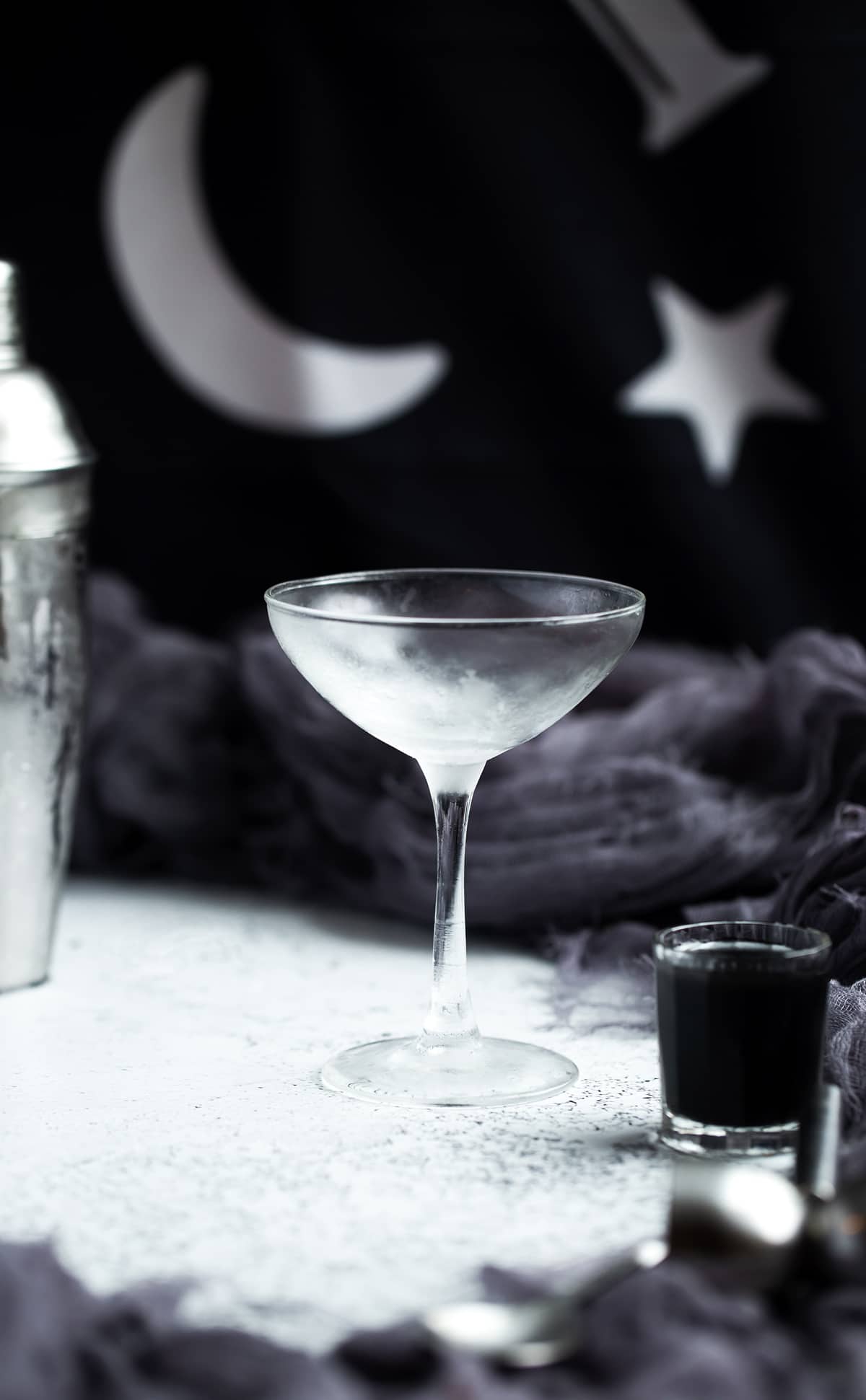 Infuse gin with charcoal powder. Either add a few ounces to a lidded jar and shake with a pinch of food-grade charcoal powder until combined. Or infuse an entire bottle with a few tablespoons of charcoal.
In a cocktail shaker filled with ice shake black gin, pineapple juice and lime juice to chill.
Strain into two martini or coupe glasses.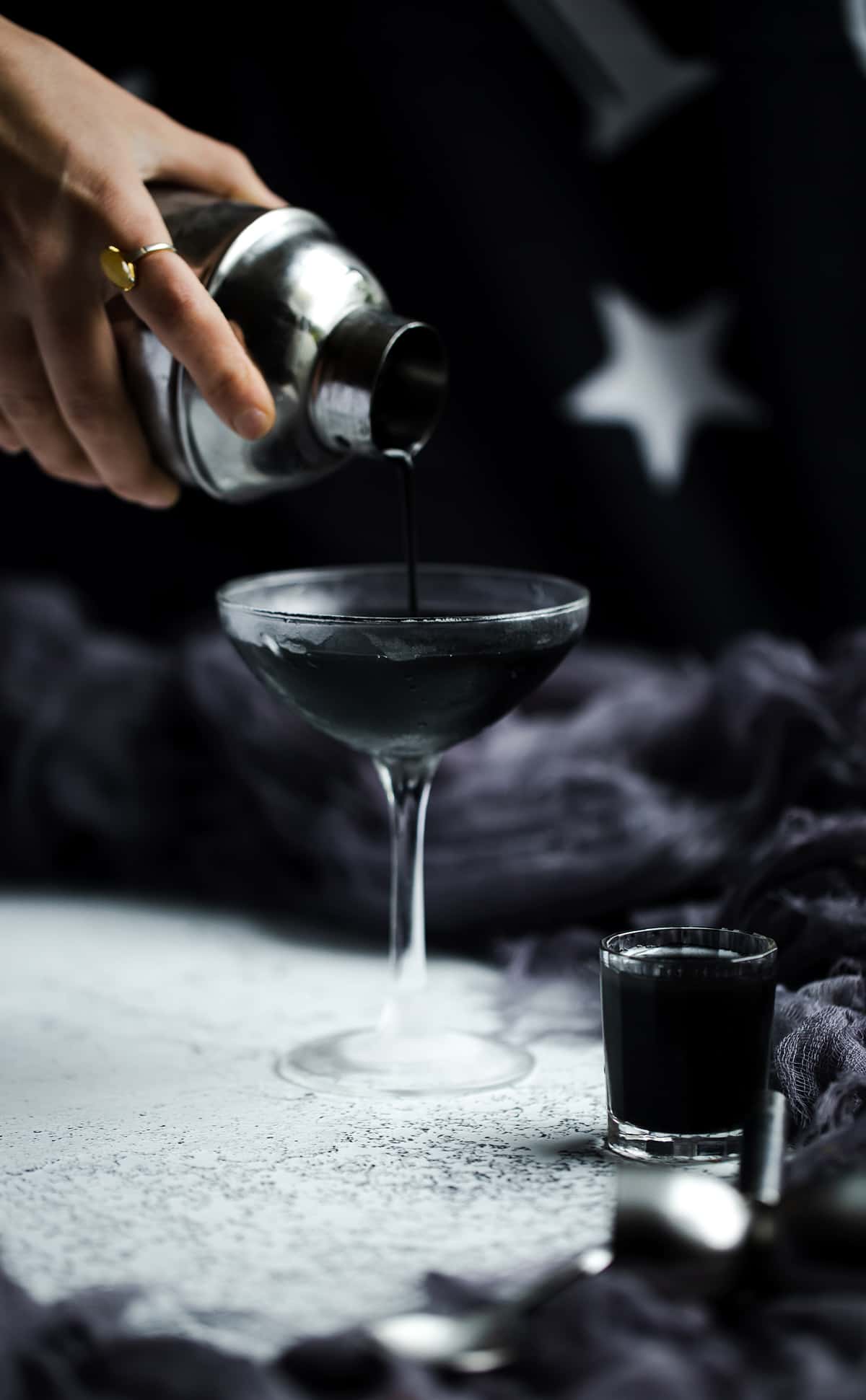 Add ice sphere.
Top with splash of club soda.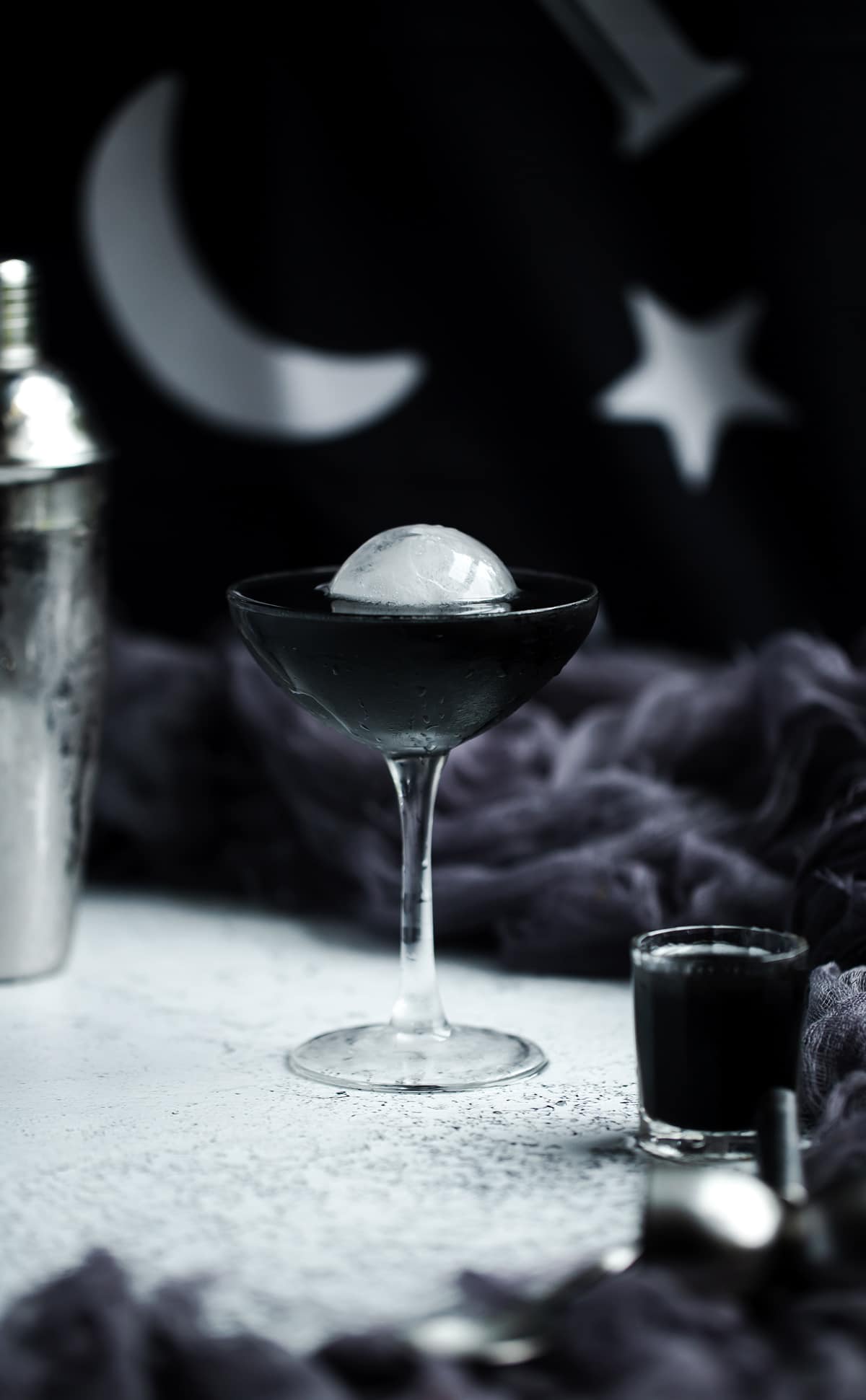 Enjoy!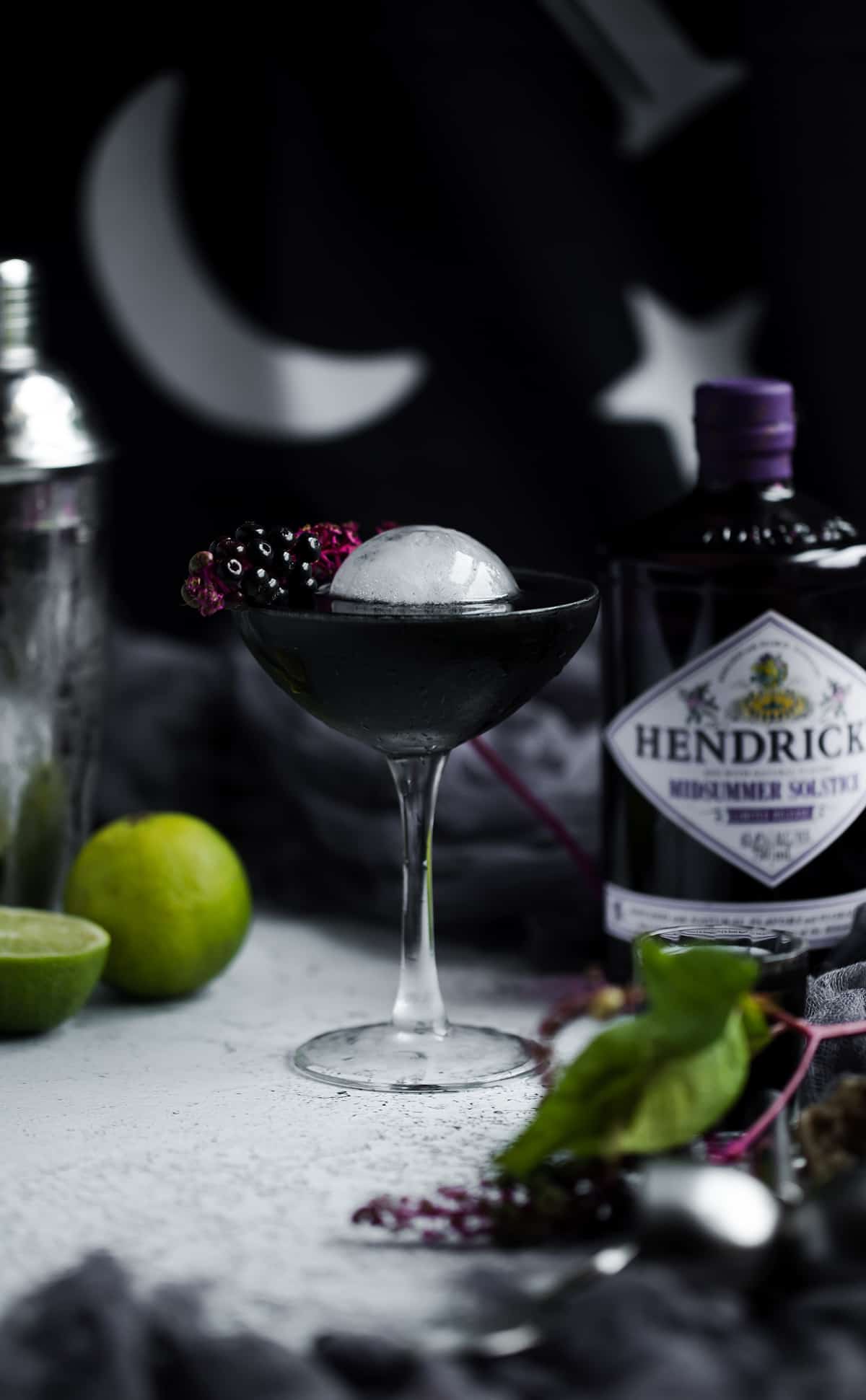 Serving size
This recipe makes enough for two servings but can easily be made into a pitcher cocktail. Simply stir 1 cup black gin, with 2 cups pineapple juice and ½ cup lime juice in a large pitcher. Add ice and soda after pouring or fill pitcher with ice and top with soda.
Make it a mocktail
For a fun sans-alcohol Halloween mocktail infuse pineapple and lime juice with a bit of charcoal powder. Serve with a fun garnish (try using chalk marker to pen spooky phrases on glasses), ice and a hefty pour of club soda.
Is activated charcoal harmful to your health?
Commonly used by emergency room doctors to treat poisonings and drug overdoses, activated charcoal can absorb oral medications so that the drugs never reach the bloodstream and should be treated like other health supplements. Consume at your own risk, much like you would raw and undercooked foods like sushi and rare meat.
From my personal experience as far as I can tell the only outcome has been zero hangover and possibly the ability to drink a bit more without getting tipsy.
But you should always consult a doctor before consuming anything new if you're worried. To learn more about the health benefits and potential side effects of activated charcoal.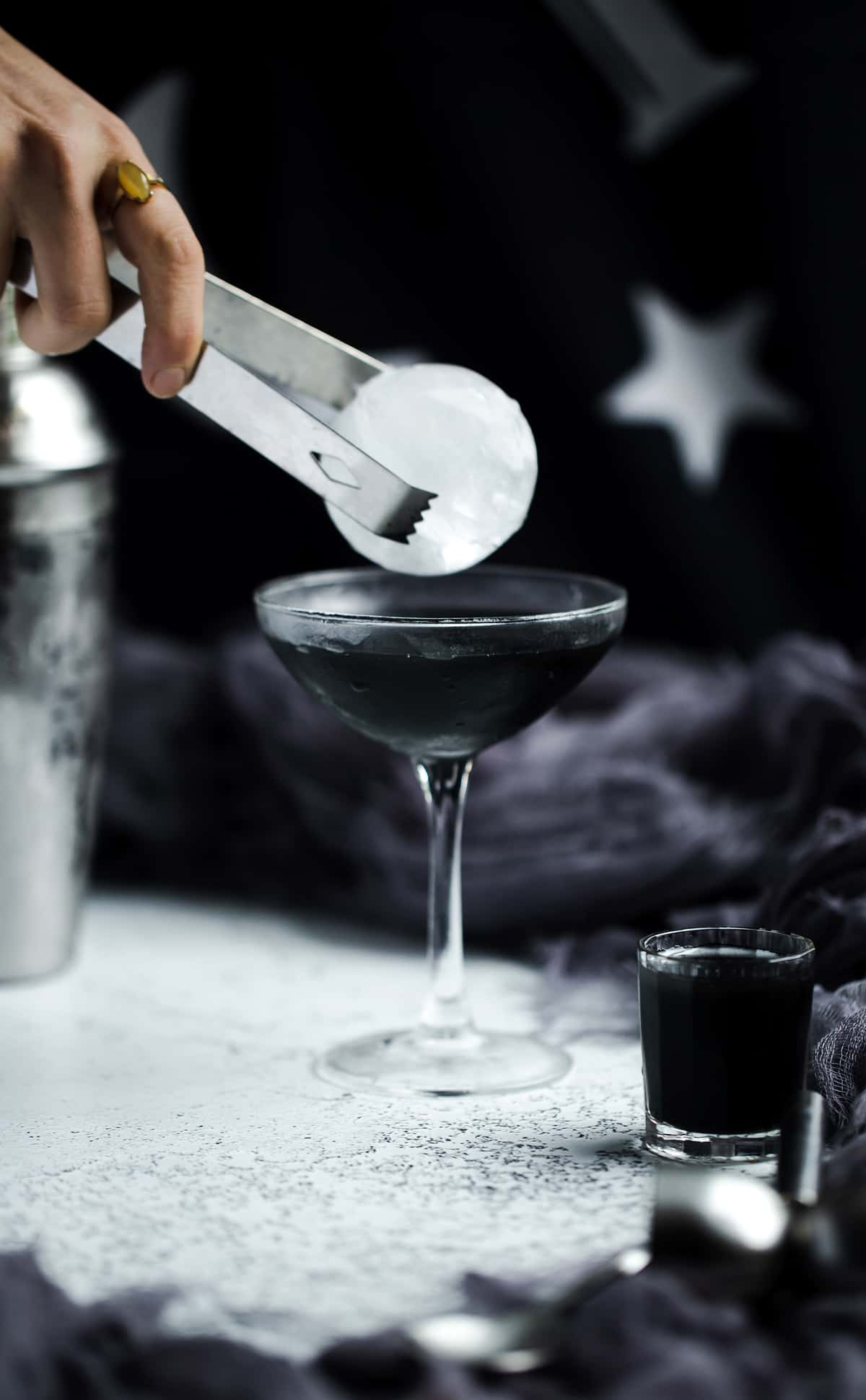 Ingredients
2

ounces

gin

½

teaspoon

charcoal powder

4

ounces

pineapple juice

1

ounce

lime juice

1

ounce

club soda
Instructions
Make black gin, up to a month in advance. Infuse gin with activated charcoal powder. Either add a few ounces of gin to a lidded jar and shake with a pinch of food-grade activated charcoal powder until combined. Or infuse an entire bottle with a tablespoon of charcoal powder.

Prepare ice spheres using round ice mold and place coupe or martini glasses in freezer.

When ready to serve fill a cocktail shaker with ice and pour black gin, pineapple juice and lime juice over ice. Shake to chill and strain into chilled glasses.

Carefully place an ice sphere in the center of each glass and top with a pour of club soda.
Nutrition
Calories:
56
kcal
|
Carbohydrates:
14
g
|
Protein:
1
g
|
Fat:
1
g
|
Saturated Fat:
1
g
|
Sodium:
8
mg
|
Potassium:
191
mg
|
Fiber:
1
g
|
Sugar:
6
g
|
Vitamin C:
11
mg
|
Calcium:
7
mg
|
Iron:
1
mg
Nutrition Facts
The Full Moontini
Amount Per Serving
Calories 56
Calories from Fat 9
% Daily Value*
Fat 1g2%
Sodium 8mg0%
Potassium 191mg5%
Carbohydrates 14g5%
Protein 1g2%
Vitamin C 11mg13%
Calcium 7mg1%
Iron 1mg6%
* Percent Daily Values are based on a 2000 calorie diet.
Shop this post
Please note: Fresh Flavorful is a participant in the Amazon Services LLC Associates Program, and these customized links, provided by Amazon, track the referrals to their website for the purposes of assigning commission on these sales.