Learn How to Make Pumpkin Puree from Scratch with real pumpkin and easily make your own canned pumpkin substitute.
The flavor and texture of fresh pumpkin puree can't be beat. Easy to make when fresh pumpkins are in season. Or freeze and enjoy pumpkin puree recipes all year long! 
Homemade pumpkin puree
Whether you have an abundance of pumpkins, are looking for a canned pumpkin substitute or are just wondering how to make pumpkin pie with real pumpkin you've come to the right place.
Once you learn how to make pumpkin puree you'll see that it's so easy, economical and delicious to make it from scratch instead of buying canned. And you'll be looking for ways to add this nutritious anti-inflammatory, antioxidant rich vegetable to your diet.
Ingredients
Fresh pumpkins – are all you need. Use in season organic pumpkins when available if you can, but any small dense pumpkin, or similar squash, can be used. Sugar pie pumpkins are known for being great for baking and a little sweeter than others. But Libby uses a variety of Dickinson Pumpkin in their canned pumpkin and there are many other varieties that can be substituted.
Yield
One pumpkin will yield more than enough puree to substitute for canned pumpkin in recipes. Typically there's 15 ounces of pumpkin puree in a can, which is just under 2 cups. And typically an average sized pie pumpkin is about 4 pounds and will yield at least 2 cups of puree.
Step by step instructions
Use a sharp heavy knife slice pumpkin in half.
Remove seeds and any stringy insides. Separate and save seeds to make Brown Sugar Sriracha Roasted Pumpkin Seeds. 
Roast pumpkin, cut side down, in a hot oven. Making roasted pumpkin puree this way ensures the squash steams without excess moisture making it thick and creamy and never watery.
Once softened, remove from oven and cool.
Easily scoop the soft flesh away from the skin.
Puree smooth in food processor or blender. To make homemade canned pumpkin without a blender use a potato masher or a good strong arm and a wooden spoon.
Use fresh, substituting one for one for canned pumpkin in recipes.
Or refrigerate or freeze to use later.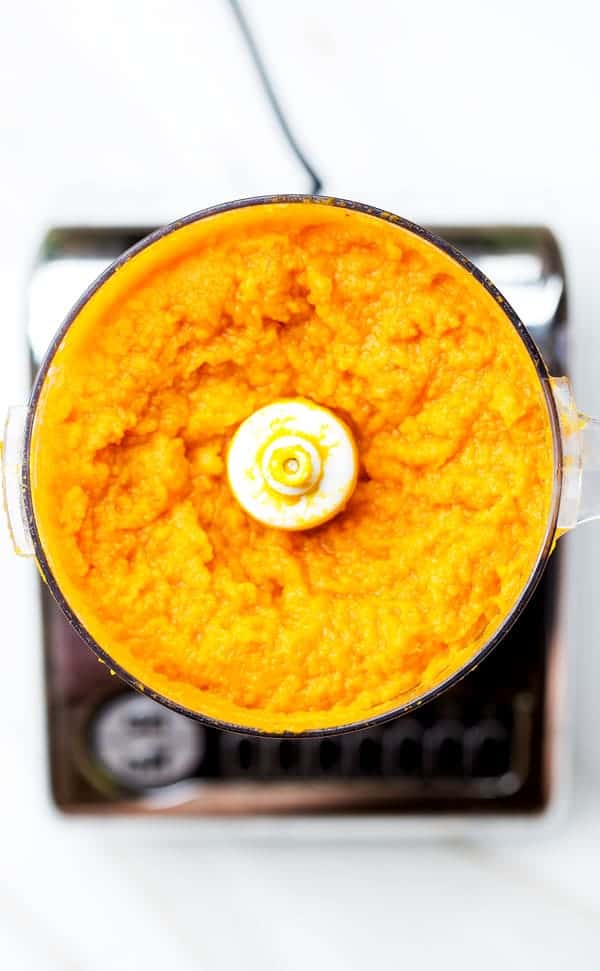 Pumpkin puree recipes
Canned pumpkin, pumpkin puree, pure pumpkin and solid-pack pumpkin are all terms that are used interchangeably to describe the same thing. Alternately, canned pumpkin pie mix is a mix of pumpkin, pumpkin spices and sweetener and is used primarily for pumpkin pie rather than other pumpkin recipes.
Homemade roasted pumpkin puree can be substituted, one for one, for any of them in sweet and savory recipes.
Use leftover canned pumpkin much like applesauce in a as a replacement for egg and/or oil when baking. Make homemade pumpkin pie, pumpkin scones, cookies, muffins, loaf bread, cookies, french toast, mousse, fruit dip, smoothies, or pancakes.
Or, make savory pumpkin recipes like soup, pasta, biscuits, curries, lasagna, pasta sauce or mac and cheese.
You can even stir leftover pumpkin into cat or dog food.
Or simply freeze to use later.
How to store
Store refrigerated up to five days. Or to freeze for up to 6 months. Simply place in freezer bags or vacuum seal and store flat. Defrost in the refrigerator overnight and use in your pumpkin recipes.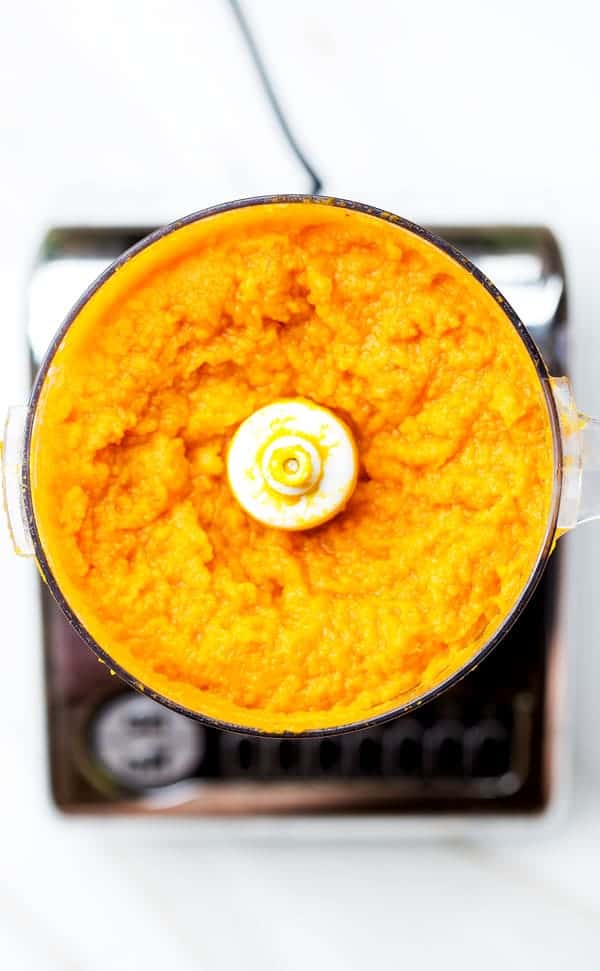 Ingredients
1

small

pumpkin

about 3-5 pounds

dash

water

if needed to help blend
Instructions
Preheat oven to 400 degrees.

Cut pumpkin in half and remove seeds. Place on a baking sheet and roast cut side down, until soft, 50-60 minutes.

Cool completely, then scoop out flesh. If needed, transfer to a food processor and process until smooth.

Keep covered in the refrigerator up to five days. Or, place in freezer bags or vacuum seal and freeze up to three months.
Notes
One 4 pound sugar pie pumpkin will yield approximately 2 cups of pumpkin puree. Equal to around 16 ounces of canned pumpkin, while the typical canned pumpkin is 15 ounces.
Nutrition
Calories:
177
kcal
|
Carbohydrates:
44
g
|
Protein:
7
g
|
Fat:
1
g
|
Saturated Fat:
1
g
|
Polyunsaturated Fat:
1
g
|
Monounsaturated Fat:
1
g
|
Sodium:
7
mg
|
Potassium:
2312
mg
|
Fiber:
3
g
|
Sugar:
19
g
|
Vitamin A:
57888
IU
|
Vitamin C:
61
mg
|
Calcium:
143
mg
|
Iron:
5
mg
Nutrition Facts
How to Make Pumpkin Puree
Amount Per Serving
Calories 177
Calories from Fat 9
% Daily Value*
Fat 1g2%
Sodium 7mg0%
Potassium 2312mg66%
Carbohydrates 44g15%
Protein 7g14%
Vitamin A 57888IU1158%
Vitamin C 61mg74%
Calcium 143mg14%
Iron 5mg28%
* Percent Daily Values are based on a 2000 calorie diet.