Fried Sausage and Apples are the only two ingredients in this easy weeknight meal. Smoky sausages and naturally sweet apples combine for a deliciously balanced bite with big flavor. Paired with a crusty loaf of bread and coarse deli mustard it is simple rustic perfection.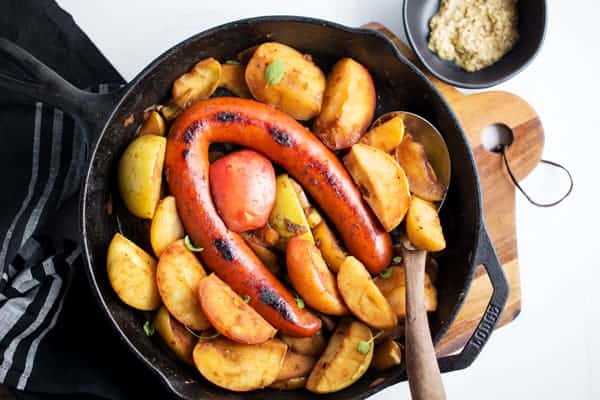 Inspired by the dishes of Alexander Hamilton's time, this meal needs only a hot cast iron pan and two ingredients. The same simple ingredients and techniques that were a necessity in the past are lifesavers in the modern busy-weeknight-kitchen.
Cookbooks through History
I love old cookbooks. Not just those vintage Betty Crocker cookbooks from our mother's kitchen but the really old ones. Cookbooks from 100 years ago or more.
I find it so interesting to read about what people used to eat and how they would prepare their meals. A glimpse into their every day lives. Not the headline-making aspects of history but, the little moments. Their daily rituals, their struggles, and their joys. What did it take to run a household? What did dinner parties and entertaining look like? In what ways are things the same as our current lives and how do they differ? Some answers to these questions are hidden in the pages of old cookbooks.
You can view versions of many historical and just-plain-old cookbooks for free online at archive.org.
Cooking, Eating and Entertaining in Hamilton's World
That's why when cookbook author, Huffington Post blogger and creator of MotherWouldKnow.com, Laura Kumin asked me to review her latest project, The Hamilton Cookbook Cooking, Eating and Entertaining in Hamilton's World, I jumped at the chance! Especially because I'm allll about cooking, eating, entertaining and adventuring! Combined with my love of old cookbooks, it was a no brainer.
The Hamilton Cookbook by Laura Kumin
Laura does an amazing job of deciphering old recipes and preparation methods to make them easy for the modern cook. But The Hamilton Cookbook is so much more than a cookbook. It's an interesting mix of historical information about Alexander Hamilton and the entire Revolutionary time period and authentic recipes that bring to life what it was like to eat with our founding fathers and entertain as they did.
Fried Sausage and Apples Recipe
Laura adapted the original recipe for Fried Sausages and Apples from the 1805 Revolutionary period classic cookbook, The Art of Cookery Made Plain and Easy by Hannah Glasse.
I mean, you know it has to be good. Anything made "plain and easy" is a winner in my book.
The modern version in The Hamilton Cookbook takes 25 minutes and serves two. I revised this slightly to easily feed a larger family.
Laura Kumin's Fried Sausages and Apples calls for peeled apples, but I leave the peels intact. Because I'm lazy. And I like the texture of the peels in the final dish. The apples don't soften quite as quickly, but I'll trade active peeling time for a little inactive cooking time any day.
The apples impart a sweetness to the sausage and the sausage gives the whole dish a nice smokiness. For good variety and texture, choose several different types of apples. A mix of crisp tart apples like Granny Smith and sweet and soft apples like Gala give the entire dish great flavor and texture.
I chose smoked sausage over fresh country sausage. I love smoked sausage as an easy weeknight family dinner staple. It's so versatile and being fully cooked, can be on the table in minutes. Whether baked like this Sheet Pan Sausage and Cabbage or sliced and thrown in soup like in Sausage and Kale Soup and Green Lentil Stew or fried in a skillet like Fried Sausage and Apples it's a busy weeknight lifesaver!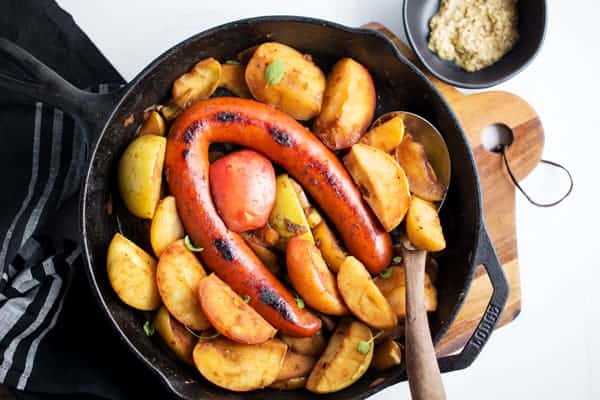 Ingredients
1

pound

smoked sausage

4

pounds

whole apples

about 8 large apples or 12 medium
Instructions
Wash, core and cut half the apples in quarters. Wahs, core and thinly slice the other half.

Place sausages in a large heavy bottomed pan over medium high heat. When sausages start to render their juices, after about 30 seconds to a minute, add the thinly sliced apples. Cook, stirring apples and turning sausage frequently.


Once the sliced apples begin to brown, add the apple quarters and continue to stir frequently so the sausage and apples brown evenly. Making sure to push the sausage down so that it's completely touching the hot skillet.

When the larger apple quarters start to brown, after about 3 minutes, add 1/4 cup water and cover the pan to steam and help the apples release more juices. Steam for 3-5 minutes, then remove lid and continue cooking until sausages are browned and heated through, the larger apples have softened and the sliced apples have turned to applesauce.

Remove from heat and remove the sausage rope. Slice sausage and either return to skillet or transfer the apples, sauce and sliced sausage to a serving platter. Serve as is or with grainy mustard and a crusty loaf of bread.
Notes
Recipe adapted from "Fried Sausages and Apples" Laura Kumin, The Hamilton Cookbook
Nutrition
Calories:
577
kcal
|
Carbohydrates:
64
g
|
Protein:
14
g
|
Fat:
30
g
|
Saturated Fat:
10
g
|
Cholesterol:
80
mg
|
Sodium:
966
mg
|
Potassium:
699
mg
|
Fiber:
10
g
|
Sugar:
47
g
|
Vitamin A:
245
IU
|
Vitamin C:
20.9
mg
|
Calcium:
35
mg
|
Iron:
1.7
mg
Customize It!
If you'd like to turn this two ingredient meal into a three or four ingredient meal, add a little sliced onion, butter, garlic and/or dried thyme to the pan with the onions. Swap out water for apple cider or beer. Sprinkle fresh sage and fresh ground black pepper on top. Get creative and have fun! Be thankful that our modern kitchens are not subject to the same limiting restrictions as those of our Revolutionary Era ancestors.
Any smoked sausage like kielbasa, andouille or linguisa are great choices and all add a little different flavor. Alternately, you can choose individual sausages instead of rope sausage as long as there is about 1 pound of sausage total. Fresh country or italian seasoned sausage can also be substituted, but the cooking times will be slightly longer to ensure the sausage is cooked through.
I'm fascinated by how we use food to nourish our people, creating bonds and shared memories in the present while also connecting us to our past.
In what ways does food connect you to others? Do you have a food-connection to the history of your region? Does your family have traditions centered around food?  Have they been passed down through generations? Or, are you creating your own family food traditions? Leave me a comment and let me know!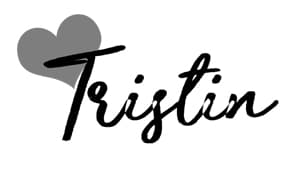 Nutrition Facts
Fried Sausage and Apples
Amount Per Serving
Calories 577
Calories from Fat 270
% Daily Value*
Fat 30g46%
Cholesterol 80mg27%
Sodium 966mg42%
Potassium 699mg20%
Carbohydrates 64g21%
Protein 14g28%
Vitamin A 245IU5%
Vitamin C 20.9mg25%
Calcium 35mg4%
Iron 1.7mg9%
* Percent Daily Values are based on a 2000 calorie diet.
Pin for later!