Puff Pastry Fruit Tart is a delicious and quick dessert made with frozen puff pastry sheets, fresh berries and a jam-studded filling.
With easy jam and cream cheese filling on puff pastry tart shell with a simple glaze is a perfect sweet puff pastry recipe for Easter dessert, Mother's Day tea or anytime you're looking for a quick, delicious easy brunch recipe.
Easy puff pastry dessert
I usually love to go all out and make a fancy shmancy dessert for Easter. Coconut cake, Banana Chiffon Cake, lemon pound cake with coconut glaze, coconut cream pie, lemon bars, etc. And this is all fine and dandy except for the fact that everyone gorges on chocolate and jelly beans and the dessert just sits around. In all it's unappreciated glory. Last year I decided to do something lighter and easier to prepare. I found this recipe for an Easy Fresh Fruit Tart from America's Test Kitchen from Cook's Illustrated.
With a light, crispy puff pastry tart shell. And a not too sweet jam and cream cheese filling topped with mixed berries it was a winner! Something that can be snacked on before the meal and isn't too sweet to be enjoyed alongside Easter candies and chocolate.
Ingredients
Frozen puff pastry – in your grocer's freezer section frozen puff pastry is an amazing thing to keep around for times when you need an easy appetizers or dessert quickly. For a similar dessert try these Phyllo Mini Fruit Tarts or these Red White and Blue Lemon Cheesecake Tarts.
Fresh fruit – use whatever you like. In the past I've used a mix of all berries (blackberry, blueberry, strawberry, raspberry) but this year only the blackberries and raspberries looked fresh, so that's what I bought. Once you get the technique down you can play around and make it suit your own tastes – I'm thinking peach and blueberry would be delicious.
Cream cheese – half a package, 4 ounces or ½ a cup, softened. If you forget to bring cream cheese to room temperature it can be softened in the microwave for a few seconds.
Jelly – apple, strawberry, apricot or blackberry jelly or any smooth and clear preserve adds a beautiful sheen when used as a fruit tart glaze.
Egg– to brush over the puff pastry before baking.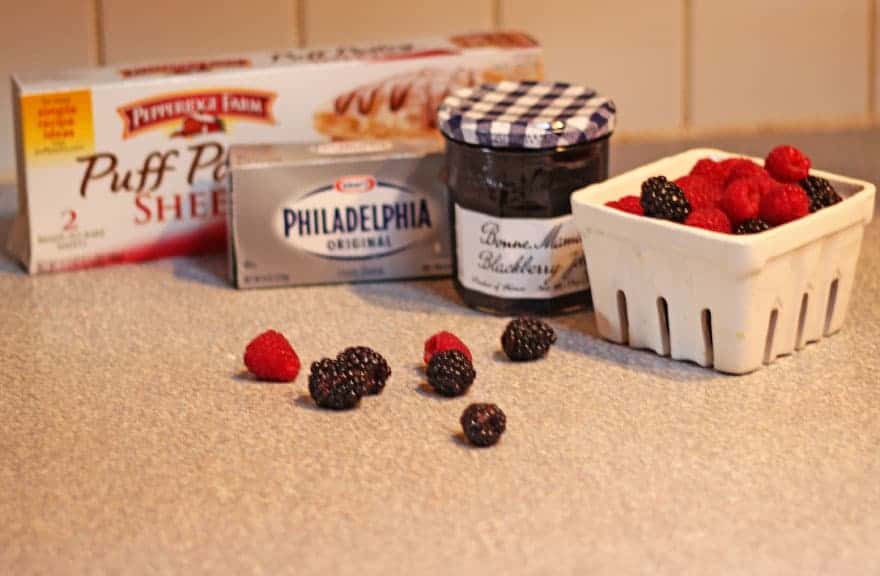 Step by step instructions
The day before you plan to make this take puff pastry out to defrost. Each box comes with 2 sheets of pastry. Take one out, wrap in plastic wrap and leave in the fridge overnight to defrost.  If you forget to defrost the night before you can leave the pastry on the counter for an hour to defrost. In order to puff up when baked it needs to be cold when you cook it. If the pastry gets too warm stick it in the freezer for a few minutes until it stiffens up a bit. Puff pastry should easily unfold but still feel firm.
Preheat oven to 400 degrees Fahrenheit.  And take out cream cheese to soften.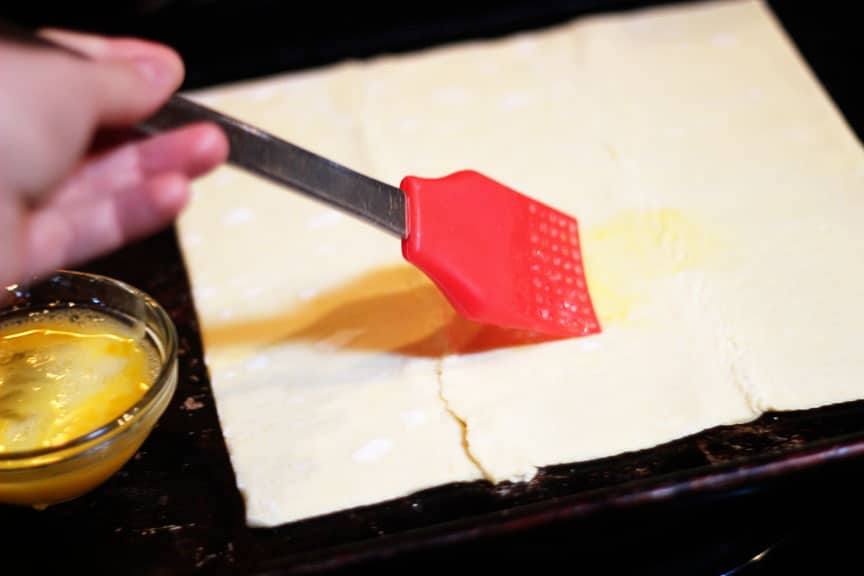 Unfold puff pastry onto a parchment paper lined baking sheet. If you do not normally keep parchment paper around, do NOT use wax paper or freezer paper. Instead place puff pastry directly on ungreased baking sheet. The bottom will come out a little more browned but it will still be delicious.
Brush the pastry with egg.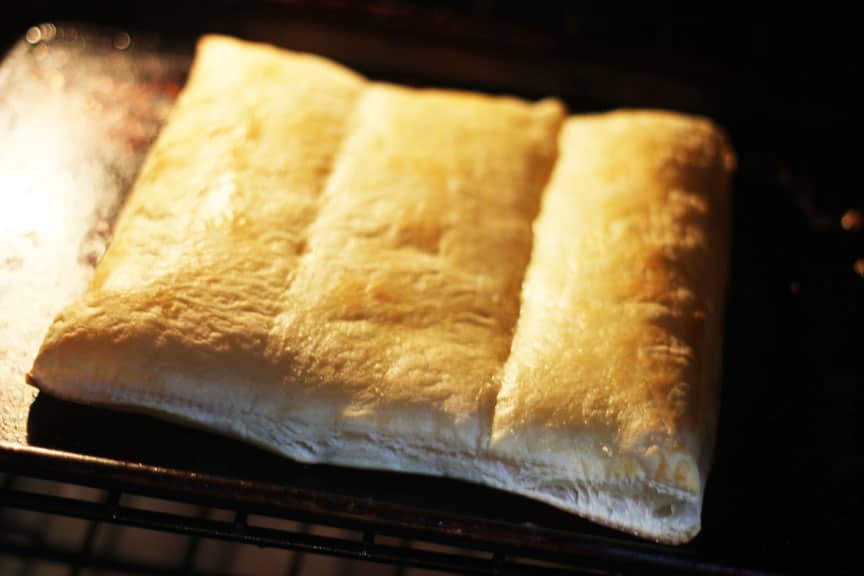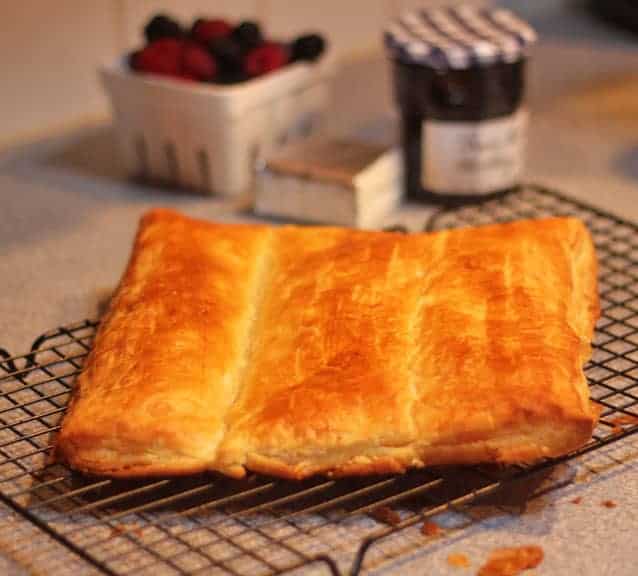 Pop it in the preheated oven and bake for 14-16 minutes, rotating halfway, or until golden brown and beautifully goofy.
Remove puff pastry and place on wire rack to cool.
When cool transfer to serving platter and cut a border around the pastry using a small serrated knife.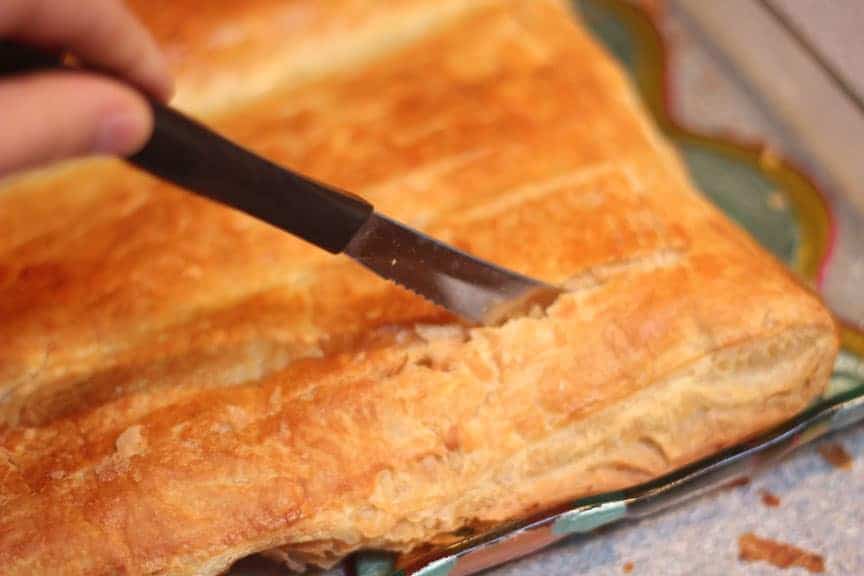 Gently push down on the middle section leaving the border raised.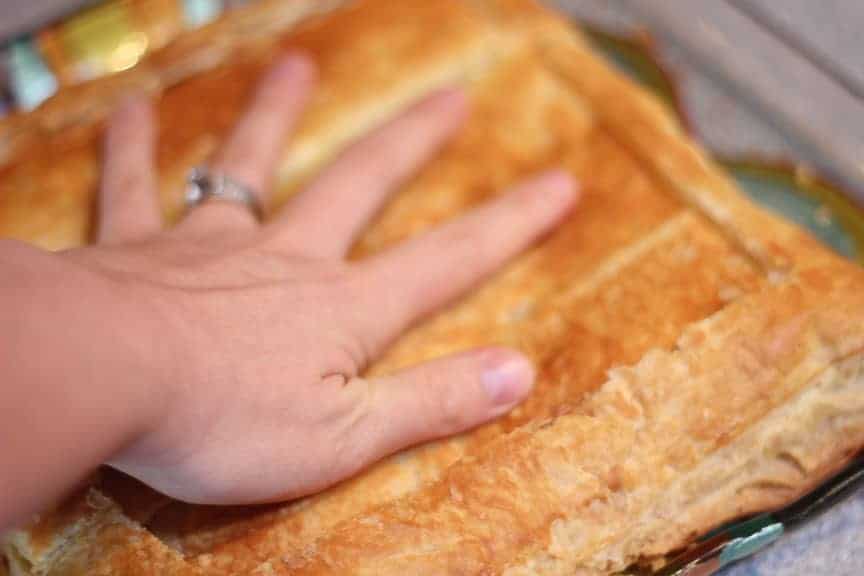 Make sweetened jam and cream cheese mixture.
Spread cream cheese mixture evenly over the middle, pushed down, section of puff pastry tart shell.
Microwave ½ cup of jelly until liquid, about 30 seconds on high. If you accidentally over microwave your jelly, stick in the fridge until it's back to room temperature.
Add 3 cups of fruit to your melted jelly, gently stir until covered.
Then spoon over the cream cheese mixture. If you forget to cover your fruit with jelly before putting on the tart brush the liquid jelly over the fruit. It won't be as pretty or as easy but it works.
Voila! A beautiful, delicious and easy dessert or brunch recipe to enjoy!
How to make ahead
This pastry technically could be made the day before you plan to serve it, stored covered in the fridge. But it's best served the same day it's made. Puff pastry tart shell, jam cream cheese mixture and jelly covered fruit can all be prepared and store separately. Then assembled prior to serving to prevent the berries from leaking too much liquid onto the cream cheese.
Ingredients
1

9 ½ x 9 ½ sheet frozen puff pastry, thawed

1

egg

beaten, for brushing

4

ounces

cream cheese

½ package, softened

½

cup

plus 2 tablespoons jelly

3

cups

15 ounces fresh berries (or 3 cups any fruit)
Instructions
Preheat oven to 400 degrees F.

Line a baking sheet with parchment paper.

Unfold the puff pastry, lay it on the baking sheet and brush with the egg.

Bake pastry until golden brown and puffed, about 15 minutes, rotating the baking sheet halfway. Transfer the baked pastry to a wire rack to cool.

Once pastry is completely cool, transfer it to a serving platter and cut a ½ inch border around the edge. Press the center down about ¼ inch lower than the rest.

Mix the cream cheese and 2 tablespoons of jelly together in a medium bowl. Spread mixture over the center of the pastry.

Microwave remaining ½ cup of jelly in a large bowl until melted, about 30 seconds. Add the berries and toss gently to coat. Spoon the berries over the cream cheese mixture and refrigerate until jelly is set, about 1 hour.

Cut as desired and serve.
Notes
Recipe adapted from: America's Test Kitchen Family Baking Book
Nutrition
Calories:
278
kcal
|
Carbohydrates:
32
g
|
Protein:
3
g
|
Fat:
15
g
|
Saturated Fat:
5
g
|
Cholesterol:
32
mg
|
Sodium:
121
mg
|
Potassium:
83
mg
|
Fiber:
2
g
|
Sugar:
14
g
|
Vitamin A:
220
IU
|
Vitamin C:
3
mg
|
Calcium:
26
mg
|
Iron:
1
mg
Nutrition Facts
Puff Pastry Fruit Tart
Amount Per Serving
Calories 278
Calories from Fat 135
% Daily Value*
Fat 15g23%
Cholesterol 32mg11%
Sodium 121mg5%
Potassium 83mg2%
Carbohydrates 32g11%
Protein 3g6%
Vitamin A 220IU4%
Vitamin C 3mg4%
Calcium 26mg3%
Iron 1mg6%
* Percent Daily Values are based on a 2000 calorie diet.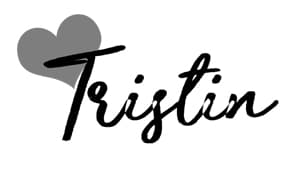 Pin for later!