Layered Creamy Cranberry Pie is a cranberry pie recipe with a mix of sweet tart berries and freshly whipped cream in a toasted pecan gluten free pie crust.
Jump to:
Cranberry pie recipe
A cranberry pie recipe for the holidays that's a super festive as a gluten free Christmas dessert. But also perfect served any time of the year!
This Cranberry Pie recipe is based off an old no bake cranberry cream pie recipe I created in partnership with Mi Del to showcase their no bake graham cracker crust. Both cranberry pies are reminiscent of old-fashioned lush desserts With layers of whipped cream and custard on top of a flavorful crust.
The original no bake version is delicious but I recently decided it had the possibility of being even better. And after a little rework I present this new Cranberry cream pie!
With sturdier berry custard layers and a more flavorful toasted pecan gluten free pie crust. And even with these major upgrades the layers were simplified and the recipe became even easier to make.
With a tart and creamy cranberry raspberry custard baked into a pecan crust and whipped into a berry whipped cream layer that's topped with Chantilly cream.
This flavorful cranberry pie recipe is the perfect make ahead Christmas dessert that can easily be served year round.
Ingredients
Cranberries – Fresh or frozen. No need to defrost the frozen berries before simmering. The natural pectin in cranberries, like grapes, helps to thicken the custard.
Raspberries – fresh or frozen raspberries. If substituting frozen berries there's no need to defrost first, simply use frozen.
Eggs – a ⅔ mixture of whole eggs and egg yolks makes for a sturdy but creamy custard layer.
Lemon juice and zest – lemon adds the right amount of tart acidity to complement the tart cranberries and sweet raspberries. But these cranberry pie ingredients are super customizable! To make a cranberry orange pie feel free to substitute orange or mandarin juice. Cranberry orange desserts like cranberry cookies and cranberry orange ice cream is always a welcome flavor combination.
Granulated sugar – to sweeten the cranberry raspberry custard.
Heavy whipping cream – keep the whipping cream refrigerated until ready to whip.
Confectioners sugar – the cornstarch in confectioners sugar helps to stabilize the whipped cream and turn it into chantilly cream. Chantilly cream is simply a fancy name for stabilized whipped cream that holds it's shape for days.
Vanilla extract
Gluten free pecan crust – Made from only brown sugar, pecans, cinnamon and butter this gluten free pie crust recipe is the perfect sturdy, flavorful companion for luscious cream pie recipe. Instead of cranberry pecan pie with gluten free pecan pie crust this cranberry pie recipe can be made with an almond or walnut crust, homemade or store-bought graham cracker or gingersnap crust.
Step by step instructions
Make pecan crust dough, press into pie plate and refrigerate.
Make cranberry raspberry custard by simmering berres, sugar, and lemon juice until thickened and reduced. Puree and return to pan to keep warm. Then whisk eggs with sugar and whisk warm cranberry mixture into eggs in stages to temper. Return tempered mixture back to stove to bring to a simmer, stirring constantly.
Meanwhile par bake crust about 15 minutes.
Then pour half the custard into still warm crust and bake until completely set, about 20 more minutes. Tightly cover and refrigerate remaining cranberry raspberry custard to use later in the creamy cranberry layer.
Once custard is set remove pie from oven and cool to room temperature. Then tightly cover and refrigerate until completely set, at least 2 hours.
Meanwhile, prepare chantilly cream by whipping cold whipping cream with powdered sugar to stiff peaks. Whisk cream at low speed until frothy then add sugar and increase to high speed. Continue whipping to stiff peaks. Whip at high speed to stiff peaks. When you start to see big fluffy waves in the cream check for stiff peaks. Once the cream stands straight up off the whisk chantilly cream is ready.
Reserve half the chantilly cream. And fold reserved cranberry custard into other half to make cranberry cream.
Top chilled custard layer with cranberry cream followed by a thick layer of plain vanilla chantilly cream.
Garnish as desired and serve.
Enjoy!
Make ahead
This easy cranberry pie recipe is a perfect make ahead dessert idea!
It takes a little time for the layers to set sp it's best to make as far in advance as possible for sturdiest layers and best looking slices.
Start in the morning by baking and filling the crust with raspberry custard. After baking again, cool, cover and refrigerate the cranberry curd filled pie. Later that evening make sweetened whipped cream layers and place back in the refrigerator to set overnight. When ready to serve garnish as desired, cut into beautiful slices and enjoy.
How to store
Store Lush Pecan Cranberry Pie refrigerated until ready to serve, up to three days in advance.
For best layers and texture refrigerate crust and cranberry curd layer for as long as possible in advance. Then top with cream layers up to 12 hours in advance. And garnish before serving.
How to garnish
You can garnish as shown with holly leaves if available. Holly leaves are not poisonous and are often used as an herbal medicine to make a beneficial holly leaf tea. Although holly berries are poisonous.
Rather than simply mound on swoops of freshly whipped cream you can pipe the chantilly cream. Rosettes, stars or any other design really makes turns this cranberry pie a show stopping dessert!
Omit holly to serve as a Thanksgiving dessert or for another occasion. Or garnish with fresh or sugared cranberries, raspberries, or candied pecans.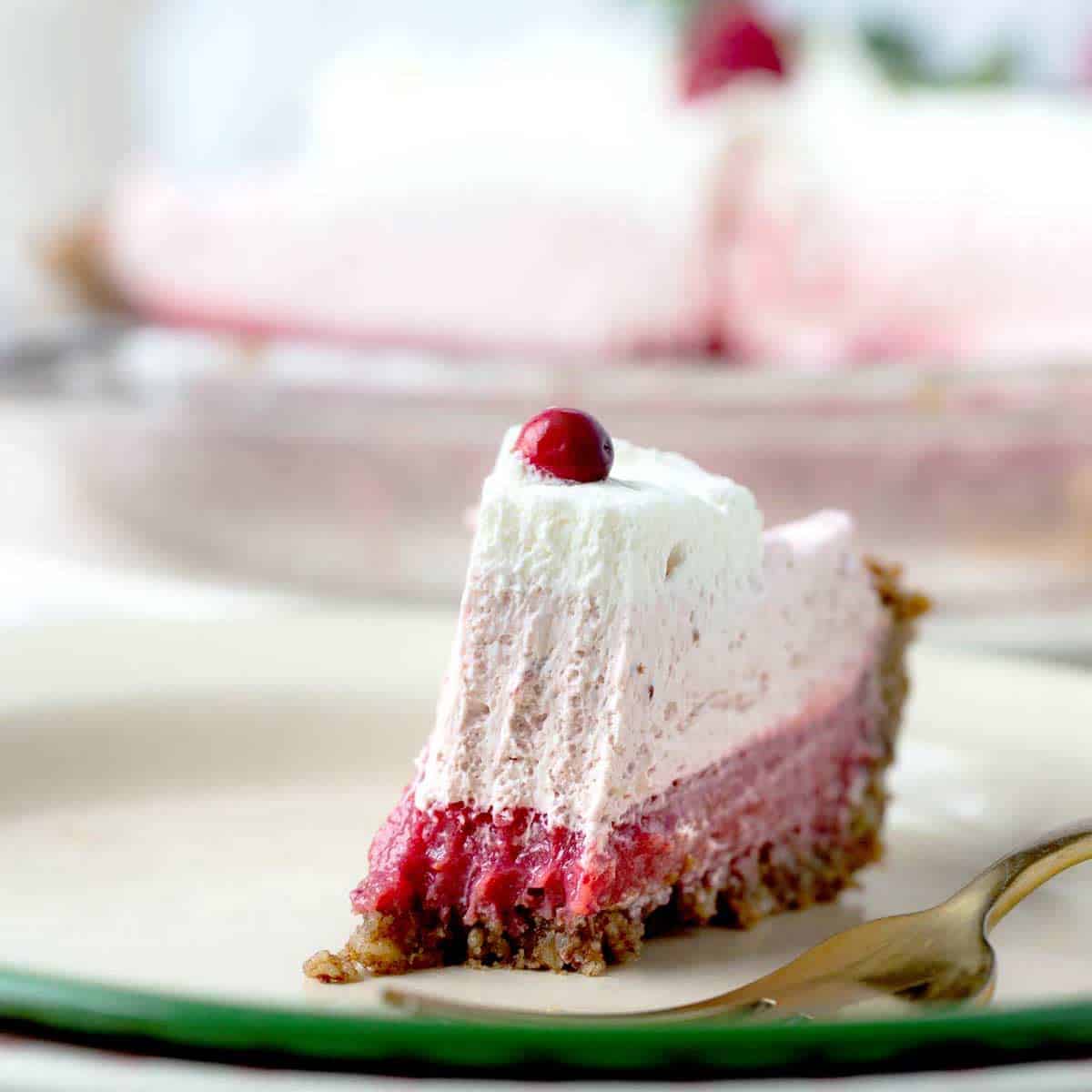 Ingredients
Toasted Pecan Gluten Free Pie Crust
3

cups

pecans

shelled, roasted

¼

cup

unsalted butter

¼

cup

light brown sugar

½

teaspoon

ground cinnamon

½

teaspoon

fine salt
Cranberry Raspberry Custard
3

cups

cranberries

fresh or frozen

1

cup

raspberries

fresh or frozen

1

cup

granulated sugar

divided into two ½ cup portions

½

cup

lemon juice

from about two large lemons

1

teaspoon

lemon zest

5

large

eggs

divided into 3 whole eggs and 2 egg yolks

⅛

teaspoon

fine salt
Chantilly Cream
2

cups

heavy whipping cream

1 pint, cold

½

cup

confectioners sugar

1

teaspoon

vanilla extract

⅛

teaspoon

fine salt
Instructions
Make pecan crust. Pulse pecans, brown sugar, cinnamon, and salt in food processor until roughly chopped. Then pour into large bowl and mix in softened butter with hands until mixture resembles wet sand. Press pecan mixture into the bottom and up the sides of 9-inch pie plate, cover and refrigerate until ready to bake.

Make cranberry raspberry custard. Combine cranberries, raspberries, ½ the granulated sugar, lemon juice and lemon zest. Bring mixture to a simmer in a small saucepan and cook uncovered until cranberries burst and mixture reduces slightly, about 15 minutes. Then remove from heat and allow to cool slightly before carefully pureeing with blender or food processor. Pour mixture back in saucepan to keep warm over low heat.

Meanwhile whisk whole eggs, egg yolks, remaining granulated sugar, and salt until well combined. Then slowly add a cup of still warm cranberry mixture to the egg mixture whisking constantly. One combined add another cup of the cranberry mixture, whisking vigorously to temper the eggs and prevent curdling. Finally whisk egg mixture to remaining cranberry in saucepan and whisk smooth. Place back over medium low heat and bring back to a simmer while constantly stirring, until thick enough to coat the back of a spoon, about 15 minutes.

Preheat oven to 350° Fahrenheit and bake pecan crust until fragrant and slightly puffed in center, 12-15 minutes.

Remove par baked crust from oven and immediately pour in ½ the cranberry custard while both are still hot. Bake until crust is toasted and custard is completely set in the center, about 15-20 minutes longer. Tightly cover and refrigerate remaining cranberry raspberry custard to use later.

Once custard is set remove pie from oven and cool to room temperature. Then cover tightly and refrigerate until completely set, at least 2 hours.

Meanwhile, prepare chantilly cream by whipping cold whipping cream with powdered sugar to stiff peaks. Whisk cream at low speed until frothy then add sugar and increase to high speed. Continue whipping to stiff peaks.

Place ½ the chantilly cream in a small bowl and fold in reserved cooled cranberry custard to remaining chantilly cream. Then add an even layer of cranberry cream on top of completely chilled cranberry custard layer. Top with swoops of chantilly cream and either serve immediately or cover and refrigerate until ready to serve. Garnish, as desired, before serving.
Nutrition
Calories:
736
kcal
|
Carbohydrates:
54
g
|
Protein:
10
g
|
Fat:
57
g
|
Saturated Fat:
21
g
|
Polyunsaturated Fat:
10
g
|
Monounsaturated Fat:
23
g
|
Trans Fat:
0.2
g
|
Cholesterol:
199
mg
|
Sodium:
283
mg
|
Potassium:
333
mg
|
Fiber:
6
g
|
Sugar:
45
g
|
Vitamin A:
1270
IU
|
Vitamin C:
16
mg
|
Calcium:
100
mg
|
Iron:
2
mg
Nutrition Facts
Layered Creamy Cranberry Pie
Amount Per Serving
Calories 736
Calories from Fat 513
% Daily Value*
Fat 57g88%
Cholesterol 199mg66%
Sodium 283mg12%
Potassium 333mg10%
Carbohydrates 54g18%
Protein 10g20%
Vitamin A 1270IU25%
Vitamin C 16mg19%
Calcium 100mg10%
Iron 2mg11%
* Percent Daily Values are based on a 2000 calorie diet.