Chocolate Angel Cream Pie is a chocolate pie recipe with a light and airy gluten free pie crust made from meringue and a delicious chocolate cream pie filling made from chocolate mousse and freshly whipped cream.
A chocolate angel cream pie is a chocolate cream pie recipe like no other. A special, show stopping dessert with a variety of textures all in one bite – crispy, creamy, chewy and rich! Once you try it you will be making this gluten free pie for Thanksgiving, Valentines Day and all the other days of the year.
Chocolate pie with gluten free pie crust
There are so many different types of chocolate pie and chocolate pie filling recipes that it's hard to answer what exactly chocolate pie is and what chocolate pie is made of.
There's the handheld old fashioned chocolate pies you find at McDonalds or the gas station. There's chocolate silk pie, chocolate mousse pie, chocolate pudding pie, chocolate cream pie with chocolate pie crust, chocolate meringue pie and many others as well.
The basics though are all the same, there's a pie crust and a chocolate filling. The filling can be thickened with eggs and cornstarch or flour, like a chocolate pudding. Or it can be a thick chocolate ganache or a luscious whipped chocolate mousse.
And if it's a chocolate cream pie recipe there's also some sort of creamy topping, whether meringue or whipped cream.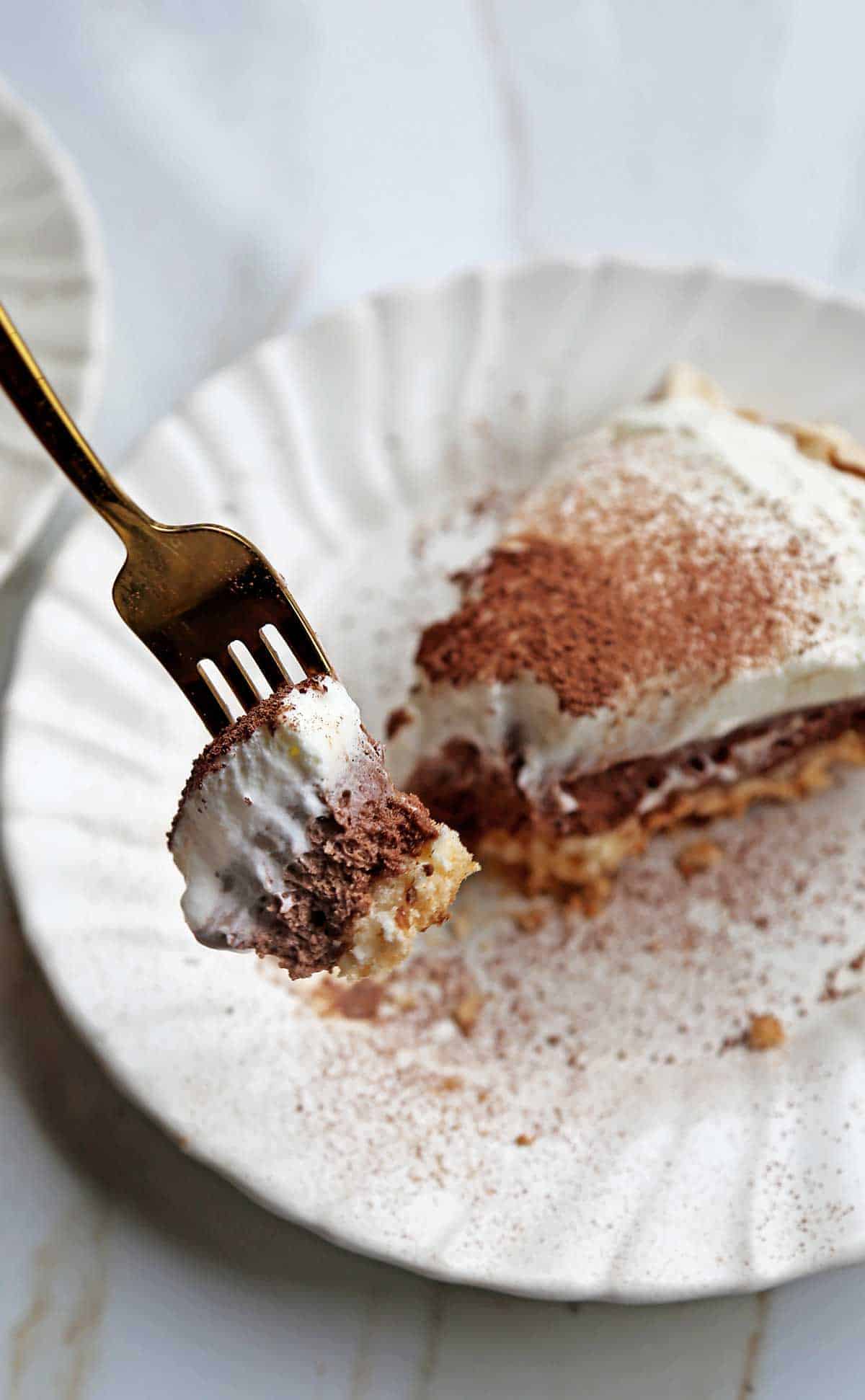 This Chocolate Angel Cream Pie is a sort of chocolate meringue pie but not the typical pie recipe topped with meringue. Instead, Chocolate Angel Pie is a chocolate pie with meringue that has the meringue on the bottom as the pie crust so that it leaves room for plenty of luscious whipped cream on top. Angel pies are actually any pie with a crisp meringue shell and a creamy filling of lemon or lime, custard, ice cream or whipped cream mixed with fresh fruit are all angel pies.
And this fabulous meringue pie crust also happens to be completely gluten free! It's a delicious easy gluten free pie crust made of only whipped egg whites and sugar. Light, airy and a little crispy similar to a macaron.
The chocolate pie filling in Chocolate Angel Cream Pie is like a mix between homemade chocolate pudding and chocolate mousse. Melted chocolate cooked until bubbly with egg yolks and cream then folded into freshly whipped cream and chilled until thick.
With the gluten free pie crust and the chocolate mousse pie filling this chocolate pie recipe is decadent and rich and also light and airy.
Looking for another gluten free pie crust option? Gluten Free Walnut Pie Crust is another option that makes this recipe taste like Chocolate Lush, that classic chocolate cream layered dessert with walnut crust and whipped cream. Or you can substitute chocolate pie crust or classic Flaky All Butter Pie Crust.
Ingredients
Chocolate – the best chocolate for pie is whatever chocolate you have on hand! You can use chocolate chips or chopped chocolate. Semi sweet, milk chocolate or dark chocolate.
Eggs– whites and yolks separated
Granulated sugar
Powdered sugar
Half and half or "cream"
Heavy cream or "whipping cream" – for the chocolate pie filling and for the whipped topping.
Cornstarch – used in the gluten free pie crust.
Cream of tartar
Vanilla extract
Salt
Cocoa powder– optional, for garnish.
Step by step instructions
Based on a chocolate angel pie recipe from Cook's Country by America's Test Kitchen, this is a perfect recipe. There's not really a ton of effort involved or fancy ingredients, but there is a lot of non-active cooking time required to get the meringue crust to the perfect dry and crispy with a chewy bite.
Since Chocolate Angel Cream Pie is really best enjoyed within a few hours of assembly you want to plan to make it the same day as serving. It might take a little pre planning but the results are so worth it!
Make chocolate pie filling. Melt chocolate and make a homemade chocolate pudding from egg yolks, sugar, and cream. Combine with freshly whipped cream and refrigerate up to 24 hours.
Make gluten free pie crust by combining egg whites whipped to stiff peaks with cornstarch and sugar. Then spread into a pie plate and bake low and slow until completely dried out. Then cool at least 30 minutes.
When pie crust is completely cool fill with chocolate mixture.
Whip remaining heavy cream and spread over chocolate layer.
Garnish with a dusting of cocoa powdered, if desired.
Refrigerate until set, 1-3 hours.
Slice, serve and enjoy!
Shelf life
Chocolate Angel Cream Pie is best served the same day as it's baked because of the meringue pie crust and whipped cream topping.
Chocolate pie filling can be made up to 24 hours in advance and refrigerated. And once assembled it can be refrigerated for up to 3 hours. After serving this chocolate pie can left out at room temperature for several hours. But will have to be refrigerated if not consumed within 3 hours.
If absolutely necessary you can refrigerate, covered loosely with plastic wrap or other airtight container. And this chocolate pie will last in the fridge for up to 3 days. The gluten free pie crust will begin to soften and become more chewy than crisp, though. And you should substitute stabilized whipped cream for the classic whipped cream topping.
Ingredients
Filling
2 ½

cups

semi sweet chocolate chips

3

large

egg yolks

1 ½

tablespoons

sugar

½

teaspoon

salt

½

cup

half and half

1 ½

cup

heavy cream
Crust
1

tablespoon

cornstarch

, plus a little extra

½

cup

sugar

3

large

egg whites

1

pinch

cream of tartar

½

teaspoon

vanilla extract
Topping
1 ⅓

cups

heavy cream

, chilled

2

tablespoons

powdered sugar
Instructions
Filling
Microwave chocolate chips in a large bowl, stirring occasionally until melted.

Whisk egg yolks, sugar and salt in medium bowl until combined.

Bring half and half to a simmer in small saucepan over medium heat.

Whisking constantly, slowly add hot half and half to egg yolk mixture until incorporated.

Return half and half mixture to saucepan and cook over low heat, whisking constantly until thickened about 1 minute.

Stir half and half mixture into melted chocolate until combined.

Let cook slightly, about 8 minutes.

Meanwhile whip cream on medium low speed with a handheld or stand mixer fitted with whisk attachment until foamy, about 1 minute.

Increase speed to high and whip until thick, 1-3 minutes.

Gently whisk ⅓ of whipped cream into cooled chocolate mixture and fold in the remaining until no white streaks remain.

Cover and refrigerate at least 3 hours, or until ready to assemble pie (filling can be made up to 24 hours in advance.)
Crust
Heat oven to 275 degrees farenheit.

Grease a pie plate and dust well with cornstarch, using a pastry brush to distribute evenly.

Combine sugar and 1 tablespoon cornstarch in bowl.

Using a handheld or stand mixer fitted with whisk attachment, whip egg whites and cream of tartar on low speed until foamy, about 1 minute. Increase speed to medium high and whip to soft, billowy mounds, about 1 to 3 minutes.

Gradually add sugar mixture and whip until glossy, stiff peaks, 3 to 5 minutes. Stiff peaks will stand straight up when you hold the whisk upright.

Add vanilla and whip until incorporated.

Spread meringue into prepared pie plate, following all the contours of the pie plate and over the edges.

Bake for 1 ½ hours. Rotate pie plate, reduce temperature to 200 degrees farenheit and bake until completely dried out, about 1 hour longer.

Let cool completely, about 30 minutes.
Topping
Spoon chocolate filling into pie shell.

Whisk cold heavy cream and sugar on low speed until foamy, about 1 minute. Increase speed to high and whip until stiff peaks form, 1 to 3 minutes.

Spread whipped cream evenly over chocolate.

Refrigerate until filling is set, at least 1 hour and up to 3 hours.

Dust with cocoa or top with chocolate shavings.

Slice with sharp knife and serve.
Notes
based on a recipe from America's Test Kitchen Cook's Country
Nutrition
Calories:
732
kcal
|
Carbohydrates:
50
g
|
Protein:
7
g
|
Fat:
56
g
|
Saturated Fat:
33
g
|
Cholesterol:
193
mg
|
Sodium:
213
mg
|
Potassium:
449
mg
|
Fiber:
4
g
|
Sugar:
37
g
|
Vitamin A:
1415
IU
|
Vitamin C:
0.7
mg
|
Calcium:
114
mg
|
Iron:
3.7
mg
Nutrition Facts
Chocolate Angel Cream Pie
Amount Per Serving
Calories 732
Calories from Fat 504
% Daily Value*
Fat 56g86%
Cholesterol 193mg64%
Sodium 213mg9%
Potassium 449mg13%
Carbohydrates 50g17%
Protein 7g14%
Vitamin A 1415IU28%
Vitamin C 0.7mg1%
Calcium 114mg11%
Iron 3.7mg21%
* Percent Daily Values are based on a 2000 calorie diet.