This shop has been compensated by Collective Bias, Inc. and its advertiser. All opinions are mine alone. #LEMLoveToProcess #CollectiveBias
It's easier and more affordable than you may think to stuff sausage at home! Take extra pride when you serve DIY Smoked Kielbasa with Braised Cabbage and Chunky Basil Pesto to your family. 
Knowing absolutely everything in the sausage is something you wanted in the mix -nothing but your game and your seasoning, makes for a delicious and nutritious local field-to-table meal.
It may seem overwhelming but it's actually very easy to butcher your own meat. Sharp knives, a large table and some willing participants are all you need. Of course, great quality equipment doesn't hurt either. Recently, I was introduced to LEM™ Products who specializes in products that make your at-home meat processing even easier! LEM offers all you need to butcher, process and store your game.  High quality meat grinders, sausage stuffers, dehydrators, vacuum sealers, accessories and more.
Because of my family's love for sausage in preparation for hunting season I recently visited their website and purchased a Big Bite® Sausage Stuffer. I also picked up a few varieties of Backwoods Sausage Seasonings to make it a breeze to get perfectly flavored sausage and a Casing Variety Pack. If you just want to get to sausage making and don't want to mess around with mixing your own seasonings the premixed Backwoods Seasonings are great.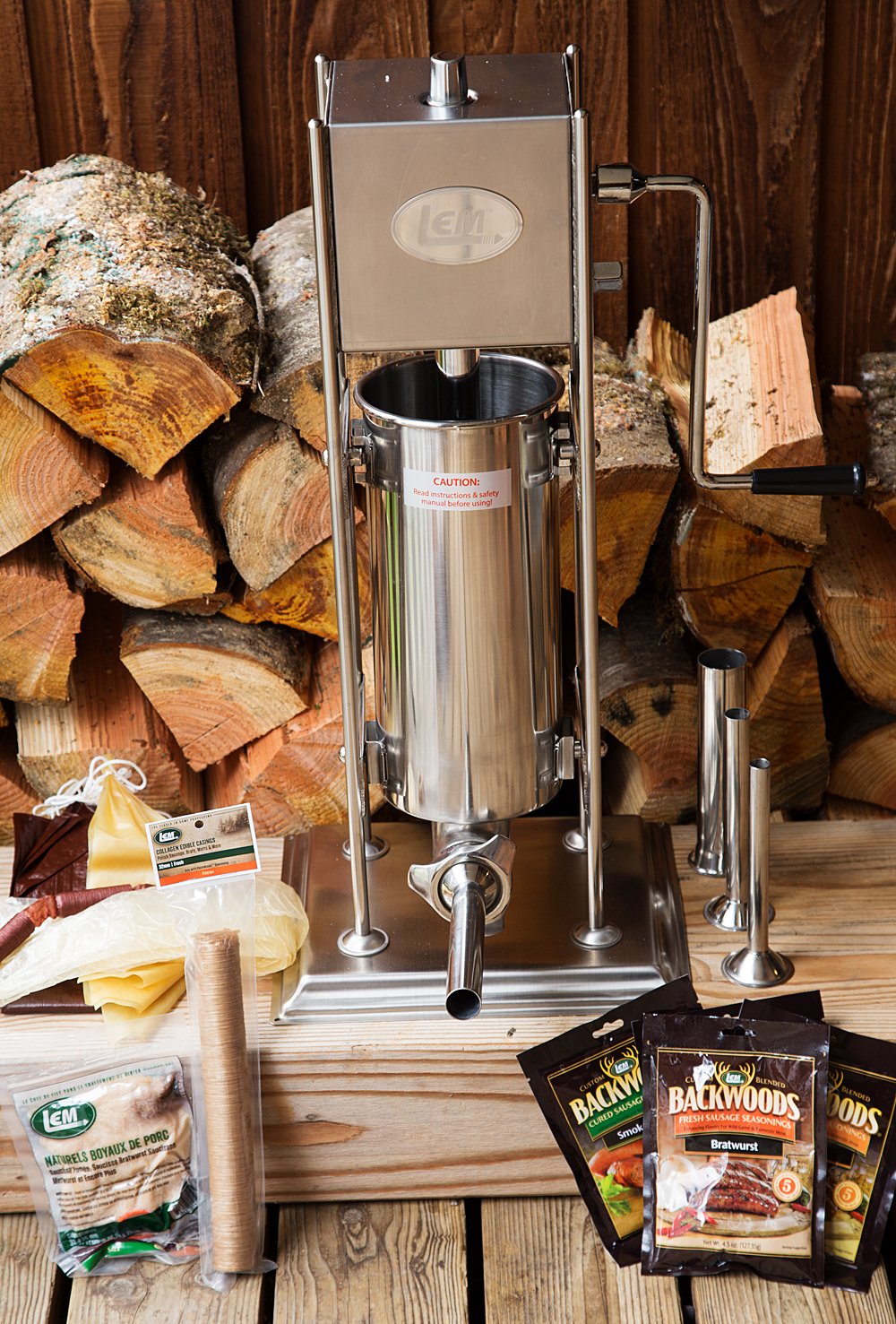 Interested in learning more? Hover over the image above to click through to the LEM website!
Farm or Field to Table
Growing up in a hunting and fishing family, it was the norm to process our own meat. I have many memories of family members – grandpa, uncles, cousins – gathered around a large make-shift barn table – dimly lit by shop lights in the dark of night – processing meat together as a family – sharing stories and drinking beer – kids running around jumping in to help as much as we were allowed. Working together as a family to put away the season's meat.
The community aspect of working together in the woods hunting the animal, carrying it out and processing it as a team then splitting it up to nourish multiple generations of family is something that amazed me as a child. The buzz of energy of family working together, production line style, everyone with a job to do, cutting and wrapping to complete an important task that is essential for our survival. The respect and honor for the majestic animal that gave it's life to feed our entire family impacted my view of food as a child giving me an appreciation for food that continues to influence me to this day.
Although my own little family is not as engrossed in hunting and fishing as my family was growing up, my husband and oldest son do like to hunt and at times accompany the same group of men (my grandpa, uncles, cousins and dad) out in the woods. A few years ago, my brother flew in from out of state for a family hunt with my husband and dad. They were lucky to come home with a deer and I was lucky to host the family to process it.
Thinking back to my childhood, I set up a large table outside on my patio and along with my brother, husband, dad and step mom, we cut and wrapped while my own kids ran around, fueled by the buzz of energy and excitement, attempting to help where they could. We ground our own meat for burger and stuffed homemade sausages, then sent all three families home with boxes of family caught and processed meat.
Sharing the experience and filling our freezers together feels so good.  The fact that those memories come flooding back in with every open of the freezer and that my kids get to have similar memories of the family coming together to finish this important job together is really important to me.
Eat Local
With hunting, nothing is guaranteed. Sometimes you come home with something and other times you don't. You can never count on a successful hunt to feed your family. I also understand that hunting is not for everyone, but just because you don't hunt doesn't mean that your family can't experience the communal aspect of processing meat together.
There are many ethical sources of delicious, nutritious meat. I suggest finding a local ranch and ordering a portion of meat from them. They usually start taking orders in Spring before slaughtering. We purchase a whole cow and a half a hog every year. The rancher sends the animal to the butcher who processes to our specs and we pay a flat rate per pound for the meat. It's a bit more of an up-front investment but so worth it to have hundreds of pounds of local meat in the freezer. Plus we also ask our butcher for the pork fat and beef bones that we then use to make our own bone broth and homemade sausages.
The kids love to get involved with making (and eating!) the sausages and are interested in how one animal can be processed in so many ways, just as I was at their age. Watching my own kids continue the tradition of getting excited about their food, knowing where it comes and learning how to process it is something that really makes my mama heart flutter.
Kielbasa
There is one sausage in particular that is especially important in my family, Kielbasa, a garlicky rustic polish smoked sausage. Traditionally made with pork and maybe a bit of beef but especially delicious with elk or venison. Kielbasa is served at all our family special occasions – parties, weddings, birthdays, and funerals. My family contributed their own stuffed and home smoked kielbasa to be sliced and served with grainy mustard at my wedding and boxes of elk kielbasa were specially delivered to be served to the hundreds of guests at my mom's funeral.
It can be boiled, baked, grilled or served cold. Served in soups, fried with onions, cooked with sauerkraut, added to bean dishes, simmered in stews, folded into casseroles or served as a cold cut on charcuterie and cheese plates. However you cook it and serve it, kielbasa is delicious.
This recipe for an easy grain free, gluten free sheet pan dinner can be made with your own smoked or fresh sausages or you can stop by your local butcher to see what they have to offer.
Ingredients
1

pound

smoked kielbasa

roughly 1 rope of sausage

1

large

cabbage

green or purple or a mix

1

pint

cherry tomatoes

2

tablespoons

olive oil

salt and pepper

to taste
Smoked Kielbasa
4

pounds

ground beef

or a combination of beef, pork, and game

1

pound

pork fat

1

package

LEM Kielbasa Seasoning

1

each

32-25 mm sausage casing

natural or collagen
Chunky Pistachio Basil Pesto
1

bunch

fresh basil

minced

1/4

cup

pistachios

shelled and chopped

3

tablespoons

olive oil

2

tablespoons

apple cider vinegar

2

cloves

garlic

peeled and minced

2

tablespoons

lemon juice

1/4

teaspoon

lemon zest

1/8

teaspoon

red pepper flakes
Instructions
Preheat oven to 375 degrees Fahreinheit.

Bring a large pot of water to boil over high heat. Place sausages in boiling water and reduce heat to simmer. Simmer 15 minutes. Remove sausage and reserve 1/2 cup of water.

Meanwhile, wash tomatoes and thickly slice cabbage. Toss with olive oil, salt and pepper. Place in a single layer on a large baking sheet and bake 10 minutes.


After 10 minutes, push veggies to the side and place sausages on the sheet. Pierce all over with a fork and pour reserved cooking water over sausage.

Roast 20 minutes or until kielbasa and cabbages are browned, and tomatoes are beginning to burst.

Serve topped with Chunky Pistachio Basil Pesto.
Smoked Kielbasa
Following directions on your LEM Big Bite Sausage Stuffer, clean and prep machine then keep as cold as possible until ready to use.

In a medium bowl, mix seasoning packet with cold water until dissolved following instructions on packet.

In a large bowl, mix ground beef or game with seasoned water until sticky and completely combined. Mix in ground pork fat and refrigerate until ready to use.

Prepare sausage casings: knot one end of the casing and lightly coat the stuffing funnel with cooking spray. Slip the other end of the casing over the mouth of the funnel, making sure it is not twisted and the opening is centered around the funnel. Continue to push remainder of casing up onto funnel until you have reached the knot.

Fill with seasoned ground meat mixture and carefully begin to stuff your sausages. Begin to force the meat into the stuffer turning the crank with one hand while using the other hand to control the thickness of the sausage as it comes out. Sausage will shrink when it cooks, so you want a nice plump sausage. But be careful you don't overstuff or it will burst.

Keep extruding until the casing is used up. Tie a knot in that end. You can either leave the sausage in a large coil or twist it into large links.

Store refrigerated and covered up to two days until ready to cook.

Use as is or cure in a 200 degree oven or smoker until sausage reach an internal temperature of 165 degrees Fahrenheit.

Freeze uncooked or cooked sausage for up to 6 months.
Chunky Pistachio Basil Pesto
Place all ingredients in a small bowl and stir. Cover and refrigerate up to 7 days.
Nutrition
Calories:
448
kcal
|
Carbohydrates:
18
g
|
Protein:
15
g
|
Fat:
36
g
|
Saturated Fat:
9
g
|
Cholesterol:
52
mg
|
Sodium:
709
mg
|
Potassium:
757
mg
|
Fiber:
6
g
|
Sugar:
9
g
|
Vitamin A:
695
IU
|
Vitamin C:
97.7
mg
|
Calcium:
111
mg
|
Iron:
2.9
mg
Having a direct connection to the source of my food is something that is so important to me and is something that I want my children to have an appreciation of as well. We grow our own food, catch our own fish and hunt for our own meat. When that's not possible, we visit local farms and support local agriculture. What is something that you feel passionate about? How do you pass that passion onto the next generation?
This post was created in partnership with LEM Products. Thank you for supporting the brands that support me! LEM Products Facebook | Pinterest | Instagram | YouTube