A First Days Floats (and Friends!) Party Ice Cream Float Party is such a great way to celebrate back to school- or any day!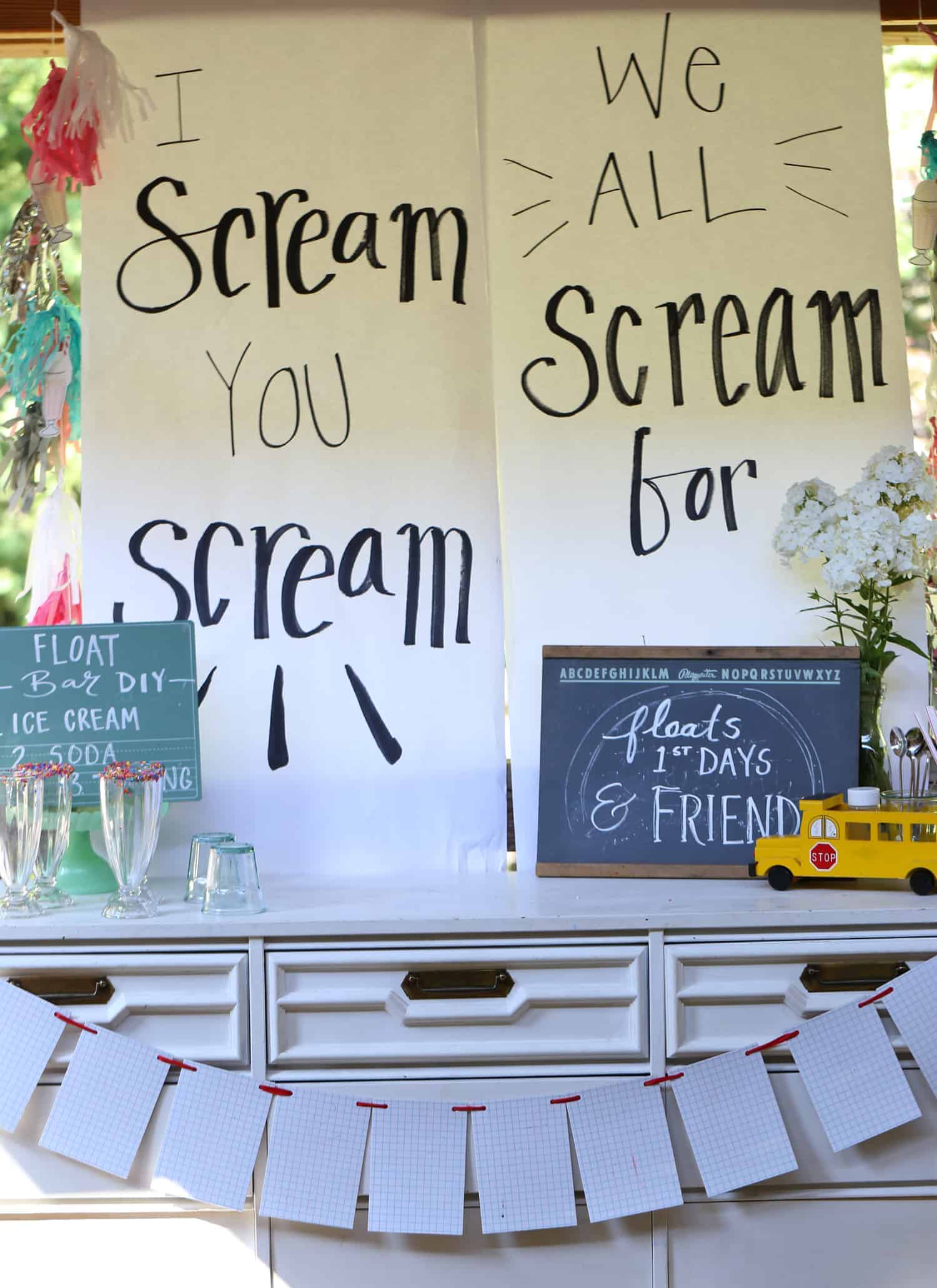 Treat everyone after a long day with a celebration complete with diy ice cream float bar with serious nostalgic soda fountain vibes.
This post was created in partnership with Blue Bunny®. #sponsored
How to make the first day of school special
It's nice to do something special on the first day to let kids know I understand how important this day is. A tradition to give them something to look forward to.
This First Days Floats (and Friends!) Party puts the ultimate warm weather treat – ice cream – on center stage of the celebration with a DIY ice cream float bar. A mix of nostalgic ice cream parlor and classic back to school.

Decorations
Keep décor simple and let the soda float bar take center stage.
Classic red striped straws and milkshake glasses are both functional and pretty, but you can use any combination of glassware you have – parfait cups, short old fashion glasses, canning jars or even champagne saucers all look festive when filled with ice cream and soda.
Sprinkle rimmed glasses are a great way to add more color. It's so easy simply lightly dip the rim in either honey or corn syrup, then in sprinkles… you can even delegate this task to your youngest of helpers!
A large handlettered sign baring the childhood favorite anthem, "I scream, you scream, we all scream" makes for a great dessert table backdrop and mimics the look of the invitations. Using butcher paper and a huge marker, this backdrop was done in minutes.
Loads of chalkboards and a vintage wooden school bus toy instruct guests and hold supplies but also play up the back to school theme.
DIY ice cream float bar
A DIY ice cream float bar simply loaded with delicious ice cream, homemade sodas and fresh toppings makes classic ice cream soda floats extra special, and extra fun!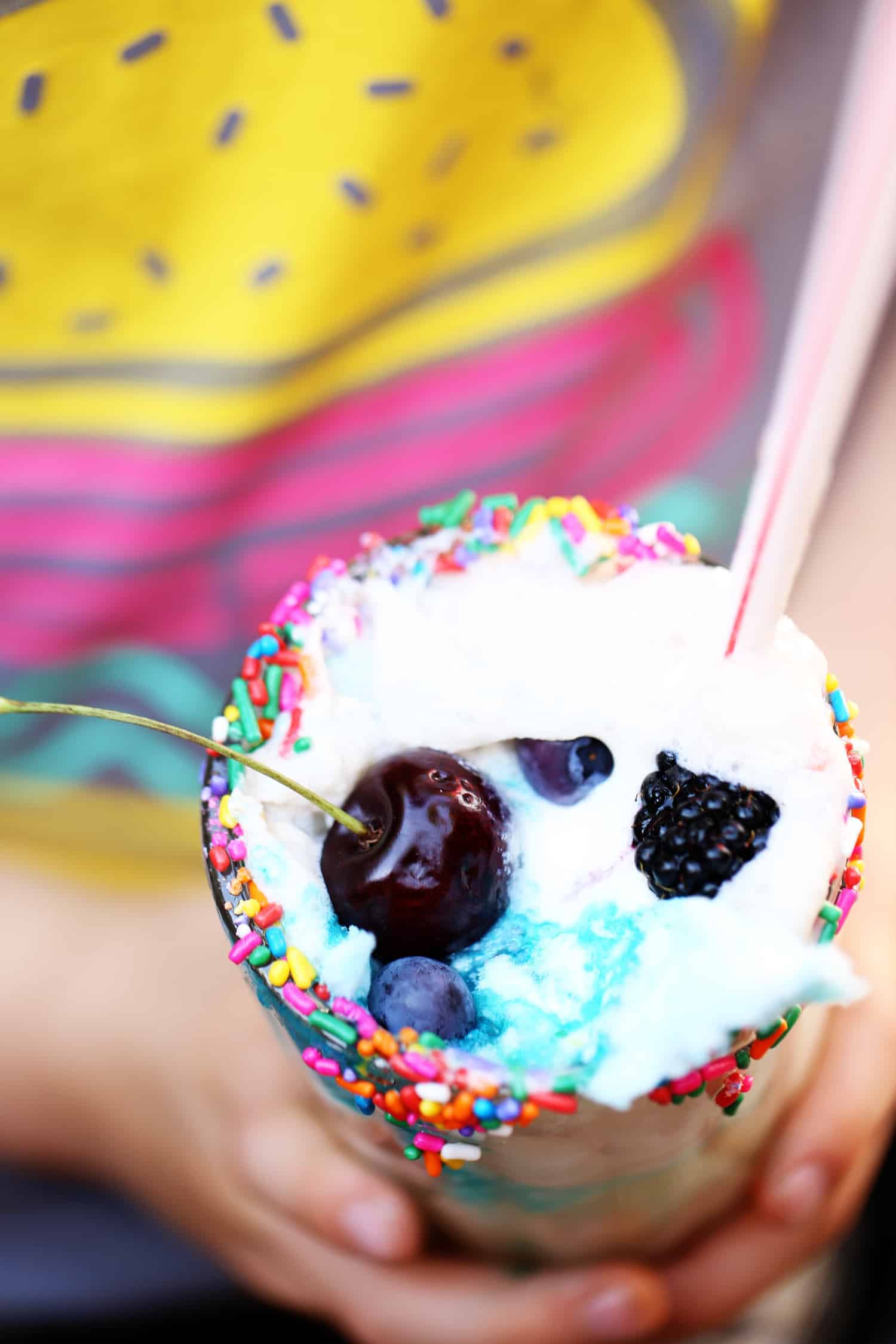 Ice cream – in addition to the fun Blue Bunny® ice cream flavors vanilla, creamy coconut gelato and mango sorbet were included as offerings. You can use as many different flavors as you like!
Soda – root beer and vanilla cream soda are classic but also include fresh syrups and club soda so guests can get even more creative with their own personalized soda flavors.
Toppings – fruit toppings (save a bit of the fruit used to make your fresh syrups) to serve as float toppings. Fruit is an excellent way to cut the sweetness and add acidity to otherwise super sweet treats. Other fun float topping ideas are whipped cream, sprinkles, and cotton candy.
Activities
DIY food stations like a Float Bar are great because the allow guests can pick and choose things that fit their unique tastes. And they do double duty as activities, too. Guests can even mix wild creations and participate in a taste-off style competition!
Even so, it's always good to have at least one game up your sleeve. Just in case boredom sets in or guests need a good way to work off their sugar before heading home.
Ice cream cone race party game
A package of party hats and large round balloons are all you need to and create a "Don't Drop the Scoop" ice cream cone race.
Game instructions
With all racers starting at one end, place the balloon on the 'cone' and race down and back without dropping or touching the balloon (if you do you go back to the start). The first person back wins.
The cones and balloons also double as excellent free play toys. And playing catch with them can keep younger siblings busy for quite some time.
8 tips for ice cream party success:
Cater to both adults and kids in the invite, food, decoration and activities. You can even include all the fixings for 'adult' floats too!
Use free printables in multiple ways.
Use electronic invitations but include an image to build excitement and tie into the party decor.
Keep the ice cream cold nestled down in using frozen sheet pans filled with ice.
Offer a range of ice cream and soda flavors to appeal to all guests.
Topping options should limited to make things easy but include enough to make it fun.
Use fresh fruit to make your own soda syrup and as toppings.
Plan one simple game to give guests a fun way to burn off their sugar.
Free printables
This simple ice cream soda float image can be used as an invitation or to make your own super cute retro ice cream float banner.
Simply download, print, and cut.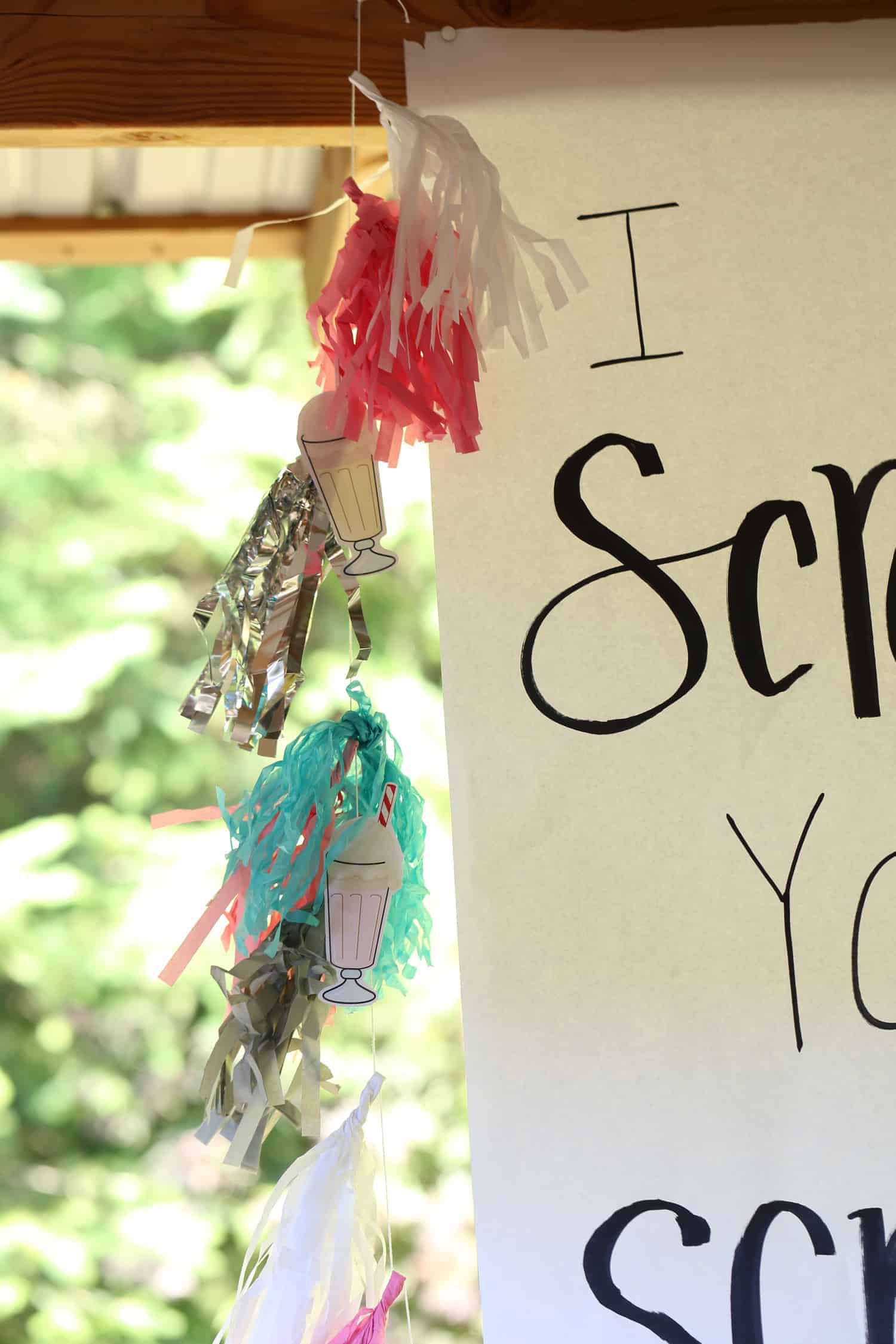 Use this page to make printed or electronic invitations. Either download the full page to print on your choice of paper and cut out. Or download the single image and text it to invitees.
Single image download
Full page download
Enjoy!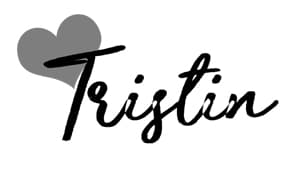 Shop this post
Please note: ONE armed MAMA is a participant in the Amazon Services LLC Associates Program, and these customized links, provided by Amazon, track the referrals to their website for the purposes of assigning commission on these sales.
Pin this post for later!