Lemon Curd Wild Strawberry Galette is an easy -to-make impressive dessert with crisp pastry and jammy fruit perfectly suited for all summer occasions.
Seasonal strawberries tossed with lemon curd and baked inside a rustic sugar – coated pastry crust until browned and bubbly. Always the perfect choice to tote along to picnics, potlucks, and dinner parties!
Easy to Transport Crispy Pastry with Jammy Fresh Fruit Filling
Like a mix between a giant jam filled cookie and a fresh strawberry pie Lemon Curd Strawberry Galette has a filling to crust ratio that is tipping high in favor of crust. Easy to bake, easy to transport and easy to pick up and devour without utensils, even topped with vanilla ice cream in the summertime sun! What's not to love?
What is the difference between galettes, tarts, pies, and crostatas?
They are all essentially the same thing – a pastry crust with a thin, low-moisture filling – either savory or sweet. Galettes and crostatas are both free-form and a bit more rustic – galette being the french version and crostata, Italian. Whichever you choose these low-key pastries are often my choice for summer picnics and potlucks! I especially love that I can bring a delicious and beautiful dessert without having to worry about remembering to tote the pan home at the end of the night.
How to Make Fresh Strawberry Galettes
A simple method from a few simple ingredients with outstanding results this fresh fruit pastry recipe is a winner based on one I first created years ago. Endlessly waiting for a long day of fishing to be over I was picking berries and hanging out in the kitchen. Inspired by the pile of small wild beach strawberries and the only pastry recipe I have memorized- my perfect pie crust – I created a freeform strawberry pie studded with lemon zest and juice. Simply butter, a little flour, some sugar, foraged berries and lemon. Perfection.
A few Simple Ingredients
Perfect Pastry Crust
This pastry crust is sturdy enough to withstand the free form baking without getting soggy or mushy. But tender enough to keep you coming back for slice-after-slice until it disappears 🙂
Start by grating frozen butter and tossing with flour, sugar, salt and ice water. Wrap in plastic and chill. Then, roll into roughly a ⅛″ thick round and use rolling pin to transfer to parchment lined baking sheet. Chill again while preparing filling.
Then, fill and chill again while the oven heats. See a trend here? The chilling in this all butter dough is essential in achieving a browned, crispy, craggy crust and not to be ignored.
ps. although there's really no wrong way to fold galette crust check out these artful approaches by David Lebowitz
Lemon Curd
The strawberries are tossed with lemon curd for sweetness, tang and a beautiful glossy appearance. Lemon curd is widely available at grocers nationwide or it's easy to make your own with lemon, sugar, egg yolks and a few minutes of stirring over the stovetop.
No lemon curd and don't feel like making your own? To get a sweet lemon flavor and glossy shine similar to what the lemon curd provides simply toss strawberries with a tablespoon more sugar and one more teaspoon of lemon juice than the recipe calls for before spreading onto the crust. Then top with several pats of butter before baking for a similar gloss.
Fresh Wild Strawberries
Wild strawberry (also known as alpine strawberry) grows naturally in much of the northern hemisphere along rocky areas and harsh beaches. This version uses similar small strawberry variety – Sweet Sunrise Strawberries grown locally by Kruze Farms out of Fir Island, Washington. These strawberries are sweet but not too soft with the most gorgeous red color all the way through to the stem.
Since these particular berries are a bit larger than wild berries slicing was required. But if you're lucky enough to find yourself with an abundance of bitty wild berries use them whole for a stunning presentation!
Customize It!
Substitute any berry or stone fruit you choose in place of strawberries and adjust sugar according to the fruit's ripeness and natural sweetness.
In addition to switching up the fruit or the citrus used in the filling you can make this easy rustic strawberry tart even easier with frozen pie crust or puff pastry.
Lemon Curd Wild Strawberry Galette Recipe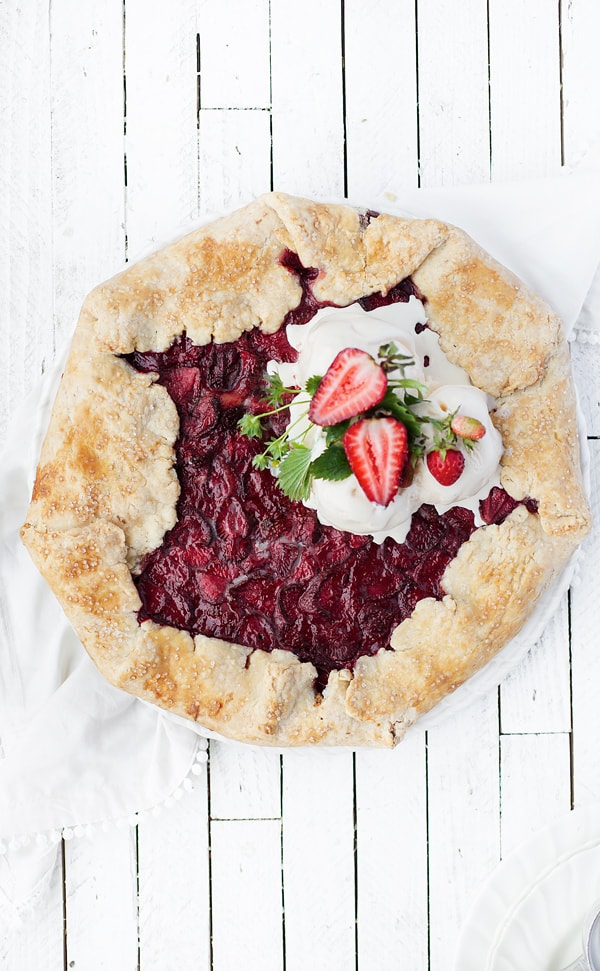 Ingredients
2 ½

cups

all purpose flour

1

large

egg

yolks and whites separated

¼

cup

granulated sugar

divided

1

cup

unsalted butter

2 sticks, frozen

1

teaspoon

sea salt

1

large

lemon

zested and juiced

4

cups

strawberries

medium sized, ripe

2

tablespoons

lemon curd

2

teaspoons

cornstarch

2

tablespoons

coarse sanding sugar
Instructions
Preheat oven to 350 degrees Fahrenheit.

Begin preparing galette dough: Roughly measure about ½ cup of ice water and set aside. In a large whisk flour, 2 tablespoons granulated sugar, 1 teaspoon lemon zest and salt to combine.

Using a box or handheld grater, grate frozen butter directly into bowl. Using clean, cold hands work the butter into flour mixture until only pea-sized and smaller pieces remain.

Sprinkle egg yolk and 2 tablespoons of ice water over mixture and gently mix with hands, adding more ice water as needed until dough just comes together. Turn out onto a large piece of plastic, wrap tightly and work into the shape of a disc. Chill at least 30 minutes.

Meanwhile, prepare filling. Wash, dry and remove greens from fresh strawberries and thinly slice if berries are larger than ½″. In a small bowl whisk lemon curd with 1 tablespoons lemon juice, remaining 1 tablespoon granulated sugar and cornstarch, set aside and macerate 30-60 minutes.

Roll chilled galette dough into a large ¼″ thick round. Transfer to a parchment paper lined baking sheet then return to refrigerator to chill while the filling continues macerating.

Either mound strawberry filling up into the center of the dough, or form concentric circles of layered berries. Pour remaining filling liquid over berries and fold pastry over creating a rough crust. Whisk egg white until frothy and brush over crust. Sprinkle crust and filling with coarse sugar and bake until center is bubbly and crust is nicely browned, 55-65 minutes. Remove and chill slightly before serving warm with vanilla ice cream or freshly whipped cream and a sprinkle of mint leaves. Or store at room temperature and eat within 2 days.
Notes
Four teaspoons of flour (or one tablespoon + 1 teaspoon) may be substituted as thickener in lieu of the two teaspoons cornstarch in the filling.
Nutrition
Calories:
436
kcal
|
Carbohydrates:
49
g
|
Protein:
5
g
|
Fat:
24
g
|
Saturated Fat:
15
g
|
Cholesterol:
87
mg
|
Sodium:
320
mg
|
Potassium:
187
mg
|
Fiber:
2
g
|
Sugar:
16
g
|
Vitamin A:
755
IU
|
Vitamin C:
49.5
mg
|
Calcium:
32
mg
|
Iron:
2.3
mg
Enjoy!